When setting up a new Xbox account, you're forced to pick a country that will later dictate the content you have available. However, this doesn't mean that you'll get to access that content - unless you have an IP address to match. This is precisely why millions of Xbox users are turning to VPN services. These have the power to hide your real IP address and replace it with an IP address associated with a different country. So, let's talk about how to set up a VPN on Xbox in 2020.
First and foremost, let's answer a burning question about Xbox's support for VPN services. Indeed, you can't install a VPN natively on Xbox One S/X. However, there are three workarounds to this problem. This is why we'll show you how to alter your DNS address to access new types of content. Then, we'll show you how to install a VPN on your router and how to share a VPN connection from your computer (Windows and macOS).
One more important thing - we'll base this article on a specific VPN, which we strongly believe is the best VPN in 2020. We're talking about ExpressVPN, a perfect companion to your Xbox One. You'll get to stream any type of media from just about any streaming platform, jump to online gaming sessions in an instant, and plenty more. If you'd like to see other options as well, here are the best gaming VPNs right now. However, keep in mind that those might come with a slightly different installation method.
So, here are 3 different methods to set up a VPN on Xbox in 2020.
Method #1: Set Up a Custom DNS Address
Good to Know: By getting a DNS address from your VPN, you'll be able to unblock new streaming platforms and other types of content. However, keep in mind that anonymization and encryption aren't part of this deal.
This method comes with three equally important parts. First, you need to set up a custom DDNS hostname (free of charge). And then, you need a VPN that gives you a custom DNS, such as ExpressVPN, so you can easily edit your Xbox's settings. So, let's jump right in.
Get Your Custom DDNS Hostname
Your ISP (Internet Service Provider) rotates IP addresses, which means that you get a new one each time you connect to the Web. This is why you need a hostname so that your VPN can recognize your account (device) at all times.
There's a range of free-of-charge DDNS hostname providers, and you're free to use any of those. However, we recommend using Dynu.com, as it comes with an easy interface and handy utility tool that you'll need later on.
Once you visit Dynu's website, proceed to create a new account. Click on "Create Account" in the top-right corner and fill out the required information. You'll need to provide your first and last name, username, password, and email address. Once done, you'll get an email from Dynu to activate your account, so make sure to do so (check your spam folder as well).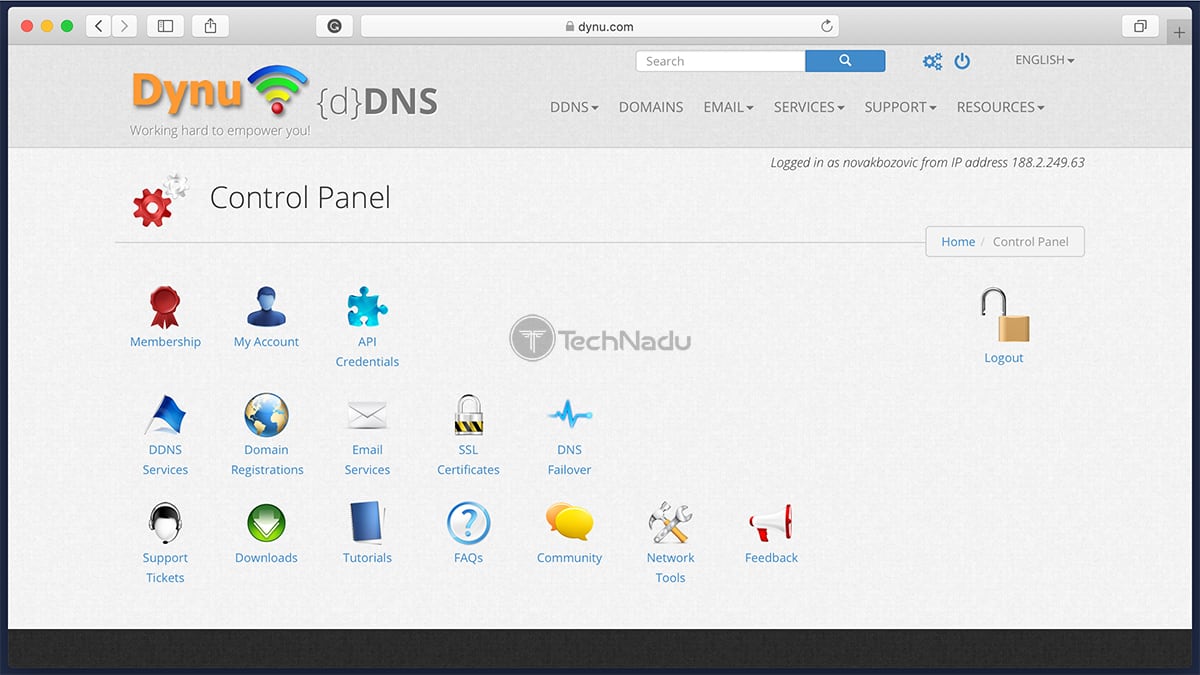 Now, log in to your account and select "DDNS Services." Proceed to click on "+Add" and fill out the required information. Pick any DDNS hostname and confirm your decision. After a few moments, you'll get to see your DDNS hostname, along with your IPV4 address. You'll also see a series of options with on/off toggles (Wildcard IPv4 Alias, Wildcard IPv6 Alias, and Enable IPv6 Address) that you can turn off as we don't need those.
Finally, keep in mind that your DDNS hostname needs to be updated as your IP address changes over time. Therefore, proceed to download and install Duny's Update Client. It's available for macOS, Windows, Linux, and more - and it comes completely free of charge. Log in to the app and select a preferred time interval for Dynu to check for any changes in your IP. Don't worry, all of this happens automatically in the background and needs no further input from you.
Configure Your VPN
Now that you've set your DDNS hostname, we'll proceed to register it with ExpressVPN. We'll also reveal the DNS address that you'll need to add to your Xbox console.
In case you don't have a VPN account yet, now's the time to act. Go ahead and subscribe to ExpressVPN and then log-in to your account on ExpressVPN's website. This is done by clicking on "My Account" on ExpressVPN's home page.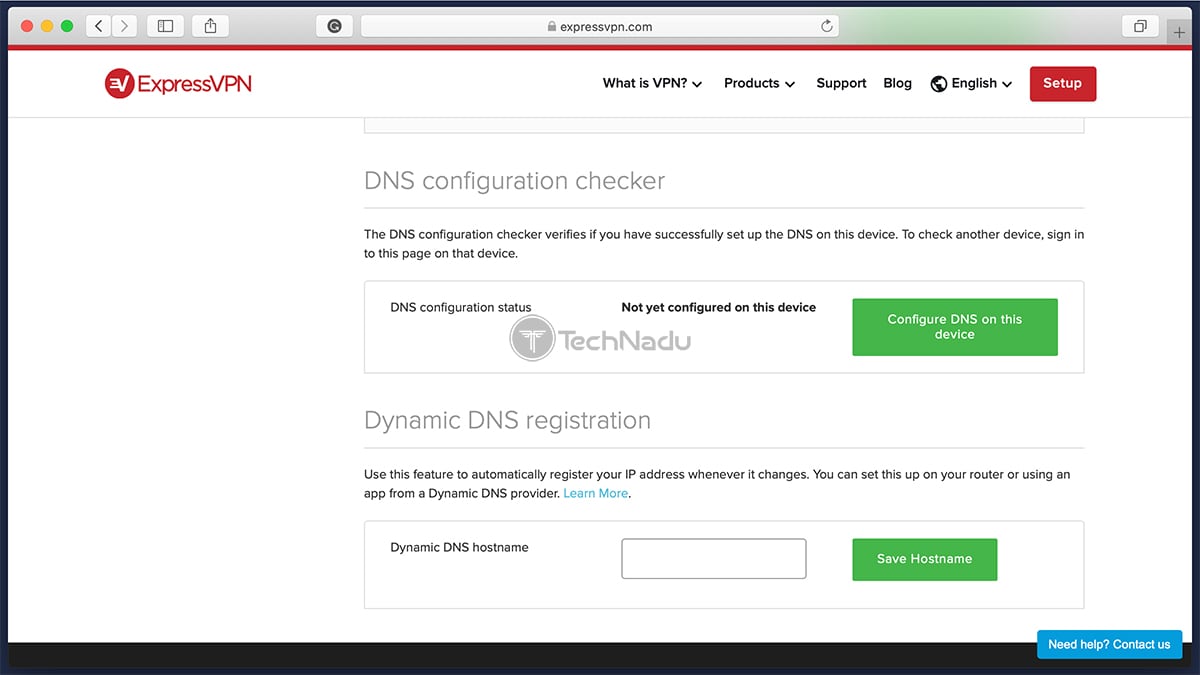 At this moment, you should be looking at your user account dashboard. Take a look at the left side, where you'll see the "DNS Settings" option. Click on it and then input your DDNS hostname (that you created moments ago) in the "Dynamic DNS Registration" field. Click on "Save Hostname" to apply your input.
Return to your user account dashboard by clicking on the "Back" button in your Internet browser. Then, click on "Set Up Other Devices" (at the top of the page) and then select "Xbox" on the left.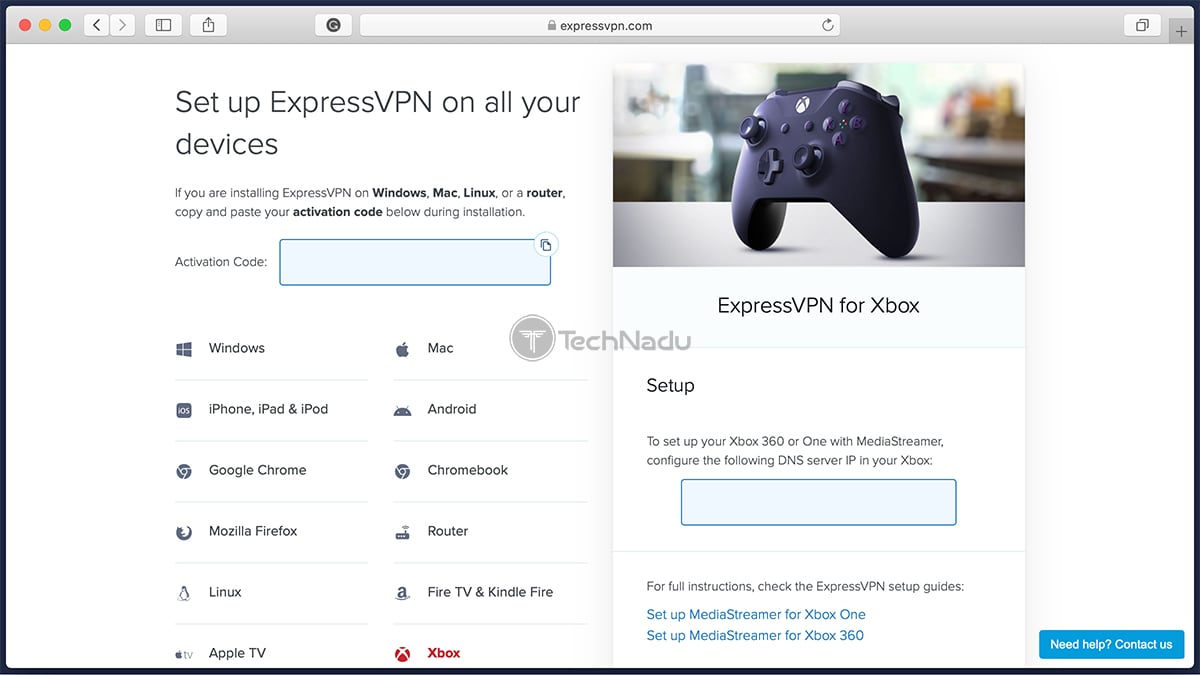 On the right side of the page, you'll now see your DNS server IP that you need to add to your Xbox. Keep this page open, as we'll need this string of numbers in just a few seconds.
Configure Your Xbox Console
Keep in mind that ExpressVPN's DNS address will unblock content that's available in the USA. It means that you need to change the language and location info of your console, and then finally add your new DNS to your Xbox.
On your Xbox, launch the Settings app. Go to System > Language & Location. Make sure to set the language to "English" and then set the location to "United States." Double-check if you've made the correct entry and apply this input.
Now, return one step until you see the homepage of the Settings app. Go to Network > Advanced Settings. Then, proceed to select DNS Settings > Manual. Feel free to enter the DNS address from ExpressVPN's website here. You'll be asked to enter your primary and secondary DNS, and you can go with the same set of numbers for both of these fields.
Once done, you'll be asked to confirm your new network settings. Feel free to save your new settings and then restart your Xbox. Once you do that, you'll get to watch content available only in the USA. Also, your online gaming data will be routed through ExpressVPN's servers from now on.
Method #2: Install a VPN on a Router
Good to Know: Running a VPN on your router means that you protect your entire household at once. You'll need a powerful router for this purpose, so keep in mind that investing a bit more can pay off in a big way in the future.
It's possible to install and run a VPN on your router as well. By doing this, you protect the source of your Internet connection. It means that all your Web-connected devices will be covered by your VPN, regardless of their operating system. And even better, installing a VPN on a router will count as using a single device towards your subscription limit.
Keep in mind that for this method to work, you need a capable router - compatible with running a VPN service. Therefore, your next destination should be our guide to choosing a VPN router. You'll want to spend your money wisely, so make sure to know what you need and which models will meet your requirements. For some on-point recommendations, check the best VPN routers in 2020.
We also recommend paying attention to DD-WRT. This is a type of custom firmware that can be installed on plenty of routers, considerably increasing their functionality. In other words, you'll spend less while getting more for your money. If you'd like to check some options, here are the best DD-WRT routers in 2020. You'll also want to check the best cheap DD-WRT routers and our picks for the best DD-WRT routers under $100.
Of course, you'll also need to pick a VPN service. However, make sure to select a VPN that supports a wide range of routers. We strongly recommend considering ExpressVPN, as this is perhaps the only VPN that checks all the right boxes. You can install it on any router; it uses high-end encryption, doesn't log your data, and is perfectly suited for media streaming and online gaming.
Finally, once you get your VPN subscription and have a compatible router, it's time to finalize this process. Make sure to check our comprehensive guide to installing a VPN on a router - where you'll find all the important information to make this procedure as simple as possible.
Method #3: Share Your VPN Connection From a Computer
Good to Know: This method requires your computer to be on all the time. However, you'll get full protection from your VPN service, and you'll avoid investing in additional hardware.
In case you don't want to invest in additional hardware (like buying a router), there's one option that you're going to like. It's possible to share your VPN connection from your computer. This happens by turning your computer into a virtual router, sitting between your actual router and your Xbox console. Keep in mind that, to get the best possible results, it's recommended to connect these devices with Ethernet cables.
Lucky for you, this method applies to pretty much any desktop operating system. Needless to say, both Windows 10 and macOS (Catalina) come with built-in tools for sharing all kinds of wired and wireless connections. You'll find everything you need to know in our dedicated guide on using a VPN on your console without having a VPN router.
And finally, we have one important tip for you. If you plan on sharing your Internet connection, you'll need a fast and capable VPN that can easily handle any task. With this said, your best option right now is ExpressVPN.
That would be all we've prepared for this guide. We sincerely hope you're now aware of the best methods to set up a VPN on Xbox. Finally, keep in mind that you can count on TechNadu in case of any issue. Just let us know via the comments section below, and we'll make sure to respond.