When setting out to search for a VPN, you will see that you have a huge choice in front of you. Furthermore, all of these VPNs might look the same, which certainly doesn't help you make up your mind about which one to buy. However, they offer numerous subtleties that you need to pay attention to since this is what sets certain VPNs apart from the rest. So, let's take a look at two notable VPNs in this article, and see which one is better. Welcome to our Hide My Ass vs Hide.me VPN comparison!
Yes, Hide My Ass has a funny name and that sense of humor extends to its entire brand. As we found in our Hide My Ass review, however, the service itself is no joke. Hide.me VPN, on the other hand, is a Malaysian outfit that doesn't exude any of the brashness of its donkey-themed opponent. Instead, its PR campaign is aimed at the level of privacy you'll be getting. So, despite having somewhat similar names, this is really a David-and-Goliath match-up, between the loud and proud HMA and the privacy-principled hide.me VPN.
Via their individual reviews, we've put these two VPN services through their respective paces. A set of different criteria make up the total score and assessment for each. Take a look at the table found below to learn some basic stats.
| | | |
| --- | --- | --- |
| | Hide My Ass | Hide.me VPN |
| Jurisdiction | The UK | Malaysia |
| Logs | Collects some PII data. | Doesn't collect PII data. |
| Number of Servers | 970+ servers in 190+ countries. | 1,400+ servers in 30+ countries. |
| Parallel Connections | 5 | 5 |
| Encryption Standards | AES-256; OpenVPN (UDP/TCP) | AES-256; OpenVPN, IKEv2, L2TP, IPsec, and more. |
| Speed Reduction | 25%, on average. | 45%, on average. |
| P2P Support | YES (legal torrents only) | YES |
| Supported Platforms | Windows, macOS, Linux, Android, iOS, routers. | Windows, macOS, Android, iOS, Fire OS, routers. |
| Visit | Hide My Ass VPN | Hide.me VPN |
Next, and before we get into our Hide My Ass vs hide.me VPN comparison, we are going to show you our scores for individual aspects of these two VPN services. In the following table, you can see the results of our tests summarized in one place.
| | | |
| --- | --- | --- |
| | Hide My Ass  | Hide.me VPN |
| Jurisdiction, Reputation | 1/10 | 9/10 |
| Supported Platforms | 6/10 | 10/10 |
| Installation Process | 10/10 | 10/10 |
| Prominent Features | 3/10 | 8/10 |
| Server Count | 5/10 | 5/10 |
| Ease of Use | 9/10 | 10/10 |
| Media Streaming | 5/10 | 2/10 |
| Security & Privacy | 2/10 | 10/10 |
| Speed & Performance | 8.5/10 | 6/10 |
| Customer Support | 10/10 | 10/10 |
| Pricing | 7/10 | 5/10 |
| Overall Score | 6.0/10 | 7.7/10 |
Still with us? If you're interested in the details of how these VPN services measure up against each other then read on, dear reader!
Hide My Ass Vs Hide.me (2019) - Which One is Better?
We can decide the winner of this comparison only by taking a deeper look at different aspects of these services. That's why we'll start by checking some background information, and then we'll see offered features and privacy policies, among other things.
Background, Jurisdiction & Reputation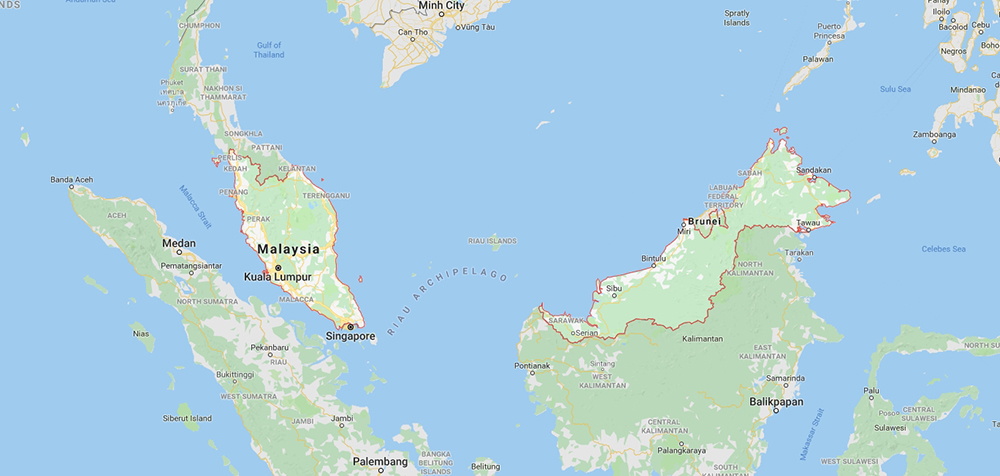 Before anything else, we'll present some background information regarding these two VPN services. After all, it's highly important to know from which country your chosen VPN comes, as this can have long-term consequences.
Hide My Ass: This VPN comes from the United Kingdom, a country that's part of the 5-Eyes Alliance, a major international data-collecting organization. This certainly doesn't leave a positive first impression. However, once you start digging into this VPN's past, you'll find even more worrisome details. Most importantly, this VPN had once helped the FBI reach a user by handing over incriminating data. However, this was a long time ago (back in 2011), and we're sure that Hide My Ass has improved its privacy policy since then. Still, you're recommended to exercise caution while using this VPN service.
Hide.Me VPN: We're happy to report that hide.me VPN doesn't come with any problematic situations from the past. However, you should know that this VPN comes from Malaysia. This wouldn't be a problem until a few years ago - but things are now starting to change as this country has started censoring the Web. However, it's worth noting that Malaysia isn't part of any major international intelligence alliance and VPNs are fully legal in this country.
Winner: We have to say that both Hide My Ass and hide.me VPN have certain drawbacks related to their origin. However, hide.me VPN wins this round as it comes free of any data leaks in the past.
Supported Platforms & Devices
Next, we are going to take a look at what kinds of platforms are supported by these VPNs. Most importantly, we'll see how well these two providers have covered different platforms natively.
Hide My Ass: HMA covers the basics quite well. It covers the big four in the form of Windows, macOS, iOS, and Android. Any additional devices will work through OpenVPN as long as there is a suitable generic client available. This also includes VPN-compatible routers, which counts as a single device in your subscription (no matter how many devices you connect through it).
Hide.me VPN: It's not that HMA is bad on this front, but that hide.me VPN is simply better. It has more native client choices and not only does it offer OpenVPN, but a whole raft of other VPN protocols. There's no way it's not walking away with the device support prize.
Winner: Hide.me VPN offers more native clients and more VPN protocols. It's close, but it's definitely the better choice in this regard.
Installation & Initial Configuration
Average VPN users would want something that's easy to install. After all, you don't want to spend time looking up different technical terms online just to get started with a VPN.
Hide My Ass: When it comes to HMA, there's nothing out of the ordinary to report here. It's literally just a matter of signing up with your payment details, logging in and picking a client that matches your platform. If they have one, that is. After downloading and installing your software client of choice, you're ready to secure your Internet connection.
Hide.me VPN: Everything we said in the previous paragraph still applies to hide.me VPN as well. You can sign-up for a new account, download and install native clients in a matter of minutes. There's no bundled software here, and we're certain that even complete newbies won't have a hard time installing and configuring this VPN client.
Winner: Since both of these VPNs offer the same level of usefulness when it comes to their installations, we'll call it a tie.
Prominent Features
We won't deal with the standard set of features here. Instead, we'll take a look at what sets Hide My Ass and hide.me VPN apart from the rest of similar applications.
Hide My Ass: Nothing about HMA really stands out when it comes to specific features. HMA sticks to the fundamentals of encryption, IP-masking and region unlocking. It's perfectly average on this front. What this means is that average users looking for a VPN with reliable encryption should be more than happy with this option. However, this also means that more advanced users might want to look for an alternative.
Hide.me VPN: Hide.me also doesn't have some of the more fancy features such as ad-blocking or anti-malware filters. However, unlike HMA, it has nearly every VPN protocol you can think of to choose from and servers with specific support for P2P traffic. In addition, hide.me VPN comes with a few rarely-seen features as well. There's a specially built firewall (that can protect you even when the VPN isn't running) and it also allows you to split-tunnel your traffic.
Winner: Hide.me VPN easily beats HMA on the features front, with dedicated P2P servers, built-in firewall, and a wide range of VPN protocols on the support list.
Server Count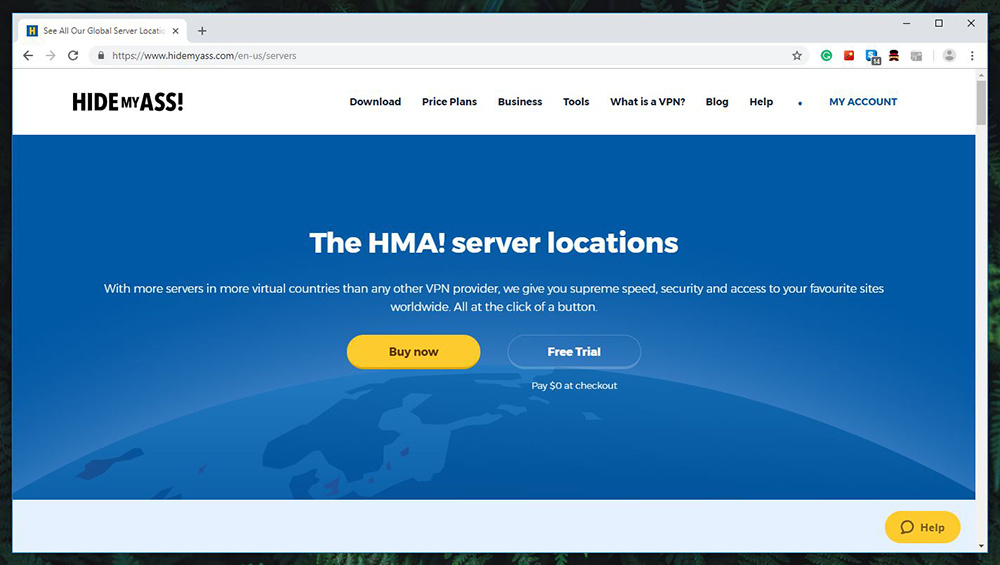 One of the most important features of any VPN is the size of its server network. While some keep a small but strategically designed network, others cover the entire world.
Hide My Ass: This VPN is perhaps best known for its server network. It currently has more than 970 servers in almost every country in the world. So, no matter if you want to connect to a remote server in Russia, Japan, Australia, or Argentina, you'll find your answer here. In addition, this VPN allows you to connect to specific cities and regions, and you also get unlimited server switching.
Hide.me VPN: Up until recently, this VPN was characterized by the size of its server network - which was incredibly limited and small. However, hide.me VPN now comes with more than 1,400 servers. However, these are located in around 30 countries, so it's clear which VPN is the winner of this round.
Winner: Even though hide.me VPN has done plenty of increase the size of its server network, it still falls short in comparison to Hide My Ass.
Ease of Use
Depending on your skills and knowledge, you might want to go for a simpler or more technical solution. So, here's how these two providers rank.
Hide My Ass: Hide My Ass has a good-looking and (surprisingly) understated design. We were pleased with it despite the limited options on the table. Let's not forget to mention that HMA now comes with a recently redesigned UI that seems suitable for both beginners and advanced users. Aside from a few quirks here and there, we think you're going to love it.
Hide.me VPN: Hide.me VPN, on the other hand, manages to cram just about every option you could want in a VPN client in without ever feeling cluttered or complicated. We have no idea how they pulled it off, but you'd have to be blind not to see who wins here. In fact, this VPN brings one of the most streamlined UI designs we've seen yet.
Winner: Hide.me VPN pulls off the impossible trick of being power-user friendly while also being dead-simple to use. HMA doesn't stand a chance.
Media Streaming & Torrenting Support
Aside from encrypting your data, today's VPN services can often unblock media streaming platforms. With this said, let's see what kinds of websites can be used with these two VPNs.
Hide My Ass: Even though you can easily find more capable VPNs out there, HMA still manages to unblock Netflix (the US version) and BBC iPlayer. Sadly, you'll have a hard time unblocking any other media streaming website. And also, Hide My Ass supports torrenting via nine of its P2P-optimized servers located in Europe and the USA.
Hide.me VPN: Unfortunately, hide.me VPN is one of the worst choices for media streaming. It can't unblock any of the currently popular streaming platforms, Netflix included. However, it supports torrenting via numerous specialized servers.
Winner: The winner of this round is Hide My Ass since it unblocks Netflix and BBC iPlayer. However, if you're into media streaming, take a look at the best VPNs for streaming to see some other options as well.
Security & Privacy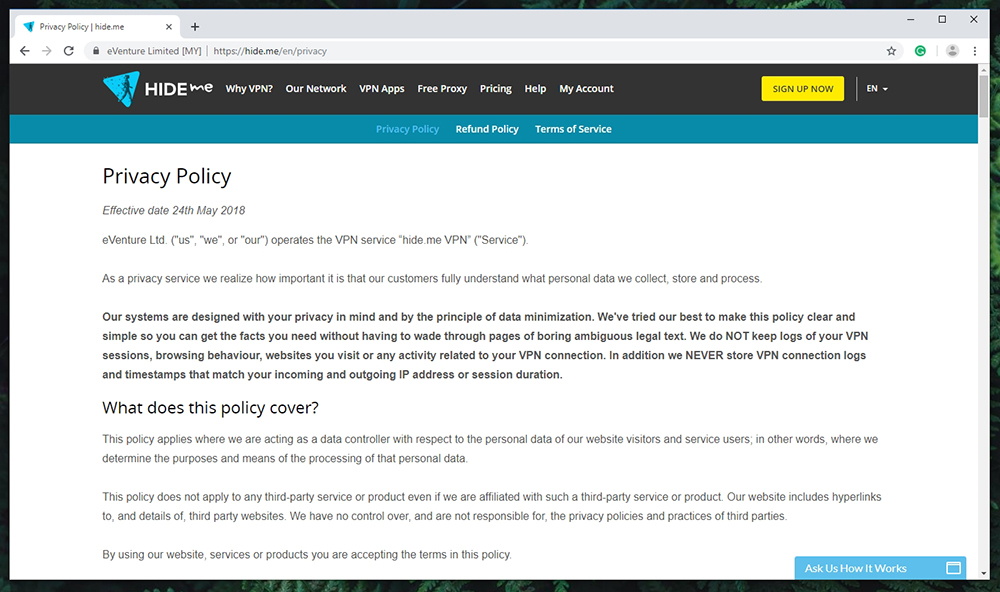 In order to see how is your private data handled, we need to dive into privacy policies. This will reveal if you can fully trust a VPN provider to keep you anonymous online at all times.
Hide My Ass: Things are a little awkward here, as HMA seems to keep user logs of various kinds. And let's not forget that it helped the FBI find a specific user by exposing their personal data. One thing is sure - you can't use Hide My Ass if you want to be 100% anonymous online.
Hide.me VPN: Hide.me is based in a country that does not compel them to keep records. Even if SWAT teams bust down their doors today, they would have nothing to give them. These guys are truly serious about your privacy.
Winner: This category shows perhaps the biggest and most drastic difference between Hide My Ass and hide.me VPN. Only one of these can keep you 100% safe online - and that would be none other than hide.me VPN.
Speed & Performance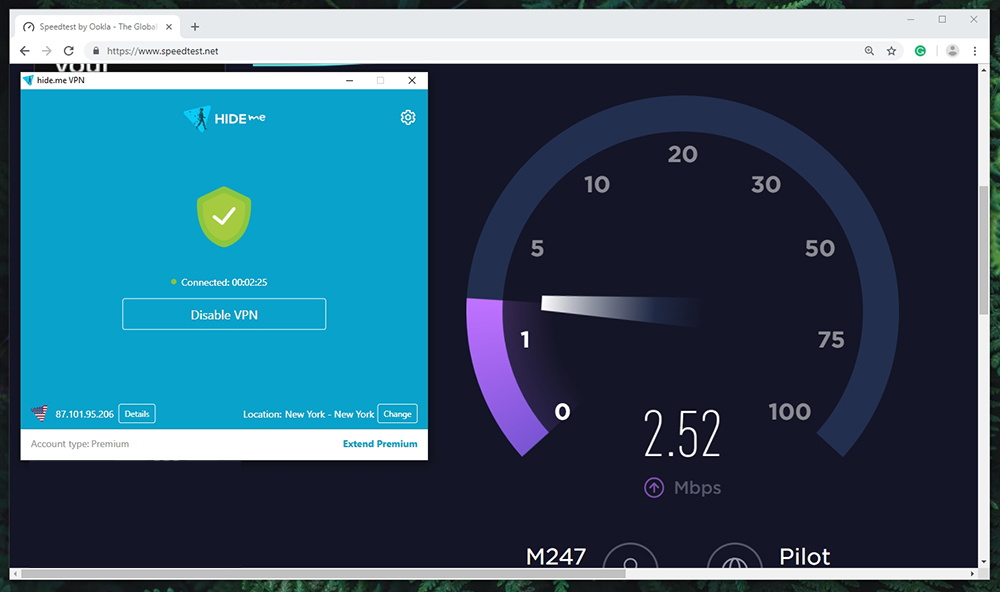 Everything we said so far doesn't matter if a VPN can't guarantee a reliable performance level. Even though some throttling is expected to happen, this shouldn't affect your user experience.
Hide My Ass: Since this VPN has servers in the entire world, it will first try to connect you to a nearby server. The chances are that you'll find one in your country. As our tests discovered, you can expect impeccable performance from these servers. Throttling is barely noticeable, and you can keep using the Web as usual. On average, this VPN slowed us down by 25%, which is an admirable result.
Hide.me VPN: Just like with its competitor, we have tested Hide.me with a nearby and then with a remote server. As our tests have shown, this VPN can slow you down around 45%, on average. The truth is that we have expected more from this VPN.
Winner: Based on our tests, Hide My Ass performs better. This is most likely because it offers a larger number of servers, which means that you'll easily find a nearby server no matter where you're located.
Customer Service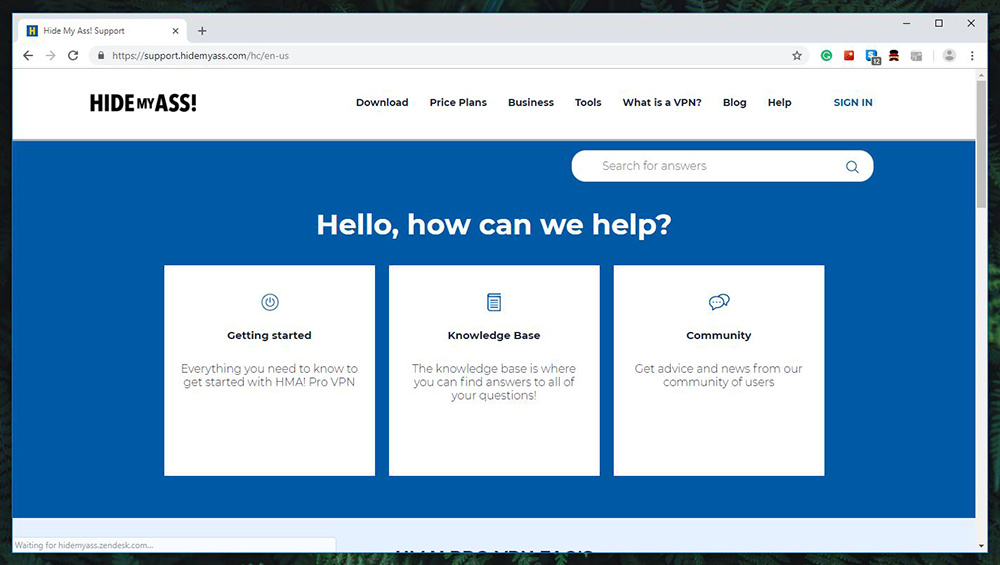 An important segment in our comparison is about customer service. After all, you want to have a reliable support team to watch your back when things fall apart (if they ever do).
Hide My Ass: This VPN provider makes tons of material available and is ready to chat when you are. Clearly, there's a reason why they are so much more expensive than their competitors. However, you know that you'll spend your money well since you'll get help at any point in time, which is an important benefit.
Hide.me VPN: Hide.me clearly shows their hand here as a smaller company. However, in a surprising turn of events, this company has managed to offer live chat support, nicely written installation guides, and plenty of other help-related resources.
Winner: When it comes to customer support, we need to say that both Hide My Ass and hide.me VPN are willing to provide timely assistance. So, we'll call it a draw.
Pricing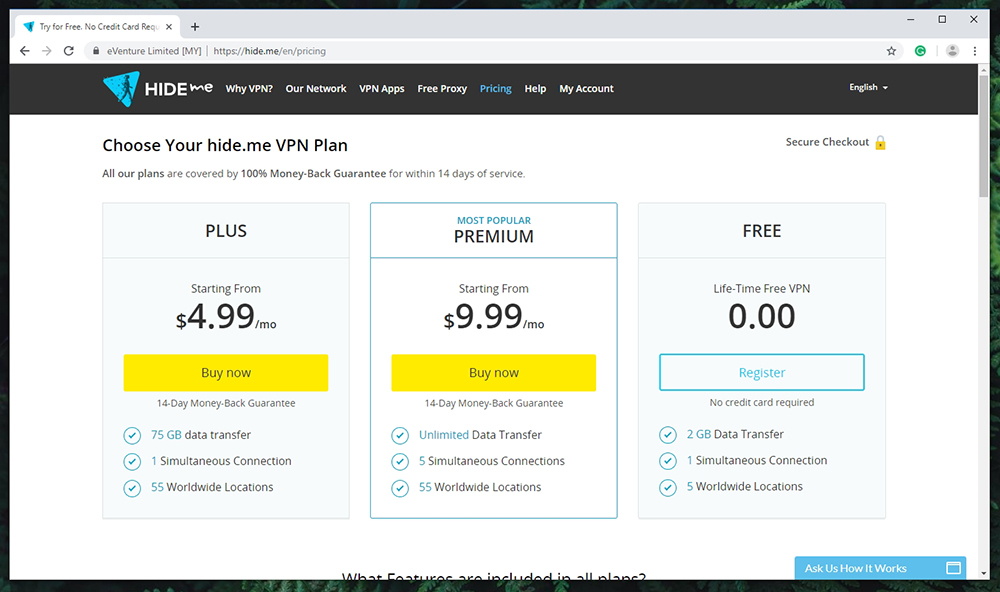 The last category in our comparison is about pricing. We'll take a look at pricing plans offered by HideMyAss and Hide.me, and we'll see if they bring a lot of value for your money.
Hide My Ass: HMA has a very traditional pricing structure. The more months you pay upfront, the less you pay effectively per month. Most people do however go for the month-to-month option and in that case, HMA is pretty darn expensive at almost $12.00 per month. This places it in the category of the least affordable VPN providers.
Hide.me VPN: Hide.me has a different approach to pricing. There's a free, data capped, location-limited tier. Then there's a cheap single-device tier at $4.99 which only allows for one device. The premium, full-fat tier costs $9.99 per month. However, while Hide My Ass allows you to save some money in the long-run, hide.me VPN doesn't give you that possibility.
Winner: If you plan on paying on a monthly basis, hide.me VPN is a better option. However, if you're willing to save some money and pay upfront, Hide My Ass seems like a better pick.
Hide My Ass vs Hide.me VPN - Which One To Pick?
Is there really a clear winner in a case like this one, where two products are so clearly aimed at different markets? We think so and in our opinion, Hide.me VPN is better at doing its main job of being a VPN than Hide My Ass. Its attitude toward privacy is perfect, it has power-user settings galore, and a mission statement worth getting behind.
In case you need a reliable VPN that will truly keep you protected at all times, your choice should be Hide.me. Go ahead and check out Hide.me VPN for yourself!
Dear readers, that would be all when it comes to our HideMyAss Vs Hide.me comparison. If there's something else you'd like to know about these VPNs, make sure to leave a comment below. And also, don't forget to follow us on Facebook and Twitter. Thanks!