These days, we have VPN applications for pretty much any purpose imaginable. There are VPNs for streaming, VPNs for torrenting, as well as some VPNs for gaming as well (among numerous other purposes). However, all of those applications are the same at their core. They're designed to hide your IP address, secure your Web data, and encrypt your Web connection. However, what's interesting is that sometimes we stumble upon VPNs that try to do everything at once. Not many succeed in this mission, but those that do are often highly recommended ones. So, in this article, we'll be telling you about a VPN called Hide All IP. Yes, it comes with a somewhat strange name and it tries not to present itself as a VPN solution. However, its purpose is clear. So, make sure to stick with us until the end of our Hide ALL IP review to learn all there's to know about this application.
We won't rush into technical terms and explaining how this VPN service works. First, we'll slowly introduce you to its most prominent features, so you can easily compare Hide ALL IP to its competitors. Let's get started, shall we?
Quick Facts
| | |
| --- | --- |
| Jurisdiction | Hong Kong |
| Logs | Possible data logging (vague privacy policy). |
| Number of Servers | 37 countries; 150+ servers. |
| Parallel Connections | 1 |
| Encryption Standards | RSA 2,048-bit; HTTP/TCP tunneling. |
| Speed Reduction | 90%, on average. |
| P2P Support | YES |
| Live Chat Support | NO |
| Supported Platforms | Windows, Android, iOS. |
| Price | $29.00/year |
Next, we understand that many of you need a VPN for media streaming. Don't worry, we've put Hide ALL IP through a series of tests, and here's which websites this VPN can unblock.
Media Streaming Support
| | |
| --- | --- |
| American Netflix | YES |
| Hulu | YES |
| BBC iPlayer | YES |
| Amazon Prime Video | YES/NO |
| Kodi | YES/NO |
And finally, we won't forget about those of our readers who are in a rush. If you need just the highlights, here are the most prominent pros and cons to using Hide ALL IP.
The Bottom Line
| | |
| --- | --- |
| Pros | Easy to set-up; Affordable; Unblocks Netflix. |
| Cons | Limited server network; Poor performance; Heavily outdated UI; Vague privacy policy; Lack of customization. |
| The Final Verdict | Hide ALL IP is a frustrating and heavily limited VPN service, and we think you'll easily find a better option. |
| Our Score | 4.4/10 |
And now, we're ready to dive deep into every single feature this VPN offers. So, join us as we test and explore Hide ALL IP. We promise that by the end of this article, you'll know whether this VPN will suit your needs.
Hide ALL IP – TechNadu's Hands-On Review
We won't stray away from our typical procedure of reviewing VPNs. We'll be checking and testing various aspects of this VPN, scoring them individually. To learn more, here's how we review VPNs.
Background, Jurisdiction & Reputation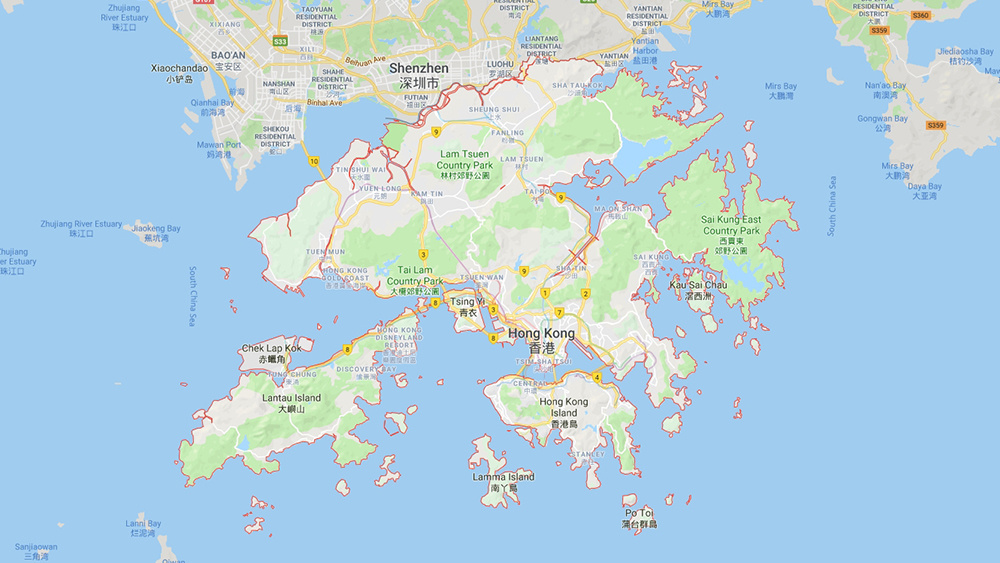 Hide ALL IP comes from Hong Kong, which can be somewhat problematic considering the highly unstable political climate. Our Score: 6/10.
When choosing a VPN service, it's important to know about its origins. After all, you'll want a VPN that comes from a country with privacy-friendly laws, helping you avoid unnecessary data logging.
Jurisdiction & Applicable Laws
To check where this VPN comes from, we had to dig deep. As it turns out, Hide ALL IP is a brand of a company called Network & Speed, Inc. However, what's interesting is that this company comes from Hong Kong, which might be problematic.
Many believe that Hong Kong is part of China, which isn't (technically) correct. It's true that Hong Kong is both part and independent to China, as it has its own legal system. Citizens of this territory have their own currency, passwords, and more. More importantly, the Great Firewall of China doesn't extend to Hong Kong, as this region doesn't have restrictive censorship measures. This means that right now, there's nothing wrong with using a VPN from Hong Kong. However, you've probably heard troublesome stories as well.
Currently, there are massive protests in Hong Kong. The pro-democracy protests have the main goal of distancing Hong Kong from China, but you can be sure that this movement won't go without any problems. There are already numerous reports of China using excessive force to arrest and detain protesters, and this situation seems to be intensifying on a daily basis. So, what will happen in the end? Well, this is anyone's guess, but one thing is sure – if China managers to push Hong Kong into adopting rigorous laws, VPNs such as Hide ALL IP will start to struggle.
Previous Data Leaks
We're happy to report that Hide ALL IP was never associated with any data leaks in the past. Even though we recommend you exercise caution even while using VPNs, this is certainly a good indication that this VPNs knows how to protect its users.
Supported Platforms & Devices
Hide ALL IP brings a Windows application, and you can use it on Android and iOS via mobile hotspot. No other devices or platforms are supported. Our Score: 3/10.
Today's VPN applications come with all kinds of native apps for various platforms. So, what you want to avoid is having to configure a VPN manually. Let's see what's the situation with Hide ALL IP.
Platform Compatibility
| | |
| --- | --- |
| Desktop Platforms | Windows. |
| Mobile Platforms | Android, iOS. |
| Web Browsers | N/A |
| Routers | N/A |
| Other Devices | N/A |
Upon visiting this VPN's website, you'll see screenshots of this VPN showing its macOS version. However, it's interesting that such a version of the app isn't available. You can only download a native app for Windows. There are no significant system requirements here, as the Windows app can run on any version of this operating system, both 32bit, and 64bit.
When it comes to mobile devices, there's a way to use Hide ALL IP on Android and iOS. Still, we're not talking about native apps here. Instead, you'll find instructions on how to share your Hide ALL IP tunnel via mobile hotspot to your Android or iOS phone. As you can see, this means that you need to have your computer nearby to share your Wi-Fi connection, so this isn't a truly mobile solution.
Other than Windows, Android, and iOS, this VPN supports no other platforms. You can't install it on a router, media streaming device, or any other type of platform. We say that that this is disappointing, as other VPNs typically cover a wide scope of platforms and devices.
Installation & Initial Configuration
Installing this VPN is easy. You need to download the app from its website, and then install it. However, Android and iOS require manual configuration. Our Score: 8/10.
To get started with this VPN service, you first need to subscribe to Hide ALL IP. You can try it out free of charge, as it comes with a 1-day trial. Either way, you'll need to download the Windows application from this VPN's website. Upon downloading the installation file, double-click to run it. Choose where to install the files and finish the rest of the procedure. Then, double-click to open the application itself, and that's pretty much it.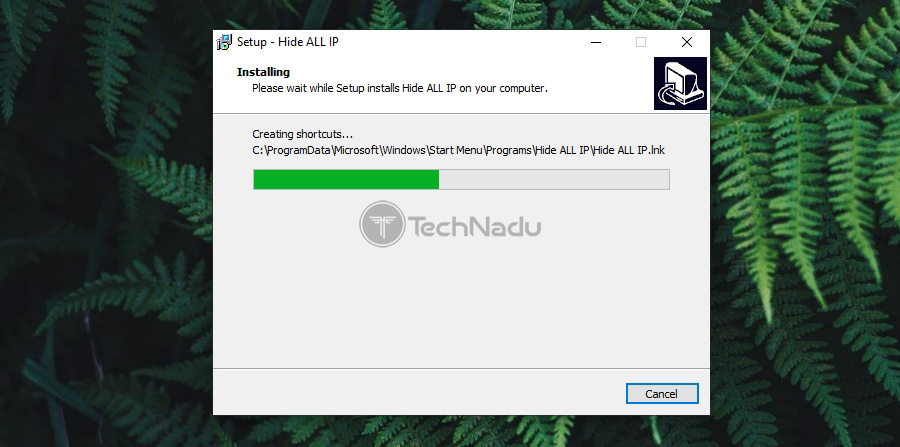 It's also worth noting that Hide ALL IP comes with a portable Windows version. This one doesn't need to be installed. You download a ZIP file instead, unzip the files, and then run the application. This is helpful if you want to avoid installing the VPN or if you want to run it from your USB drive.
When it comes to Android and iOS, you'll find instructions on how to share your mobile hotspot. This process includes adjusting some settings on your Windows computer and then doing the same on your mobile device. Even though this process can be somewhat tedious, it's nothing overly complicated to do.
Prominent Features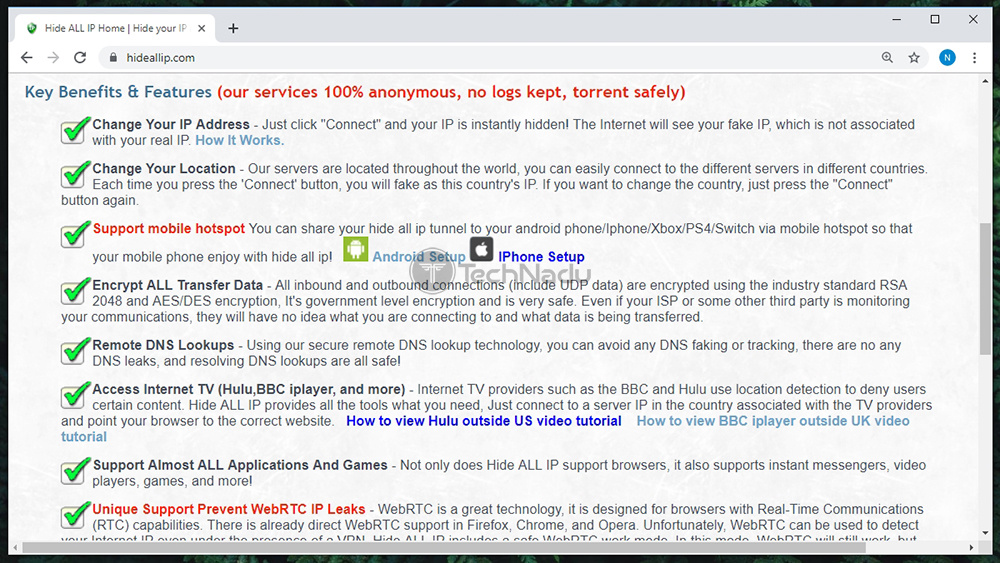 Hide ALL IP comes with a set of basic features – offering solid protection for your private data. There's even a kill-switch included, even though you won't find many advanced options here. Our Score: 5/10.
You must be wondering if Hide ALL IP is a basic VPN, or perhaps if it's made for advanced users? Well, let's answer that question by going through the list of its features.
VPN Features Checklist
| | |
| --- | --- |
| DNS Leak Protection | YES |
| IPv6 Leak Protection | NO |
| Kill-Switch | YES |
| Ad-Blocker, Anti-Malware | NO |
| Unlimited Server Switches | YES |
| Unlimited Bandwidth | YES |
| Unlimited Data | YES |
We can see that Hide ALL IP comes with basic data leak protection. It protects your IP and DNS information. However, we believe that this VPN supports IPv4 addresses only, as it's very hard to find native IPv6 support right now.
If we check for additional, high-end features, we won't find them here. Surprisingly enough, Hide ALL IP comes with a kill-switch that shuts down all Web traffic when you get disconnected from a secure server. However, there's no split-tunneling or any unique feature that could set this VPN apart from the rest.
Server Count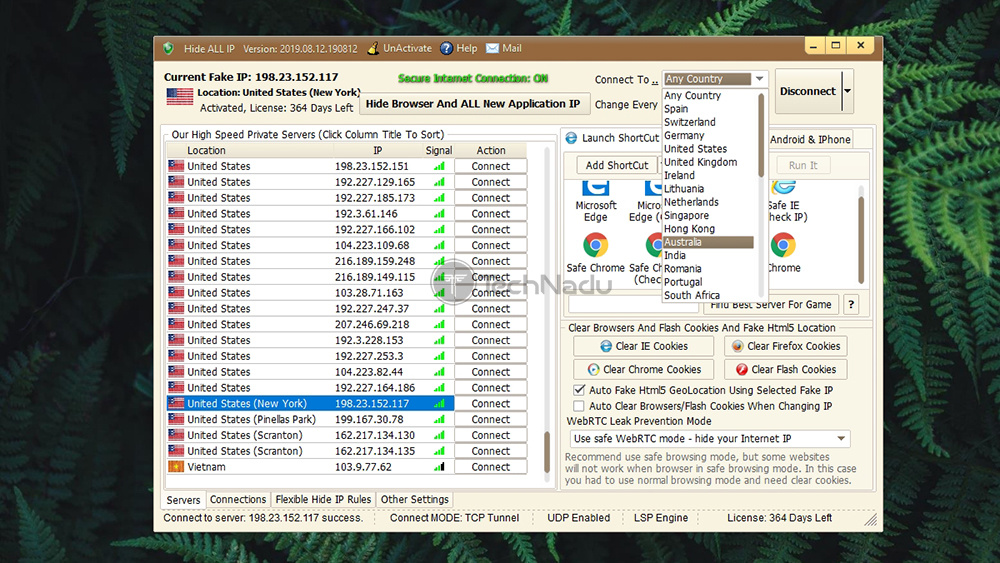 Hide ALL IP comes with a limited server network, spread across 37 countries (150+ servers). This is one of the smallest server networks we've seen yet. Our Score: 3/10.
So, how many servers does Hide ALL IP bring? And maybe even more importantly, in how many countries are these servers located? Let's find out!
Server Count Info
| | |
| --- | --- |
| Number of Servers | 150+ |
| Number of Locations | 120 |
| Number of Countries | 37 |
| Specific Cities Selection | NO |
| Unlimited Switching | YES |
We can see that Hide ALL IP has more than 150 servers, which isn't much. If you check our article on the VPN with the highest number of servers, you'll see that many of them offer several thousands of units. More importantly, those VPNs can be quite affordable, so it's clear that the competition is tough.
What needs to be said is that having access to 150 servers should still meet the needs of average home users. The biggest obstacle here is that you'll find those servers in 37 countries. If you're located in one of those countries, you're in luck. In case you're far away from those servers, your Web connection's performance will most likely suffer.
Ease of Use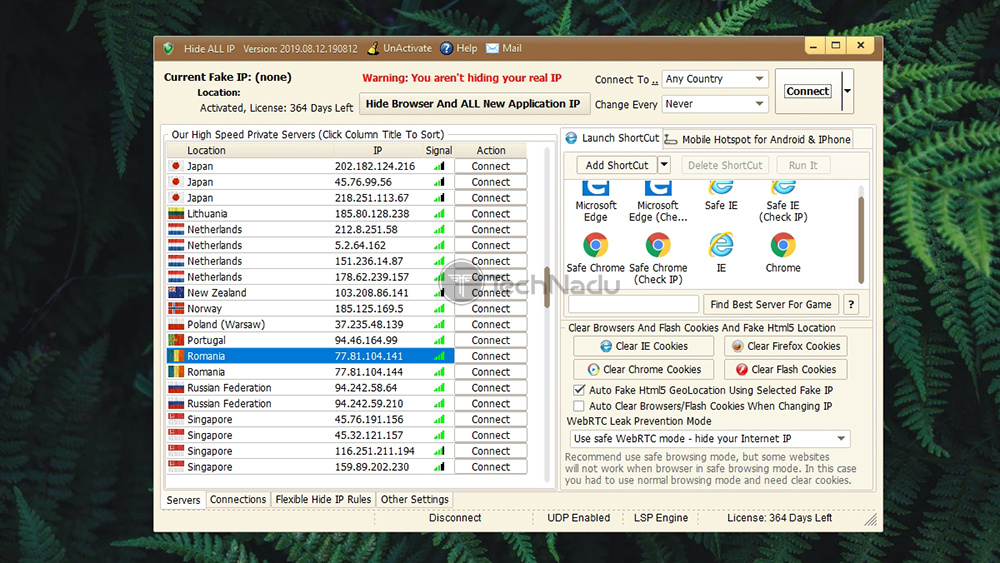 Hide ALL IP comes with a very outdated and quite hectic UI. Inexperienced users will most certainly feel overwhelmed the first time they open the application. However, once you learn the ropes, it's not that hard to use. Our Score: 5/10.
The home screen of Hide ALL IP is filled with all kinds of options. At the top, you can see whether you're hiding your real IP or not, you can check your account information, and most importantly – you can connect to a VPN server. In the top-right corner, you can select a country to connect to, and you can also change the time interval for renewing your IP.
The main portion of the home screen consists of two large segments. On the left, you'll see a series of servers, along with their IP, signal strength, and there's a button allowing you to connect to a specific server. On the right, you can add applications covered by this VPN and launch them via their shortcuts. There are also additional helpful features, letting you choose the best server for a particular game, and you can also clear Web browser cookies to resolve certain technical issues.
At the bottom, you'll see a series of tabs (barely noticeable, though). This is where you can switch between different overviews. You can check the current status of your Web connection and how individual applications are using the VPN connection. Then, you'll find a whole series of options that allow you to fine-tune your experience. You can change the application's behavior, set up custom rules for VPN connections, set Hide ALL IP to protect you automatically in certain cases, and plenty more.
Media Steaming & Torrenting Support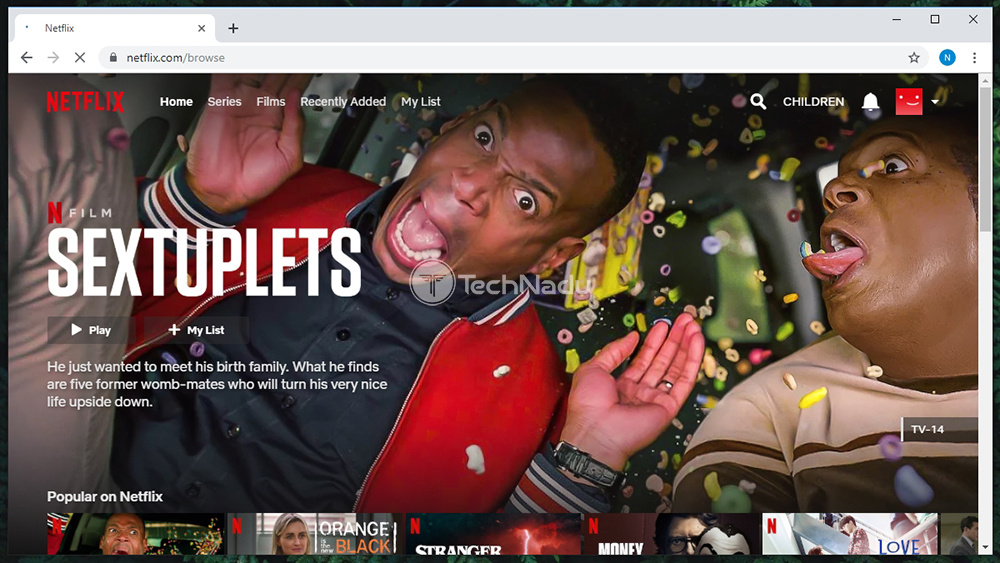 Surprisingly enough, Hide ALL IP is capable of unblocking a series of media streaming platforms. It also supports downloading P2P files. Our Score: 8/10.
Does Hide ALL IP work with Netflix? Can you use it to unblock other media streaming services? Well, we've done a round of tests using the world's most popular streaming platforms, and here are the results.
Media Streaming & Torrenting Support
| | |
| --- | --- |
| Netflix US | YES |
| Hulu | YES |
| BBC iPlayer | YES |
| Amazon Prime Video | YES (slow performance) |
| Torrenting (P2P) | YES |
On the official website of Hide ALL IP, you'll see messages saying that this VPN can unblock BBC iPlayer and Hulu – and this is entirely true. However, there's no mention of Netflix, even though this media streaming service works as well (the US version, that is). The only service that gave us some problems was Amazon Prime Video. Even though this one can be unblocked as well, there's plenty of buffering and performance-related issues.
It's also worth noting that Hide ALL IP fully supports torrenting. Therefore, if you're into downloading P2P files, this could be an interesting option. Still, make sure to read this entire article before making a purchase, as we'll be checking this VPN performance later in the article.
Security & Privacy
Even though it comes with strong encryption, Hide ALL IP is less powerful than average VPN services. Also, it comes with highly problematic privacy policy. Our Score: 4/10.
As you can see by now, Hide ALL IP can help you unblock certain media streaming platforms. However, how well does it protect your private data? We'll check that by inspecting its encryption protocols, logging policy, and we'll do a DNS speed test.
Supported Encryption Protocols
Hide ALL IP is a bit different from typical VPN services. This one supports two types of VPN tunnels – TCP and HTTP tunnels. There's no way to choose which one to use, as this is determined automatically in the background. In addition, this VPN uses RSA+AES/DES encryption, which is considered to be the industry standard.
In general, this VPN comes with solid protection for your private data. However, you'll easily find much more capable VPN solutions that come with high-end protocols such as OpenVPN. In addition, many VPNs come with more than protocol, allowing you to fine-tune your experience. This isn't the case with Hide ALL IP.
Logging Policy
This VPN says that it offers a '100% anonymous' service. However, it comes with an incredibly short privacy policy that doesn't say what kind of data is collected. There's no way of knowing if your personal information is being logged, in which manner, and whether that data is being kept on the servers for a certain period of time.
We've reviewed dozens and dozens of VPNs so far, and we have to say one thing – Hide ALL IP comes with one of the most problematic privacy policies. Therefore, we don't recommend it to those who need absolutely the best protection for their private data.
DNS Leak Test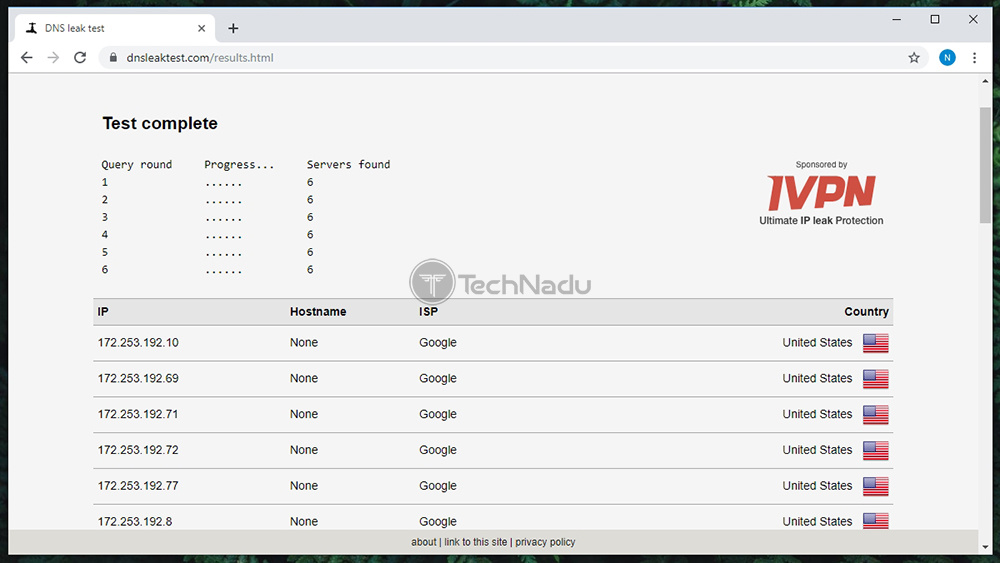 As the screenshot above shows, we detected no DNS leaks. This means that third-parties on the Web will only get to see and read your virtual information. In other words, there are no active leaks.
Speed & Performance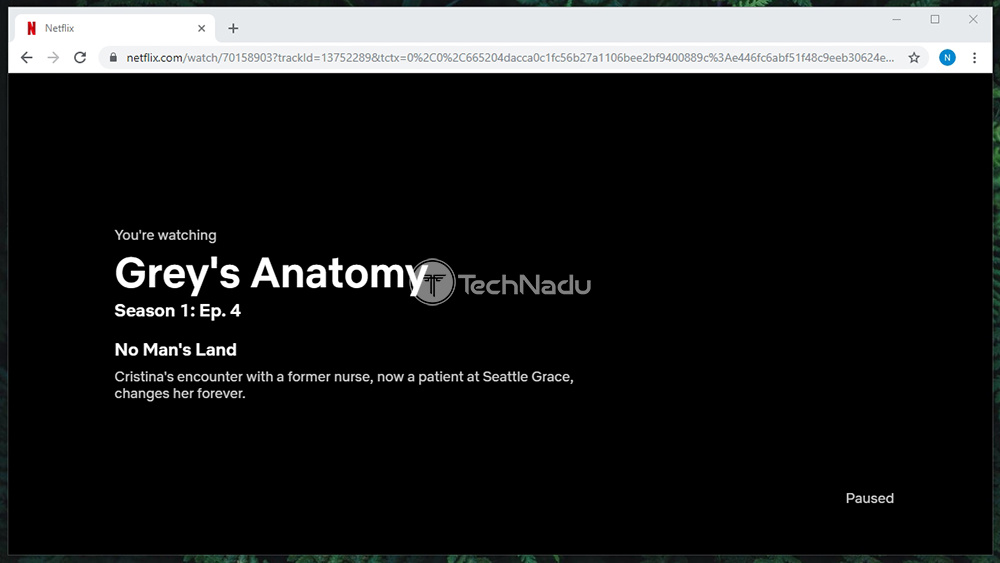 Hide ALL IP brings poor results when it comes to our speed tests. It slowed us down by 90% on average, placing it among the most problematic VPNs. Our Score: 2/10.
To tell you what kind of performance to expect, we've done a series of speed tests. Just like we do in our every review, we've tested both nearby and remote servers, offered by Hide ALL IP in this case. So, let's check out the results.
First, we needed to establish some baseline data. For this purpose, we've checked the speed of our Web connection – without involving the VPN. As you can see from the screenshot, we managed to get 78.92 Mbps for downloads and 18.43 Mbps for uploads.

Then, we proceeded to test the speed of a nearby server. Hide ALL IP comes with a nice list of servers across Europe (where we're located), and we managed to find a server in of our neighboring countries. This time around, we got 10.20 Mbps for downloads and 8.29 Mbps for uploads.
And finally, we also connected to a server in the USA, which is a remote location for us. During this round of speed testing, we managed to get 5.97 Mbps for downloads and 4.63 Mbps for uploads. To make sense of these numbers, we'll put then into a table.
| | | | |
| --- | --- | --- | --- |
| | Download Speed | Upload Speed | Speed Reduction |
| Baseline Data | 78.92 Mbps | 18.43 Mbps | 0% |
| Nearby Server | 10.20 Mbps | 8.29 Mbps | 87% |
| Remote Server | 5.97 Mbps | 4.63 Mbps | 92% |
On average, this VPN slowed the speed of our Web connection by 90%. As you can imagine, this is a poor result, and you should be able to find a better-performing VPN easily.
Customer Support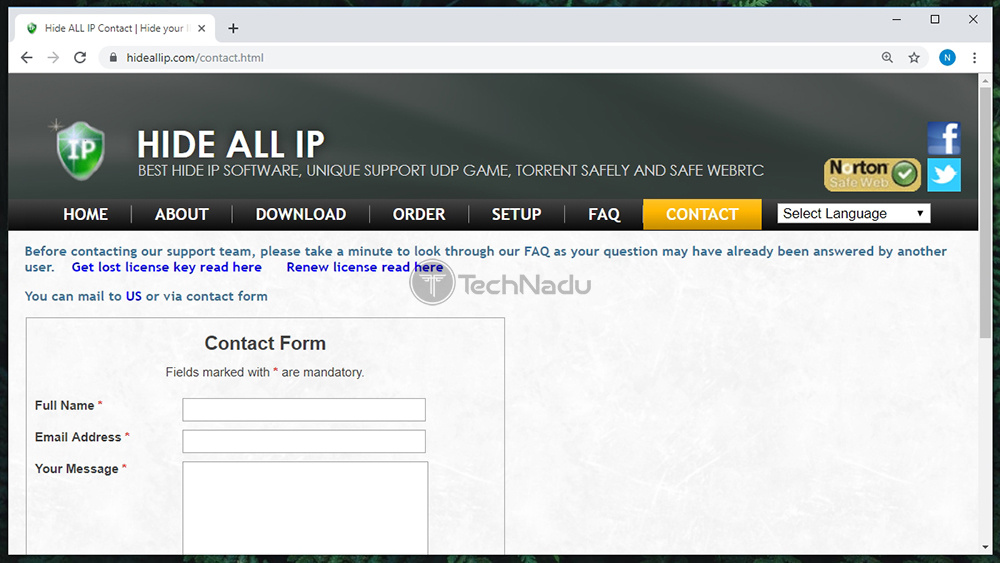 Hide ALL IP comes with several resources related to customer support. However, all of these are half-baked solutions, so in the end, you'll be left on your own. Our Score: 3/10.
VPNs are powered by complex technologies with data centers being the central portion of this scheme. Therefore, you shouldn't be surprised if something goes wrong from time to time. However, this is also why you need to know what kind of customer support you'll be getting – as you want your questions to be answered in a timely manner.
To help you get started, Hide ALL IP comes with installation guides showing you how to install and then use this application (on Windows, Android, and iOS). Then, there's a series of frequently asked questions that are not that helpful. They explain certain aspects of this VPN, but they don't provide an answer to technical issues that you might face. And finally, you can also contact Hide ALL IP via a contact form found on its website. However, be prepared to wait several days for a response, which is usually going to be very short and not as helpful. In many cases, you'll be left to find a solution on your own.
Pricing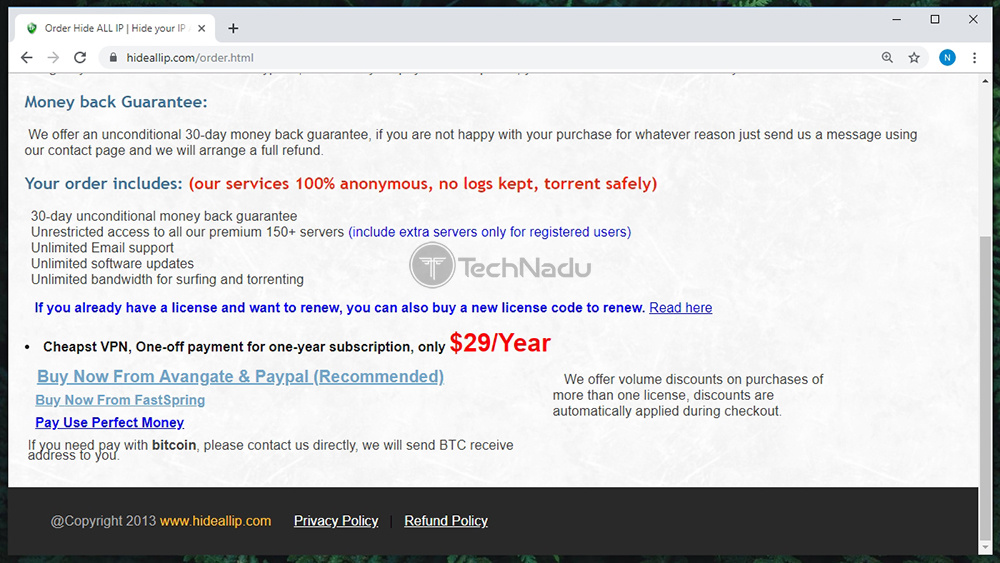 Even though Hide ALL IP is among the most affordable VPNs we've seen yet – we can't say that it's worth the money. Our Score: 1/10.
Typically, VPNs come with several subscription plans – allowing you to save some money by signing-up for the long-term. However, this isn't the case with this VPN. If you decide to subscribe to Hide ALL IP, you'll see that it comes with a single subscription plan – priced at $29.00 per year.
We do have to add that Hide ALL IP is among the most affordable VPNs we've seen yet. However, there's the question of whether it's worth its price. Unfortunately, we believe you'll manage to find a better solution, without spending too much time on finding one.
Finally, we also need to note that you can pay for this VPN via credit cards, PayPal, and numerous other payment processors. There's also a way to pay with Bitcoin, but you'll need to contact this VPN first and ask for instructions. And also, there's a 30-day money-back guarantee.
Do We Recommend Hide ALL IP?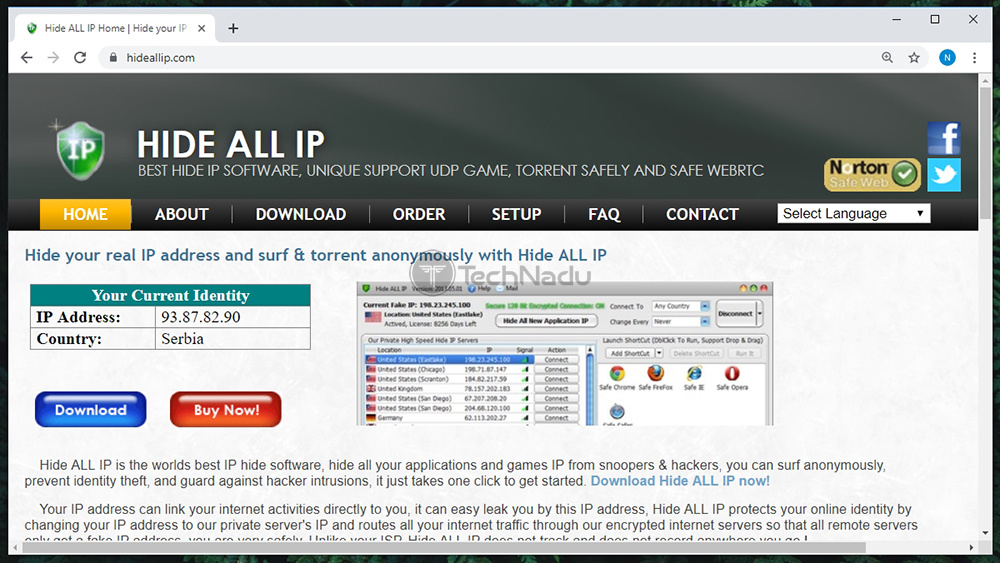 In certain cases, this VPN can be helpful. However, there are simply too many obstacles to using this VPN on a daily basis. It comes with an outdated UI, doesn't bring the highest level of encryption, and doesn't support the best possible VPN protocols. And even though it comes at an affordable price, we just don't think it's worth the money.
PROS: Easy installation; Affordable; Unblocks media streaming platforms.
CONS: Outdated user interface; Limited server network; Poor performance; No fine-tuning available; Problematic privacy policy.
OUR SCORE: 4.4 out of 10!
If you need more information about Hide ALL IP, the provided link will take you to its official website. However, we're sure that many of you will want to explore other options. So, you'd want to check our list of the best VPNs today.
In case you liked this review, we'd like to ask you to share it on the Web. And to stay on top of the latest VPN-related coverage, don't forget to follow us on Facebook and Twitter.