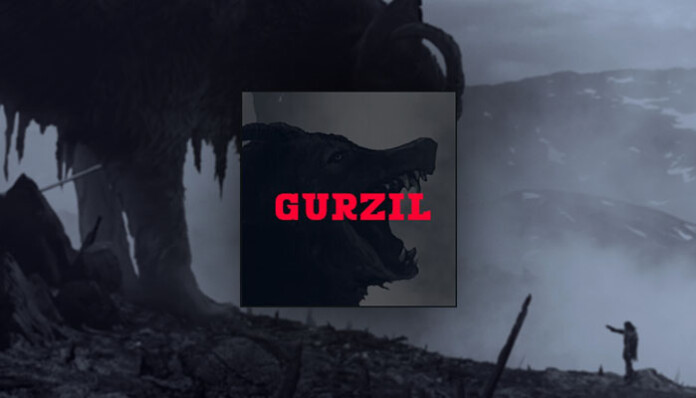 Update Notice: The Gurzil Kodi addon is no longer supported by its developer. We recommend you to take a look at our list of the best movie Kodi addons, which contains plenty of interesting options. Alternately, you can always rely on our often-updated list of the very best Kodi addons.
When it comes to reliable addons for Kodi, you always have a least a dozen of amazing options. These are widely-used and highly-popular addons. However, we can also see newly released addons on a daily basis. These are recently released addons that may, or may not be, build upon a once-popular extension for Kodi. As you are about to see, they can be as exciting and useful as those that have thousands of loyal fans. Let's take a deeper look at the Gurzil Kodi Addon – one of the trending newcomers in the world of Kodi addons.
Disclaimer: We will be talking about software developed for Kodi – which is based on open-source code. However, the following software comes from unofficial third-parties. In addition, it is publicly available and free of charge. TechNadu doesn't claim any responsibility for how our readers decide to utilize the following software. Please note that we don't condone sharing pirated content and copyright infringement. TechNadu is not affiliated with the software mentioned in this article in no way. Make sure to carefully read the above-said disclaimer and ensure the proper use of the software.
Warning: Why you must NOT USE Kodi without VPN?
Here are the reasons that you should consider looking at it
without SKIPPING
.
Using ILLEGAL Kodi Addons are Dangerous without a VPN: Most of the Kodi users are installing the ILLEGAL Kodi addons on their system to access all the latest movies, TV shows, sports, music, and much more for FREE, than a legal Kodi addons where it has the least content in it. But do you know what? The video content on illegal addons are a scraped and copyrighted material. If you are accessing them on Kodi, then your activities will be monitored by your ISP by tracking your IP and gives all the information to the government or companies if they request for it. This will land you in trouble. To stay away from this, you will have to connect to a VPN where it hides your identity by rotating your IP address while streaming Kodi content. This is how you will be safe from the prying eyes.
Bypass Geo-Restriction: As you probably know, some official addons like BBC iPlayer, NBC Sports, Hulu, IceFilms have geo-location restrictions. This also applies to other addons like Acestream which fetches the data from torrents. To unblock these restrictions, you will have to DEFINITELY use a VPN no matter what.
The above are the 2 reasons that forcing us to recommend a VPN to the Kodi users for safer streaming. In fact, after testing several VPNs for Kodi, we finally came up with a one non-stop solution and that is
ExpressVPN, the top rated Kodi VPN
so far.
Limited Time Offer:
For our TechNadu readers, there is a
49% OFF on ExpressVPN
which includes
3 FREE Months
in it.
Gurzil Kodi Addon: The Origins
Some of you might be interested in knowing the 'behind-the-scenes' of Gurzil. This is especially helpful if you're a long-term Kodi user. As you probably know, many addons for Kodi come and go. They become hugely popular, only to disappear months after. Still, that kind of fallout usually produces a range of successors equally capable as the original. So, what's the story behind Gurzil?
A couple of months ago, it was announced that Exodus was abandoned by its developer. Exodus was a hugely popular addon for a very long time – and still manages to bring fully-working content. However, you can't expect from this addon to receive regular updates. When something like this happens, another developer usually takes over Exodus' code and carries on. In other cases, 'forks' appear – which are addons that share the same core code. You can look at these as fully-working Exodus alternatives. Gurzil is one of those addons. It looks and works exactly like Exodus – but brings its own content and is regularly updated.
At the moment, Gurzil is the most reliable Exodus fork that is trying to build its own user base. Here at TechNadu, we believe that is going to happen sooner rather than later. So, why not join the bandwagon?
How to Install the Gurzil Kodi Addon?
No matter if you're a new or experienced Kodi user, you can install Gurzil in under a few minutes. We are here to take you through the entire process. Since the latest and fully-working version of this addon is located in the Kdil (Kodisreal) Repository, we'll show you how to use it. But first, we have something important to tell you.
Important Note
If this is your first time installing an addon, you need to set up Kodi to accept this kind of software. By default, Kodi downloads and installs addons from its official 'Addon Store'. Still, there's an easy way to instruct Kodi to work with just about any third-party addon. Use the guide found below.
Open Kodi and visit the application's Settings. This is done by clicking on the gear icon (top-left corner);
Now click on 'System Settings' on the right-hand side of your screen;
In the left-placed sidebar, pick 'Add-ons';
On the right, click on 'Unknown Sources';
At this moment, Kodi will warn you against installing third-party addons. However, there's nothing to be afraid when it comes to Gurzil and other trustworthy addons. Confirm your decision;
Finally, it's wise to double-check if the toggle next to 'Unknown Sources' is switched to ON.
Installation Guide
As said earlier, we will be using the Kdil Repository to install the Gurzil Kodi addon. We advise you to do the same. After all, this is the only way to ensure that you're downloading the official addon. First, we need to visit the Settings and add a new file source to Kodi. Continue reading and take a look at the provided screenshots along the way.
While Kodi is open, go to Settings. You can click on the gear icon in the top-left corner;
Now find and click on 'File Manager';
You should see 'Add Source' on the left side of your screen. Double click on this command;
Using a newly opened pop-up, click on '<None>';
Next, enter the following URL: http://kdil.co/repo/;

You also need to name your file source. You can go with 'Kdil Repo' or any other name – but make sure to remember that name;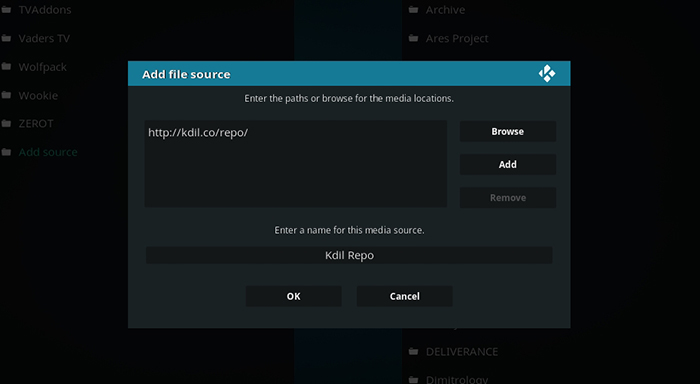 Hit 'OK' and the pop-up should disappear. If you don't see any warnings, this means that you've successfully added a file source.
We'd like to explain this entire process so you can fully understand what you're doing. So, here's what you've done so far. You've added a file source that has the Kodil Repository. In other words, you've instructed Kodi where to look for a ZIP file that contains this repository. We'll now proceed and install that ZIP file.
Return to the Home Screen of Kodi;
Pick 'Add-ons' in the main menu;
Then, click on the open package icon in the top-left;
Pick 'Install from ZIP file';
Using a newly opened pop-up, find an entry named 'Kdil Repo' and click to open it;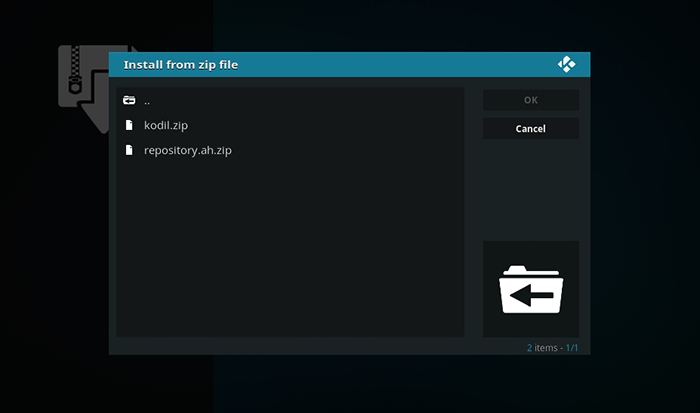 Inside, you will find a ZIP file named 'kodil.zip'. Click to install this file.
A few seconds later, you will see a notification within Kodi. This will say that you've added the Kodil Repository. What we now need to do is to install the Gurzil Kodi addon.
Feel free to return to Kodi's Home Screen;
Click on 'Add-ons' in the main menu;
Now, once again click on the open package icon;
This time, select 'Install from Repository';
You should see a list of installed repositories. One of those will be the Kodisrael Repository. Open it;
Next, navigate to Video Add-ons;
Finally, click 'Gurzil' to open the addon's overview screen;
One last thing – click on the 'Install' button to finalize this procedure.
Congratulations! Hopefully, you can now run Gurzil and unlock a whole new world of entertainment. To use this addon, go back to Kodi's Home Screen. Pick 'Add-ons' and then hover over 'Video Add-ons'. You should see Gurzil waiting to be launched. Enjoy!
Gurzil Kodi Addon: What to Expect?
This addon is focused on movies and TV shows. You can see this right after you open it. Almost every option in its main menu is more or less connected to these two content categories. So, let's take a closer look at what to expect.
Movies & TV Shows
When you open either of these two categories, you will be greeted by fifteen sub-folders. You can look at these as different ways of browsing the available content. For example, this can be done by opening folders like Genres, Year, People, Languages, Most Popular, In Theaters, and more. Some of these come with another set of sub-folders – taking you to a very specific set of movie titles and TV episodes.
Once you find something interesting to watch, Gurzil will scan the Web for media streaming links. it might take up to 30 seconds for streams to appear. It's up to you to pick a file source.
My Movies & My TV Shows
These two folders can be filled with your watchlists. However, you need to have a Trakt.TV or IMDb account. If you're interested in a keeping a score of the movies and TV shows you've watched, you should consider using Trakt.TV with Kodi.
Once you set up your account, you can click right-click on entries within the Gurzil Kodi addon and pick 'Mark as Watched'. In addition, Gurzil will also sync your user database in case you decide to use Trakt.TV.
New Movies & new Episodes
As their name implies, these folders contain recently discovered media streams. If you don't know what to watch, this can be a good way to preview the hottest content. The majority of links found here seem to be working without any issues.
Channels
This is a very interesting content category, unique to Exodus forks. Once you open this folder, you'll be greeted by more than a dozen of popular TV channels. In addition, you'll see movie titles of recently aired movies. Click on any of these and you'll get to scrape the Web for that movie title.
Tools & Search
The final two options can be used to fine-tune your user experience. This is where you can add Trakt.TV and IMDb accounts, pick a third-party subtitles provider, and more. In addition, this is where you can delete junk files if you're running Kodi on a device with limited storage space.
The final option in Gurzil's main menu is 'Search'. As its name says, you can use this tool to discover specific movie titles and TV shows. Simply enter a search query and you'll get a list of results.
What's Next: Additional Resources
You can count on the Gurzil Kodi addon when it comes to movies and TV shows. We are sure that you'll be more than happy with this addon. However, there's no reason not to find alternatives. Here are some of our recommendations.
In case you fail to find a movie or TV shows in Gurzil, we recommend trying out MaverickTV. It uses a different mechanism to scrape the Web for movies. Therefore, it might offer something you can't find elsewhere;
If you're looking for something different, we recommend installing SkyNet. This addon goes way beyond movies and TV shows. You can count on it for sports programming, cartoons, music, and other types of content;
Finally, we have an option that brings an incredibly diverse content. It's called UK Turk Playlists. With more than 15 content categories on its home screen, we are sure you won't be disappointed.
Conclusion
So, have you managed to install the Gurzil Kodi addon? If you did, let us know what you think about it. If you didn't, maybe we're able to help. Let us know in the comments section below.
Also, feel free to share this article on social networks if you'd like to spread the word about this amazing addon.