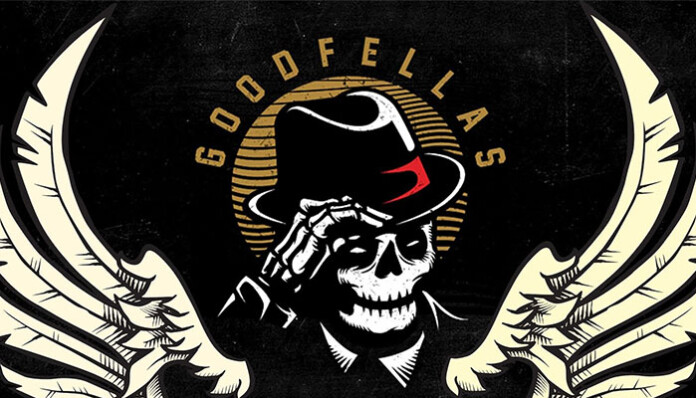 Update: The GoodFellas 2.0 addon is no longer available. However, there are numerous great alternatives out there. Take a look at our list of the best addons for Kodi to see some of the most popular (and trending) addons that are still fully working. Additionally, here's a list of the best movie addons as well as the best live TV addons for Kodi.
Are you looking for reliable movie addons for Kodi? Maybe you're interested in watching Live TV or sports programming? If that's the case, we'd like to introduce you an addon called GoodFellas 2.0. This highly capable addon brings an incredibly wide range of content – for your entire family too. So, there's no reason not to take advantage of it. All us to show you how to install GoodFellas Kodi addon as well as what to expect. We'll bring an in-depth and up-to-date guide that comes with screenshots as well.
Disclaimer: We will be talking about software developed for Kodi – which is based on open-source code. However, the following software comes from unofficial third-parties. In addition, it is publicly available and free of charge. TechNadu doesn't claim any responsibility for how our readers decide to utilize the following software. Please note that we don't condone sharing pirated content and copyright infringement. TechNadu is not affiliated with the software mentioned in this article in no way. Make sure to carefully read the above-said disclaimer and ensure the proper use of the software.
WARNING: Before You Continue…
Do you know that everything you do within Kodi might be visible to your Internet service provider? Actually, this applies to pretty much everything you do on the Web. These days, ISPs collect all kinds of personal data and share it with third parties. However, there is a way to stop this. You can use a VPN application to make sure you're using Kodi as privately as possible.
VPN applications work by rerouting all your Web traffic through an encrypted tunnel. This makes your data unreadable by your Internet service provider. Also, VPNs get you a new IP address every time you connect to the Web. This means that your online presence and your physical location are both hidden. Finally, VPNs can keep malware away from your device and let you watch previously restricted content. We highly recommend using ExpressVPN.
Signing up for ExpressVPN has never been more affordable! Instead of paying $12.95 per month, you can opt for a special promotion and get this amazing VPN for only $6.67 per month! In addition, the annual plan comes with three additional months, free of charge. Sign-up for ExpressVPN and reap the numerous benefits it offers.
GoodFellas Kodi Addon: Introduction
As long-time Kodi users can tell you, GoodFellas isn't a new addon. Instead, it has been around for quite some and managed to survive several major Kodi releases. It's interesting to note that GoodFellas' developers are among the most passionate developers in the Kodi community. This is also the reason why you'll find very few non-working links. We have been using the GoodFellas Kodi addon for quite some time, and it still remains as one of the best options available. After all, we'll be talking about its second major overhaul – GoodFellas 2.0.
GoodFellas Kodi Addon: Installation Guide
The good news is that this addon is contained within its own repository. As you probably know, you first need to install a repository, and then install an addon contained within. Repositories serve as publicly available sources of addons and aren't usually maintained by developers of those addons. However, this isn't the case with the GoodFellas Kodi addon.
Before we proceed with the installation guide for this addon, there's something important you need to do. Make sure to read the following section carefully.
Important Prerequisite
You need to make sure that your Kodi installation works with third-party addons. By default, this isn't the case. This is because there's the official Kodi Repository that contains addons approved by Kodi's creators. Still, you know that there are a lot of different third-party sources on the Web. This is the reason why we need to enable Kodi to support these addons.
Open Kodi and use the gear icon in the top-left corner. This will take you to the application's Settings;
Now navigate to 'System Settings';
In the left-placed sidebar, you will see 'Add-ons'. Make sure to pick this option;
Finally, you can find 'Unknown Sources' on the right side of the screen. Toggle this option to ON;
Kodi will display a warning, but you can go ahead and dismiss that. Double-check if you've enabled the support for unknown sources.
Installation Guide
Finally, let's talk about how to install GoodFellas 2.0 on your Kodi. We have also included helpful screenshots that you can refer to if you get lost. Don't worry, you can install third-party addons even if you've never used Kodi before.
Launch Kodi and use the gear icon in the top-left corner;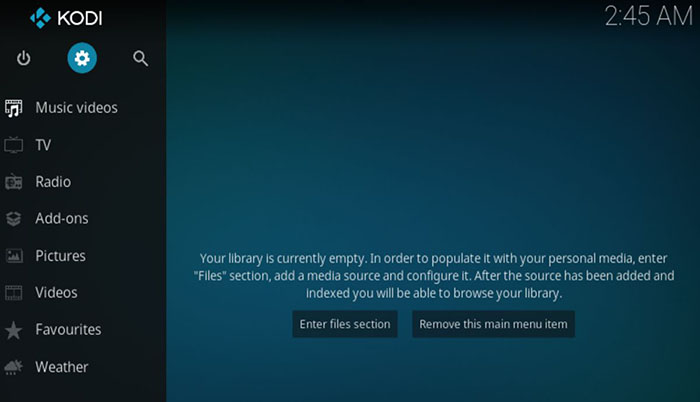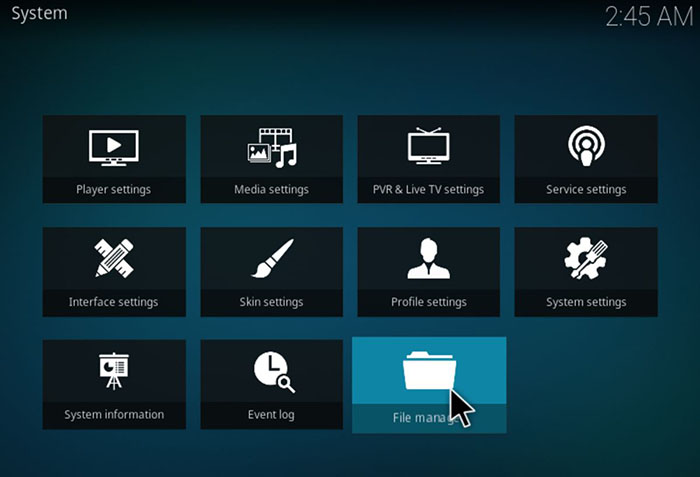 On the left side of the screen, you will see an option that says 'Add Source'. Double click on it;
Now click on '<None>' in a newly opened pop-up window;
Make sure to very carefully copy the following URL: http://www.goodfellasteam.com/Repository/. Important note: Make sure to type it 'Repository' instead of 'repository'. Some of our readers have noted that they've encountered errors when they used 'repository' – without the capital R;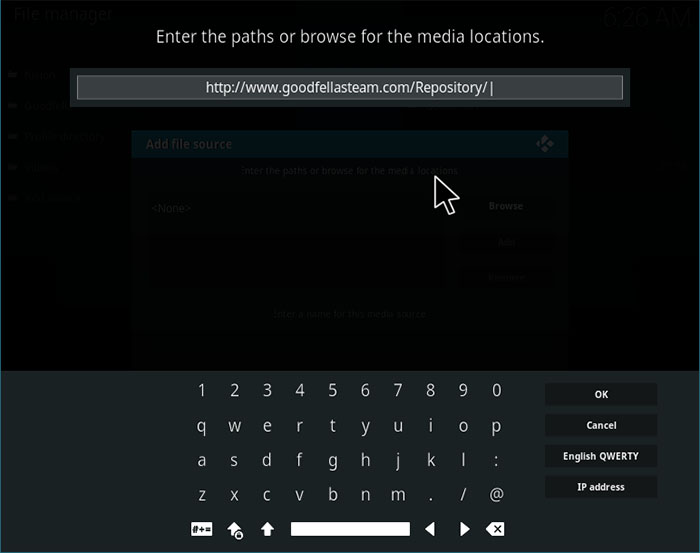 Make sure to provide a name for your new source. You can go with 'GoodFellas 2'. Finally, hit 'OK'.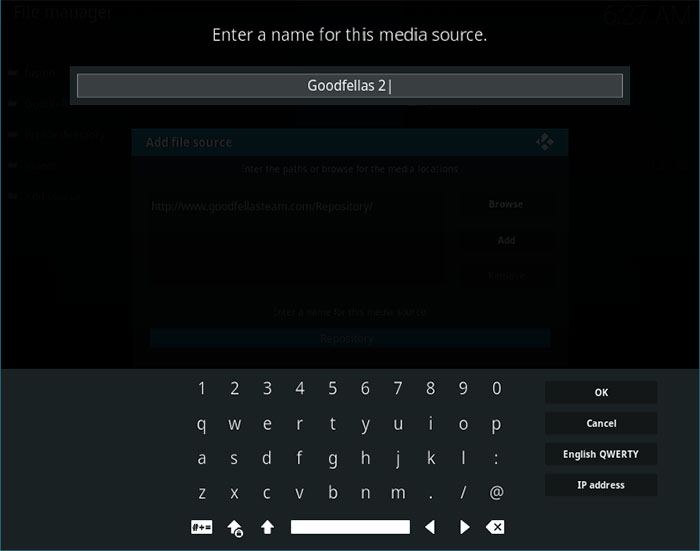 So far, we've added a new Web-based source to Kodi. This means that we still haven't downloaded the repository where you can find the GoodFellas Kodi addon. So, keep on reading.
Return to the Home Screen of Kodi. From there, click on 'Add-ons' in the left-placed main menu;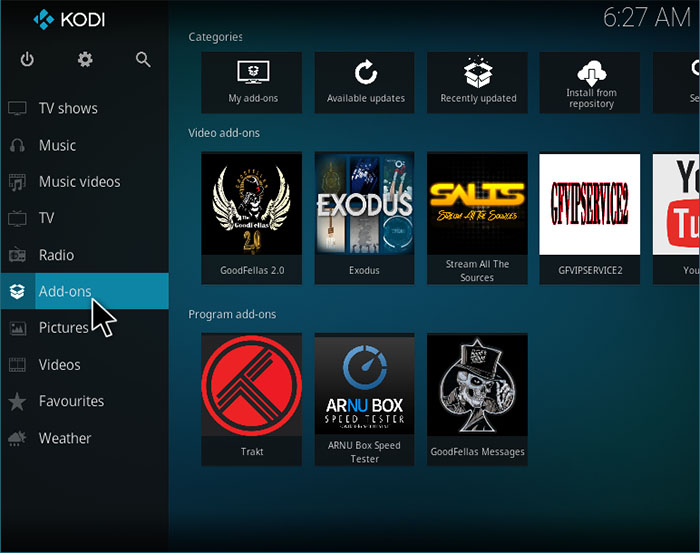 Now click on the open box icon in the top-left corner;
Select 'Install from ZIP file';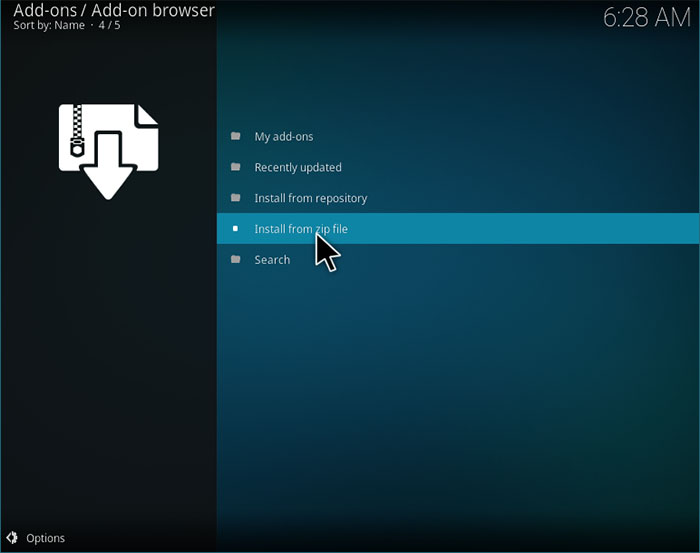 In a newly opened pop-up, open the 'GoodFellas 2' directory. In there, you will find a ZIP file named 'repository.goodfellas-1.6.1.zip'. The number at the end tells you the current version of this repository. If you see some other numbers, feel free to disregard that. Click on this ZIP file to install it;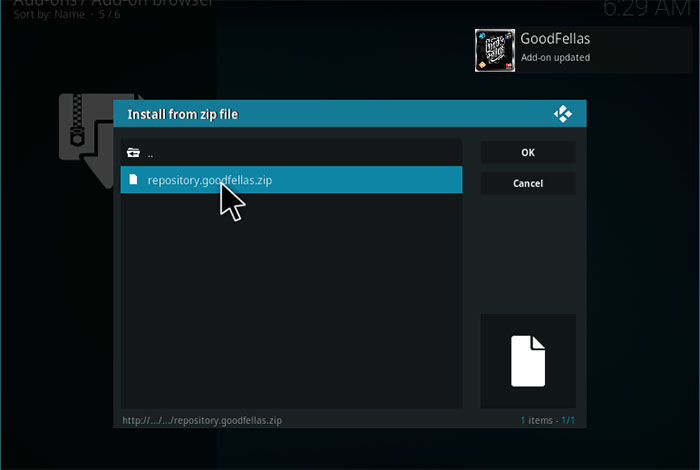 Wait a few moments until you receive a notification in the top-right corner. This will mean that you've managed to install the GoodFellas Repository.
All there's left for us to do is to install this addon. Let's access the repository you've installed and find the GoodFellas Kodi addon.
Return to Kodi's Home Screen;
Click on 'Add-ons' in the left-positioned main menu;
Now click on the open box icon in the top-left corner;
Pick 'Install from Repository';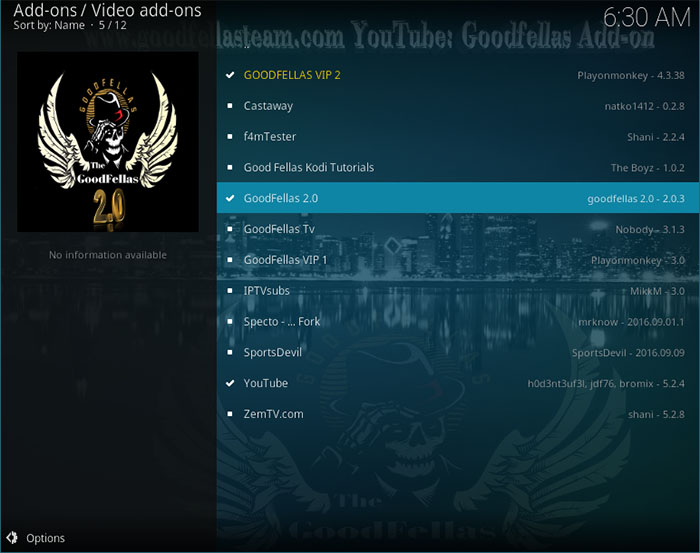 Navigate to GoodFellas > Video Add-ons > GoodFellas 2.0;
Once you open the addon's overview, use the 'Install' button in the bottom-right corner.
That's it! After you receive a notification in the top-right, you can go ahead and try out this addon.
GoodFellas Kodi Addon: A Walkthrough
When you launch GoodFellas, you'll see that 24 folders await. These are actually different content categories. In other words, there are 24 ways to browse the available content and find incredibly specific content categories. We think you'll be more than happy with the filtering options present on its home screen. Let's take a look at some of the available content categories.
Favorites & Search Channels
This is where you can save your favorite media streams. As you can see, this can be a very helpful way to access a selection of content you frequently use. To place items in this folder, right-click on any media stream and pick 'Add to Add-on Favorites'.
Next, there's a folder called 'SearchChannels'. As its name implies, you can search for specific type of content. Simply enter a search string and hit 'OK'. You should see a list of search results. Please note that this option doesn't work at times. A better method is to place items in the Favorites folder.
Free TV Channels (News Channels & Sports/Events)
These three folders all about watching Live TV on your Kodi. You can browse the available channels by their country of origin. Folders like 'News Channels' and 'Sports/Events' also contain TV channels, but they cater to specific groups of users. You can see this as different filters or sorting options.
Movies & TV Shows
As you can tell, this is where you can find movies and TV shows. Both of these folders bring very specific content categories based on different genres. However, this is also where you'll encounter non-working links at times. Even though this section is usually working, it can be problematic. If you'd like to have an alternative, we recommend checking out addons like Covenant and Elektra Vault. Both of these addons cater to fans of movies and TV shows.
Other Categories
The GoodFellas Kodi addon also offers around 15 additional categories. These range of seasonal favorites, up to culinary content, documentaries, and more. These categories allow users of this addon to find very specific and niche types of content. We recommend checking them out on your own and trying to find something you'd like to watch. However, we'll also provide a brief explanation of what each of these offers:
Seasonal Favorites provides currently trending media streams. However, note that these might be overloaded at times;
Biography/Documentary is where you can find great documentary films. If you don't find something interesting here, you can take a look at other great documentary addons;
Audio Books/Newspapers brings both the classics and newer books. The audio newspapers are problematic, and it seems like this option is unavailable at times;
Sounds/Meditation is where you can find items like a virtual fireplace and soothing music;
Culinary offers a set of sub-folders where you can find cooking TV shows. Some of these are Vegan TV, Foody TV, Joy of Baking, and similar;
Arts/Crafts provides a large number of categories. Just like with the previous option, you can use this option if you're into crafting;
Ladies Lounge is where you can find video content from popular fashion magazines, health-oriented content, as well as makeup tutorials;
Outdoors is created for those who like hunting, fishing, and outdoor cooking in general;
Military provides history documentaries and official videos supplied by the US military;
Motor Headz, as its name says, provides content that includes TV shows like Motor Trend Channel, DIY Auto Body, and more;
Vaping can be of interest to those who use vaporizers. This is where you'll mainly find product reviews and similar;
Controversial YouTube brings videos from questionable and infamous channels like Alex Jones, The Amazing Atheist, and more. It might not be for everyone, but some of you might like it;
Music provides music streams. You can pick from different genres of pop, country, EDM, classical, and more;
Fitness provides videos brought by fitness-oriented YouTube channels;
Web Cams brings an assorted selection of webcams from all around the world. Many of these seem not to work, so you'll have to try on your own;
Finally, there's the GoodFellas category. These are Kodi-related playlists and tutorials.
What's Next: Additional Resources
So, you've managed to install the GoodFellas Kodi addon. Hopefully, you'll find the addon working as it should. Still, it's nice to have some alternatives – which is what you'll find in this article. In addition, we'll also recommend other TechNadu's articles that deal with Kodi in-depth.
Your use of addons should not stop with the GoodFellas Kodi addon. There are some amazing options out there. We recommend checking out best-working addons for Kodi as well as additional options for best Kodi addons. If you want to go one step further and turn your Kodi into a streaming machine, you can try out one of the numerous customized builds for Kodi.
We'd also like to recommend specific Kodi addons if you don't have time to read our overviews. Covenant is an amazing source of movies and TV shows, just like Elektra Vault (especially if you want to watch 4K content on Kodi). If you crave for sports content, don't forget to try out SportsDevil, one of the best-known addon of its kind.
Conclusion
We sincerely hope you found this article to be useful. If you think other Kodi users could benefit from reading it, why not share it on Facebook, Twitter, and other social networks?
If there's anything you'd like to say to us, use the comments section below. Let's talk!