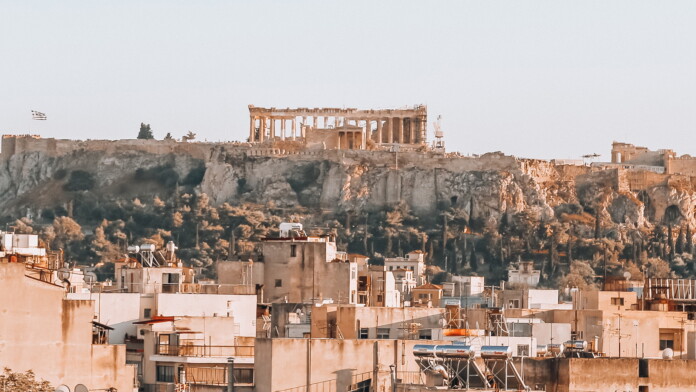 There could be many reasons why you'll want a Greek IP address. Maybe you're traveling outside of your home country and want to access geo-restricted data. Or, maybe you're a Greek living abroad and you want to watch Skai TV, Alpha TV, or ERT – to stay on top of the latest news. Well, no matter the reason, you'll need a VPN application. At the moment, this is the most secure and effective way to get a Greece IP address in 2019. As you can imagine, we're here to tell you everything you need to know, so let's jump right in.
Before we give you some concrete recommendations, let's take a small detour. We'd like to tell you about a few things that will make you question your use of the Web without being protected via a VPN. You might already know that Greece is a member country of the European Union. This country is in the process of implementing the GDRP set of laws, which isn't active just yet. In the meantime, this country participates in a project of creating a massive biometrics database, along with other EU members. And also, know that Greek Internet users are starting to be targeted by DNS hijackers due to their geographic location. Therefore, using a VPN should be mandatory not just for Greeks but to everyone else as well.
Without further ado, here's how to get a Greece IP address in 3 simple steps.
First, you'll need to find a reliable VPN service. We've prepared several options based on our hands-on experience, with ExpressVPN coming in as the strongest contender.
Then, you need to get your VPN subscription. This means that you'll need to choose a subscription plan and sign-up.
Finally, you need to install the chosen VPN service. Then, use it to connect to a server in Greece. By doing so, you'll get a Greek IP. That's it!
Step 1 – Find a Capable VPN Service
There are hundreds of different VPNs out there. So, make sure to do your research and pick the most suitable one. We'll help you with this by listing three of the best options right now. You should also know that we've tested these VPNs on our own, and we have plenty of hands-on experience with dozens of other VPNs as well.
Make no mistake – we didn't place ExpressVPN first by accident. This truly is the best VPN service you can buy right now, suitable for various types of users. First of all, you can install ExpressVPN on just about any popular platform. Then, it comes with a unified UI across all those platforms. It's easy to use, and it's suitable for both beginners and advanced users.
In terms of its technical features, you get the highest level of commercially available encryption (AES-256). Then, there's plenty of different protocols to choose from, including OpenVPN, IKEv2, L2TP, and more. As you can imagine, this VPN also has servers in Greece, backed by OpenVPN. This means that you won't only get a Greek IP, you'll get the best possible data protection as well. To continue learning about this VPN, here's our ExpressVPN review.
This VPN is known for its ease-of-use and transparency. It's based in Romania and has been on the market for a while now. During that time, it managed to grow in many different ways – and is now one of the most capable options. It has more than 5,700 servers in 90 countries, Greece included. More precisely, you'll find 24 servers, all of which are physically located in Athens.
As you can see in our CyberGhost VPN review, there are plenty of things to like about this option. You can count on ultra-secure servers, many of which can unblock websites and anonymize P2P traffic. Then, there are plenty of advanced options like split-tunneling, for example. Of course, make sure to read our review to learn more about this.
Our third and final recommendation would be NordVPN. It isn't the most affordable option on this list, but it's well worth its price. This especially goes for those who need a bit more advanced features like double-VPN, onion-over-VPN, and similar. NordVPN will give you all those options without offering an overly complex interface, which has become a rare thing to see these days.
One of the most notable things about NordVPN is the size of its server network. It has more than 5,500 servers spread across the world, and you can be sure that Greece is on the list. You'll find 11 servers in this country, all of which are optimized for P2P traffic. Of course, you get the best possible encryption and various VPN protocols allowing you to fine-tune your Web browsing experience. To learn more, here's our NordVPN review.
Step 2 – Activate Your VPN Subscription
Next, you need to sign-up for a VPN and activate your subscription. This is a pretty simple process, but let's walk you through it, one step at a time.
As you already know, we recommend subscribing to ExpressVPN. You can get started by clicking on the provided link, and you'll be taken to this VPN website. Then, click on any of the red buttons you'll see there.
Right now, you'll get to choose from three subscriptions. They all bring the same feature set. Their only difference is in their price and duration. Considering that ExpressVPN is one of the most reputable options on the market, don't be hesitant to go for its long-term plans.
Lastly, input the required information. This includes your email address and your payment info, based on the selected payment method. Once done, you'll receive a welcome email, so make sure to check your inbox.
Step 3 – Install the VPN & Get a Greece IP Address
Don't worry, you're almost done. You now need to download the VPN application and install it. Then, you'll use the chosen VPN to get a Greek IP – and here's how.
Using the homepage of ExpressVPN, log-in to your account. This is done by using the 'My Account' item on the website's navigation menu.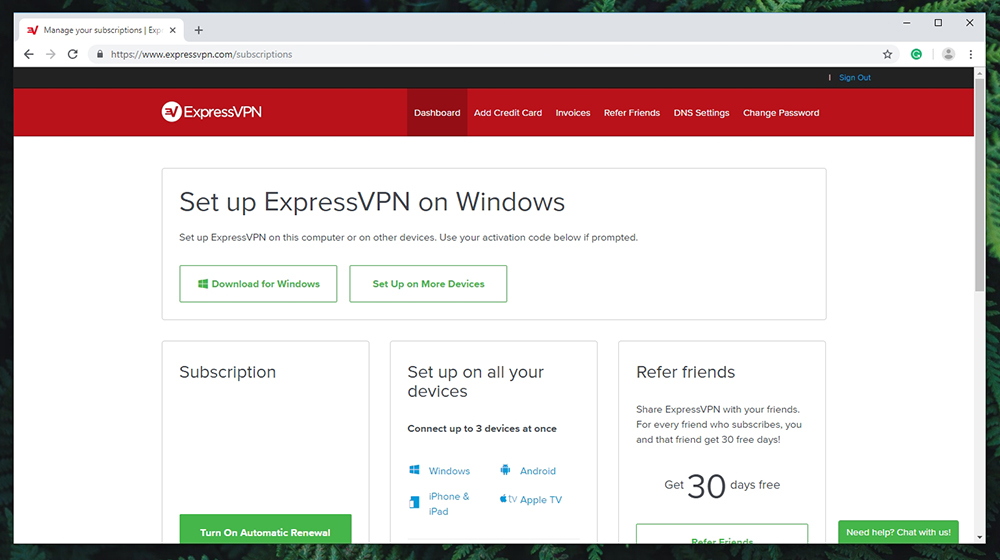 Then, download ExpressVPN for your operating system. While the file is being downloaded, copy the activation code you'll see on that webpage.
Once downloaded, open the installation file. Then, follow the procedure you'll see on the screen to install the software. Log-in using the activation code you've previously copied.
Finally, open ExpressVPN. Click on the 'three dots' button and find 'Greece' among the list of countries you'll see there. Double-click on the country's name and that's about it. You'll now get a Greek IP which will remain active as long as your VPN session is active.
So, that would be all on how to get a Greece IP address. We hope you've found this article to be helpful, and that you'll share it on the Web. If you'd like to read more articles like this one, make sure to follow us on Facebook and Twitter. Thank you!