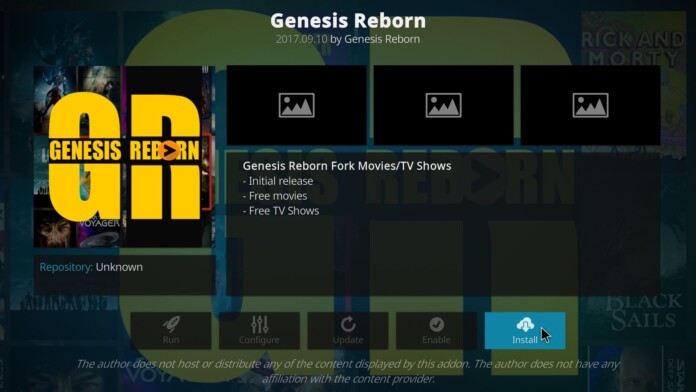 Update: Even though Genesis Reborn has been one of the most popular addons for a long time now, it is no longer available. Since its repository no longer exists, there's no way of installing this addon. To try something else, check out the best Kodi addons that still work.
Featuring popular movies and TV shows, Genesis Reborn provides access to a wealth of high-quality streaming options (often with over 40 different streams, and even supporting 4k streams). At the center of the experience is a rich, directory-based interface that's populated with detailed information about each movie and TV show episode.
By reading this article, you will learn how to install the Genesis Reborn Kodi addon. There's also an inside peek of Genesis Reborn, to show you what can expect once you have it up and running. Without any further ado, let's jump right in.
Before getting started, we strictly recommend you to be safe while using Kodi. Therefore, we want you to read the We will be talking about software developed for Kodi – which is based on open-source code. However, the following software comes from unofficial third-parties. In addition, it is publicly available and free of charge. TechNadu doesn't claim any responsibility for how our readers decide to utilize the following software. Please note that we don't condone sharing pirated content and copyright infringement. TechNadu is not affiliated with the software mentioned in this article in no way. Make sure to carefully read the above-said disclaimer and ensure the proper use of the software.
disclaimer and WARNING notice found below.
Warning: Why you should ALWAYS USE a VPN with Kodi?
Here are the reasons that you should consider looking at it without SKIPPING.
Using ILLEGAL Kodi Addons are Dangerous without a VPN: Most of the Kodi users are installing the ILLEGAL Kodi addons on their system to access all the latest movies, TV shows, sports, music, and much more for FREE, than a legal Kodi addon where it has the least content in it. But do you know what? The video content on illegal addons is scraped and copyrighted material. If you are accessing them on Kodi, then your activities will be monitored by your ISP by tracking your IP and gives all the information to the government or companies if they request for it. This will land you in trouble. To stay away from this, you will have to connect to a VPN where it hides your identity by rotating your IP address while streaming Kodi content. This is how you will be safe from the prying eyes.
Bypass Geo-Restriction: As you probably know, some official addons like BBC iPlayer, NBC Sports, Hulu, IceFilms have geo-location restrictions. This also applies to other addons like Acestream which fetches the data from torrents. To unblock these restrictions, you will have to DEFINITELY use a VPN no matter what.
The above are the 2 reasons that forcing us to recommend a VPN to the Kodi users for safer streaming. In fact, after testing several VPNs for Kodi, we finally came up with a one non-stop solution and that is ExpressVPN, the top-rated Kodi VPN so far.
Limited Time Offer: For our TechNadu readers, there is a 49% OFF on ExpressVPN which includes 3 FREE Months in it.
Things You Should Know About Genesis Reborn Kodi Addon in 2019
Kodi addon repositories are online sources of files that you can install to extend the functionality of this application. You can access these addons and install them directly through the Kodi interface: no need to fiddle around with downloading and extracting files into different directories. Being that these online repositories are typically maintained by the community, and given the rapidly changing nature of addon development, repositories can be unpredictable. It is, however, the most convenient method of installation and the only way that we recommend you enjoy Genesis Reborn.
The best way to install Genesis Reborn is through the Jesusbox repository. It contains the most up-to-date version of this add-on, and it's a well-maintained repository. We don't recommend other methods of installation due to the complexity. Advanced users are welcome to use other methods if they find that the Jesusbox repository doesn't suit their needs.
Essentially, there are two things you need to do to enjoy the Genesis Reborn add-on. First, you need to tell Kodi where to find the add-on. This is the first step, known as installing the repository. Second, once Kodi knows where to find the add-on, you need to actually install it.
Important Note: Before diving any deeper, we need to make sure that your Kodi accepts third-party addons. To do this, you need to visit Kodi's Settings and make a few simple adjustments. Don't worry, we are here to help.
Make sure to read our guide on how to enable unknown sources on Kodi. This is where you'll find all of the needed information, so please use the provided link. Then, keep reading this article.
20 Steps to Install Genesis Reborn Addon on Kodi
Let's begin by installing the Jesusbox Repository, and then we'll use that repository to install Genesis Reborn.
Open Kodi and get to the System Settings screen by clicking on the gear icon on the top-left of the screen.
Access the File Manager by clicking on the Folder Icon.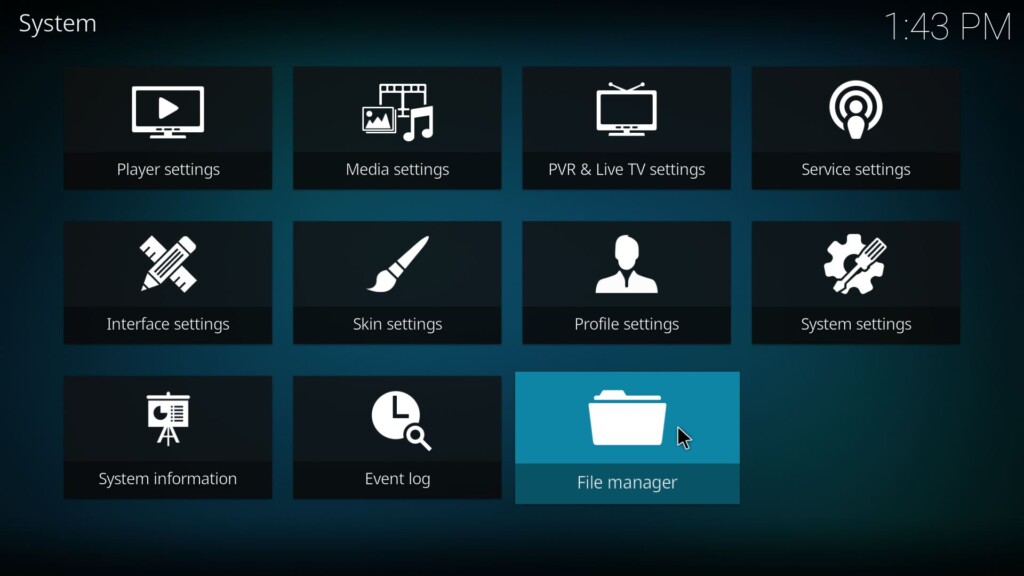 Click on the 'Add source' option.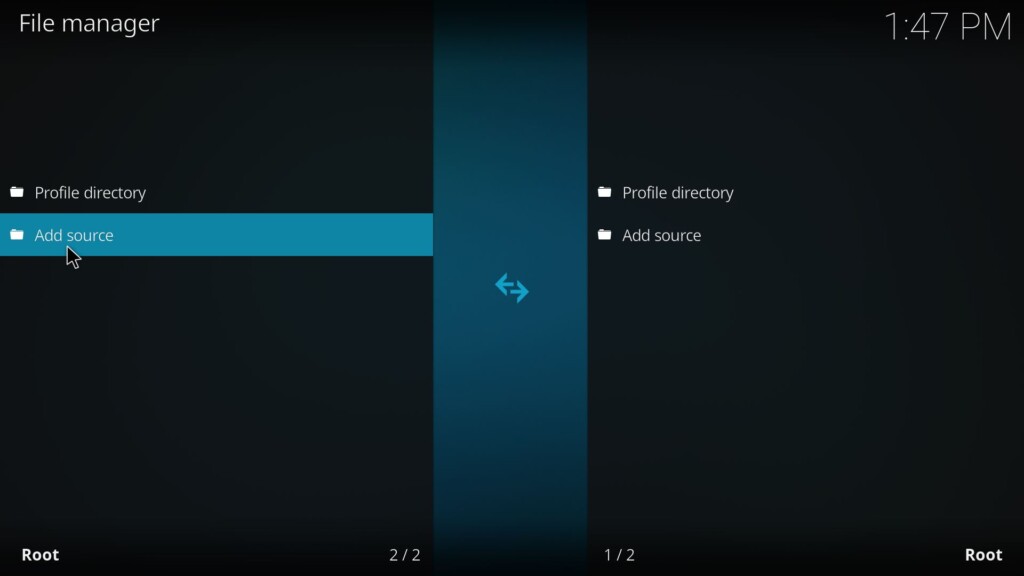 Click on <None> in the 'Add file source' dialog. We'll be entering a custom location next.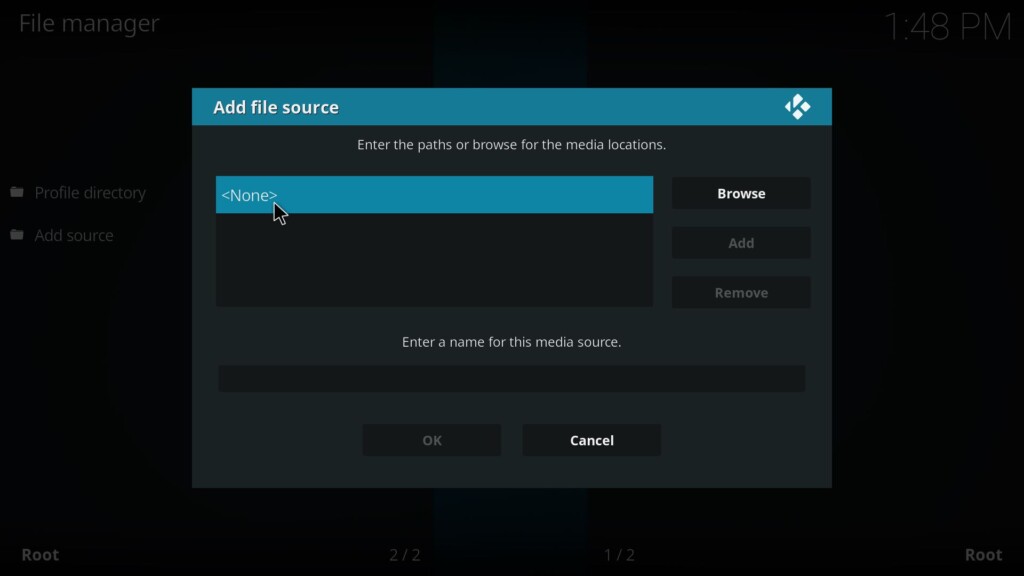 Type in the following web address exactly as http://jesusboxrepo.xyz/repo, then press Enter or click on the OK button.

The Jesusbox Repository is now added as a source of files in Kodi. You're now in the 'Edit file source' dialog box. Look at the bottom of the field that says, 'Enter a name for this media source.' Type in a recognizable name for the repo, such as 'Jesus Box Repo'. Click on the OK button below the field.
You'll be taken back to the File Manager screen. To confirm that your changes have been saved, you should see a folder representing the repository you just added. It'll be named whatever you just entered in the previous step (i.e. 'Jesus Box Repo').
Go back to the Kodi Home Screen by pressing Escape on your keyboard until you reach the home screen.
Click on the 'Add-Ons' menu option on the left.
On the top-left of the Add-ons screen, click on the Package icon (it looks like an opened box) to reach the Add-ons Browser screen.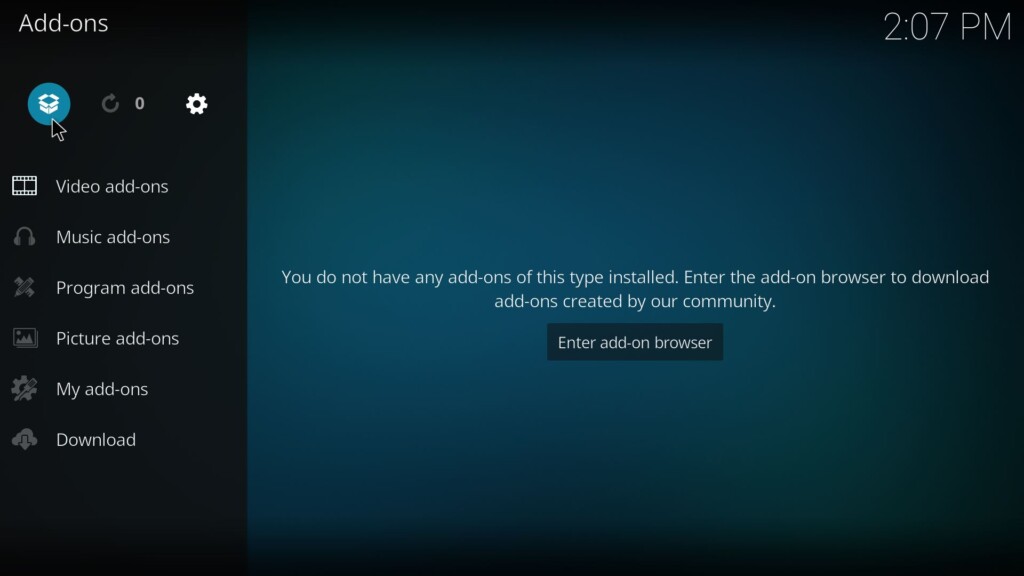 Click on the 'Install from zip file' option on the Add-on Browser screen.
The dialog box appears. Find and click on the 'Jesus Box Repo' option to connect to the Jesus Box Repository.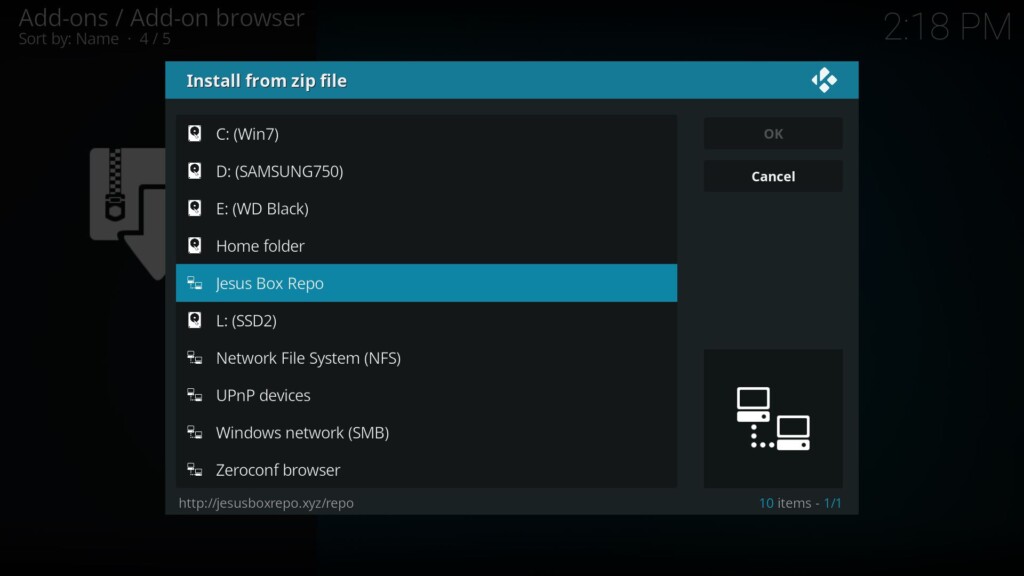 Click on the repository zip file. In this case, it's repository.jesusboxtv-x.x.x.zip.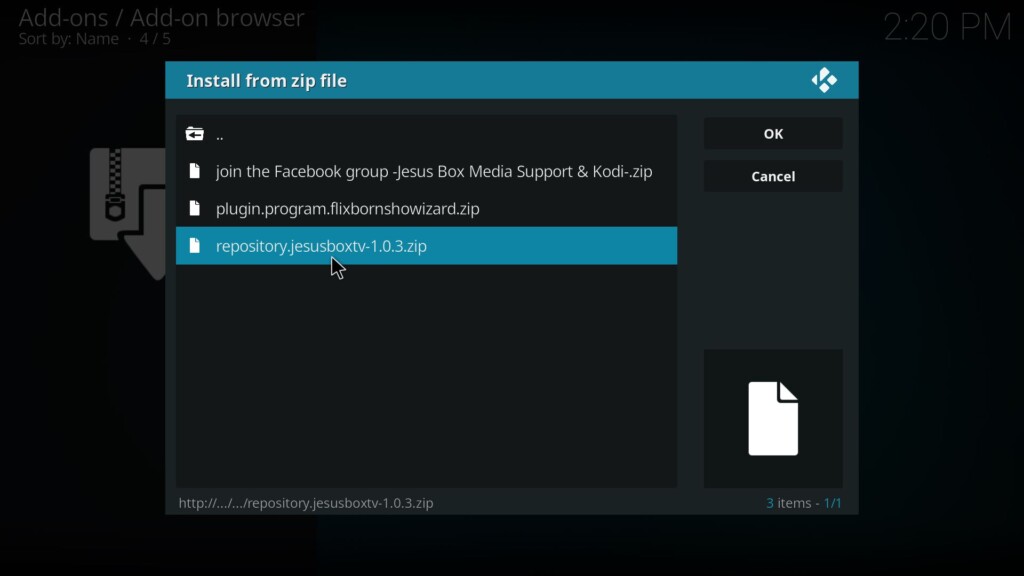 Once you click on it, you'll be brought back to the Add-on Browser screen. A notification will slide in from the top-right informing you that the Jesusbox add-on was successfully installed.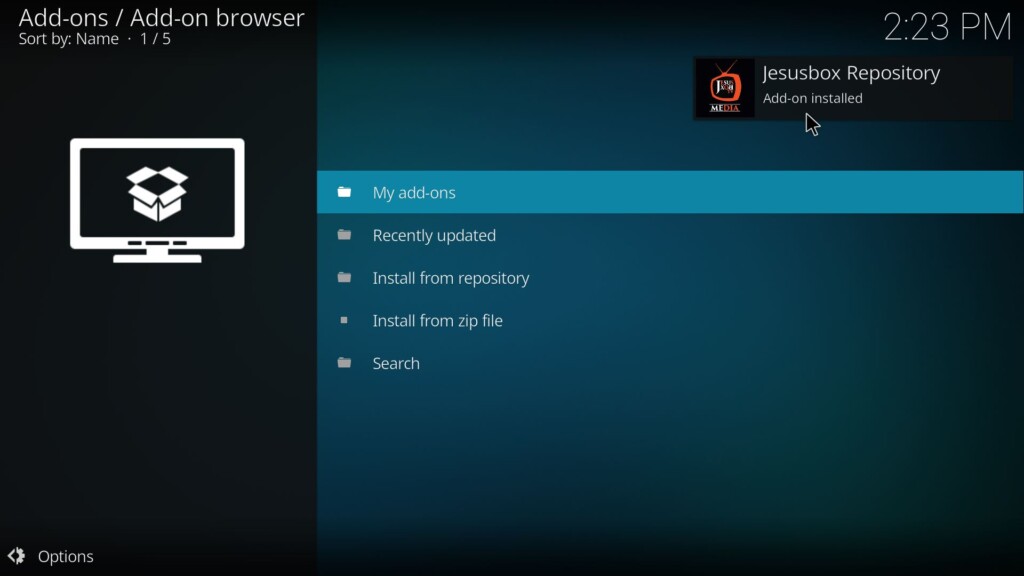 Next, click on 'Install from repository' in the Add-on browser screen.
Click on Jesusbox Repository in the 'Install from repository' screen.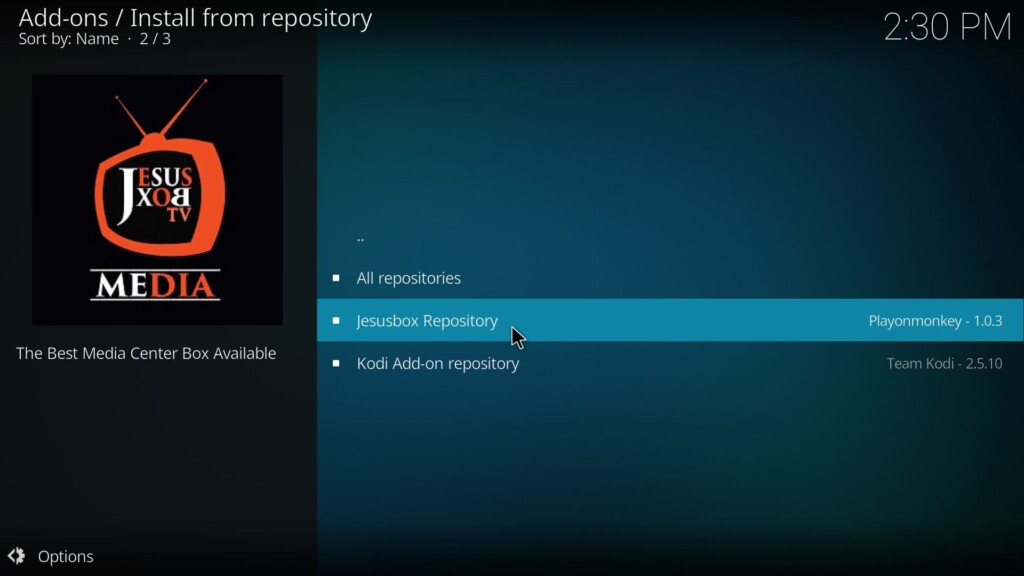 Click on 'Video add-ons' in the Jesusbox Repository screen.
Find and click on Genesis Reborn in the 'Video add-ons' screen.
Find and click on the 'Install' button.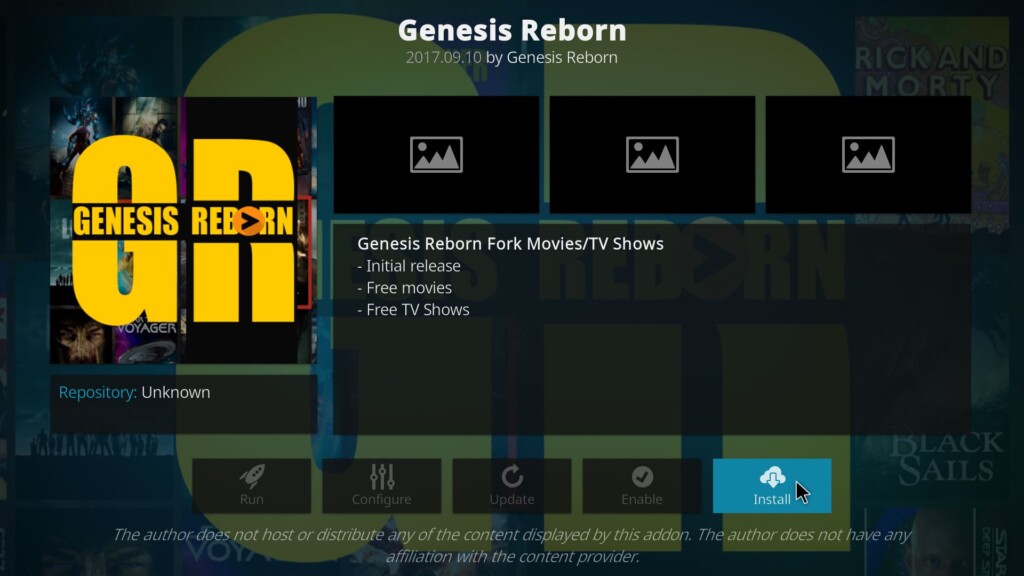 Allow the installation to run. You'll get several notifications in the top-right about the add-ons that are being installed. Once it's done, you'll see a checkmark next to the Genesis Reborn selection.
Now you've successfully installed the Genesis Reborn Kodi Add-on! You can find the Add-on with all of your other Video addons.
What to Expect from Genesis Reborn Addon?
Now that you've installed Genesis Reborn, you can see it alongside all of your other video add-ons. For many Kodi users, that means that it's conveniently on the home screen. Next, let's take a look at the different options present on the addon's home screen.
Genesis Reborn Movies & TV Shows: The two main categories come with a huge library of movies and TV shows. There are many ways to browse what's on offer by going into sub-categories. When you find something you'd like to stream, Genesis Reborn will scrape the Web for available sources and offer links to different sources.
My Genesis Reborn Movies & TV Shows: To make use of the 'My Genesis Reborn' TV Shows and Movies sections, you'll need to connect your Trakt.tv account and IMDb account, both of which have lists of media you want to track. To add these integrations, go to the Genesis Reborn main menu. Then enter the Genesis Reborn Tools menu followed by the SETTINGS: Accounts menu. There you'll see an option to enter user information for a range of services, including IMDb, Trakt, and TMDb.
Genesis Reborn New Movies & TV Shows: If you're looking for only the latest movies and TV shows, then you'll want to head straight into the Genesis Reborn New Movies section. Movies released in the current and previous year are located in this section.
Genesis Reborn Channels: If you're looking for a more relaxed channel-surfing style experience, the Channels Section is for you. There's a small selection of movie channels as you can see. It's a great way to relax and check out movies that you might not have thought to look for. You can see that there are a few channels that focus on a particular genre, such as action, crime, and sci-fi. Other channels that don't have a genre-focus typically show recent popular movies.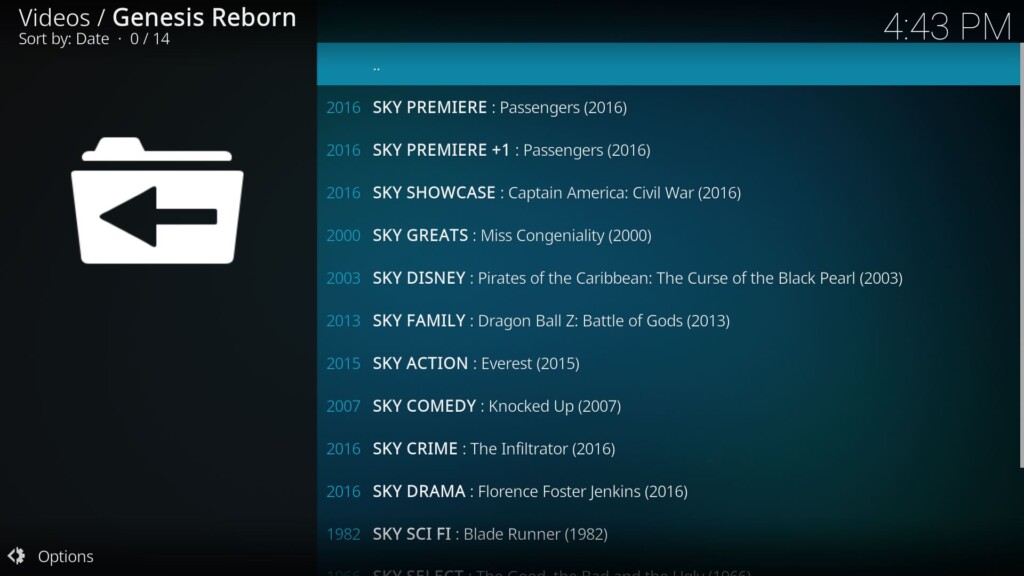 Genesis Reborn Tools: If you want to add subtitles or exclude certain sources from being indexed, this is where you'll find those options. We highly recommend visiting this part of the addon to make sure you're using it in the way that fits your needs.
Genesis Reborn Search Menu: Finally, there is an option to lets you search for titles across the entire addon.
Kodi and its addon community have come a very long way from its roots back when Kodi was called XBMC. Now, with community-maintained repositories and continued interest in addon development, Genesis Reborn opens up an ocean of popular content for its users in 2019.
If you have any questions, please don't hesitate to post a comment below. Also, we would like to ask you to share this article on Facebook and Twitter, especially with other Kodi users. Thank you!