Navigating your way through today's VPN can be a tedious process. That's because we see new VPN brands being launched regularly, and we already have an overcrowded market. However, taking your time to find that perfect VPN that's aligned with your needs is certainly worth the extra effort. You'll find plenty of smaller VPNs that come with competitive feature sets while maintaining an affordable price. So, could FrootVPN be one of those VPNs? Can you use it to gain complete online anonymity? Can it protect you against ever-increasing tracking? Let's find out – welcome to our full review of FrootVPN!
Before we jump into different aspects of this VPN, let's take a moment to check some of its vital stats. The following table will give you a series of comparative points, letting you easily compare FrootVPN to its competitors. Take a look.
Quick Facts
| | |
| --- | --- |
| Jurisdiction | Seychelles |
| Logs | No personally identifiable data. |
| Number of Servers | 35 countries; 150+ servers. |
| Parallel Connections | 5 |
| Encryption Standards | OpenVPN, PPTP, L2TP. |
| Speed Reduction | 16%, on average. |
| P2P Support | YES |
| Live Chat Support | YES (but unusable). |
| Supported Platforms | Windows (natively), macOS, Android, iOS, routers. |
| Price | Starts at $2.99/month. |
Next, we'll give you an overview of this VPN's media streaming capabilities. We've tested it with some of the world's most popular platforms, so here's what to expect.
Media Streaming Support
| | |
| --- | --- |
| American Netflix | YES |
| Hulu | NO |
| BBC iPlayer | NO |
| Amazon Prime Video | NO |
| Kodi | NO |
And we've come to our final table. If you're in a rush, or if you don't have the time to read this entire review, check out the following table. We've highlighted the biggest pros and cons of using FrootVPN.
The Bottom Line
| | |
| --- | --- |
| Pros | Simple UI; Great for beginners; No logging; Supports P2P; Unblocks Netflix; Secure VPN protocols; Secure encryption. |
| Cons | Lack of native apps; Limited server network; Requires manual configuration; Fairly basic set of features. |
| The Final Verdict | We recommend FrootVPN – but only to average and non-demanding home users. If you need high-end protection and more flexibility, you'll easily find a better option. |
| Our Score | 6.4/10 |
In case you liked our introduction to this VPN, make sure to join us as we explore various aspects of FrootVPN. We promise that by the end of this article, you'll know all there's to know about this VPN. So, let's get started.
FrootVPN – TechNadu's Hands-On Review
Just like we do in our every VPN review, we'll stick to our uniform structure here as well. This means that we'll dive into different aspects of FrootVPN and rate them individually. Then, we'll get an average score, which will be the final score of our FrootVPN review. To learn more, here's how we assess VPN services.
Background, Jurisdiction & Reputation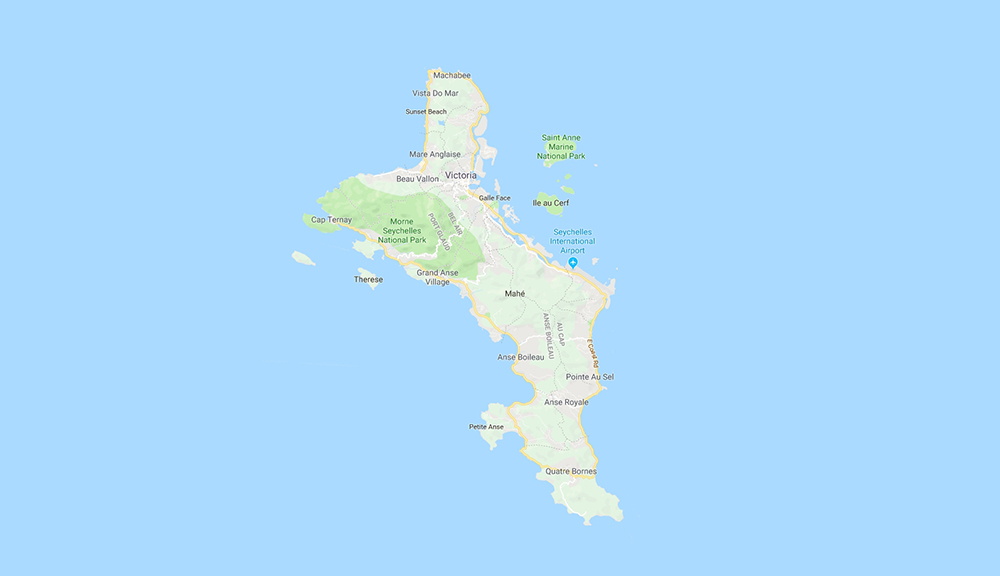 Despite not having any data leaks in the past, FrootVPN's reputation is somewhat problematic due to its parent company – which owns multiple VPN brands. Also, this VPN started its life as a free VPN advertising on TPB. Our Score: 5/10.
First things first – we want to let you know about this VPN's country of origin. Knowing such background information is beneficial as it affects every user of this VPN. So, here's what you need to know.
Jurisdiction & Applicable Laws
Even though you'll find several reports online about FrootVPN coming from Sweden, this isn't the case. This VPN is actually a product of Edelino Commerce, based in Seychelles. As this company says on their official website, their mission is to 'protect Internet users from hackers, governments, and any other prying eyes'. Interestingly enough, you won't find any brands or any type of detailed information about products offered by Edelino Commerce via their website.
Upon taking a deeper look at this company, we've discovered that they own several VPN services. Aside from FrootVPN, Edelino Commerce also owns Anonine VPN and VPNTunnel. All of these seem to be quite similar in what they offer (if not identical), and we don't see a reason why all those VPNs wouldn't merge into one.
It's also worth noting that FrootVPN began its life as a free VPN service, known for advertising on The Pirate Bay. On the one hand, this seems like a smart move considering that P2P users are in a desperate need of any VPN service. However, advertising on an often-targeted (and illegal) website can be seen as a problematic step.
In general, Seychelles is seen as a business- and privacy-friendly location, especially for VPN-related businesses. However, we do have to say that Edelino Commerce isn't the most transparent player in the industry – which doesn't leave a positive first impression.
Previous Data Leaks
We're happy to report that there are no credible reports of any data leaks related to FrootVPN. Also, there are no reports of data breaches or this company misusing private data of its users. So after all, perhaps FrootVPN is a trustworthy service? We can't say for sure, which is why we recommend exercising caution if you decide to sign-up.
Supported Platforms & Devices
FrootVPN supports Windows only, natively. You need to configure this VPN manually on any other device, including routers as well. Our Score: 3/10.
You'll want a VPN service with native apps for all the platforms you're using. So, let's see what kinds of native apps does FrootVPN bring.
Platform Compatibility
| | |
| --- | --- |
| Desktop Platforms | Windows. |
| Mobile Platforms | N/A |
| Web Browsers | N/A |
| Routers | DD-WRT, Mikrotik, and more. |
| Other Devices | N/A |
As you can see, FrootVPN comes with a single native application – designed for Windows. Despite the fact that this VPN has been on the market since 2009, you won't find native apps for other popular platforms such as macOS, Android, or iOS. This is most definitely a major obstacle to using FrootVPN.
It's also important to be said that you can use FrootVPN on a wide range of devices – in case you're willing to configure it manually. You'll find plenty of installation guides on its official website. However, this can never replace easy-to-install native applications.
Finally, it's also worth mentioning that you can install FrootVPN on routers – if you're willing to go through that somewhat complicated process. If you install it on a router, you'll use a single empty slot within your account. This still leaves you with 4 additional slots, which doesn't mean much in this case – since there are no native apps for Android or iOS (manual configuration is offered instead).
Installation & Initial Configuration
Windows users are in luck. Users of any other platform will need to go through a somewhat complicated and tedious process of configuring the VPN manually. Our Score: 5/10.
Before you can download this VPN, you first need to sign-up for FrootVPN. During this process, you'll be asked to enter your email address and then to make a payment (we'll talk about its pricing later in the article). Once done, you'll receive a welcome email that'll let you finalize the sign-up procedure. Then, log-in to your newly created account on this VPN's website and access your dashboard.
Using your online account (on FrootVPN's website), you can review your account information, check the status of its servers, run speed tests of individual servers, contact support, and check out various installation guides. As said earlier, there's only a single native application – created for Windows. Once you download the installation file, run it and finalize the procedure. Launch the application, log-in, and you're ready to use the VPN.
If you're a Windows user, you can install and begin using FrootVPN within minutes of your time. However, you need to configure it manually on any other platform, including Android and iOS. This might be a bit confusing for inexperienced users as it requires either downloading a third-party app or configuring the VPN via your device's settings.
Prominent Features
FrootVPN brings the standard set of features, found across the majority of today's VPNs. There are no unique or highly advanced features here. Our Score: 6/10.
Let's take a quick look at what kinds of features this VPN brings, as well as what's missing here. Check out the following table for additional information.
VPN Features Checklist
| | |
| --- | --- |
| DNS Leak Protection | YES |
| IPv6 Leak Protection | NO |
| Kill-Switch | YES (on Windows) |
| Ad-Blocker, Anti-Malware | NO |
| Unlimited Server Switches | YES |
| Unlimited Bandwidth | YES |
| Unlimited Data | YES |
It appears that FrootVPN is a basic VPN service. To protect your data, you can count on this VPN's DNS and IPv4 leak protection (you'll need to disable IPv6 manually, though), and there's a kill switch built into the VPN's Windows application. As noted earlier, FrootVPN supports 3 VPN services, promises not to log your data, uses strong encryption, and allows torrenting. This is pretty much where its list of features ends, with more advanced options nowhere to be found.
It's clear that FrootVPN is created for average home users, who want their VPN to be fully automated. More advanced users who want a series of tweaks and various types of options won't be happy with this VPN service.
Server Count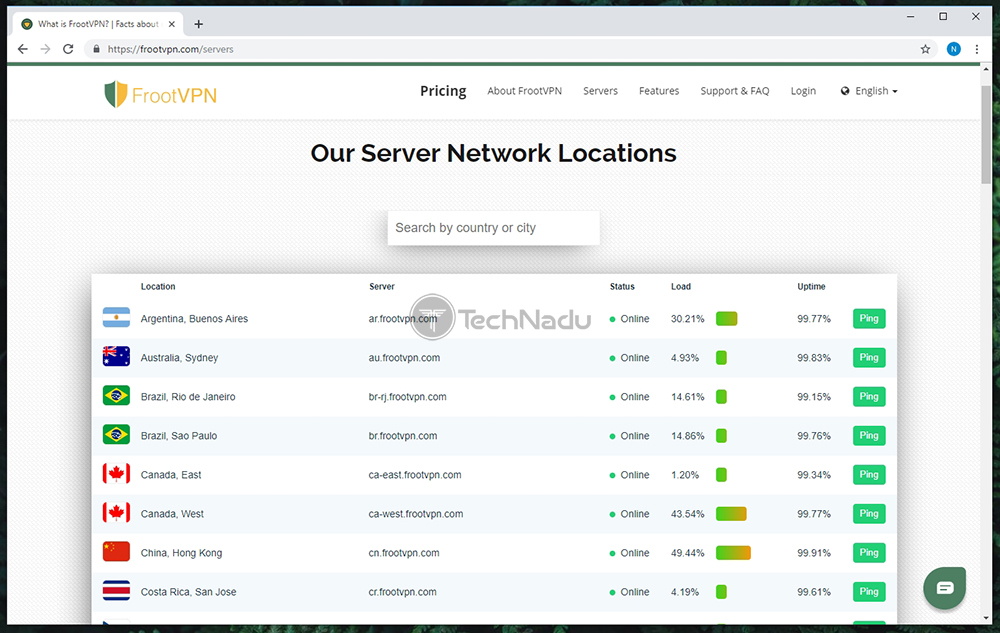 FrootVPN doesn't impress with the size of its server network. However, it should be enough for average home users, though. Our Score: 5/10.
Let's see how many servers this VPN brings, in how many countries and locations. You can find the information you need in the following table.
Server Count Info
| | |
| --- | --- |
| Number of Servers | 150+ |
| Number of Locations | 45+ |
| Number of Countries | 35 |
| Specific Cities Selection | YES |
| Unlimited Switching | YES |
Considering that FrootVPN has been on the market for a while now, we expected a larger number of servers. Even though 35 countries and 45+ locations should be enough for average home users, you can easily find a better option. There are VPNs offering servers in 60 to 90 countries (such as ExpressVPN, NordVPN, and CyberGhost VPN) that are priced slightly higher than this VPN.
It's also important to note that you can connect to individual cities, which is great when you need to unblock regional websites. And also, you get unlimited switching, so you can hop from one server to another anytime you want.
Ease of Use
On Windows, FrootVPN comes with a simple UI. Even complete beginners shouldn't have any problems navigating and using this VPN. Our Score: 8.5/10.
The home screen of FrootVPN brings you everything you need to create a secure connection. At the top of its UI, you'll see your current location and your IP address. Then, you can choose from different countries to narrow down the list of servers, and you can choose from the available VPN protocols. On Windows, the available protocols are OpenVPN (UDP/TCP), PPTP, and L2TP.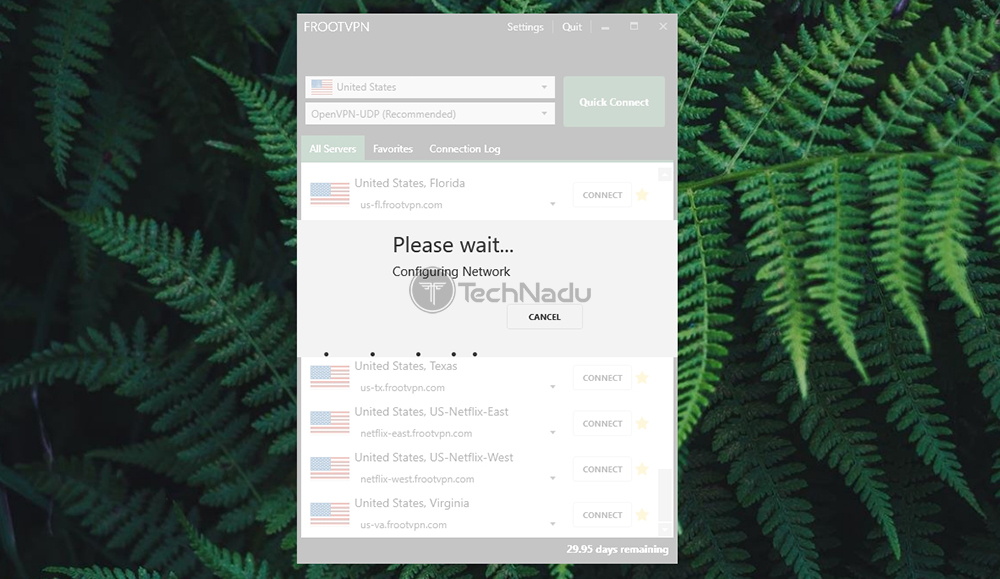 The main portion of the home screen is reserved for the list of the available servers. You can connect by clicking on the 'Connect' button next to each server's name, and you can also mark your favorites. If you click on the 'Quick Connect' at the top of the window, FrootVPN will connect you to the nearest server (or any of the servers in the country you've previously selected).
In the top-right corner, aside from the standard Windows UI controls (minimize, maximize, and quit), you'll see an option that lets you open this application's settings. You'll find two tabs here, as explained below.
General: Here, you can choose to start FrootVPN during system startup, and you can choose to auto-reconnect in case your secure connection becomes unstable. You can also choose from different interface languages and choose different ports (if you're using the OpenVPN protocol).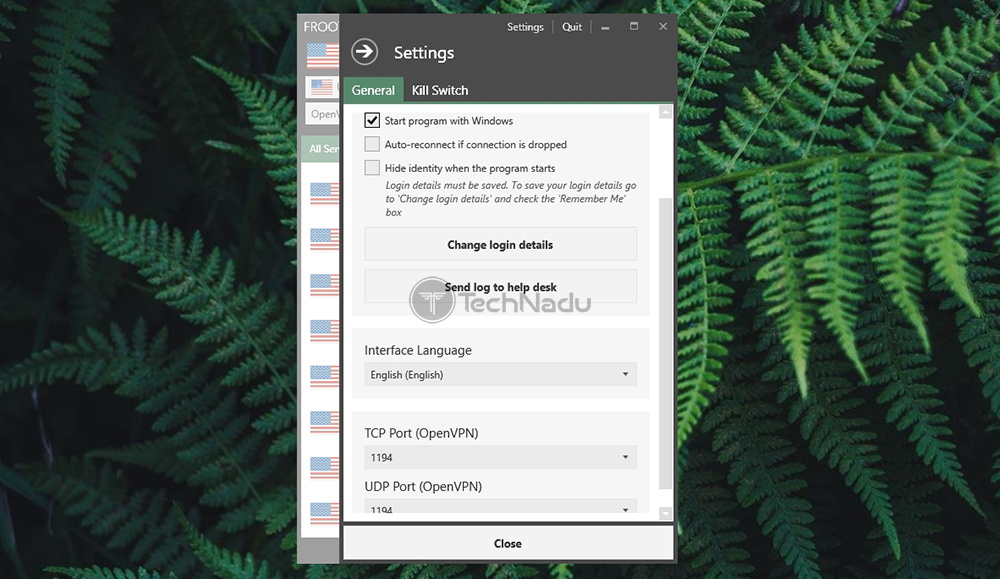 Kill Switch: As noted before, FrootVPN lacks any advanced features. However, a kill switch is present here, used to stop all Web traffic in times when a secure connection becomes compromised. You can choose to stop all your Web traffic, or you can select which applications should be cut off.
We conclude that even though FrootVPN doesn't have the most polished UI, it gets the job done. Of course, this only applies to its Windows application. Your experience of using this application on any other platform depends mainly on third-party applications.
Media Streaming & Torrenting Support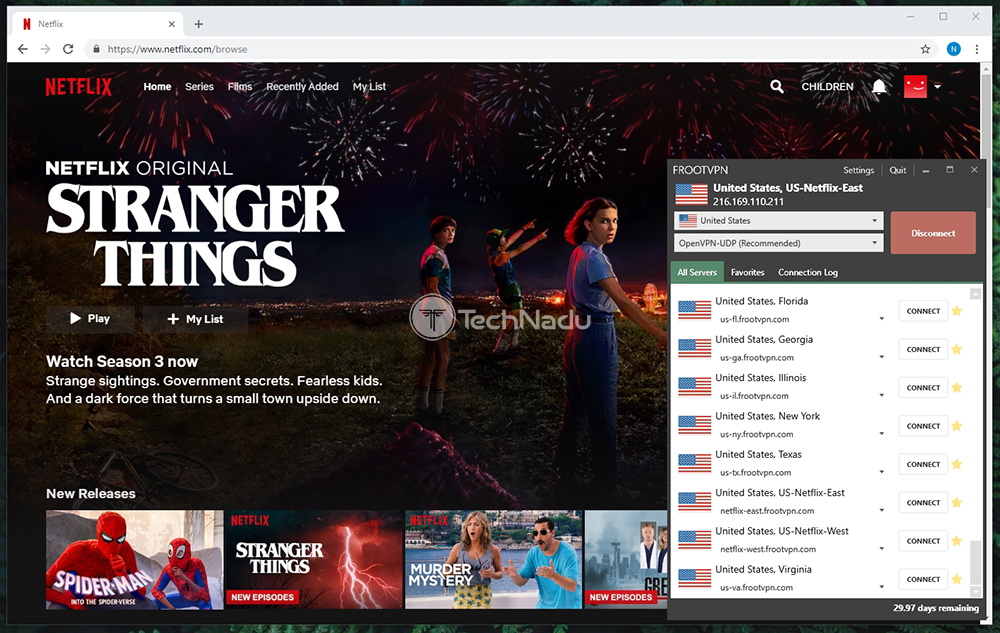 FrootVPN supports torrenting via all of its servers, and it can also help you unblock Netflix. Sadly, other streaming platforms are out of this VPN's reach. Our Score: 4/10. 
Media streaming platforms are all around us, with new ones being regularly released. So, does FrootVPN work with Netflix? What about Hulu, BBC iPlayer, and Amazon Prime Video? Well, we've done a series of tests, and here are the results.
Media Streaming & Torrenting Support
| | |
| --- | --- |
| Netflix US | YES |
| Hulu | NO |
| BBC iPlayer | NO |
| Amazon Prime Video | NO |
| Torrenting (P2P) | YES |
On its official website, you'll find information that FrootVPN unblocks Netflix, Hulu, and plenty of other US-based online services. We did manage to unblock Netflix just fine, but we didn't have the same luck with Hulu and Amazon Prime Video. Also, there's a dedicated 'BBC iPlayer' server, located in the UK. We tried using it numerous times, but we were never able to unblock this media streaming service.
In case you're active in the P2P community, you should know that FrootVPN allows torrenting. However, you'll need a nearby server for this purpose, so that you can achieve the fastest possible speeds. Therefore, we recommend checking the location of this VPN's server prior to purchasing it.
Security & Privacy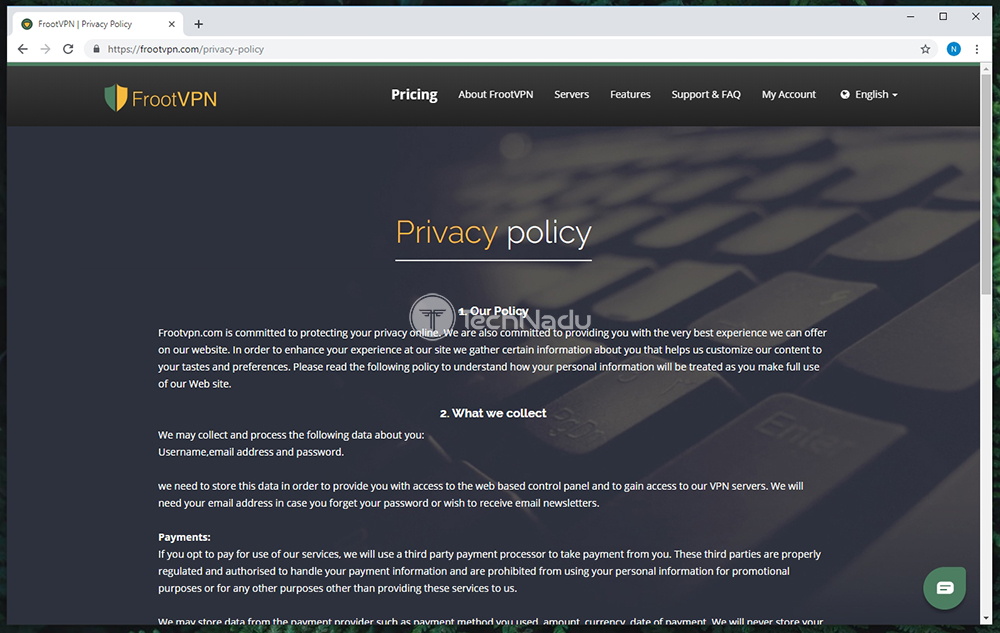 FrootVPN seems like a reliable solution that can protect your privacy. It comes with capable protocol, strong encryption, collects no logs, and has no DNS leaks. Our Score: 10/10.
We shouldn't forget that the primary purpose of any VPN is to safeguard your online privacy. So, we'll use this segment to check what kinds of encryption techniques, VPN protocols, and privacy policy this VPN brings.
Supported Encryption Protocols
FrootVPN relies on three protocols, and these include OpenVPN, PPTP, and L2TP. In addition, this VPN encrypts your data using 2,048-bit encryption. As per its technical specification, this VPN supports TLS 1.1 and upwards using PFS (Perfect Forward Secrecy). This means that, at least in theory, FrootVPN is capable of protecting your sensitive information in the best way possible.
Logging Policy
FrootVPN comes with a very short and on-point privacy policy. They're saying that they collect your username, password, and your email address – and that's about it. FrootVPN promises not to collect your traffic data or any other types of logs. They also never store your IP address, timestamps, or other types of sensitive information.
DNS Leak Test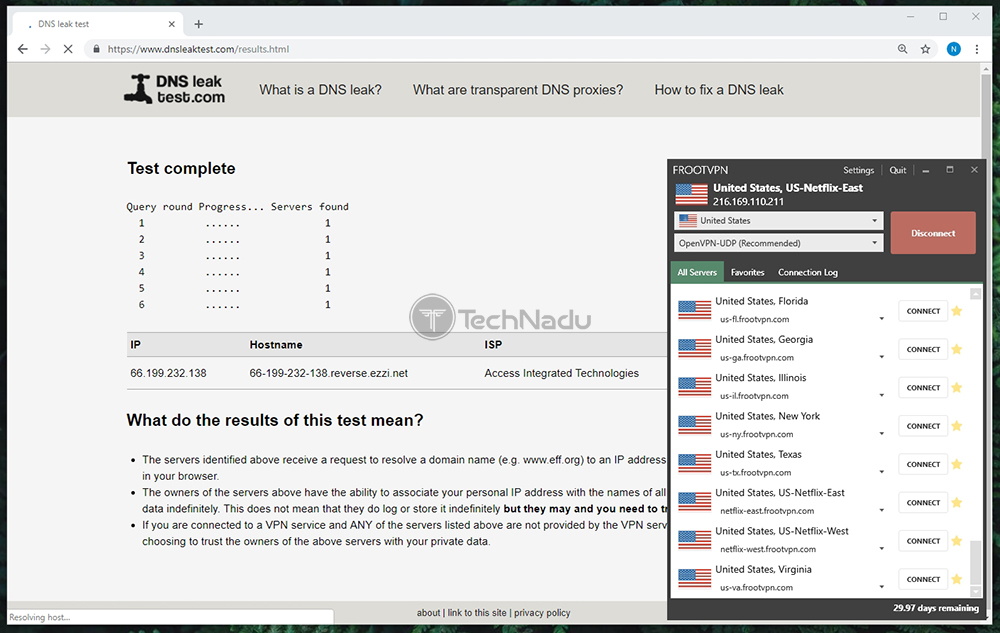 As you can see from the screenshot above, we detected no DNS leaks. This means that FrootVPN protects your 'true' information in a safe way, and only shows your virtual information, which includes your IP address, hostname, country of origin, and more.
Speed & Performance
Even though FrootVPN isn't one of the fastest VPNs out there, it comes with solid performance. During our tests, it slows us down by 16% on average. Our Score: 8.5/10.
To give you an idea of what kind of performance you can expect, we ran several speed tests. We checked both nearby and remote servers, so let's discuss the results.
As you can see from the screenshot above, we first checked the speed of our 'naked' Web connection. Without using this VPN, we managed to get 147.46 Mbps for downloads and 10.76 Mbps for uploads. Once we've established our baseline data, we proceeded to connect to a nearby FrootVPN server.

We're located in Europe, where FrootVPN offers a nice range of servers. Once connected to a nearby server (in Italy), we ran another speed test. This time around, we got 133.08 Mbps for downloads and 21.71 Mbps for uploads. Interestingly enough, our upload speed more than doubled – indicating that our ISP must be throttling our Web connection (at least when it comes to our upload speed).

And finally, we also checked the speed of a remote server. After connecting to a server in the USA (remember that we're located in Europe), we managed to get 114.79 Mbps for downloads and 9.63 Mbps for uploads.
| | | | |
| --- | --- | --- | --- |
| | Download Speed | Upload Speed | Speed Reduction |
| Baseline Data | 147.46 Mbps | 10.76 Mbps | 0% |
| Nearby Server | 133.08 Mbps | 21.71 Mbps | 9.7% |
| Remote Server | 114.79 Mbps | 9.63 Mbps | 22.2% |
This VPN slowed us down by 16%, on average. We have to say that we're surprised by this result, especially after reading about this VPN's 'problematic' performance online. It looks like FrootVPN now comes with reliable and speedy performance, and we definitely recommend it from this aspect.
Customer Support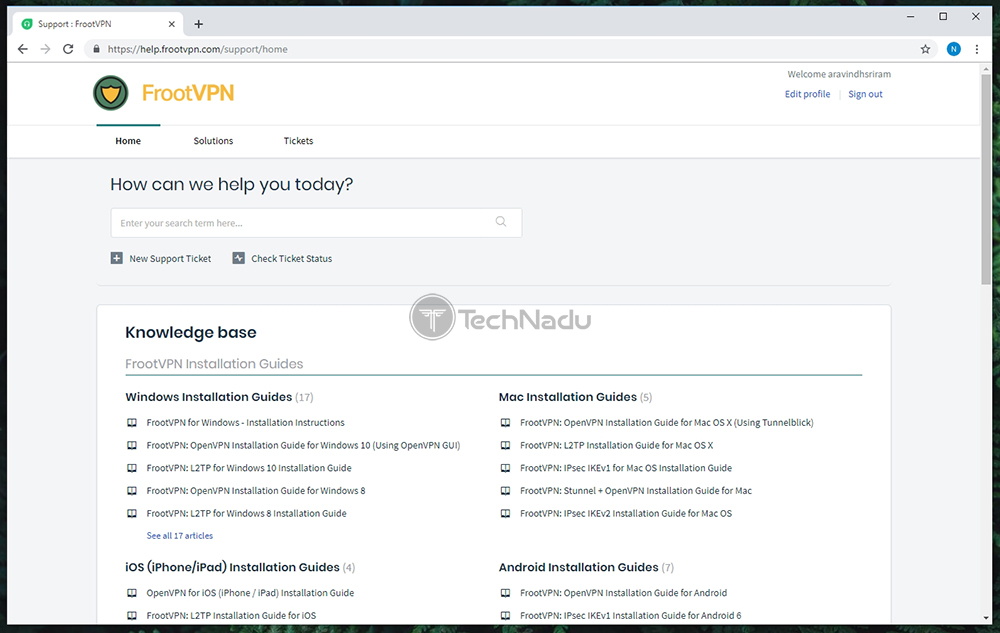 FrootVPN comes with a library of self-help material, and you can create support tickets. Sadly, this VPN's live chat functionality is close to unusable. Our Score: 7/10.
Considering that it brings a single native application (for Windows only), FrootVPN is offering a wide range of installation guides for all other platforms. You'll also find a fairly modest number of frequently asked questions, using which you can try looking for an answer yourself. When it comes to the installation guides, they're mostly up-to-date and they come with helpful screenshots as well.
In many cases, you'll want to contact this company. This can be done by creating a support ticket, using which can take a couple of days to have your issue resolved. Interestingly enough, you can also talk to this VPN's representatives live, via the VPN's official website. However, this type of communication is quite problematic. We had to wait over an hour for someone to show up, and the person assisting us answered our questions with 'YES' and 'NO', without any intention of providing additional details.
Pricing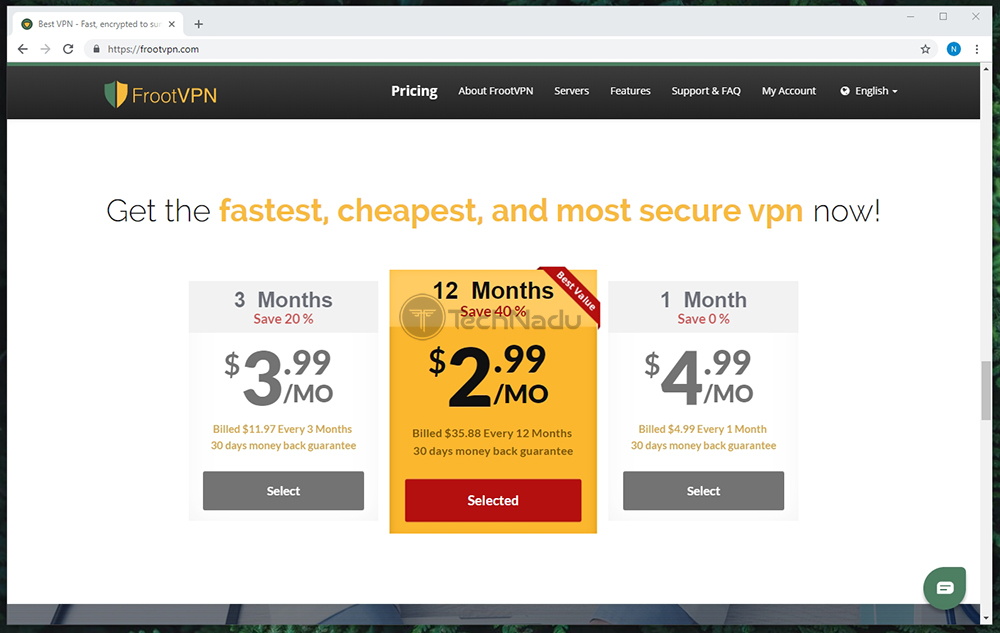 FrootVPN is one of the most affordable VPN out there. Even though it doesn't come with any high-end or unique features, it brings plenty of value for its price. Our Score: 8.5/10.
Right now, there are three subscription plans offered by FrootVPN. If you're willing to invest in long-term plans, you'll find some very interesting discounts. So, here's an overview of this VPN's pricing structure.
| | | | |
| --- | --- | --- | --- |
| | Total Price | Per Month | Savings |
| 1 Month | $4.99 | $4.99 | 0% |
| 3 Months | $11.97 | $3.99 | 20% |
| 12 Months | $35.88 | $2.99 | 40% |
If you're interested in subscribing to FrootVPN, we strongly recommend you consider its long-term plan. Even though its monthly plan is quite affordable, you can save up to 40% by going for FrootVPN's annual plan. With the price of $2.99 per month, this is perhaps one of the most budget-friendly VPN services.
Among other important information, you can pay for this VPN via credit cards, PayPal, Perfect Money, or via numerous different cryptocurrencies. And even though it says that it comes with a 7-day money-back guarantee, this VPN's Terms of Use (ToS) says that you can ask for a refund within 30 days of placing your order.
Do We Recommend FrootVPN?
Yes, we recommend FrootVPN to those who have basic Web protection needs. This is a fairly standard VPN service, with the exception that it brings a strong 'no-logs' policy. Even though it does have some downsides and doesn't really offer a lot of flexibility, we're sure that many of you will be happy using it. However, if you're a more advanced user looking for complete online anonymity, we recommend checking other options as well.
PROS: Comes from Seychelles; Easy to use; Strong protocols; Capable encryption; Unblocks Netflix; Reliable performance; Good price.
CONS: Missing native apps (except for Windows); Limited server network; A basic set of features; Semi-helpful customer support; Not the best option for streaming (expect from Netflix).
OUR SCORE: 6.4 out of 10!
Are you intrigued by this VPN? Want to learn more or to subscribe to FrootVPN? If that's so, click on the provided link and you'll get to this VPN's official website, where you'll find all the additional information you need.
In case you liked our FrootVPN review, we'd like to ask you to share it on the Web. And to stay on top of the latest VPN-related coverage, don't forget to follow us via our Facebook and Twitter pages.