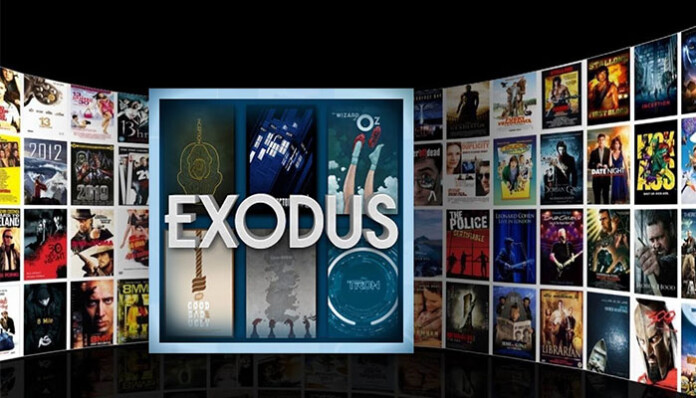 For a very long time, Exodus has been one of the most popular addons for Kodi. This is still the case, even though we have been hearing that a lot of users are experiencing issues. The good news is that there are quick and easy fixes for the majority of Exodus-related issues. We will try to help you by offering a series of fixes along with step-by-step guides. Hopefully, this article will help you even if you're not an experienced Kodi user. Have you experienced Exodus not working on your Kodi? Let's sort that out.
Disclaimer: We will be talking about software developed for Kodi – which is based on open-source code. However, the following software comes from unofficial third-parties. In addition, it is publicly available and free of charge. TechNadu doesn't claim any responsibility for how our readers decide to utilize the following software. Please note that we don't condone sharing pirated content and copyright infringement. TechNadu is not affiliated with the software mentioned in this article in no way. Make sure to carefully read the above-said disclaimer and ensure the proper use of the software.
WARNING: Before You Continue…
TechNadu recommends connecting to the Web using a VPN application. The majority of Internet Service Providers (ISPs) are able of tracking your Web browsing habits and collecting information. This kind of personal data can be forwarded to government agencies or sold to marketing companies. One of the consequences of these actions can be copyright infringement notices that some users of Kodi reported receiving. The only way to stop this from happening is to use a VPN.
VPN applications encrypt your Internet connection. As such, your personal data stay hidden and inaccessible by your Internet Service Provider.
VPN applications guard your online anonymity. A number of websites often use cookies to track your browsing habits. By altering your IP address, VPNs preserve your anonymity no matter if you visit websites or use Kodi to stream media.
VPNs unlock restricted content. Using this kind of application, your computer will receive a new IP address that points to a completely different physical location. This is how you can watch region-restricted movies and TV shows.
VPNs can improve your Internet connectivity. A reliable VPN application can de-block throttled connections and achieve better overall performance.
Based on our experience, TechNadu would like to recommend IPVanish. This has been our VPN of choice for a long time, making us happy with its features and performance.
IPVanish is capable of keeping your connection highly secure. It can also be used to watch region-restricted movies and TV shows. Finally, this application doesn't affect Internet connection speeds. On top of that, it's very affordable. Sign up for IPVanish and try it out for yourself.
Exodus Not Working? Here's What to Expect
Just like any other software, Exodus can misbehave at times. This is even more true now since this addon's developer has decided to abandon it. However, Exodus has been picked up by other developers – which means that you need to know where to look. This is actually one of the best things about addons for Kodi – which is open-based software on its own. Different groups of developers can easily switch projects between them, and revive once-popular addons.
Let's take a look at some of the things we'll talk about in this article:
The most common issue is related to a message that says 'No streams available' which has a number of different solutions;
We've been hearing reports about Kodi users not being able to launch Exodus, so we'll deal with that as well;
Issues with subtitles can be very annoying for those who don't speak English natively, so scroll down to learn how to fix that;
We'll also talk about buffering issues, how to fix the search function, as well as how to re-enable broken Trakt.TV integration.
Important Note
In many cases, the 'Exodus not working' issues can be fixed by uninstalling the addon and installing the latest official version. This is why we recommend updating Exodus first. If that doesn't help, you can proceed and read fixes for specific issues. First, you need to uninstall Exodus:
Launch Kodi and open the 'Add-ons' section using the main menu;
Now navigate to the 'Video-Addons' at the top of the main menu;
Find Exodus among the available add-ons. Right-click on it and pick 'Information';
You'll now see the overview of this addon. Click on 'Uninstall' to remove this addon.
Now that you've removed Exodus from your Kodi, it's time to install the latest version:
First, download this ZIP file. This is the file of a repository called Kodil. It contains the latest official version of Exodus;
While Kodi is open, go to 'Add-ons';
Now click on the open package icon in the top-left corner;
Pick 'Install from ZIP file'.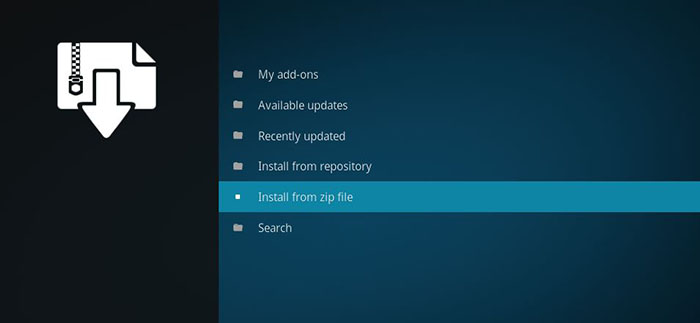 Using the pop-up that should appear at this point, navigate to the ZIP file you've downloaded. Once you find it, click on it;
Wait for the Kodil Repository to install on your Kodi. You will see a notification once that happens;
Now go to 'Install from repository'.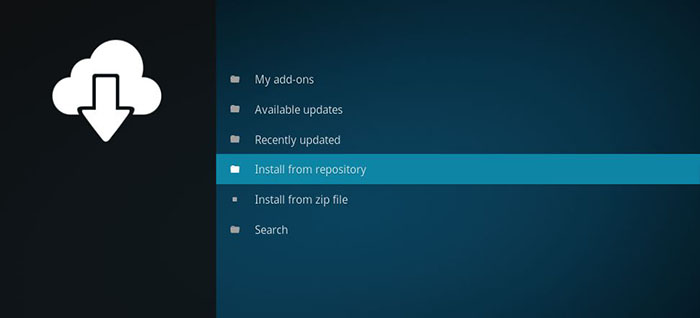 Navigate to Kodil Repository > Video Add-ons > Exodus. Open this entry and you'll see the addon's overview. Hit 'Install'.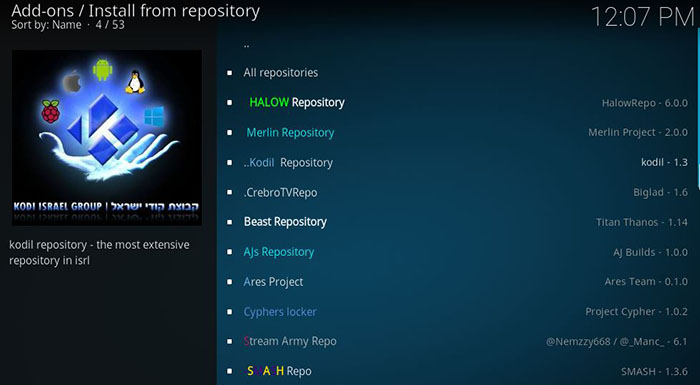 You've now installed the latest official version of Exodus. Try the addon once again, and see if you're facing the same issues as before. The good news is that now you'll receive the latest updates automatically – which is great in the long-run.
If you're still facing the same issues as before, continue reading this article.
Exodus Not Working? Here's How to Fix It!
Let's take a look at fixes for specific types of problems. We'll go through them one-by-one, so feel free to scroll to the part of this article that describes your 'Exodus not working' issue.
'No Streams Available' Error
The good news is that the 'No Streams Available' issue is typically not related to Exodus. Instead, it might be related to missing links and your Wi-Fi connectivity. Here are some of the possible causes and fixes:
Inactive Links. Exodus works as scrapper that searches the Web for working links. When you use it as movie addon for Kodi, that movie is being streamed from some website on the Web. In other words, Exodus has nothing with that link. If you find bad and non-working links, we recommend trying out other links to see if they work.
Wi-Fi Filtering. In many cases, Internet Service Providers are reviewing and filtering the files you download (or stream). This is beyond you as a user, since the filters are Web-based and affect the entire network. A possible solution for this is to use a VPN service – as we have mentioned at the top of this article. Another solution is to turn off the firewall on your computer. Here are handy guides on turning off the firewall for Windows 10 and OS X (MacOS).
Old (Obsolete) Version of Exodus. We highly recommend you to keep your Kodi addons updated at all times. New versions typically bring numerous small and big improvements, which helps addons to battle non-working links. Use the guide found above to update Exodus to the latest official version.
'Exodus Error' Message
In case you're experiencing this issue, you know how annoying it can be. You have been using Exodus for a while without any issues – and then it suddenly fails to launch. Instead, you receive a message that says 'Exodus Error' in the top-right corner of the screen.
There isn't a specific fix for this issue. According to Exodus' developer who spoke about this issue a while back, it is most probably related to Kodi. The first step is to uninstall Exodus and install the latest official version. Scroll to the 'Important Note' section above to learn how to do this.
If that doesn't help, we're sorry to say that you'll need to reinstall Kodi. In all fairness, it's always a good idea to keep Kodi updated. In case you don't know, the latest stable version is Kodi 17.5. Since this application doesn't have an automatic updater, you'll need to download its installer from the Web and re-install it. Here's how you can install Kodi on Windows, as well on Mac computers. For additional platforms and devices, we recommend reading TechNadu's Ultimate Kodi Guide.
'Exodus Not Working' – Subtitle Issues
Maybe you don't know that you can enable subtitles in Kodi. Or maybe you're having a hard time getting subtitles to work in Exodus. You'll find the detailed instructions below, so keep on reading:
Open Kodi and click on the gear icon in the top-left corner;
Now go to 'Player Settings' and then pick 'Language' from the left-positioned sidebar;
You will find a section called 'Download Services' on the right. There is an option here that is called 'Languages to Download Subtitles For'. By default, it's set to English. If you'd like to download subtitles in some other language, this is where it's done;
Now click on 'Default TV Show Service' option. This is where you can pick between different services;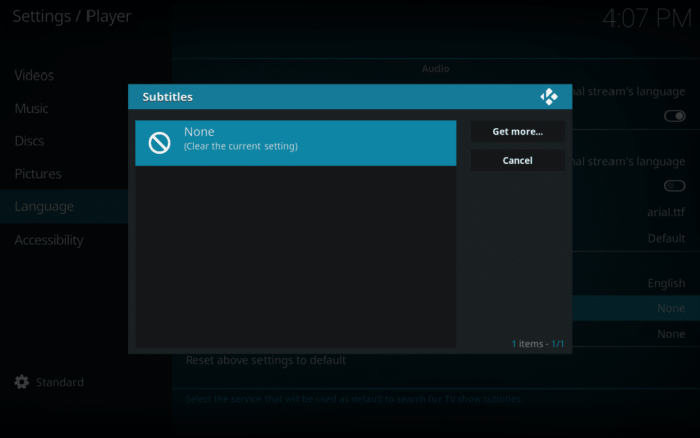 A pop-up will appear. Click on 'Get More' and then pick 'Open Subtitles' from the list. You'll now pick a subtitle service for TV shows. We still need to do the same for movies.
Click on 'Default Movie Service' and then pick 'Open Subtitles' by going to 'Get More' first.
You've now instructed Kodi to use Open Subtitles. We still need to configure this service by going to its official website. Continue reading.
Open a Web browser and go to http://opensubtitles.org/. Once the page opens, create a new account. This can be done at the top of the page where you'll see two options: Log-In and Register. Click on the latter one;
Return to Kodi. Go to Addons and find the Open Subtitles addon;
Right-click on its icon and you'll see a contextual menu. This is where you can sign-in using your newly created Open Subtitles account.
Until now, you've set up Open Subtitles and instructed Kodi to use this service. Let's take a look at how to make subtitles work within Exodus.
Launch Exodus, and play any movie or TV show;
Once a file starts playing click on the 'Subtitle' button in the bottom-right corner;
Using the newly opened pop-up, click on 'Download';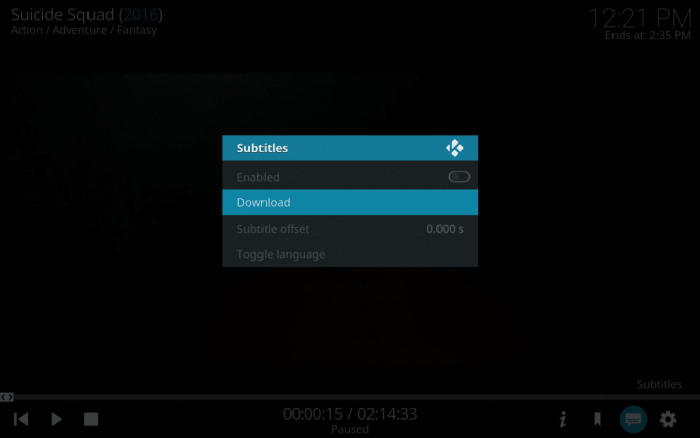 You will see a list of available subtitles. Click on any of those and subtitles will be downloaded. In case they don't match the movie you're playing, repeat the process.
Add Subtitles to Exodus Manually
If you don't want to use Open Subtitles and instead use a locally stored subtitle, you can do that. This requires you to download subtitles to your computer first.
Once a movie starts playing in Exodus, click on the gear icon in the bottom-right corner;
Select 'Audio and Subtitle Settings';
This is where you can turn ON the toggle for subtitles;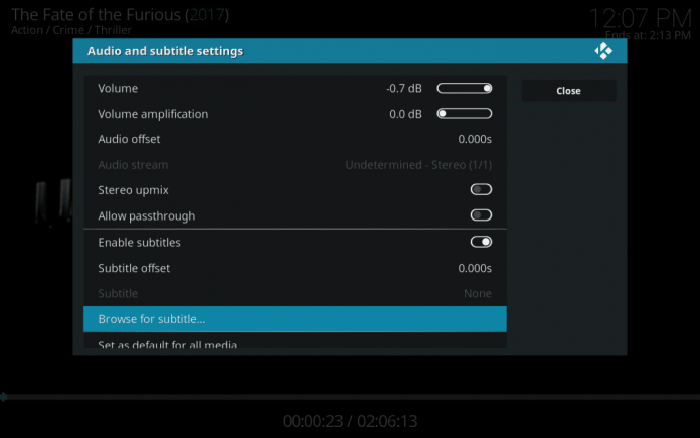 Finally, click on 'Browse for subtitle'. Navigate to the locally stored subtitle file and it will be automatically added.
It is also important to know where you can find and download subtitles to your computer. We'll provide a few of the most popular options:
Moviesubtitles.org is one of the largest repositories of subtitles. You can find many different languages supported, which is why this should be your go-to source;
Subscene.com is another popular option. Even though it comes with annoying ads, you'll have to go past that to download subtitles.
OpenSubtitles.org can be used if you don't want to enable this option within Kodi. Download a file manually instead, and load it to Exodus.
'Exodus Not Working' – Buffering Issues
In many cases, when we receive 'Exodus not working' messages from our readers, they are about buffering (or streaming) issues. These happen when you start streaming a movie or TV shows. It freezes at times and you have to wait for a while until it resumes to play.
The truth is that buffering issues are typically related to your Internet connectivity. Here are some of the possible issues and fixes:
Slow Internet connection. First and foremost, you need to make sure that your Internet connection is strong enough to stream a movie. This especially goes for those who use HD video addons or play 4K movies on Kodi. If your Internet connection is strong enough, continue reading to possible fixes.
Your ISP (Internet Service Provider) might be throttling your Internet connectivity. We have been hearing a lot about ISP illegally throttling connections. If you're not getting from your ISP the speed that's promised by your contract, make sure to contact your Internet provider.
Kodi can also be the cause of this problem. Not many users are aware that they can improve Kodi's performance by optimizing this application. Continue reading to learn how to optimize Kodi and get the most out of it.
How to Fix Kodi Buffering Issues?
If you're facing problems with buffering while using Exodus, it's time to take a deeper look at Kodi. Here's how to optimize Kodi by using an addon called Ares Wizard.
First, you need to install Ares Wizard to Kodi. Follow these steps:
Open Kodi and go to Settings by using the gear icon in the top-left corner;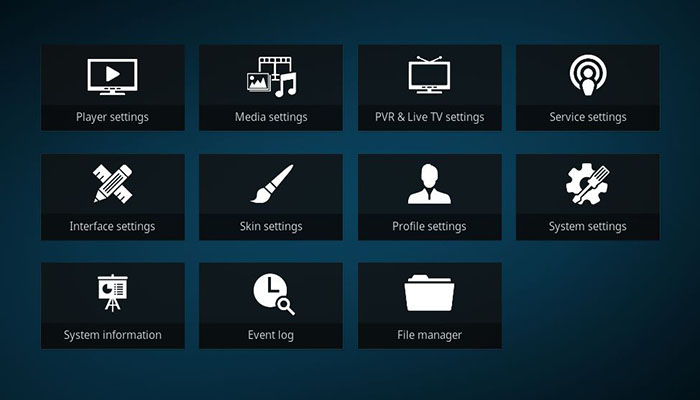 Now go to 'File Manager' > 'Add Source';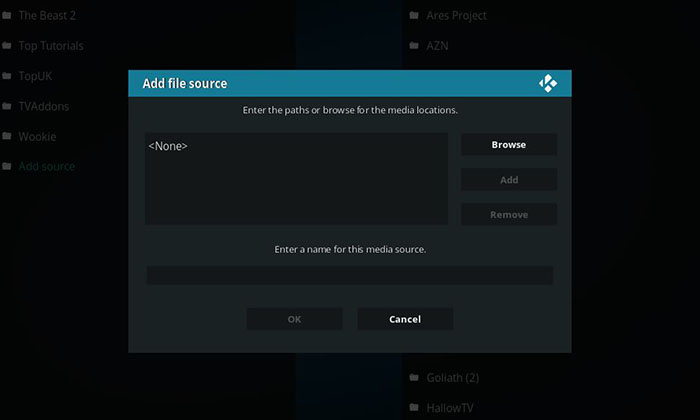 Provide a name for your source, something like 'Ares Repo'. Click 'OK' and you'll see your new source added to Kodi;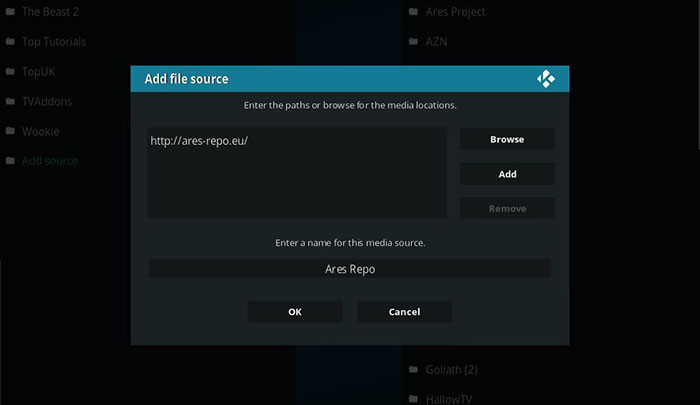 Return to Kodi's home screen. Click on 'Add-ons' in the main menu;
Use the open package icon in the top-left corner. Then, click on 'Install from ZIP file';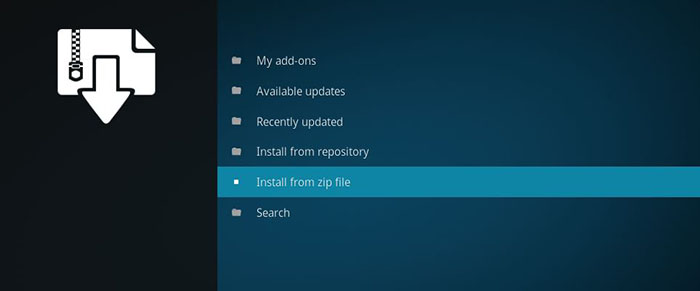 Navigate to 'Ares Repo' and inside you'll find a single ZIP file. Click to install this ZIP file;
Once you see that the Ares Repo has been installed, click on 'Install from repository';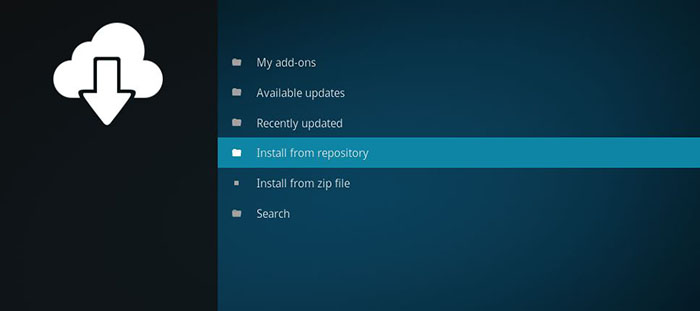 Navigate to 'Ares Project' > 'Program Add-ons' > 'Ares Wizard'. Open this entry and use the 'Install' button.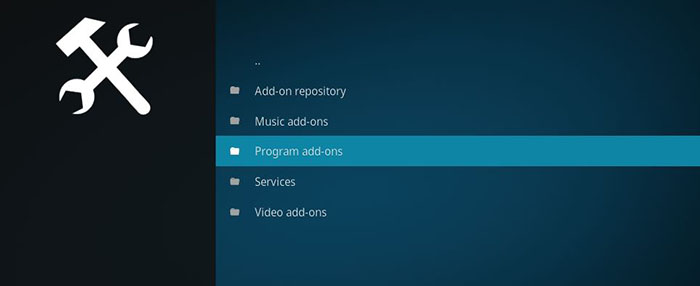 By now, you've installed the Ares Wizard addon. Now we'll teach you how to use it to improve or fix any buffering issues on Kodi.
Go to 'Add-ons' and then open 'Program Add-ons' within Kodi;
Launch Ares Wizard. The addon might take some time to fully open, so be patient and wait until that happens;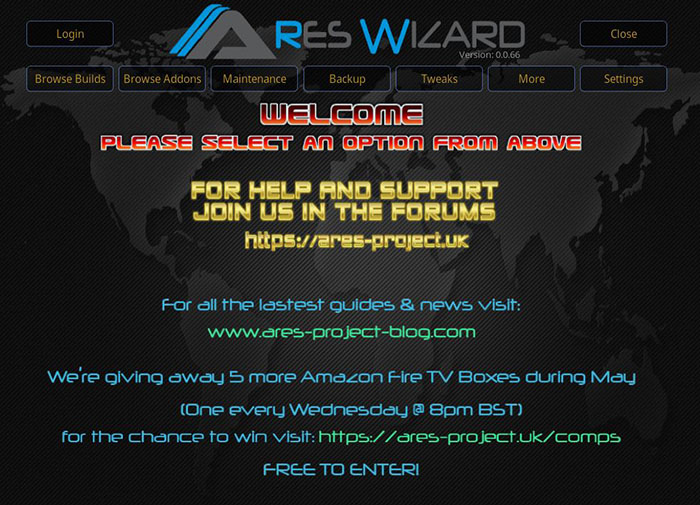 Now click on 'Tweaks' from the addon's main menu;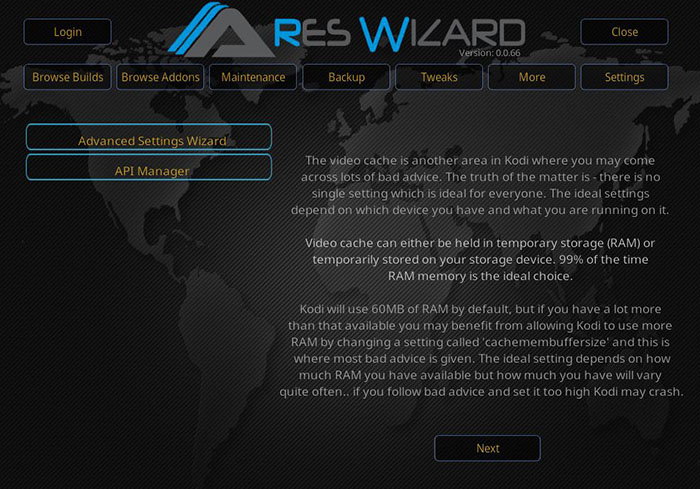 Click on 'Advanced Settings Wizard'. Then, click on 'Next' in the bottom-right corner, and the addon will try to optimize Kodi on its own. It will detect your system's specs and make sure that Kodi is using them in the best way possible.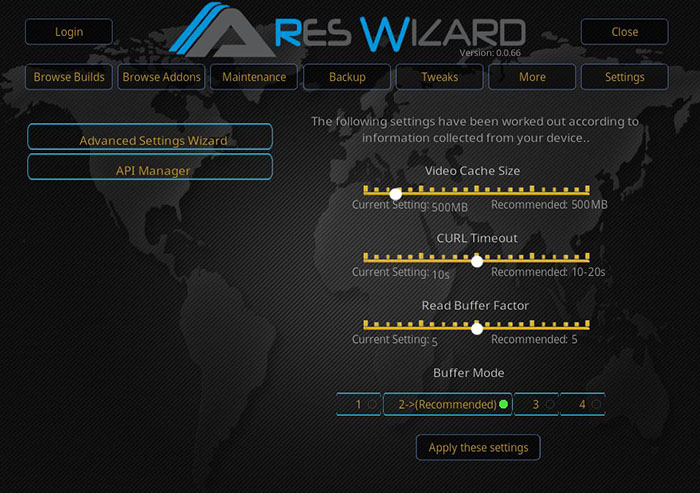 You will also be able to tweak these settings before applying them. You need to pay attention to the first option, named 'Video Cache Size'. Make sure to use the recommended value, so don't go overboard. Once you're happy, click on 'Apply These Settings'.
Ares Wizard – Maintenance
It is also worth knowing that you can use Ares Wizard to perform regular maintenance. This can potentially resolve a number of 'Exodus not working' issues. This is why we'd like to explain how to perform maintenance using this addon.
Pick 'Maintenance' from the main menu of Ares Wizard;
This is where you'll see three different sections: Thumbnails, Packages, and Cache;
Thumbnails can take a lot of space, which can be problematic for devices with limited sources. Some of these are Amazon Firestick models, Raspberry Pi, as well as some streamers like Nvidia Shield TV, Roku, and Razer Forge TV. So, make sure to remove thumbnails on a regular basis.
The same applies to packages. These are considered as junk files and can be safely removed. Packages can pile up easily if you like to download and try different addons.
Finally, there's cache. Cache refers to temporarily stored files by different addons. If you care about having more free space on your device, you can use this option.
If you'd like to be reminded to perform regular maintenance, you can use the 'Enable Automatic Maintenance Reminders' option. Then, set the required interval.
'Exodus Not Working' – Older Movies Issue
As you've probably heard, Exodus brings an incredibly large library of content. This also includes the latest Hollywood blockbusters. If you only see older movies, there is a way to fix that.
This issue is related to the way you've set your time and date. This isn't an issue with Kodi or Exodus. It originates from your device's settings.
To resolve this issue, you need to visit your device's settings. Then, find the option that allows you to change date and time settings. Make sure to set the correct value and update the time and date to the present. Now open Kodi and you should see entire libraries curated by different addons.
'Exodus Not Working' – Broken Search Functionality
One of the best things about Exodus is that you can search for specific titles. However, we have been hearing that some users can't use this option – typically found on the home screen of Exodus.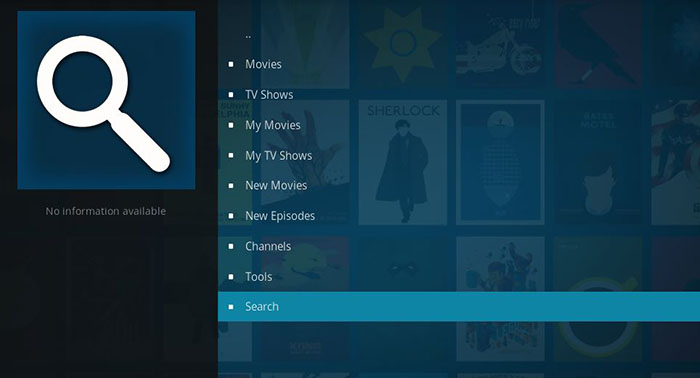 Upon a deeper research, we have discovered that older versions of Exodus have had this kind of issue. However, it has been fixed in the latest available version. To fix this issue, we recommend updating Exodus using the guide found at the top of this article.
'Exodus Not Working' – Broken Trakt.TV Integration
Trakt.TV is an amazingly helpful service. It is able to keep a record of the movies and TV shows you've watched. Then, it can generate personalized suggestions on what to watch next. Furthermore, it provides a valuable insight into what's currently trending around the world. This is why you should definitely use Trakt.TV with Exodus.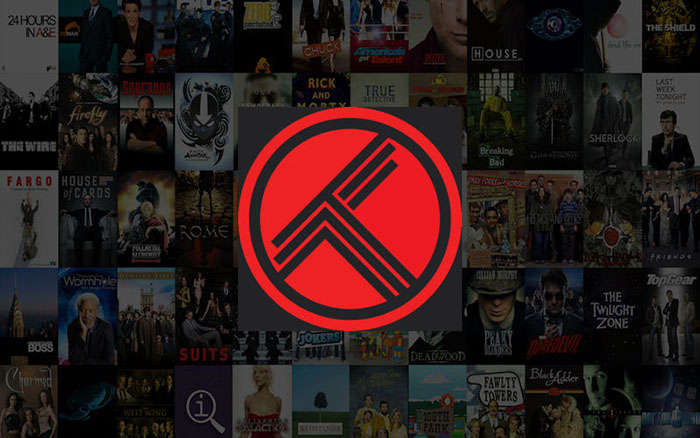 Some users of Exodus told us that Trakt.TV suddenly stopped working. Even after disabling and enabling this service once again, they are still facing issues. So, here's how to make Trakt.TV to work with this addon.
Important Note: The following procedure can be done on Windows computers. It doesn't apply to other platforms since they don't allow you to change Kodi's core files.
Using a Web browser, go to http://trakt.tv;
Sign-in using your Trakt.TV credentials;
Now go to Settings, hidden behind your username in the top-left corner;
Now find 'Your API Apps' at the top;

You will see a 'New Application' icon, so click on it;
Now enter a name and you can skip the description;
In the field called 'Redirect URL', paste the following line: urn:ietf:wg:oauth:2.0:oob;

You can skip the 'Javascript(cors) origins';
Make sure to enable the permissions for '/checkin' and '/scrobble/'.
Click on 'Save App' at the bottom of the page;
You should now see a personalized API key and Secret Key codes. Make sure to copy and paste them separately;
On your Windows device, navigate to C:\Users\Your Username\AppData\Roaming\Kodi\addons\plugin.video.exodus\resources\lib\modules. This is where you'll see a file named 'trakt.py'. Open it in a text editor. You can do that by right-clicking on it can then choosing 'Open With' > 'Notepad';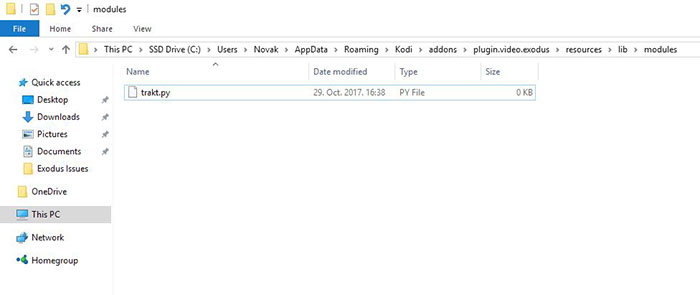 You will need to paste the codes you've previously copied. Find a line that contains 'V2API_KEY' and paste your new API key. Then, find a line that says 'CLIENT_SECRET' and paste the Secret key here;
Save your new file.
Open Kodi. Find Exodus in the 'Add-ons' section and right-click on it. Pick 'Settings';
Click on 'Accounts' in the left-placed menu. Under 'Trakt', click on 'Authorization' and you'll be asked for your credentials. Re-authorize Exodus to use Trakt.TV and you should see this service working.
Final Words
We sincerely hope that we have helped you to resolve 'Exodus not working' issues. As you are able to see, some of these are more complicated than the others. However, we gave our best to provide easy-to-follow steps.
As you still facing issues with Exodus? Have you managed to fix a problem on your own? If that's the case, we'd appreciate if you'd let us know. Use the comments section below to talk to us.