When choosing which VPN application to use, it's imperative to find a trustworthy brand. Even though some recently released VPNs bring highly competitive and fully transparent services, many of us would rather play it safe. In this article, we'll be talking about a cyber-security product made by F-Secure. Depending on where you live, you're maybe heard about this respectable company before. However, in some parts of the world, F-Secure isn't as known as its competitors such as Symantec, McAfee, Avast, or Kaspersky. However, this doesn't mean that it's less powerful than its competitors.
We'll use this article to introduce you to this company as well as its VPN solution, designed to protect your privacy and hide what you do online. If you stick with until the end of this article, you'll get to know whether this VPN safeguards your privacy, what kinds of features it brings, and ultimately – whether it's worth your money. So, welcome to our hands-on review of F-Secure FREEDOME VPN.
Before we start our review, let's take a few moments to introduce you to some of the most important aspects of this VPN. The following table lists some of the most important comparative points, so take a quick look.
You should know that we've tested this VPN's media streaming capabilities as well. After all, one of the popular uses of VPNs is their ability to unblock previously inaccessible streaming platforms. So, here are the results.
Are you in a rush? Don't have the time to read this entire review? If that's so, we've prepared the most important pros and cons to using F-Secure FREEDOME VPN, so give it a quick look.
If you continue reading, you'll learn everything you need to know about F-Secure FREEDOME VPN. So, join us as we explore this VPN from inside out.
F-Secure FREEDOME VPN – TechNadu's Review
We will follow our usual VPN review structure, by checking individual aspects of this VPN. To learn about the way we review VPNs, please use the provided link.
Background, Jurisdiction & Reputation
F-Secure is a highly reputable company, based in Finland. It comes with no reports from the past about data leaks, breaches, or unauthorized data collection. Our Score: 10/10.
Before you start using any VPN, we strongly recommend you check its country of origin. Ideally, you want a VPN from a country with strong privacy protection laws. With this said, here's what you need to know about F-Secure FREEDOME VPN.
Jurisdiction & Applicable Laws
In the introduction of this article, we've talked about the importance of choosing a trustworthy VPN. Well, this starts by knowing a few things about its background. In terms of FREEDOME VPN, this product comes from a Finland-based company called F-Secure. It was founded back in 1988, under the name 'Data Fellows', even before Internet threats were a real thing. Over the years, it gained an international presence and now has over 1,600 employees in over 30 offices around the world.
At the moment, F-Secure offers products made for home users and businesses. There are different kinds of cybersecurity solutions, including an antivirus, password manager, and Internet Security suites. It also offers free-of-charge tools that scan your PC for harmful files, check the security of your router, and run a 'Digital Life' test. When it comes to business users, F-Secure offers highly advanced tools against malware and hacking attempts, among other things.
When it comes to Finland, you should know that his county has some of the strongest data protection laws. It's part of the European Union, which means that Finland has implemented the GDRP rules. It has its own Data Protection Act, which came into force on January 1, 2019. All in all, there's nothing to be worried about when it comes to Finland and F-Secure. This company understands the importance of protecting your privacy and it knows how to offer highly polished cyber-security services.
Previous Data Leaks
We're pleased to report that there are no reports of F-Secure FREEDOME VPN leaking any data in the past. There are also no reports of this VPN cooperating with the authorities, which is always a positive first sign. All in all, F-Secure seems like a trustworthy company.
Supported Platforms & Devices
This VPN supports only the most popular platforms out there. You can't install this VPN on a router, Linux computer, media streaming devices, and more. Our Score: 5/10.
F-Secure FREEDOME VPN comes with several subscription plans, allowing you to use up to three, five, or seven devices at the same time. However, you must be wondering which platforms this VPN supports? Let's find out!
We can see that FREEDOME VPN supports the most popular platforms today: Windows, MacOS, Android, and iOS. You can find native apps for all those platforms, and all of them can be easily installed and used. However, it can be said that FREEDOME VPN covers only the most basic platforms – with the majority of its competitors bringing native apps for other devices as well.
What's troubling here is that you can't install this VPN on a router. This means that you need to configure FREEDOME VPN on each device you want to keep protected. There are also no Web browser extensions (even though you use this VPN on Chrome OS), or apps for media streaming devices. Also, there's no way to use this VPN on Linux either.
Installation & Initial Configuration
You can get a subscription, download and install this VPN within minutes of your time. The entire process is quite streamlined. Our Score: 10/10.
Now, let's see how to get started with this VPN. There are ways to go, depending on whether you'd like to get a FREEDOME VPN subscription or not. If you decide to get a subscription, you'll need to visit this VPN's website and register (and pay) for an account. Upon signing up, you'll be asked for your name, address, country, and state. You'll also need to provide your payment information to finalize the sign-up procedure. Then, you can proceed to download the app, based the platform you use.
Interestingly enough, F-Secure FREEDOME VPN comes with a free trial as well. All you have to do is to download the app from the website and install it. You don't need to register for an account this way, and you'll get a 5-day trial with no limitations.
The process of installation comes with no distractions and it seems simple enough. You can start by clicking on the 'Start Free Trial' button, agree to the terms of use, and that's about it. The application will then launch, and you can log-in to your account (in case you have an active subscription) using the 'Subscription' item on the left-placed menu. From this point on, you're free to use FREEDOME VPN with no limitations.
Prominent Features
F-Secure FREEDOME VPN seems like a very capable VPN solution, with proactive privacy protection included. It's missing a few high-end features through. Our Score: 9/10.
In this segment of your FREEDOME VPN review, we'll check what kinds of features this VPN brings. This will tell us if this VPN is made for average home users, or if more advanced users are included as well.
In terms of actively protecting you against data leaks, FREEDOME VPN comes fully equipped. It prevents DNS and IPv4 leaks. Also, IPv6 is fully supported on Windows, MacOS, and Android (which means that iOS is missing from this list). There's also a kill-switch that comes automatically enabled on Android and iOS (which uses the IPSec protocol that includes a feature a kill switch-like feature).
When it comes to more advanced users, this VPN supports tracking protection. By enabling this feature, you allow FREEDOME VPN to block various types of trackers. There' also a 'Browsing Protection' designed to keep you away from harmful websites. Sadly, there's no anti-virus functionality, even though this VPN is trying its best to keep malware away from your computer.
When it comes to what's missing here, we can mention a couple of things. There's no split-tunneling, for example, which would allow you to selectivity secure your Web traffic. There's also no way to change between different VPN protocols.
Server Count
Even though it comes with strategically placed servers, FREEDOME VPN comes with a very limited server network (present in 23 countries only). Our Score: 3/10.
Ideally, you want a VPN with plenty of servers. Moreover, these should be spread across the entire world, with numerous locations at your disposal. So, let's see what FREEDOME VPN offers.
F-Secure doesn't say how many servers they offer via their VPN solution. However, we know that those servers can be found across 23 countries, with 29 locations in total. This means that the minimum number of servers is 29 (but is most probably higher).
To put things into perspective, let's see the situation with some of the top-rated VPNs. As you can see in our ExpressVPN review, this one comes with servers in 90+ countries. And as you can see in our NordVPN review and CyberGhost VPN review, both of these well-respected VPNs cover 60 countries each. As you can see, FREEDOME VPN covers 23 countries. In fact, this is one of the smallest VPN servers we've seen yet.
The situation is not all that bad, as this VPN has placed its server strategically. You'll find nice coverage across Europe, multiple locations in the USA and Canada, and there are also servers in countries like Japan, Hong Kong, and even Mexico. You can connect to individual cities as well.
Ease of Use
In general, FREEDOME VPN is very easy to use and comes with a highly polished UI. Even complete beginners shouldn't have any trouble using it. Our Score: 9/10.
We have to say that F-Secure has done a good job of designing an easy-to-use VPN solution. The home screen presents you with an overview of different types of information, like how many trackers and malicious websites have been blocked. You can also see how much data you've spent. And of course, there's a prominent button on the bottom that lets you pick a server.
When choosing a server, you'll see a list of different options. This list is categorized by different regions, so you'll see servers located in North America, Asia, Europe, and Oceania. Click on any server, return to the home screen, and click on the prominent 'Protection OFF' button to start your secure connection. Sadly, there's no way to filter the list of available servers or to create a list of your favorite locations.
To navigate to different parts of this VPN, you can use the left-placed main menu. So, let's go over the buttons and options found there:
FREEDOME: This is the Home Screen of this VPN – as explained above. You can use it to pick a server and secure your Web connection.
Browsing Protection: FREEDOME VPN lets you secure your Web browsing by simply enabling this option. As you browse the Web, this VPN will warn you of potentially harmful websites that can steal your personal information, including credit card numbers, usernames, and passwords.
Tracking Protection: This VPN can automatically block tracking cookies that send your data back to their parent websites. This only applies to non-secure websites (or non-encrypted communications).
Tracker Mapper: As you enable the VPN's anti-tracking technologies, a log file will be generated over time. This is where you can see that information, presented in a user-friendly way.
Settings: Sadly, there aren't plenty of options to fine-tune here. You can choose to start the VPN upon system startup, enable the kill-switch, choose a language of the UI, and send anonymous data to the parent company.
Subscription: As you can imagine, this is where you can check the status of your subscription, including when it's due to expire.
Help: Finally, the 'Help' section lets you visit different help-related resources on the F-Secure website, including the FAQ page.
All in all, it's clear that F-Secure has put some thought into creating this VPN. It comes with a polished UI that's easy to understand and use. However, it doesn't provide a high level of customization, which is what more advanced users would like to have.
Media Streaming & Torrenting Support
F-Secure FREEDOME VPN supports Netflix and BBC iPlayer. Also, it brings limited support for P2P file transfer. Our Score: 5/10.
One of the popular uses of VPN applications is their ability to unblock streaming platforms. This is precisely why we have a segment dedicated to website unblocking. So, we've done a round of tests and here are the results.
F-Secure isn't bragging about its VPN's capabilities to unblock streaming platforms, which is usually a reason for concern. In our case, we managed to unblock Netflix US (by using an East Coast server) and BBC iPlayer (by using a server in London). This means that Hulu and Prime Video are not accessible.
By reading other (professional and user) reviews on the Web, we can see that FREEDOME VPN was able to unblock plenty of websites in the past. However, it seems like the situation has somewhat changed in the meantime. This is why we recommend you take advantage of this VPN's trial and test it with your favorite websites.
In terms of torrenting, this type of file transfer is supported – but in a limited way. Out of 23 countries on offer, you won't find P2P servers in 14 countries. This means that you'll end up with a handful of P2P locations. Therefore, even though P2P is supported by FREEDOME VPN, it might not be the best option right now. So, you might want to check the best VPNs for torrenting, if you're into downloading P2P files.
Security & Privacy
Even though FREEDOME VPN comes with capable security-related features, we can't hide the fact that it collects plenty of (anonymized) data. Our Score: 6/10.
If you want a VPN with strong VPN protocols and capable features that take proper care of your privacy, make sure to read this segment carefully.
Supported Encryption Protocols
This VPN relies on the OpenVPN protocol on Windows, MacOS, and Android. On these platforms, it uses AES-256 to encrypt your data. Then, we have iOS devices, which use IPsec and IKE (v1 and v2) which both use AES-256 with 2,048-bit RSA keys and SHA-256 certificates.
Simply said, F-Secure FREEDOME VPN comes with the strongest VPN protocols out there. It also uses one of the strongest types of commercially available encryption.
Logging Policy
F-Secure keeps saying on its website that it respects your privacy. More precisely, this company is saying that it doesn't read your traffic, doesn't share or sell your private data, and they don't have any back doors. All of this sounds amazing, but we've also taken a deep look at this company's privacy policy, and here's what we discovered.
In terms of FREEDOME VPN, F-Secure collects your private communications which include metadata (the volume of your Web traffic, country of origin, and IP address). This service also collects statistics that give you an overview of your browsing history. In case you use the 'Tracker Mapper', logs about the tracking data is kept for 24 hours.
It's also worth noting that F-Secure collects something called 'customer relationship data'. This includes any type of information you give to the company when buying their products. In case you've bought a subscription via a third-party, this info is collected as well. All of this data is then used to 'send you information relating to the services' including marketing offers, surveys, and more. In other words, this sounds like targeted marketing.
All in all, we believe that your privacy is protected when using FREEDOME VPN. However, we don't recommend this VPN to those who want full online anonymity.
DNS Leak Test
After doing a DNS leak test, we confirm that FREEDOME VPN keeps your information protected. No DNS leaks were detected, which means that only your virtual information is visible to third parties.
Speed & Performance
FREEDOME VPN comes with speedy performance. Based on our tests, it slowed down our Web connection by around 15%, which is an admirable result. Our Score: 9/10.
You probably want to know what kind of performance to expect from FREEDOME VPN. Well, we've tested both nearby and remote servers offered by this VPN, so here's what you need to know.
We started by getting some baseline data, which will help us calculate by how much this VPN throttles the speed of our Web connection. As you can see from the screenshot above, we got 147.81 Mbps for downloads and 13.41 Mbps for uploads.

Then, we connected to a nearby server. F-Secure FREEDOME VPN will recommend a server based on your location, which helps pick the best performing one. We're located in Europe and we got connected to a neighboring country. So, we got the following results: 128.29 Mbps for downloads and 13.07 Mbps for uploads.

Finally, we also checked the speed of a remote server. In our case, that would be a server in the USA. This time around, we got 122.58 Mbps for downloads and 11.90 Mbps for uploads.
On average, this VPN slowed us down by 15.1%. We have to say that we're very pleased with how fast this VPN is, and we highly recommend it (from this aspect, at least).
Customer Support
No matter if you have a question or if you're experiencing an issue, F-Secure is always there to listen to you and help you in a timely manner. Our Score: 9.5/10.
F-Secure is a huge company with offices around the world. They've been in the cyber-security business for a long time now, and they know how to support their customers. With this said, let's go over some of the most prominent customer support channels offered via the F-Secure website.
In case you'd like to resolve your issue quickly, you can live-chat with a customer agent. Alternatively, there's a series of phone numbers available in a series of different countries. If you dive into self-help material, you'll find a database of installation and troubleshooting guides, in addition to plenty of frequently asked questions. F-Secure also offers support tools for specific product issues.
Pricing
FREEDOME VPN comes with an annual plan only, lacking the flexibility that many similar VPNs offer. Still, it comes with a fair price, though. Our Score: 8/10.
F-Secure FREEDOME comes with annual subscriptions only. There are three variants, depending on how many devices you need to protect.
Interestingly enough, F-Secure will track your location and might show you its pricing plans in a different currency. For example, if you're located in Europe, you'll see the prices displayed in EUR. And if you're in the United Kingdom (for example), the prices will be displayed in GBP. As you can image, there's some variation between these prices as they're subject to local laws and taxes. It looks like this VPN comes with the lowest price in the USA, and with the highest priced in the UK. So, if you're interested in getting a FREEDOME VPN subscription, keep this in mind.
It's also worth noting that you'll get 30 days of money back guarantee. Also, you can pay via credit cards, PayPal, wire transfer, or via other third-party payment processors.
Differentiating Free Vs Paid
F-Secure allows you to test-drive their FREEDOME VPN up to 5 days, with no limitations – which is truly an amazing offer. All you have to do is to download the VPN application from its website and install it on your device.
Alternatively, you can sign-up for the free trial of F-Secure TOTAL, which includes a series of applications. You'll find the company's SAFE Internet Security, FREEDOME VPN, and KEY Password Manager included in the trial – which lasts for 30 days. No credit card required.
Do We Recommend F-Secure FREEDOME VPN?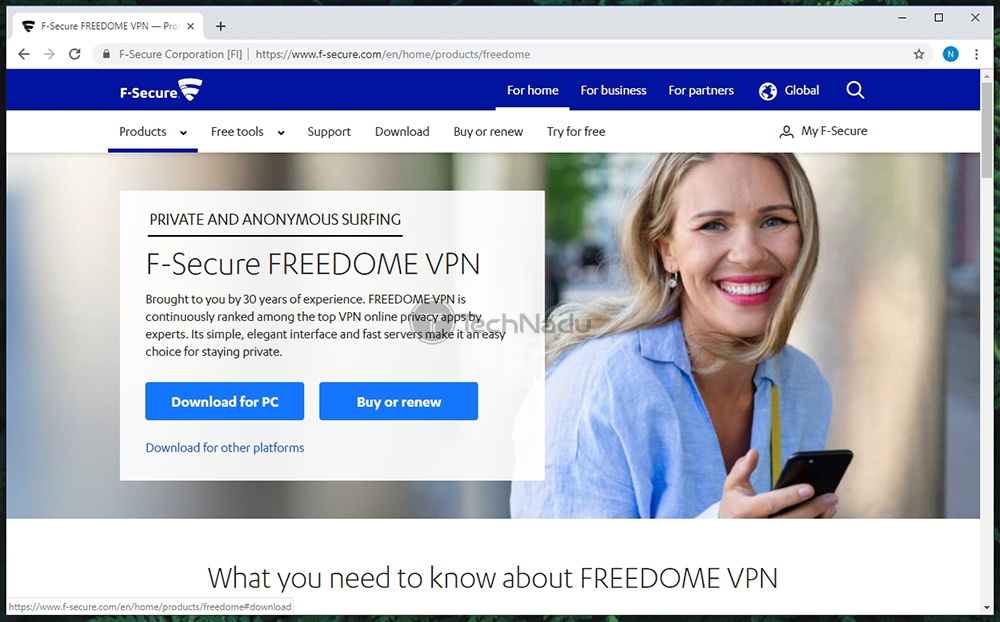 This VPN comes with numerous standouts and it definitely seems like an interesting option. However, it doesn't actually excel in any area. For example, it comes with limited support for media streaming platforms (even though it comes with fast speeds, nonetheless). Then, it offers secure VPN protocols and tough encryption, but it also collects plenty of anonymized data. And even though it lets you browse the Web in a safe manner, it limits you with its small server network.
PROS: Easy to install; User-friendly interface; Strong VPN protocols; Capable encryption; Unblocks Netflix US; Speedy performance.
CONS: Limited platform support; Small server network; Collects anonymized information; Brings annual-based subscriptions only.
OUR SCORE: 7.6 out of 10!
In case you're intrigued by this VPN (and we're sure that many of you will be), go ahead and check out F-Secure FREEDOME VPN on your own. And if you'd like to expand your search for the very best VPNs out there, check out the provided link.
In case you liked this review, we'd like to ask you to share it on the Web. And to stay on top of the latest VPN-related coverage, don't forget to follow us on Facebook and Twitter.