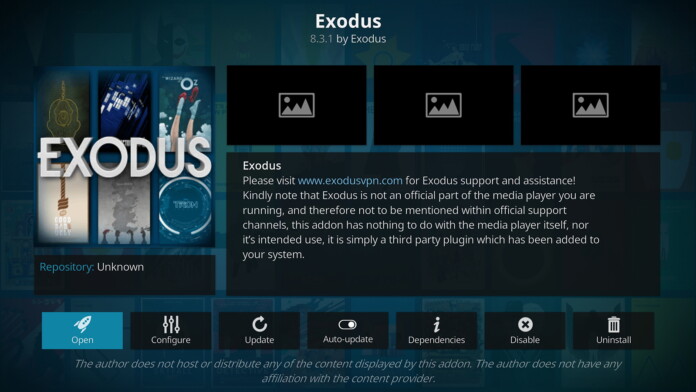 So, you want to learn more about Exodus for Kodi? You are probably reading this article because you've heard that Exodus is one of the best Kodi addons at the moment. Well, that's entirely true. This addon is capable of expanding your Kodi in unimaginable ways. If you care about watching movies and TV shows on Kodi – then you absolutely must try this addon. And as you can imagine, we are going to tell you how to install Exodus (Version 8) on Kodi, including everything else that you need to know about this addon.
Before we jump to our step-by-step guide, you should know one thing. Aside from Exodus, there's also another very similar addon, called Exodus Redux. These two are practically the same in terms of their content, but they rely on different scrapers. With this said, it's always good to have an alternative when it comes to Kodi, so make sure to know your options.
Before getting started, we strictly recommend you to be safe while using Kodi. Therefore, we want you to read the We will be talking about software developed for Kodi – which is based on open-source code. However, the following software comes from unofficial third-parties. In addition, it is publicly available and free of charge. TechNadu doesn't claim any responsibility for how our readers decide to utilize the following software. Please note that we don't condone sharing pirated content and copyright infringement. TechNadu is not affiliated with the software mentioned in this article in no way. Make sure to carefully read the above-said disclaimer and ensure the proper use of the software.
disclaimer and WARNING notice found below.
Warning: Why you should ALWAYS USE a VPN with Kodi?
Here are the reasons that you should consider looking at it without SKIPPING.
Using ILLEGAL Kodi Addons are Dangerous without a VPN: Most of the Kodi users are installing the ILLEGAL Kodi addons on their system to access all the latest movies, TV shows, sports, music, and much more for FREE, than a legal Kodi addon where it has the least content in it. But do you know what? The video content on illegal addons is scraped and copyrighted material. If you are accessing them on Kodi, then your activities will be monitored by your ISP by tracking your IP and gives all the information to the government or companies if they request for it. This will land you in trouble. To stay away from this, you will have to connect to a VPN where it hides your identity by rotating your IP address while streaming Kodi content. This is how you will be safe from the prying eyes.
Bypass Geo-Restriction: As you probably know, some official addons like BBC iPlayer, NBC Sports, Hulu, IceFilms have geo-location restrictions. This also applies to other addons like Acestream which fetches the data from torrents. To unblock these restrictions, you will have to DEFINITELY use a VPN no matter what.
The above are the 2 reasons that forcing us to recommend a VPN to the Kodi users for safer streaming. In fact, after testing several VPNs for Kodi, we finally came up with a one non-stop solution and that is ExpressVPN, the top-rated Kodi VPN so far.
Limited Time Offer: For our TechNadu readers, there is a 49% OFF on ExpressVPN which includes 3 FREE Months in it.
5 Steps to Install Exodus (Version 8) on Kodi in 2019
First and foremost, to install this addon, as well as any other third-party addon, you need to make sure that your Kodi supports installations from unknown sources. So, don't forget to use the provided link to learn more, and then return to this article.
First, you need to download a ZIP file that contains the Kodi Bae Repository. Make sure to open this GitHub page and then find a ZIP file there. You'll see it named 'repository.kodibae-x.x.x.zip'. Click on this file, and then click on the 'Download' button to download the ZIP file to your computer.
Now open Kodi and click on 'Add-ons'. Take a look at the top-left corner and click on the Open Box icon. Then, select 'Install from ZIP file';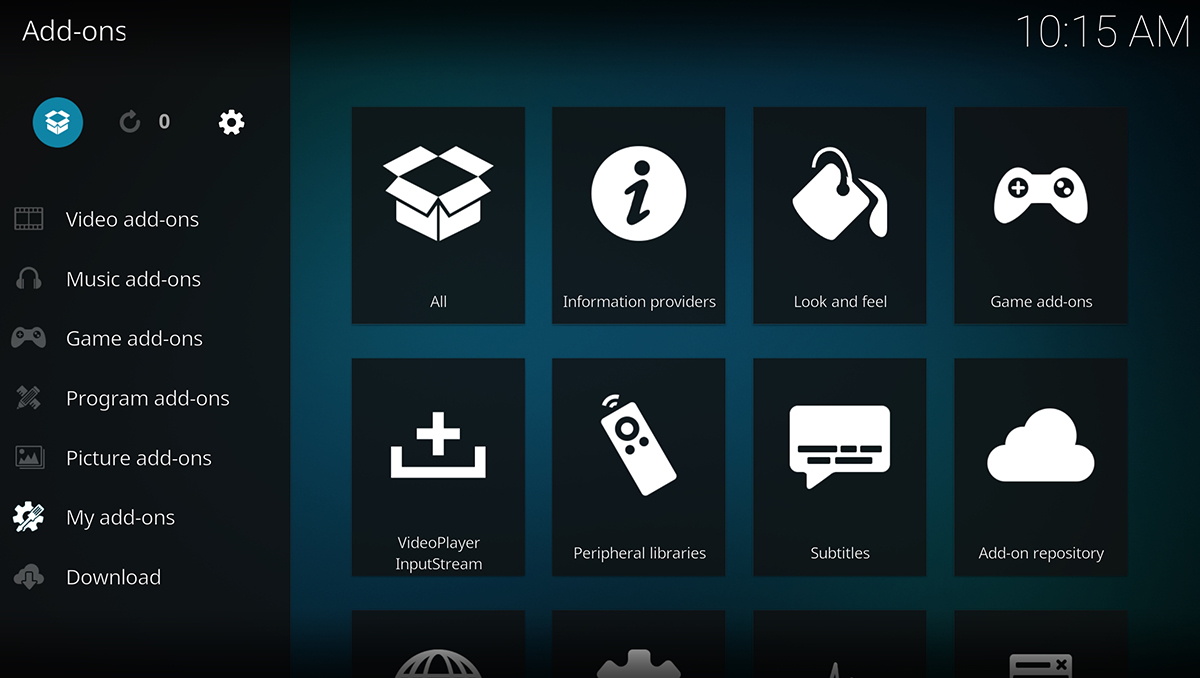 Using a newly opened pop-up, navigate to the recently downloaded ZIP file. If you're a Windows user and if the file is on your desktop, go to C: > Windows > Users > Your Username > Desktop. Click on the ZIP file to install it;
Wait for a few seconds and then select 'Install from Repository';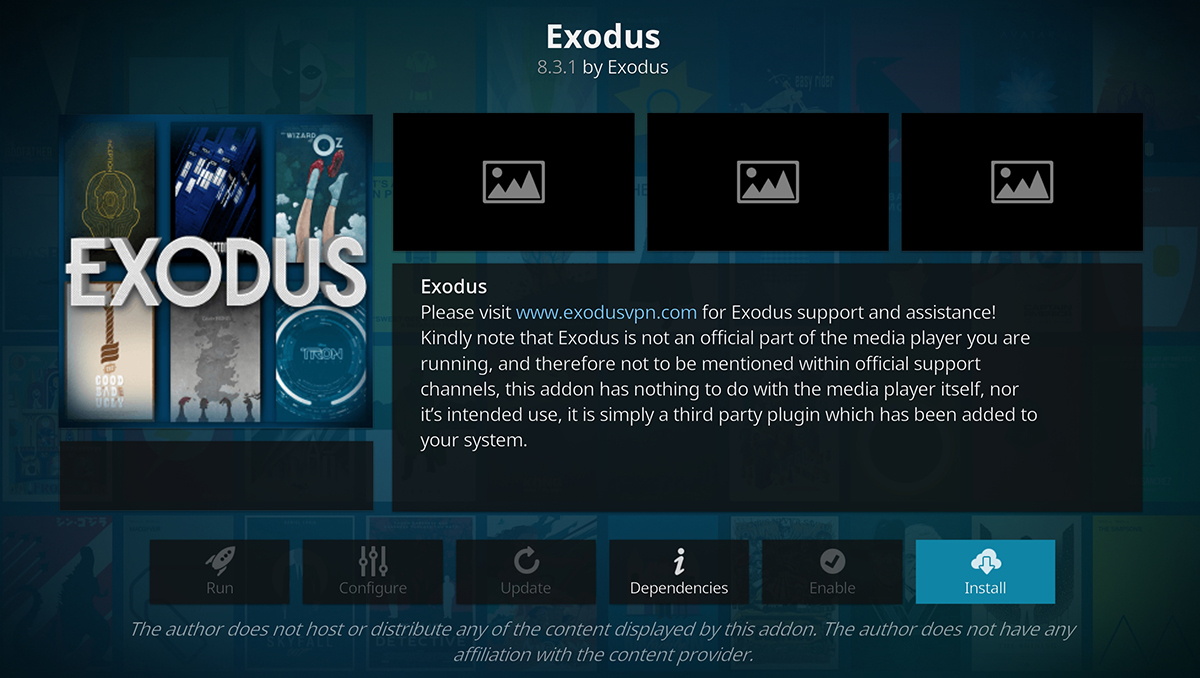 Navigate to Kodi Bae Repository > Video Add-ons > Exodus. And finally, click on the 'Install' button to finalize this process. That's it!
Fix Exodus Errors (Not Working, Additional Installation Guides & More)
So, what exactly is Exodus Version 8, and how to make sure it's working properly? How to update Exodus and resolve technical problems? Don't worry, we'll answer all those questions, so make sure to keep on reading.
Exodus Addon Not Working? Here's What to Do!
Before trying any other solution, make sure to check the two following things. First, make sure that you're running the latest version of Kodi. And also, check whether you have the latest version of Exodus installed (you can see how to update the addon below).
In case the problem persists, we've prepared a couple of helpful solutions. First of all, here's our guide to fixing Exodus' technical issues. And then, we strongly recommend you check our Kodi troubleshooting guide. This is where you'll find a large number of possible solutions, depending on the problem you're experiencing.
How to Install Exodus on Amazon Firestick Devices?
As you know, our guide to installing Exodus on Kodi tells you to download a ZIP file from GitHub. This might be a problem for those who own one of the Firestick devices. With this said, you should know that there's a tool designed to automate the process of installing Kodi repositories from GitHub – and this tool is called Git Browser. Click on the provided link to learn how to install addons using this tool.
How to Update the Exodus Kodi Addon?
To resolve technical problems and make sure that Exodus is running at its best, you need to keep it updated at all times. So, here's how to update the Exodus Kodi addon.
Launch Kodi and go to your 'Add-ons' section (by using the main menu).
Click on 'Video Add-ons' on the left side of the screen.
Now, navigate to Exodus but don't open it. Instead, right-click on it and choose 'Information' from the dropdown menu.
Lastly, hit the 'Update' button to check if there's a new version available. If there's an update, you can apply via the pop-up window you'll see on your screen.
Where to Find Exodus Kodi Addon on GitHub?
After a brief period of being offline a while back, a developer known as Kodi Bae took over the development of Exodus and published a new addon called Exodus Version 8. So, you can find the latest version of the addon on Kodi Bae's GitHub page. The provided link will take you to a series of Exodus' ZIP files, each containing a different version.
In case you don't want to install Exodus only but also check other addons made by this developer, you can check out its repository ZIP files here. Feel free to download the ZIP file to your computer and install it on your Kodi.
If you think other Kodi users might find this article to be helpful, why not share it on Facebook, Twitter, and other social networks? As always, you can count on the comments section below to talk to TechNadu's editorial team. We'll be happy to assist you in resolving technical issues with Exodus. So, let's stay in touch!