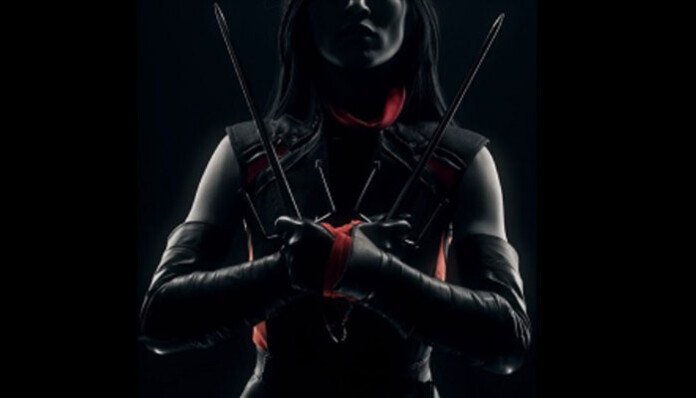 Update: The Elektra Vault addon is no longer available. After being threatened with legal action, a developer behind this addon has decided to stop further development. However, there are numerous great alternatives out there. Take a look at our list of the best addons for Kodi to see some of the most popular (and trending) addons that are still fully working. Additionally, here's a list of the best movie addons as well.
We can all agree that Kodi is powerful on its own. It allows you to stream movies to your computer (or any other device), as well as to create a local library of content. However, for many of us, the best thing about Kodi is its world of addons. Thanks to a vibrant community of volunteer developers, we have access to thousands of official and unofficial addons. Some of the allow us to access online TV channels, while others are capable of streaming movies to your computer. However, there are those that bring many useful things to a single place by combining different content groups. This is why we'd like to introduce you to the Elektra Vault Kodi addon.
If you like to follow TechNadu, you are aware of our dedication to bringing useful tutorials and guides. In addition, you can also find helpful overviews of the best addons for Kodi. However, this article will go in-depth when it comes to a single addon – the Elektra Vault Kodi addon. It brings movies, TV stations, documentaries, sports, and pretty much anything you'd want. We believe this could be your favorite new addon, which is why we have decided to explain in-depth. Continue reading to learn more.
Disclaimer: We will be talking about software developed for Kodi – which is based on open-source code. However, the following software comes from unofficial third-parties. In addition, it is publicly available and free of charge. TechNadu doesn't claim any responsibility for how our readers decide to utilize the following software. Please note that we don't condone sharing pirated content and copyright infringement. TechNadu is not affiliated with the software mentioned in this article in no way. Make sure to carefully read the above-said disclaimer and ensure the proper use of the software.
WARNING: Before You Continue…
Do you know that everything you do within Kodi might be visible to your Internet service provider? Actually, this applies to pretty much everything you do on the Web. These days, ISPs collect all kinds of personal data and share it with third parties. However, there is a way to stop this. You can use a VPN application to make sure you're using Kodi as privately as possible.
VPN applications work by rerouting all your Web traffic through an encrypted tunnel. This makes your data unreadable by your Internet service provider. Also, VPNs get you a new IP address every time you connect to the Web. This means that your online presence and your physical location are both hidden. Finally, VPNs can keep malware away from your device and let you watch previously restricted content. We highly recommend using ExpressVPN.
Signing up for ExpressVPN has never been more affordable! Instead of paying $12.95 per month, you can opt for a special promotion and get this amazing VPN for only $6.67 per month! In addition, the annual plan comes with three additional months, free of charge. Sign-up for ExpressVPN and reap the numerous benefits it offers.
Elektra Vault Kodi Addon: Overview
This addon has been available for a couple of months now. During that, it has received several updates that brought new content categories and under-the-hood changes. The current state of the Elektra Vault is an impressive one. This add-on combines different types of content under one roof while managing to offer an impressive collection of HD content. Furthermore, what unique for this addon is that also offers 4K movies – which isn't something we often see, even though there are numerous other amazing addons.
If you continue reading, you will learn how to install Elektra Vault. We'll be talking about two different methods – to make sure you avoid any issues. Then, we'll dive deep into the add-on's features. We'll explain what each of its content categories contains, as well as where to find certain types of content. Continue reading to learn more…
Elektra Vault Kodi Addon: How to Install?
As said earlier, there are two ways to install Elektra Vault. First one is consisted of downloading a ZIP file to your computer and using that file to install the addon. The second one is a 'traditional' method of installing unofficial addons. Without further ado, let's start with the easier method.
Installing Elektra Vault via ZIP File
Here's how to install this addon by downloading a ZIP file to your computer and using Kodi to install that file. This will save us a couple of steps in comparison to adding a new repository manually via Kodi. You can also follow the provided screenshots to make sure you're doing everything right.
First, we need to install a repository called Supremacy. Click on this link to save the ZIP file to your computer.
2. Open Kodi and navigate to the Add-on Section, which can be found within the main menu on the Home Page of Kodi.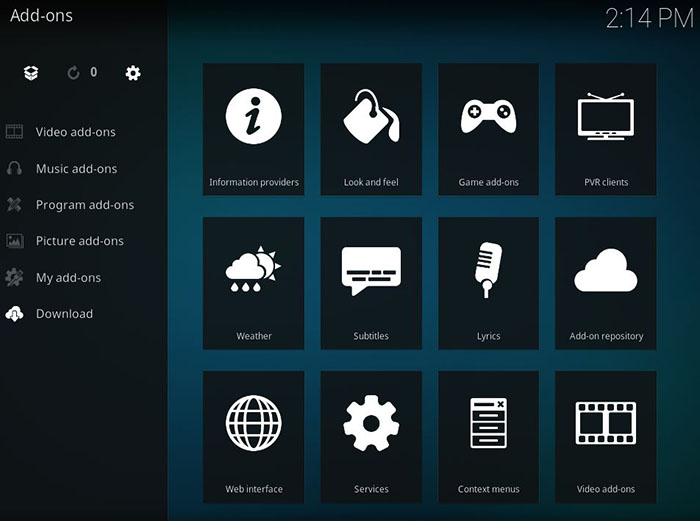 3. Now find an icon resembling Open Box – in the top-left corner. Click on this icon.
4. Use the option that says 'Install from ZIP file.'
5. Using a newly opened window, you need to find the newly downloaded file. If you're using Windows and if the file has been downloaded to your desktop, you'll need to navigate via your hard drive. For example, C: > Users > 'Your User Name' > Desktop. If you're using MacOS, the file can find in the Downloads folder.
6. Once you've found the ZIP file, click on it. After a couple of seconds, you'll see a notification saying that the new repository has been installed.
7. Now return one step, and click on 'Install from Repository.'
8. Inside you'll find the Supremacy Repository. Open it, and then open the Video Add-ons folder.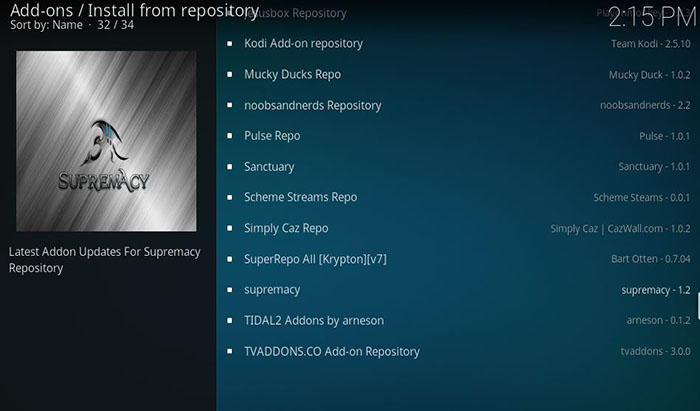 9. Here you'll see all of the available video add-ons that this particular repository brings. One of them is the Elektra Vault Kodi addon.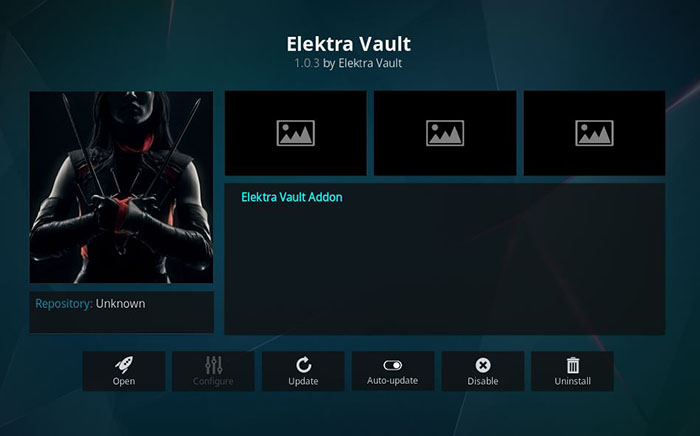 10. If you click on the addon's name, you'll see an overview. Use the Install button to finalize the process.
11. Once installed, Elektra Vault will be placed in the Add-ons Section of Kodi.
Install Elektra Vault via Supremacy
This method is very similar to the previously explained one. However, we wanted to give you another installation procedure in case there's problem with the ZIP you had to download in the previous explanation.
Open Kodi and navigate to the System menu. This is done by clicking on the Gear icon, found in the top-left corner – under the Kodi's logo.
2. Now click on the File Manager button.
3. Inside, you'll see an option that reads 'Add Source,' on the left side of the screen. Double-click on it to add a new source.
4. A pop-up window should now appear. Click on the message that says <None> and you'll be asked to enter a new URL.
5. Use the following URL: http://supremacy.org.uk/zip/repo/. Make sure to correctly type it in, or you can copy and paste from this page. Provide a name for your source and click OK. When it comes to naming, you can use 'Supremacy.'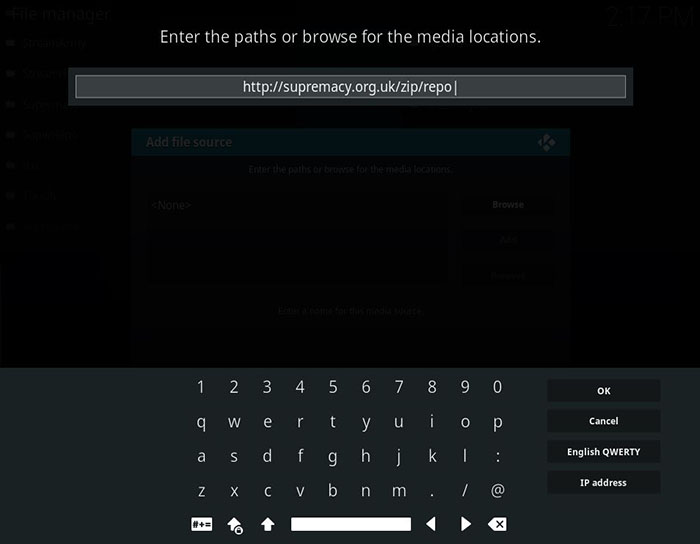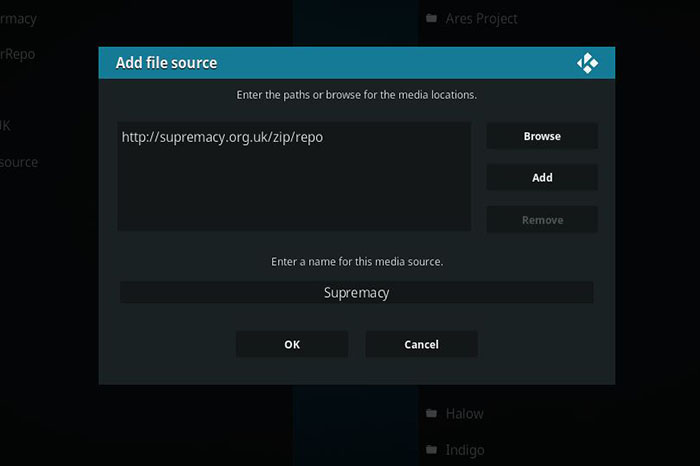 6. Now go back to Kodi's Home Screen. This can be done by using the ESC (Escape) button, or by using the Backspace button several times.
7. Open the Add-ons Section using the left-positioned menu. Inside, click the Open Box icon in the top-left corner.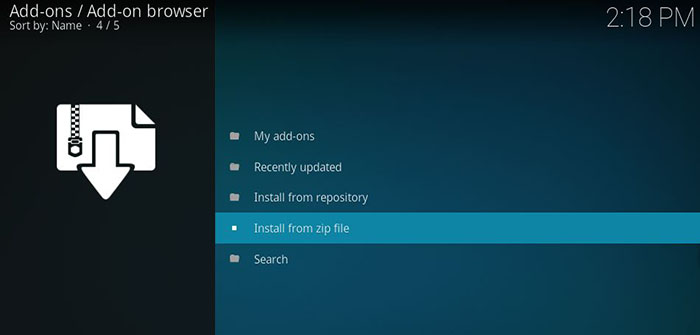 8. From a list of options, pick 'Install from ZIP file.' A new window will appear.
9. Now navigate to Supremacy > repository.supremacy-1.2 > repository.supremacy-1.2.zip. We need to install this ZIP file, so simply click on it.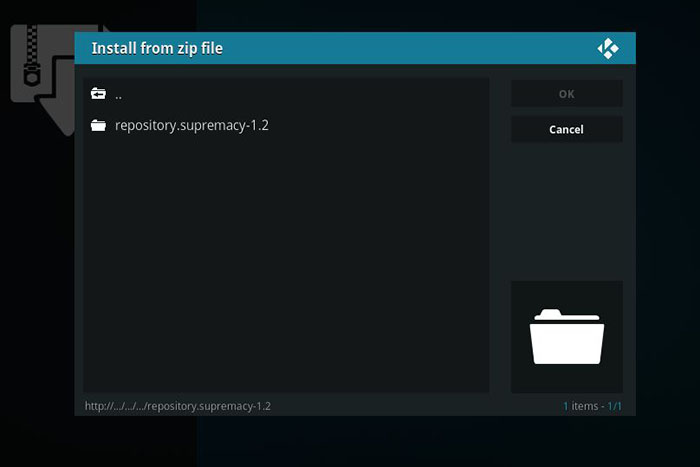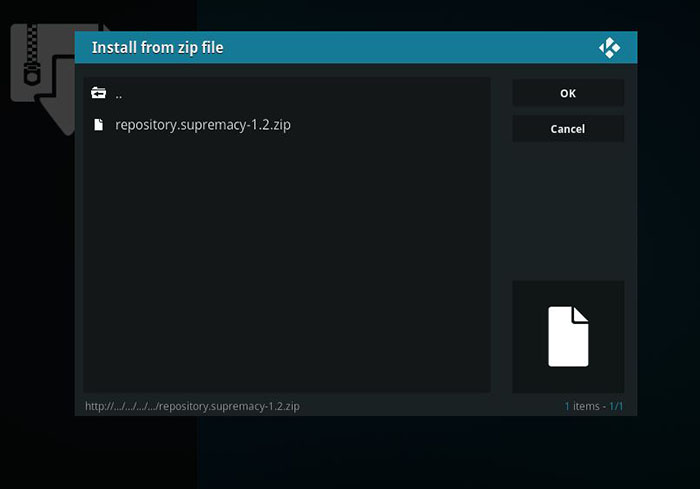 10. Return one step (using the Backspace button) and pick 'Install from Repository.'
11. Navigate to Supremacy Repository > Video Add-ons > Elektra Vault. This will open a new screen showing an overview of the addon.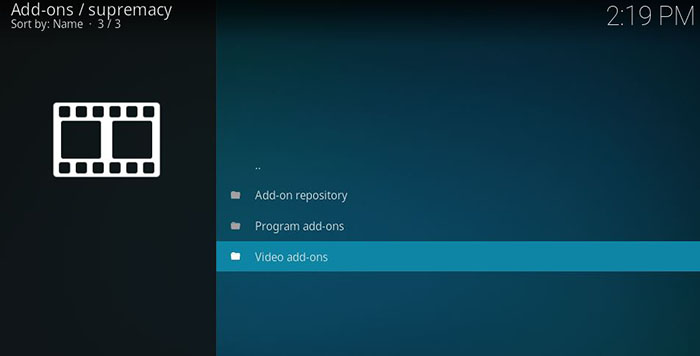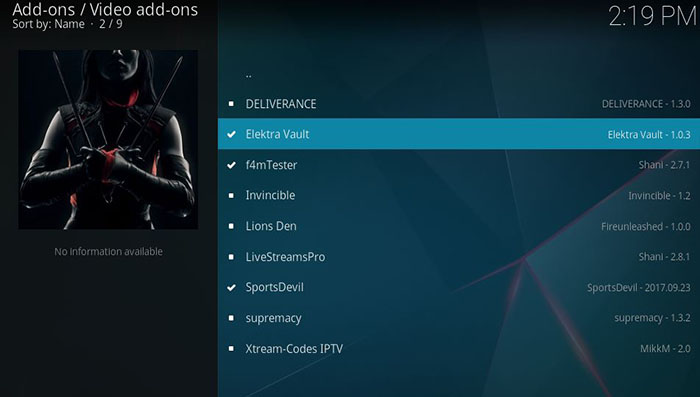 12. Click on the Install button in the bottom-right corner. After a few seconds, you'll be notified if the addon is successfully installed.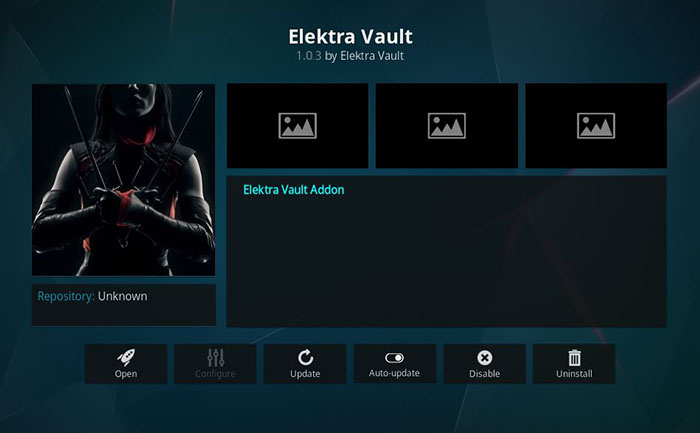 13. You can find the Elektra Vault Addon by going to the Add-ons Section of Kodi. Enjoy!
Elektra Vault Kodi Addon: Features & Contents
We hope that you managed to install Elektra Vault and that you're ready to explore its content. If you continue reading, you will learn all you need to know about this addon's content library.
First, let's take a look at what is offered upon opening the addon. Here are the currently present items:
Latest Movie Releases
4K
Sky Movies
Boxsets
TV Shows
Documentaries
Xbox Section
Rays Ravers
Live Television Server 1 (as well as 2 and 3)
Live Sport Events
Live PPV
Test/Sport/TV
Even though this kind of navigation seems intuitive, it's still a good idea to explain what each of those categories contains. Hopefully, this will clear any doubts you might be having.
Latest Movie Releases: As its name implies, this is where you'll find the latest movies. The majority of the titles offered here come in 1080p HD quality. You only need to click on a title and it will begin streaming after a couple of seconds. What's great about the Elektra Vault Kodi addon is that it finds its own streaming links, which simplifies the navigation. Find the movie you'd like to watch and hit Enter – and you're ready to go. How amazingly simple is that, right?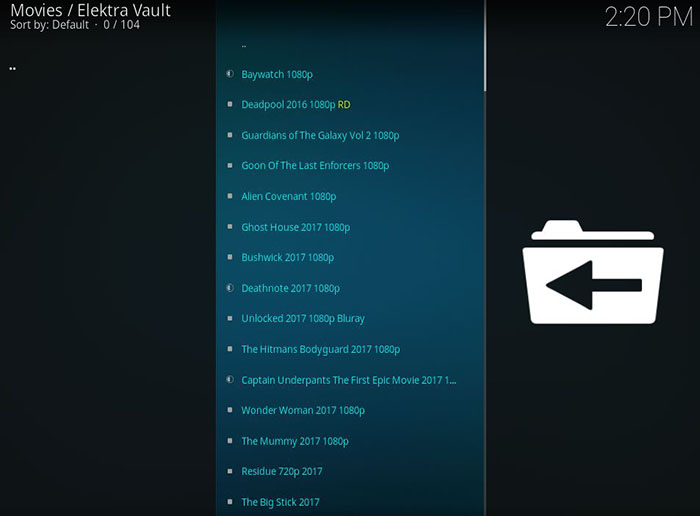 4K: Here we have a selection of 4K movies, which is also known as UltraHD screen resolution. At the moment of writing this article, there are 86 available movies. Simply click on a title and the movie will begin playing. We have tested a number of entries, and it seems like there aren't any non-working links.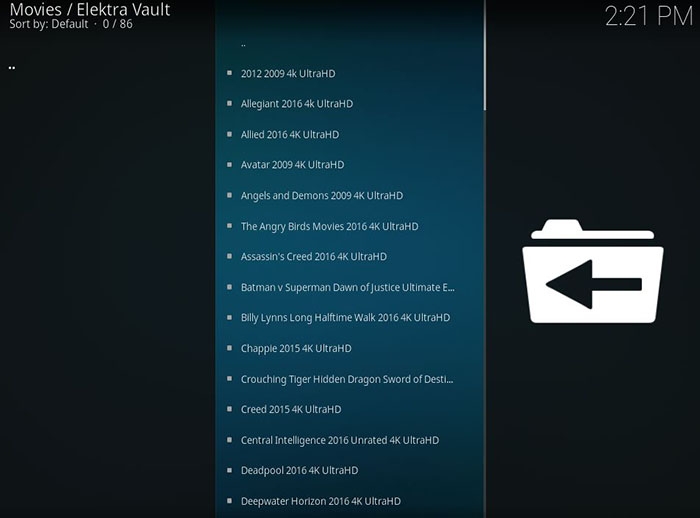 Sky Movies: A nice selection of eight Sky TV channels awaits in this section. These include Sky Cinema Premiere, Sky Cinema Action, Sky Cinema Select, and others. You will see that each TV channel on this list comes with two links. Currently, all of the channels are working even though not all the links are functional. You have to try on your own which one (out of two links per channel) are currently in function.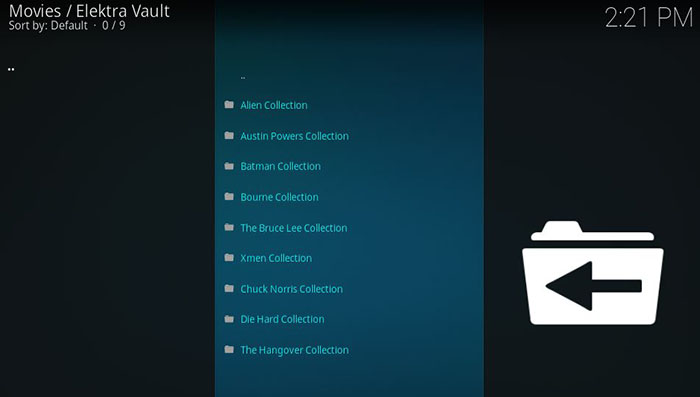 Boxsets is a category that contains movies that come in collections. This is a nice way to have browse collections and have these movies within individual folders. Some of the currently offered movies are action, comedy, and science fiction blockbusters.
TV Shows: The name of this category says it all. There are 18 TV shows at the moment, which isn't much. However, all of the streamable files come in HD quality. You will find the latest as well as some older TV shows.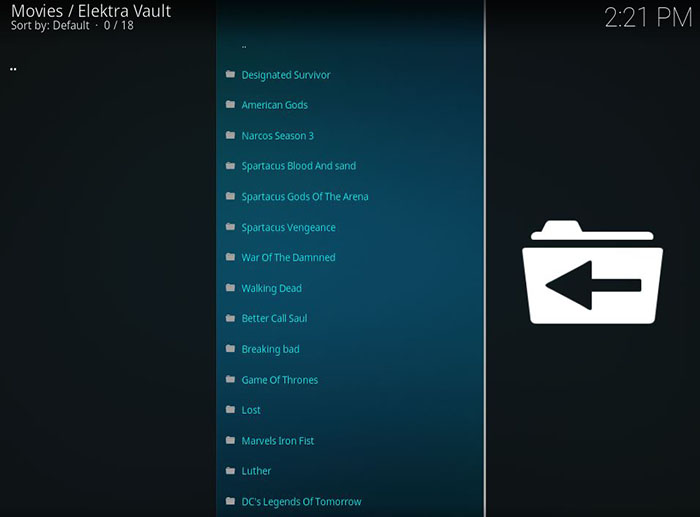 Documentaries: If you're into documentaries, this is where you'll be spending the majority of your time. There are four folders, named Sharks, UFOs, Paranormal, and Gangsters. Each of then brings around 40 titles, which means there are more than 150 documentaries at the moment. This is a lot of content, and this is one of the reasons why we love the Elektra Vault Kodi addon.
Xbox Section is where you can find HD and 4K videos from popular gaming YouTube channels, as well as trailers for upcoming video games. However, this section currently offers 19 videos, which isn't a lot.
Fitness Section provides videos for those of you interested in fitness and nutrition. There are 44 videos at the moment, where the majority of them are aimed at women. We hope to see this content diversified in the future.
Rays Ravers is a radio station that plays everything from dance and punk, up to trance mixes. If you like to use Kodi to stream radio stations, you might find Rays Ravers interesting.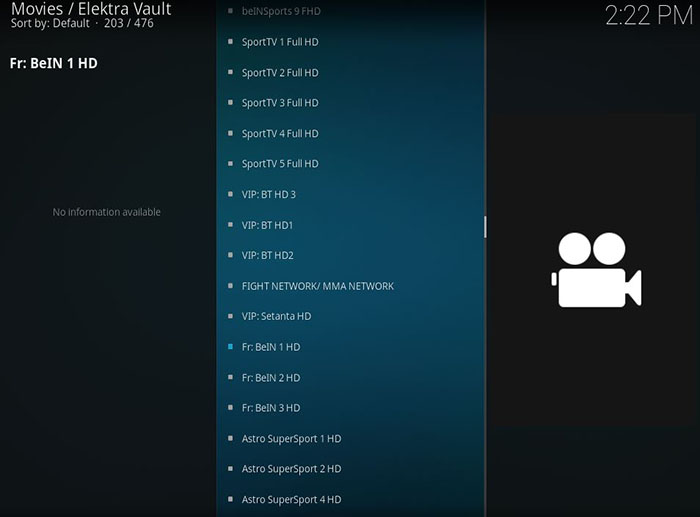 Live Television Server 1, 2 and 3: These three categories bring the Live TV to Kodi. In total, there are over 800 channels at the moment, but it seems like not all of them work. However, you'll find popular TV stations from the U.K. and the U.S. that will cater to your needs. Aside from news- and entertainment-oriented channels, you'll find plenty of live sports streaming channels as well. However, there's a dedicated section for those of you who follow sports, as you'll soon find out.
Live Sport Events is an amazing library of content – a must-have for any sports fan. Every single day, you will find a list of entries next to when their broadcast begins. For example, it shows right now that there are 32 events today ranging from tennis, boxing, up to football. This kind of filtering is nice to have, so you can plan ahead if something is interesting to watch.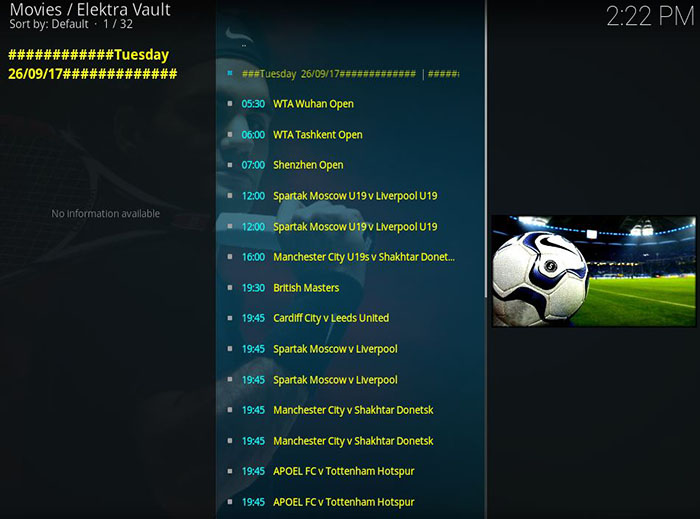 Live PPV: At the moment, this category seems to be empty. There were a few titles in the last couple of months, but they seem to disappear at one point. If you find something interesting here, make sure to watch it as soon as you can.
Test/Sport/TV: Finally, we've come to the last option on the home screen of the Elektra Vault Kodi addon. It seems like you'll find experimental sources here, as well as additional links to TV channels from other categories. Most of the links found here are working, with a few exceptions.
Elektra Kodi Addon: Problems & Fixes
Just like with any addon, you may encounter some technical issues with Elektra Vault. However, this won't be the case often. This addon is a well-maintained one, with a few very non-working links.
In general, there are two common issues that we'll describe below.
Failed to Install a Dependency: When installing addons or repositories, Kodi will also install other elements needed to make that addon work. If you receive this kind of error, the best solution is to try with another repository. This is one of the reasons why we have included two installation methods of the Elektra Vault Kodi addon.
Buffering Issues: Just like with any Kodi addon, buffering issues can rise at a certain point. This especially applies to those who often like to switch between different streaming links. This can be resolved by cleaning up Kodi's cache memory.
Elektra Kodi Addon: Alternatives
We are sure that Elektra Vault will cater to your every need. Thanks to its massive library of content, it hard to find a better option out there. Just imagine using Kodi on a large-screen TV and having such library at disposal. Still, some Kodi addons are worth your time.
One of the currently most popular is an addon named Bennu for Kodi. In many ways, it's similar to the addon we're dissecting in its article. It offers live streams of international TV channels, as well as a number of amazing live streams of sports channels. Bennu is also useful when looking for a specific content like anime movies and TV shows, or sources of content that originates from Asia (like Chinese movies and Korean dramas).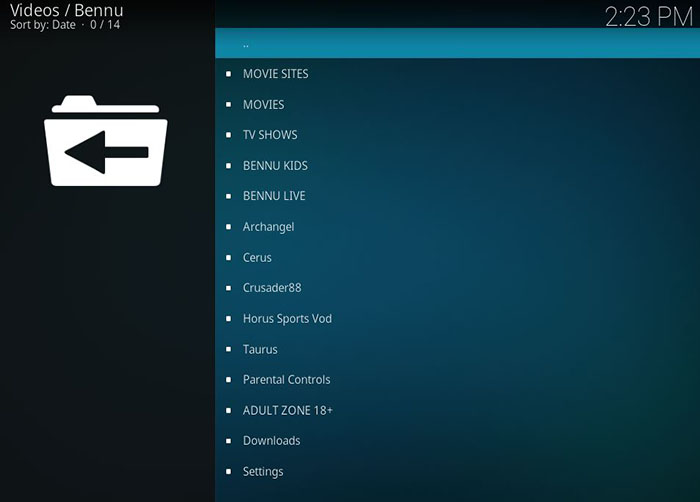 Next, we have Exodus. This is one of the most intuitive addons that brings very concise and clear categories. There are numerous ways to browse movies and TV shows, and it also has a search functionality built-in. This is something that we really miss when using the Elektra Vault Kodi addon.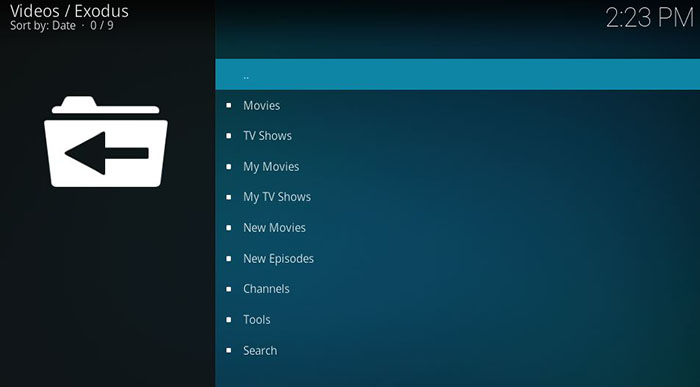 In case you run into problems with Exodus, we are recommending installing Covenant for Kodi. These two addons are close to identical, but they both work on their own. Look at them as alternatives to one another. In case our previous suggestion ever stops working, Covenant can be an excellent alternative and vice versa. Both of these offer an incredible selection of movies and TV shows, both of which are often offered as high-definition content for Kodi.
If you fail to find a specific TV channel within Elektra Vault, we strongly recommend installing cCloud TV to your Kodi. This is a very popular addon that brings thousands of exciting options. Recently, it also received a dedicated section for movies – so you'll find all you need in one place.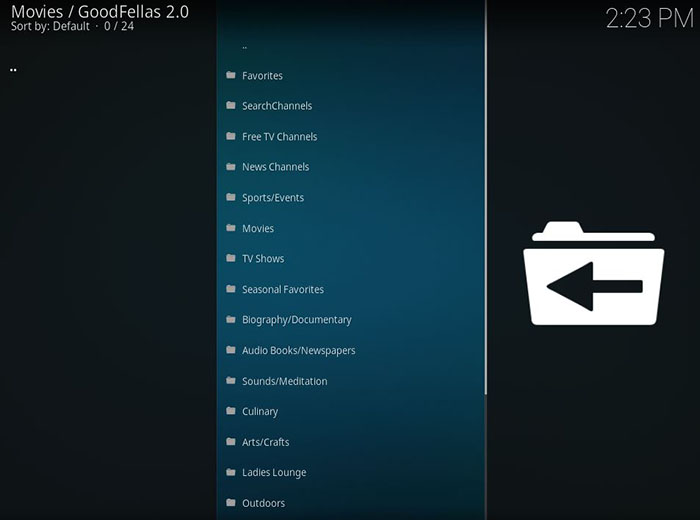 If you like addons that come with dozens of very specific categories, try out GoodFellas 2.0. This one brings all you'll ever need since its content is organized by a series of very specific folders. GoodFellas does a good job of cleaning up bad links, so you'll hardly encounter a steam that doesn't work.
Conclusion
No matter which method you have chosen to install the Elektra Vault Kodi addon, we hope that you managed to activate it. One of the best things about this addon is the sheer amount of titles it offers, as well as its hassle-free streaming. Even though this addon is still new, it managed to find its way to customized Kodi builds, which isn't as surprising actually. We can't wait to see what the future holds for this amazing addon.
Feel free to let us know if there's something that we missed. We'd love to hear your opinion, so please use the comments section below. Finally, don't forget to give us your recommendations concerning alternatives to the Elektra Vault Kodi addon.