You are most probably reading this article because you have a sizeable collection of DVDs. We can't blame you for this since many of us have at least a few DVDs collecting dust somewhere. Just like with old-fashioned tapes, DVDs have now become obsolete – where Blu-Ray discs have taken their primary position. However, just like with happened to videotapes in the past, you can convert your old DVD into a newer format and keep it stored in your collection ready to be used in the future. The only thing you need to for this is a capable software. So, welcome to our DVDFab DVD to Blu-Ray converter!
First of all, we're going to provide the basic information about this application. So, take a quick look at the table found below to learn more.
Overview
Product Name
DVDFab DVD to Blu-Ray Converter
Supported Platforms
Windows 10/8.1/8/7; MacOS 10.10 – 10.14.
Unique Features
Copies and merges DVD files to Blu-Ray; Converts DVDs and Blu-Rays into numerous video formats. Advanced compression technology;
Price
Starting at $44.90
Visit
DVDFab DVD to Blu-Ray Converter
Next, we have another table for those who simply want to check out this software. So, we're going to show you our conclusions, which comes in handy if you compare this software solution to its competitors.
Final Verdict
Pros
Simplistic UI design; Fully automated solution; Plenty of fine-tuning; Highly optimized performance; Amazing support documentation.
Cons
Occasional bugs and crashes.
The Bottom Line
DVDFab has managed to produce one of the best DVD / Blu-Ray converters on the market. It's easy to use, and it brings pro-level features.
Our Score
9.4/10
Now, we're ready to present our in-depth review of DVDFab DVD to Blu-Ray Converter. If you want to learn all there is about this application, keep on reading.
DVDFab DVD to Blu-Ray Converter – TechNadu's Review
First, you need to know the specs of our PC. We have tested this application on a desktop PC, powered by Intel's i7-8700K CPU, 16GB of RAM, and Nvidia's 1070Ti GPU (8GB). The application was installed on an SSD, which should ensure smooth performance. Also, we've tested the version 11.0.0.7 of DVDFab's converter.
Platform Compatibility
You can use DVDFab on Windows and MacOS – but note that these are two separate versions of the application. Our Score: 10/10.
This review is focused on the Windows version of DVDFab's converter. Even though you can expect a close to an identical set of features on the MacOS version, we didn't test that one. Still, there really shouldn't be a major difference between these two.
You don't need a powerful Windows PC to run DVDFab DVD to Blu-Ray Converter. You need to have Windows 10/8.1/8/7 installed on your PC, 1GHz Intel or AMD CPU, 512MB of RAM, NVIDIA's GeForce GTX 260 or better, and a Blu-Ray drive. Of course, better specs will make sure the application runs better and coverts your discs in a speedier manner.
Installation Process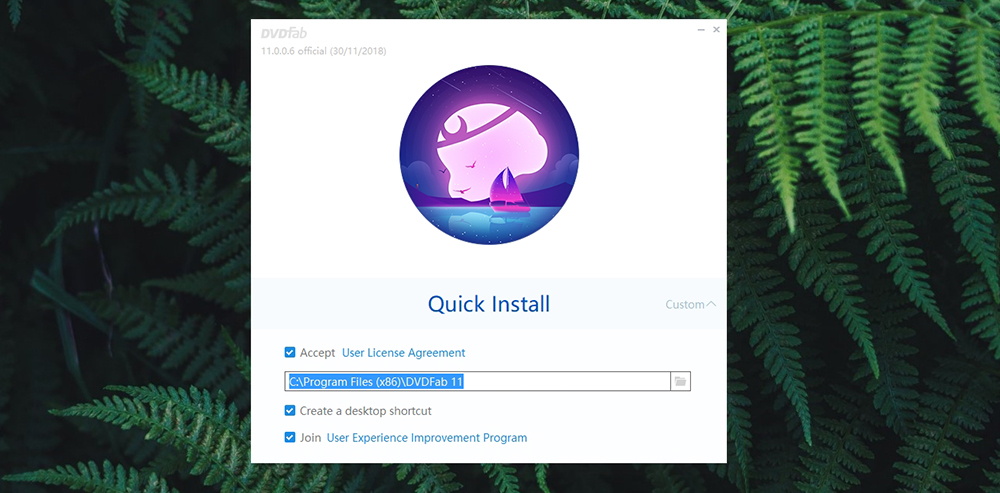 The process of installation is very simple and straightforward, even though it could be slightly more transparent. Our Score: 9.5/10.
To get started with DVDFab's converter, you need to visit its official website. This is where you can buy a license or try the application for to 30 days, free of charge. Download the installer and launch it. You'll be greeted by a colorful interface that lets you download the required files and install the application in a matter of minutes.

If you decide to use custom options, you'll see that DVDFab will ask for information to be sent from your PC. This information is used in diagnostic purposes, and there's probably nothing to worry about. However, we wished to see this option displayed more clearly, giving you the option to give your permission explicitly. On the other hand, DVDFab won't install any adware or bundled applications, which has become a rare thing these days.
User Interface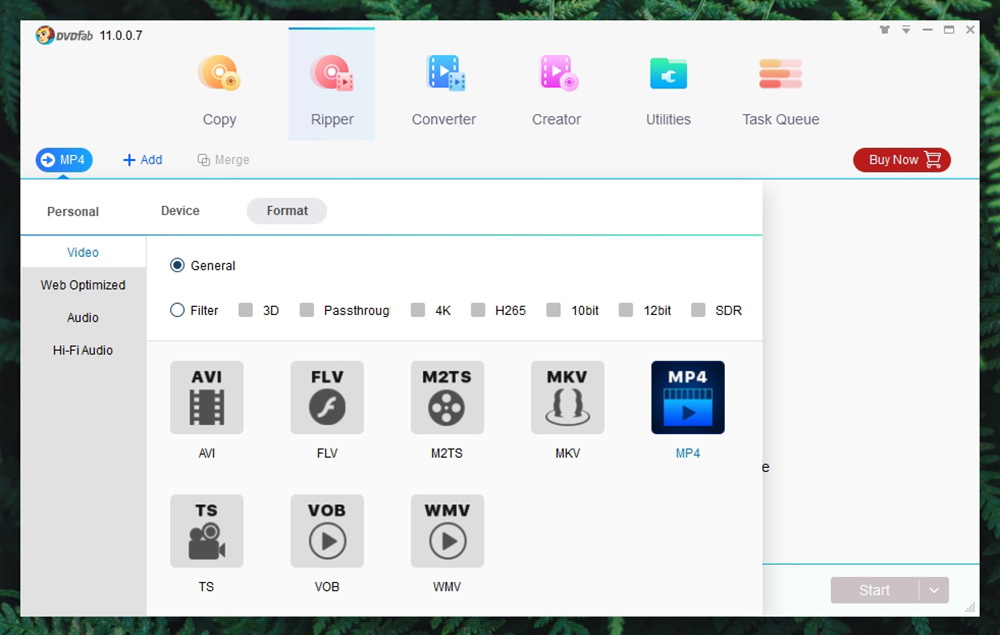 DVDFab has managed to produce a very attractive user interface, even though it's not the most intuitive out there. Our Score: 9/10.
To explain what kinds of features to expect, we're going to guide you through this application's UI. So, the easiest way to get started is to explain the most prominent segments and we'll start with what you'll find at the top.
So, if you take a look at the top left corner, you'll see a few very small icons. There's the standard option of controls including minimize, maximize, and close. However, there's an icon resembling a shirt. This is where you can choose from different skins and there six nice-looking skins at the moment. Then, there's a downward-facing arrow, which is where you'll find the application settings. Among several features found here, we think you'll use two of them. First of all, you can click on 'Switch to Mini' which is DVDFab's simplified version of the application. And there's also something called 'Common Settings' which is actually the main settings panel of this application. Here's what you'll find here.
General: The first tab you'll see let you change from several languages and optimize the application's performance based on your GPU (via A/V codec). There are plenty of options here but most of them are already set based on your PC's specs;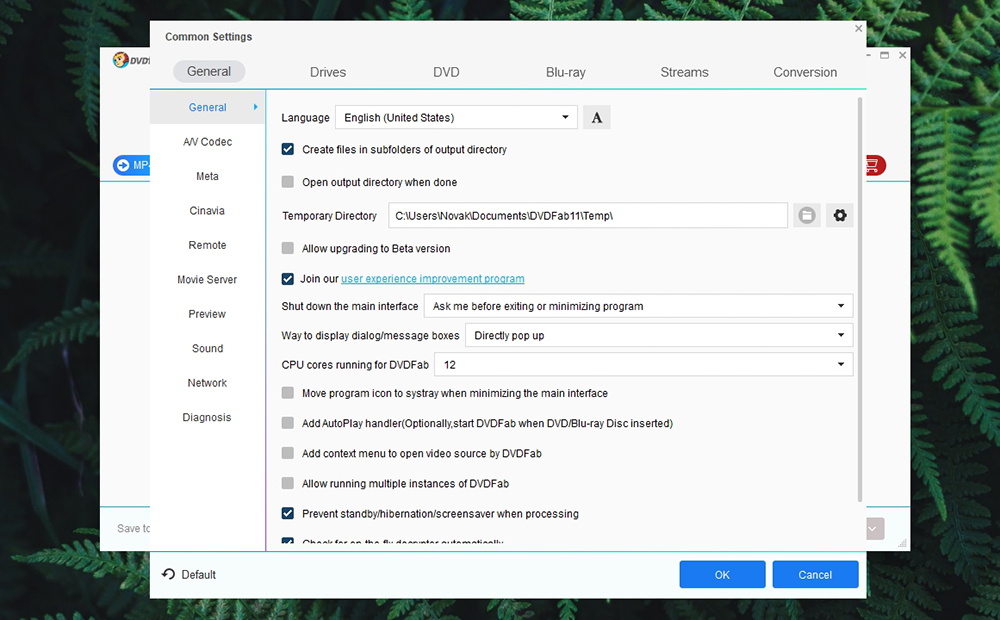 Drives: Next, you can check your drives and optimize their settings. Most notably, you can set custom sizes for different types of write media discs. As you can see, DVDFab supports different kinds of Blu-Ray discs, which is a nice surprise;
DVD & Blu-Ray: We also have two tabs that let you fine-tune how you record media onto your DVD and Blu-Ray. You can go for quicker conversion, or slower conversion that will produce higher quality video file.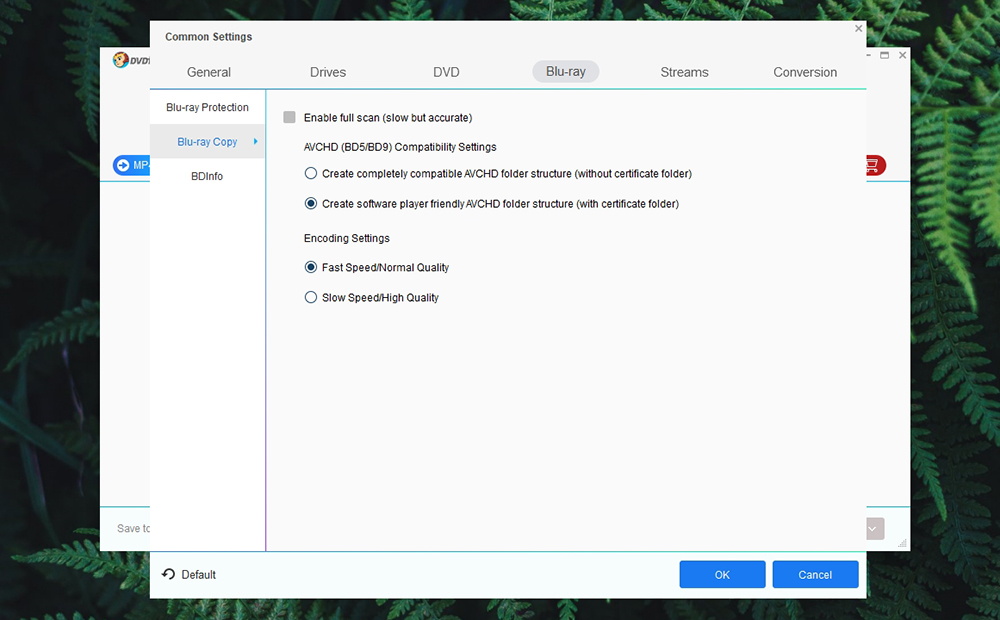 Streams: This tab lets you set a default audio file and subtitle, based on your primary language. Even though this can be set at a later stage, this is where you can set the default values;
Conversion: Lastly, this is where you can really dig into the way your DVDs are converted. This includes setting the memory limit for conversion, cropping, a method of scaling, and more.
Now, let's return to DVDFab's main interface. At the top, you will see a set of main tools, nicely represented by animated icons. Here's an overview of what these can do:
Copy: As its name implies, this is where you can copy your discs. You can choose to do a full copy, only the main movie, split your Blu-Ray (for example) into several DVDs and more;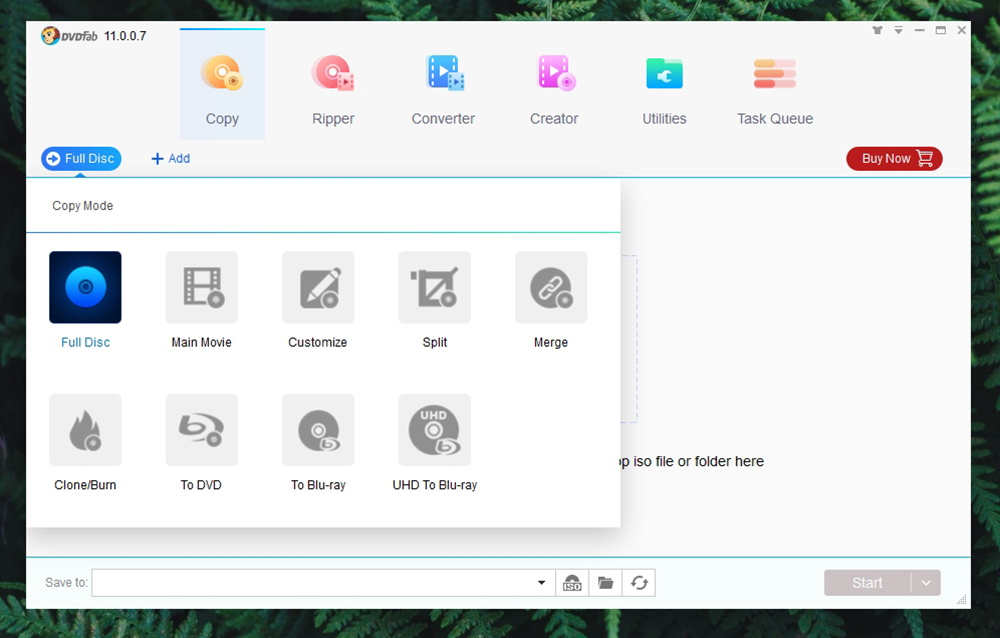 Ripper: Next, we have a tool that saves your DVD and Blu-Ray discs as video files that you can play locally. You insert a disc, choose the preferred video format, and the application will do the rest.
Converter: Now, we have another handy feature. Instead of ripping your discs to locally stored video files, this tool simply converts one video format into another.
Creator: This tool comes in handy if you want to create a readable DVD or Blu-Ray. For example, you can store your home videos onto one disc that can easily be played by any hardware unit.
Utilities: DVDFab makes a whole range of products, and you can find some of those here. While some come free of charge, others are paid. Either way, you can download and access them via this panel.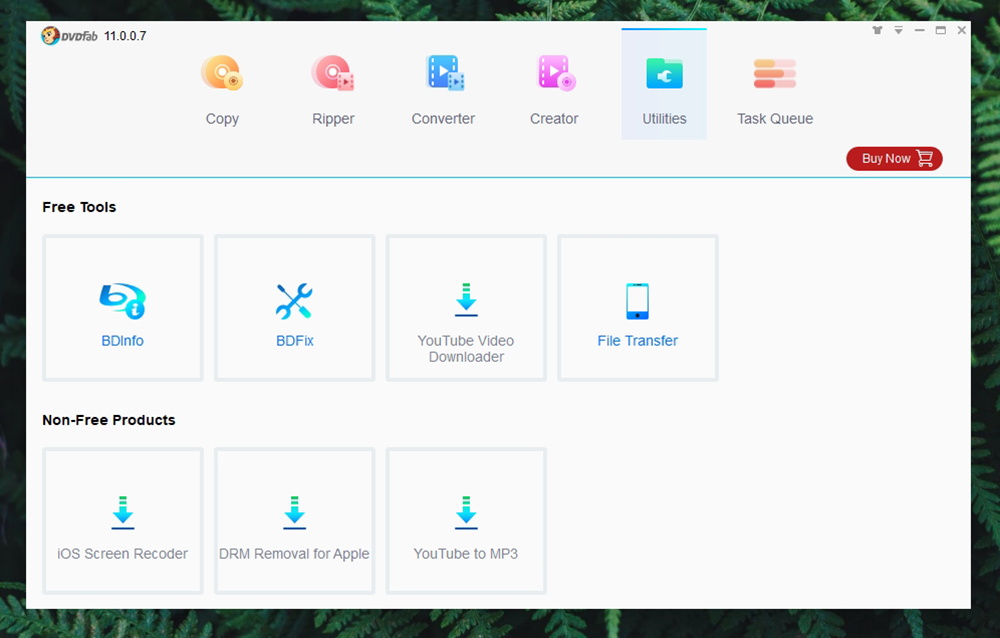 Task Queue: Lastly, this is where you'll find a list of your tasks, and you'll get to see their progress.
Ease of Use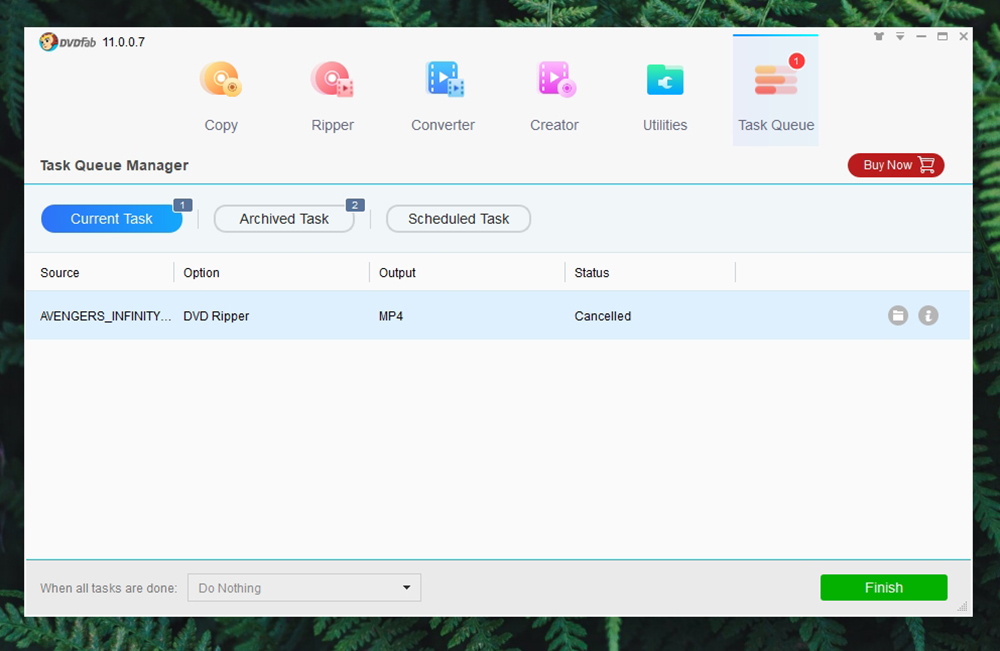 DVDFab DVD to Blu-Ray Converted is quite easy to use. However, it will take some time and effort to fully master this application. Our Score: 9/10.
To explain how this application can be used, we'll walk you though a process of ripping a DVD disc. So, let's get started.
We are going to rip a DVD, and so we'll use the 'Ripper' tool found at the top of DVDFab's UI. The first action we need to take is to supply a DVD movie. So, we can either place a disc into a DVD drive or supply an ISO file.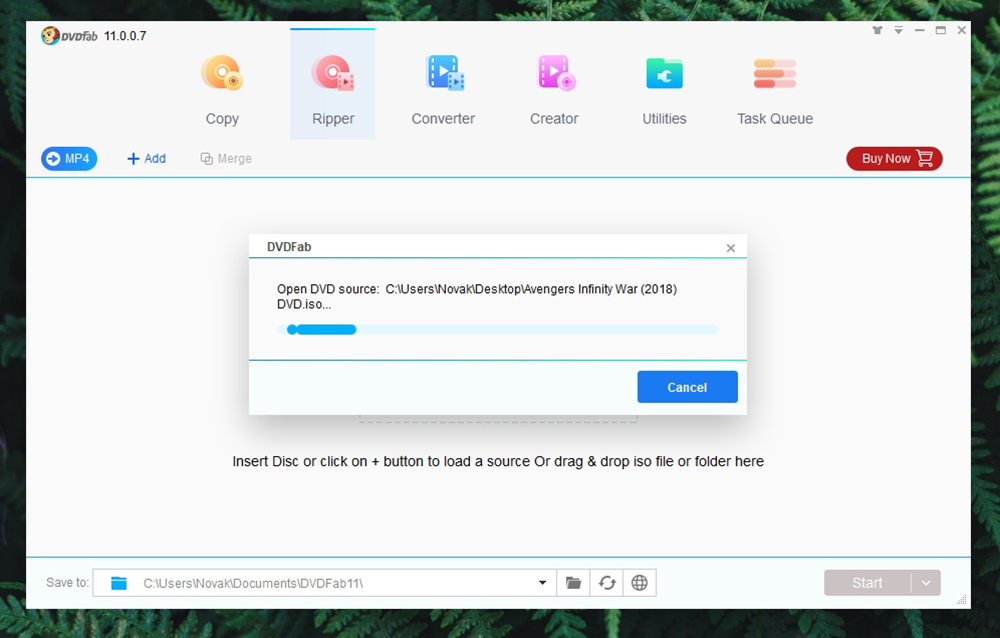 Next, we'll get to see some basic information about the DVD we want to rip. In general, you can simply click on 'Start' if you don't want to mess with my settings. However, more advanced users would like to dive a bit deeper.
First, we can choose from different outputs, in terms of quality. For example, we can see here that a high-quality video files will take 1,84GB of space.
Then, we can check other options as well. For example, we can choose from different captions already present on the DVD we're using.
On the far right, there's a few useful icons. First, you can preview your movie. Then, you can open its settings and fine tune the video, audio, and subtitles. Let's also not forget that you can dive a bit deeper into the DVD's options. This will let you crop your video, adjust its brightness, contrast, and saturation – and even add a custom image or text.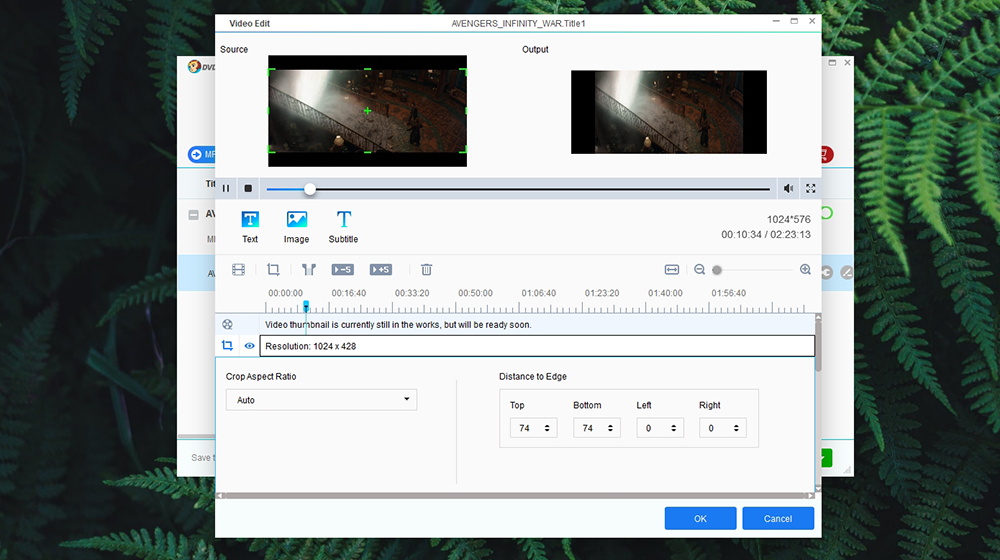 Once you're ready, go ahead and click on 'Start'. The application will now take over the process and will convert your DVD based on the settings you've selected.
Speed & Performance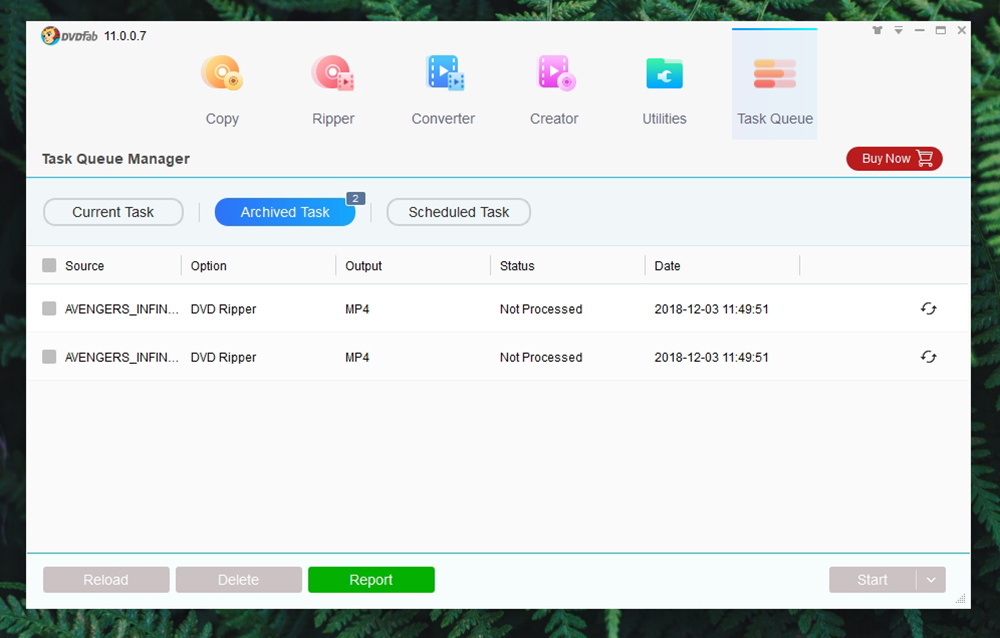 The faster your PC is, the faster this application will covert video files. However, there are some technical quirks that harm the overall experience. Our Score: 8/10.
In general, DVDFab DVD to Blu-Ray Converter is a highly optimized application. It is designed to take advantage of everything your PC has to offer – including its CPU, GPU, and RAM. With this said, owners of the latest generation GPUs and CPUs will feel like right at home. Thanks to NVIDIA's CUDA cores, you can easily convert many high-definition videos at once. And when it comes to our past experience reviewing similar applications, DVDFab brings a somewhat better (speedier) performance.
However, we do have to note that we've faced occasional crashes, without any particular rule. Sometimes the application would crash while converting files, and sometimes it would crash without any apparent reason. This isn't something you should be overly careful about – it happened a few times during our somewhat long testing period. This is not a deal breaker but it's definitely a minus.
Customer Support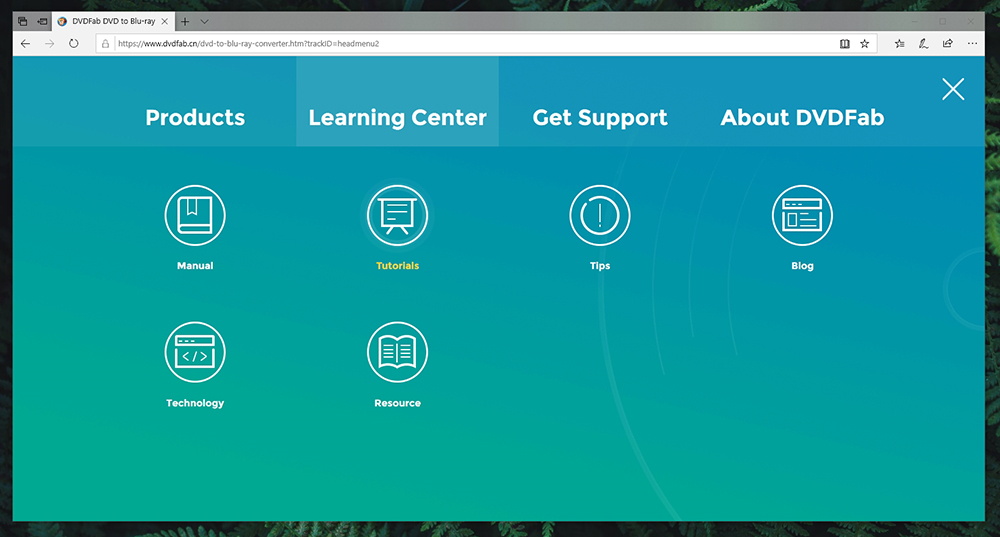 DVDFab is a company that cares about its customers – and this shows though numerous ways of contacting the company and getting help. Our Score: 10/10.
In case you ever get stuck, or if you simply want to learn more about this converter, you can easily find help and resources. You can start with DVDFab's manual, check out tutorials, and even see tips for Windows and Mac. There's also an interesting blog that you can follow for the latest news and offers. And if you want to contact the company directly, you can use the 'Contact Us' page where you'll find a form, telephone numbers, as well an option to live-chat with the company's representatives.
Pricing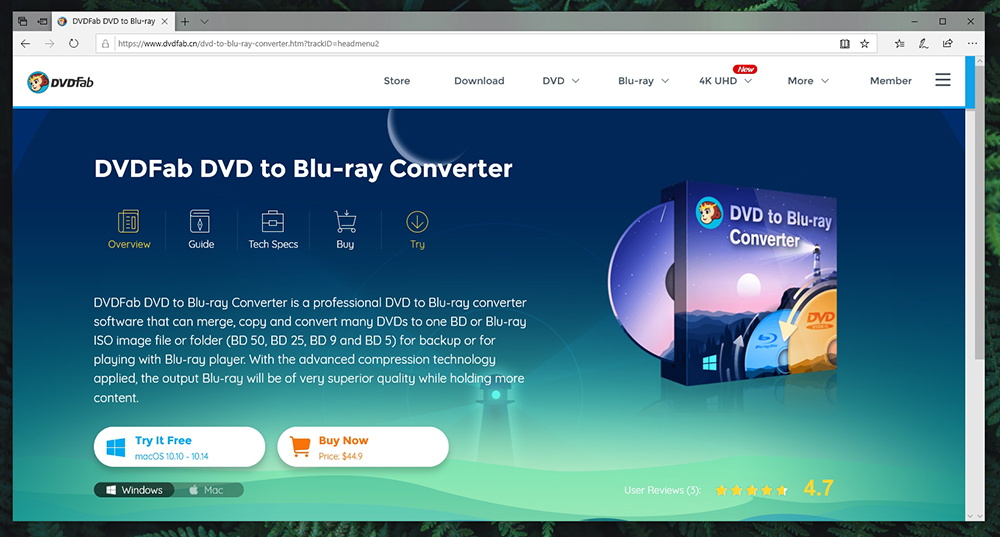 DVDFab DVD to Blu-Ray Converted is affordably priced, and it provides a good value if you want to convert your entire library of DVD discs. Our Score: 10/10.
Catering to different groups of users, DVDFab comes either as a subscription purchase on a one-time purchase. Let's check out the prices.
You can subscribe to DVDFab for one year, which costs you $44.90;
Subscribing to DVDFab's converter for two years is priced at $52.90;
If you go for its lifetime subscription, you need to pay $69.00 as a one-time payment.
Please note that Windows and Mac versions come at standalone licenses. This means that you can't use a single license for both of these versions.
The Final Verdict
DVDFab DVD to Blu-Ray Converter is an excellent piece of software. In the world of converters and rippers, this one stands out due to its UI design and fast performance. Also, it brings a plethora of options that you can choose from and truly fine-tune your experience.
PROS: Nicely designed UI; Plenty of fine-tuning; Support for all kinds of DVDs and Blu-Ray discs; Fast performance; Comprehensive documentation.
CONS: Occasional glitches and bugs.
OUR SCORE: 9.4 out of 10.
Final Thoughts
Dear readers, this is where we conclude our hands-on review of DVDFab DVD to Blu-Ray Converter. If there's anything else you'd like to know, don't hesitate to post a comment below.
If you made it to the end of this article, why not share this article online? And don't forget to follow TechNadu on Facebook and Twitter. Thanks!