The decision to cut the cord can be one of the best things you can do in this day and age because not only does it give you the freedom to watch whatever you want, wherever you want it from, but it also gives you a lot more wiggle room to customize your bundle with the channels you actually want to watch, and DirecTV Now is one great option to do just that.
DirecTV Now is a subscription over-the-top service in the United States, which is owned by AT&T. It's been around since November 2016 and has already amassed some 1.5 million subscribers across the US.
DirecTV Now gives users the chance to pick a bundle with enough channels to satisfy their needs, add premium channels, as well as language bundles and so on. There's certainly enough room for everything you need, depending on how deep your pockets go.
Criteria
Details
Bundles

Five main channel bundles (Live a Little, Just Right, Go Big, Gotta Have It, Todo y Mas)
Three International bundles (Vietnamese, Brazilian and Korean)

Extra channels

DirecTV Now Deportes – $5 per month for 4 Spanish-language sports channels
DirecTV now Espanol – $10 per month for 4 Spanish channels

Customization
You can add premium channels – HBO ($5/month), Showtime($8/month), Cinemax($5/month), Starz ($8/month)
Streaming Quality

480p for mobile streams, 720p HD for broadband
2.5 Mbps required for mobile devices, 7.5 Mbps for HD

Devices

Apple TV, Chromecast, Fire TV, Fire TV edition, Fire TV Stick, Fire TV Cube, Roku, Samsung Smart TVs (2017 & 2018), iOS, Android, browsers (Chrome 58+ or Safari 10+)
No Xbox or PlayStation

Price

$40 per month for Live a Little
$55 per month for Just Right
$65 per month for Go Big
$75 per month for Gotta Have It
$45 per month for Todo y Mas

DVR
Yes, but only 20 hours for 30 days, for free. No possibility to expand
Simultaneous screens
You can stream content on two screens simultaneously, add another one for $5 per month.
Rating
8.2/10
Visit
DirecTV Now
Availability
DirecTV Now is a platform that's available in the United States, so you live abroad you're fresh out of luck. If you plan on traveling, though, a VPN could allow you to watch the content you pay for, but you'd have to be careful about which one works with the service since many are easily detectable.
But don't expect to only see English content among the packages DirecTV Now offers, as there are plenty of channel packages from around the globe. But we'll get to those later. In the meantime, you need to remember that a tool like ExpressVPN can help you out if you ever leave the United States. Foreigners should know that they need a US-issued credit card if they want to create an account.
Channel Bundles
Get a start on DirecTV now with one of these many bundles. Our score: 10/10
DirecTV Now offers five different starting bundles, as well as plenty of other customization options. Depending on how much you're willing to pay each month, you can get everything you want. But let's first see what they have to offer.
Live a Little – For $40 per month, you can get over 65 live channels to watch – A&E, ABC, AccuWeather, AMC, Animal Planet, Audience, AXS TV, Baby First, BBC America, BET, Bravo, C-SPAN, C-SPAN 2, Cartoon Network, CBS, CMT, CNBC, CNN, Comedy Central, CW, Discovery, Disney Channel, Disney Junior, Disney XD, E!, ESPN, ESPN2, Food Network, Fox, Fox Business, Fox News Channel, Fox Sports 1, Freeform, FX, FXX, Galavision, Hallmark Channel, Hallmark Movies & Mysteries, HGTV, History, HLN, Investigation Discovery, Lifetime, MSNBC, MTV, MTV2, National Geographic Channel, NBC, NBC Sports Network, Nick Jr, Nickelodeon, One American News, Ovation, Paramount Network, REELZ, RFD-TV, SYFY, TBS, TCM, TeenNick, Telemundo, TLC, TNT, TruTV, TV Land, Univision, USA Network, MotorTrend, VH1, Viceland, WE tv.

Just Right – For $55 per month, you can get over 80 channels. So, this package includes almost all the channels from Live a Little (minus Hallmark Movies & Mysteries, and Ovation), as well as A Wealth of Entertainment, Big Ten Network, CNBC World, Comedy TV, Cooking Channel, ESPNews, ESPNU, Fuse, Fusion, GSN, IFC, Justice Central, MLB Network, NFL Network, Nicktoons, OWN, Pop, Science, ESPN SEC Network, Sundance TV, Tennis Channel, Travel Channel, ONE TV, UniMas, Up, and the Weather Channel.

Go Big – Our next package includes over 100 channels and it goes for $65 per month. The list includes almost all the channels from Just Right, plus American Heroes, Aspire, BBC World News, BET Her, CBS Sports Network, Destination America, Discovery Family, Discovery Life, DIY Network, FM, FOX Sports 2, FX Movie Channel, Fyi, Golf Channel, Lifetime Movies, Logo, MTV Classic, Nat Geo Wild, NBA TV, NHL Network, Olympic Channel, Ovation, Oxygen, Revolt, Sportsman Channel, TVG, Universo, and Universal Kids.
Gotta Have It – For $75 per month, DirecTV Now offers over 120 channels. The list includes the channels from Go Big, as well as Boomerang, El Rey, STARZ ENCORE – Action, Black, East, Family, Classic, Suspense, West, Westerns, and UnivisionTDN.

Todo y Mas – This next package costs $45 per month and includes over 50 Spanish channels and over 40 English channels – A&E, ABC, AMC, Animal Planet, Antena 3, Atres Series, Audience, AXS TV, Azteca, Baby First, BabyTV, Bandamax, beIN Sports en espanol, Boomerang, Bravo, C-SPAN, C-SPAN2, Canal 22 Internacional, Canal Once, Caracol TV, Cartoon Network, CBS, Centroamerica TV, Cine Estelar, Cine Mexicano, Cine Nostalgia, Cine Sony, Cinelatino, CNN, CNN en Espanol, De Pelicula, De Pelicula Clasico, Discovery, Discovery en Espanol, Discovery Familia, Disney Channel, Disney XD, E!, Ecuador TV, Ecuavisa International, El Rey, Enlace, ESPN Deportes, Estrella TV, Food Network, FOROtv, Fox, Fox Deportes, Fox Sports 1, FOXLife, Freeform, Fusion, FX, FXX, Fyi, Galavision, GolTV, History, History en espanol, HITN TV, HLN, Hola TV, IVC Net, Lifetime, MegaTV, MSNBC, MTV, Multimedios, Nat Geo Mundo, National Geographic, NBC, NBCSN, Nick Jr, Nickelodeon, NTN24, Nuestra Tele, Paramount Network, Pasiones, Peru Magico, SUR Peru, TBS, TeleCentro, Telefe, Telemundo, TNT, Tr3s, TV Chile, TVE, TyC Sports, UniMas, Universo, Univision, Univision Deportes Network, Univision telenovelas, Up, USA Network, Velocity, Venevision, VH1, Viceland, VideoRola, ViendoMovies, Vme, WAPA America, Weather Channel, Weather Nation, and ZooMoo.
Vietnamese – Access to 9 live and on-demand channels from Vietnam costs $20 per month – Film 24H, HONVIETV, S Channel, SBTN, TViet Network, VGN, Vien Thao TV, Vietface TV, and VIETV
Brazilian – You'll get access to 2 live and on-demand channels from Brazil for $25 per month – PFC and TV Globo.
Korean – The bundle will get you access to 12 local channels for $30 per month – Arirang TV, CTS, KBS World, MBC, SBS, SBS Plus, EBS, MBN, Tan, National Geographic Korea, YTN, tvN.
Regardless of which package you pick, you'll also get to enjoy some extra local channels you can watch live, but those vary depending on your location. The same goes for Regional Sports Networks.
Customization options
DirecTV Now offers users loads of options to customize what they see to a T. Our score: 9/10
HBO – For $5 per month, you can get access to HBO Go, HBO East, HBO Family East, HBO Latino, and all of HBO's on-demand library.
Cinemax – For another 5$ per month you can also get access to the Cinemax pack – MAX Go, Cinemax East, and the on-demand library.
Showtime – Another $8 per month will get you access to Showtime and Showtime on-demand, allowing you to stream original series, movies, sports, documentaries and so on.
Starz – This package also costs $8 per month and will get you access to Starz East, Kids & Family, Encore and the on-demand library – over 5,000 different shows and movies.
DirecTV Now Deportes – Another $5 per month will get you access to the Spanish-language sports package which includes beIN Sports en Espanol, Univision Deportes, FOX Deportes, and ESPN Deportes. These are already included in the Todo y Mas starter pack.
DirecTV Now Espanol – $10 per month gives you access to even more Spanish content, namely Univision, Discovery Channel en Espanol, Estrella TV, and Cinelatino. These are already included in the Todo y Mas starter pack.
Supported features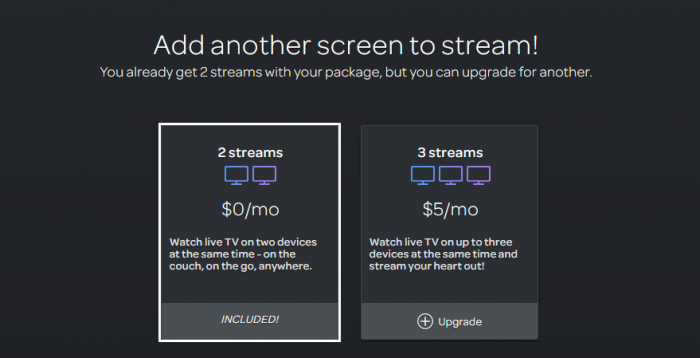 DirecTV Now offers a few great features, but are they enough? Score: 7/10
We should probably start out by mentioning that regardless of which of the channel above packs you're going to pick, you're getting 20 hours of cloud DVR for free. Dubbed the True Cloud DVR, the feature enables you to quickly skip through commercials, stream wherever you are, and keep your footage for up to 30 days. The 20 hours of space, however, doesn't seem to be enough. With subscribers of other similar services complaining about 50 hours, this one has a very low limit. Plus, there's no option to expand just yet.
You can also stream the content on two screens at the same time, but if you're willing to pay an extra $5 per month, you'll get to add another simultaneous stream.
Streaming quality
How well does DirecTV work? Well, the video is as good as your Internet connection allows. Our score: 8/10
Most DirecTV Now programming is available in HD, with the mention that this only happens if your Internet connection or bandwidth actually supports HD. That being said, mobile streams are limited to 480p SD, while you can enjoy 720p quality videos while on WiFi.
The minimum broadband connection speed for mobile devices required for DirecTV Now varies between 150 Kbps and 2.5 Mbps, while the recommended speeds for HD quality rise to 7.5 Mbps.
Supported devices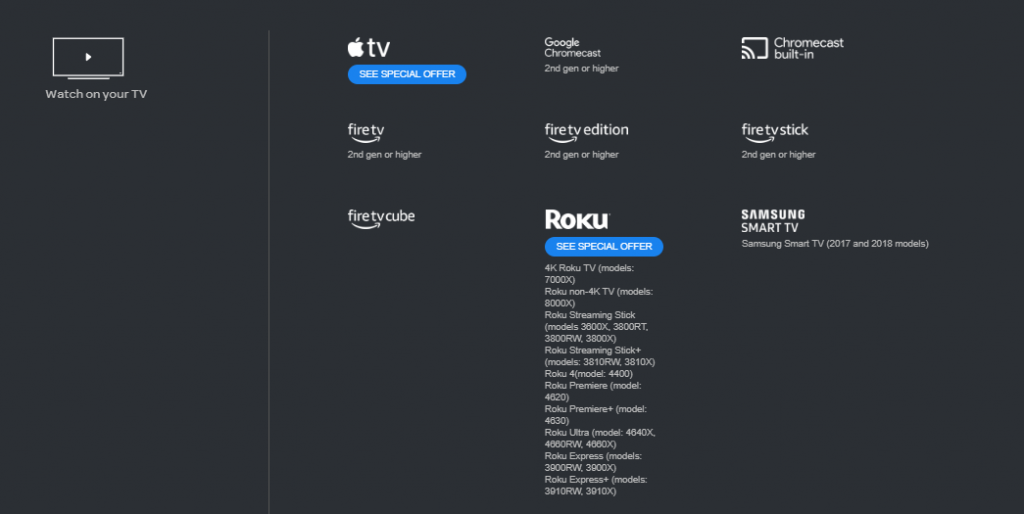 DirecTV Now offers quite a few options when you want to go on the road. Our score: 6/10
The main idea behind cutting the cord and getting a service like DirecTV Now is to be able to watch any channel you want, anywhere you go.

If you want to enjoy the content when at home, on the big screen, you can do that via Apple TV, Chromecast, Fire TV, Fire TV edition, Fire TV Stick, FireTV Cube, Roku, and Samsung Smart TVs from 2017 and 2018. When on the road, you can watch it all on iPads and iPhones, as well as Android smartphones and tablets. On your computer, you're going to need to have Chrome 58+ or Safari 10+.
What you can't do, however, is watch DirecTV Now on your PlayStation or Xbox.
Usability
Just how easy is it to use DirecTV Now? Our score: 9/10
DirecTV's interface is pretty straightforward, allowing you to choose which channel you want to watch. What's even better is that you can create a list of favorites to easily get back to whatever you want to see with ease.
You can also create a watchlist by adding shows to it so that you always know when your favorites are coming on. Just make sure to tap on the heart icons next to a title.
The good and the bad
Much like any such product, DirecTV has advantages and disadvantages. These are pretty subjective, but we hope we can offer you some insight so you can more easily compare it with other OTT services.
The good
Great bundles – You can pick one of the many bundles that cater to certain interests
Offers premium channels – For a few extra bucks each month, you can enjoy premium channels like HBO, and Cinemax
Cancel any time
The bad
Low DVR – DirecTV Now has one of the lowest DVR limits we've seen thus far, with 20 hours of recording space
No streaming on gaming consoles – DirecTV Now doesn't support any gaming consoles, which puts it behind many other similar services
Last Thoughts
DirecTV is a great platform that's very easy to use from the moment you start picking your channel packages,
Please let us know your thoughts in the comments section below and share the article online so others can find it too.