Update: The Deliverance addon is no longer available. However, there are numerous great alternatives out there. Take a look at our list of the best addons for Kodi to see some of the most popular (and trending) addons that are still fully working. Additionally, take a look at the best live sports addons for Kodi.
If anybody complains about Kodi lacking a good-working live sports add-on, you should ruthlessly drag them to your laptop screens, and show them this installation guide of Deliverance Kodi addon.
If you're familiar with Kodi add-ons, it's hard to miss Paul Aspden, who previously introduced us with the charming Lilly sports, which till this date is one of the most reliable sports add-ons on the platform. It's comforting that Deliverance comes from the same pocket.
At Technadu, we believe that all of us look for what gives us the best—a seamless experience. Therefore with time, Deliverance outgrew its conventional frame, and now has several more categories than sports. It has mixed categories like Documentaries, Music, and Movies with its original flavor of sports. It is a treat you shouldn't miss.
Enough of chit-chat, let's install the beast.
Disclaimer: We will be discussing software developed for Kodi – which is based on open-source code. However, the following software comes from unofficial third-parties. In addition, it is publicly available and free of charge. TechNadu doesn't claim any responsibility for how our readers decide to utilize the following software. Please note that we don't condone sharing pirated content and copyright infringement. TechNadu is not affiliated with the software mentioned in this article in no way. Make sure to carefully read the above-said disclaimer and ensure the proper use of the software.
WARNING: Before You Continue…
Do you know that everything you do within Kodi might be visible to your Internet service provider? Actually, this applies to pretty much everything you do on the Web. These days, ISPs collect all kinds of personal data and share it with third parties. However, there is a way to stop this. You can use a VPN application to make sure you're using Kodi as privately as possible.
VPN applications work by rerouting all your Web traffic through an encrypted tunnel. This makes your data unreadable by your Internet service provider. Also, VPNs get you a new IP address every time you connect to the Web. This means that your online presence and your physical location are both hidden. Finally, VPNs can keep malware away from your device and let you watch previously restricted content. We highly recommend using ExpressVPN.
Signing up for ExpressVPN has never been more affordable! Instead of paying $12.95 per month, you can opt for a special promotion and get this amazing VPN for only $6.67 per month! In addition, the annual plan comes with three additional months, free of charge. Sign-up for ExpressVPN and reap the numerous benefits it offers.
Deliverance Kodi Addon: Overview
Deliverance is a live streaming add-on with various selections on different categories. Its multichannel platform features Football Highlights, Premier League Table, Sports, Movies, Documentaries, Music, and many more. Deliverance indeed is a great addition to your Kodi setup, and we're confident that you will love it.
We'll look into each category of Deliverance Add-on, but first, let's see how to install this on Kodi.
Important Prerequisite
Kodi by default doesn't allow add-on installation from unknown sources, so let's turn that on.
Launch Kodi on your device. On the top-left of the screen, look for a gear icon and click it. Locate it between the Power and Search icons.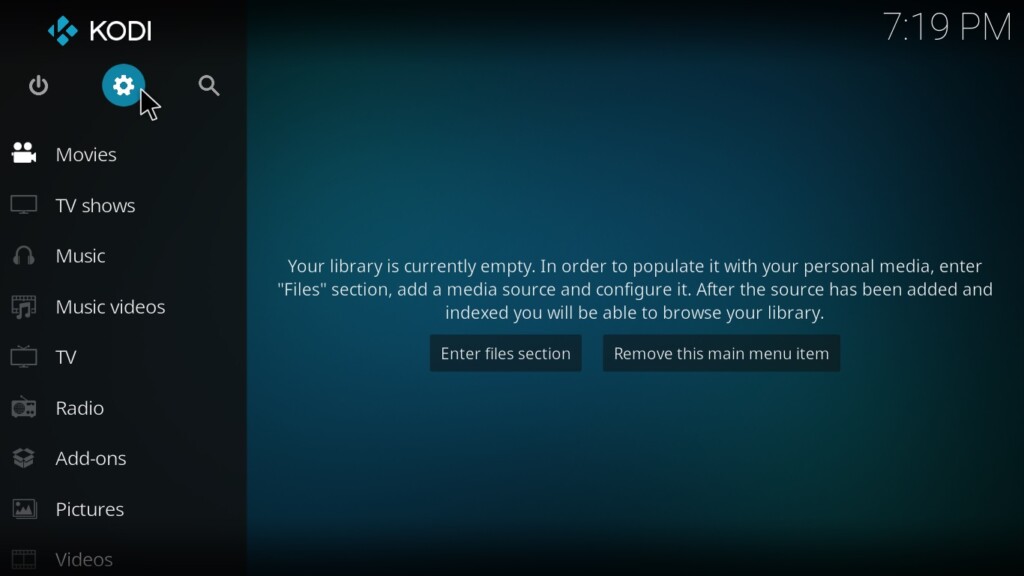 Gear icon will take you to System menu. Now, navigate to System Settings and click on it.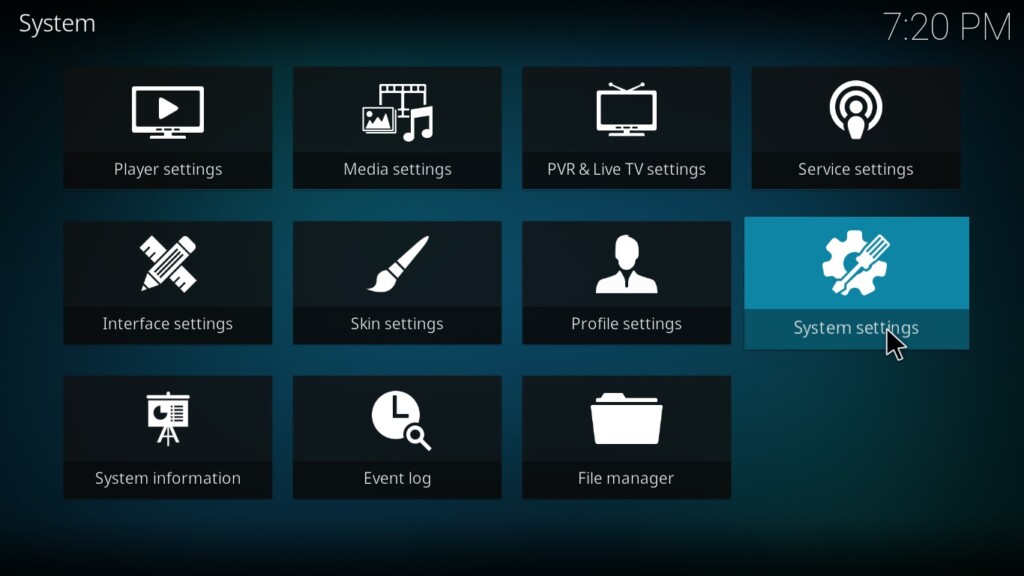 Select Add-ons from the list on the left side.
Selecting Add-ons will give you a couple of toggle buttons on the right spread. Turn the second toggle button, Unknown sources, ON by clicking on it.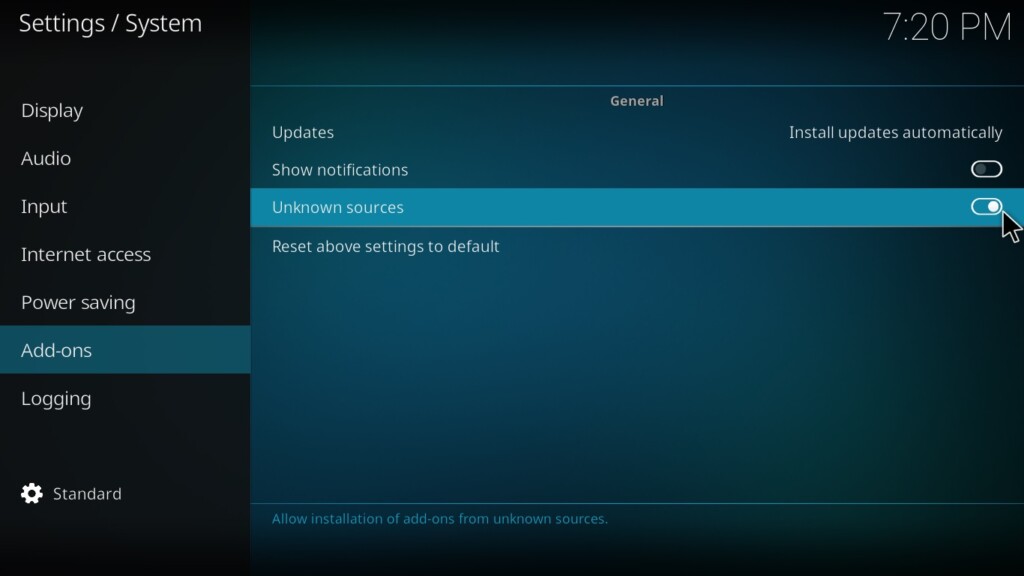 By this, you've enabled Kodi to accept the add-on installations from the Unknown Sources. Phew!
How To Install The Deliverance Kodi Addon?
Let's take a look at how to install Deliverance. You will be able to finish this procedure in under a few minutes. Then, you'll get to enjoy in its vast library of content.
Once you're in the System menu, click on File Manager, which will take you to a list menu.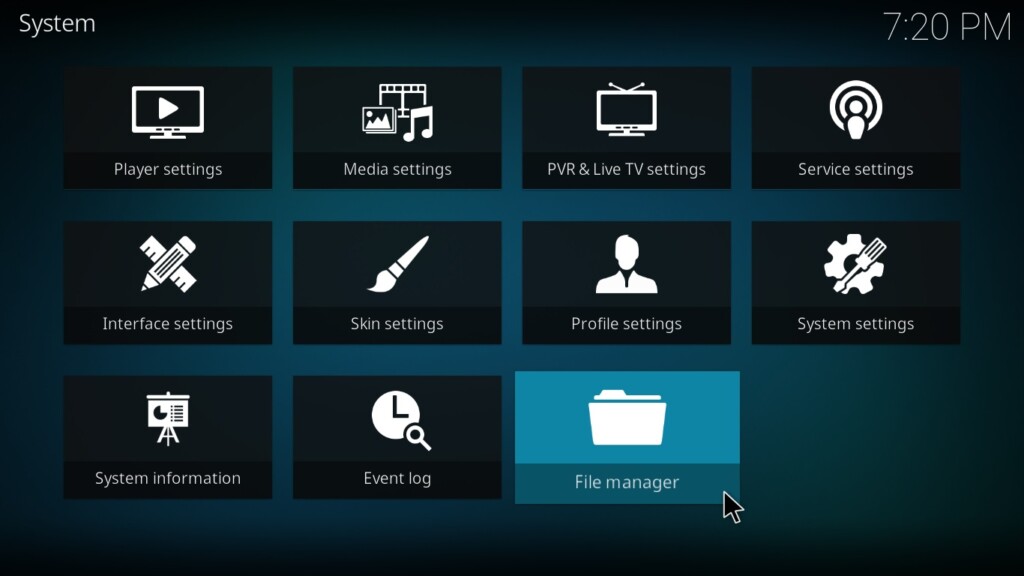 Navigate to 'Add Source' and double-click on it.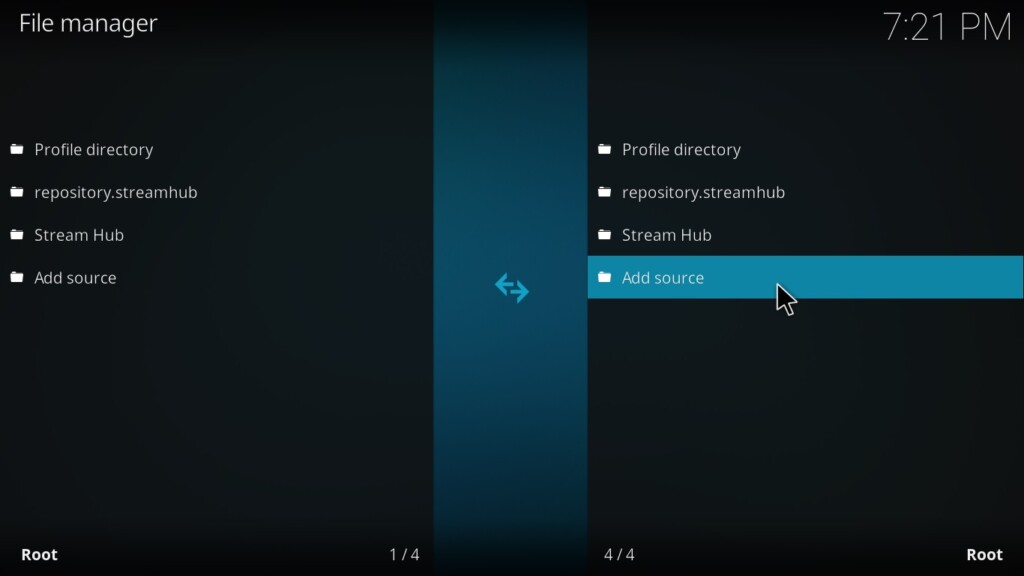 A popup menu with two text fields will appear on the screen. Click on the message that says '<None>';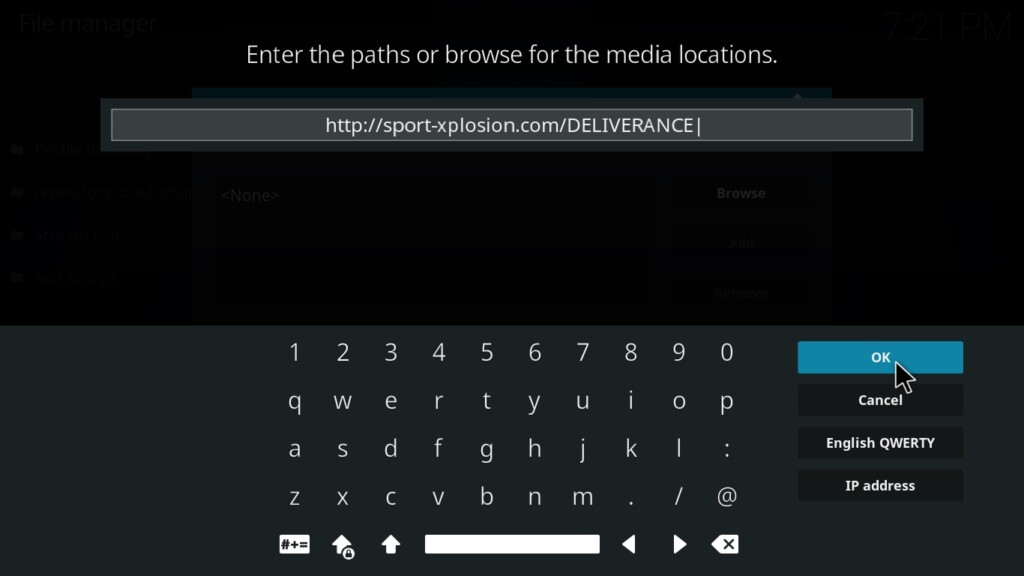 In the lower text field, enter the name of the media source. The name by default should be set to 'DELIVERANCE.' To avoid any future confusion, do not change the name of the media source.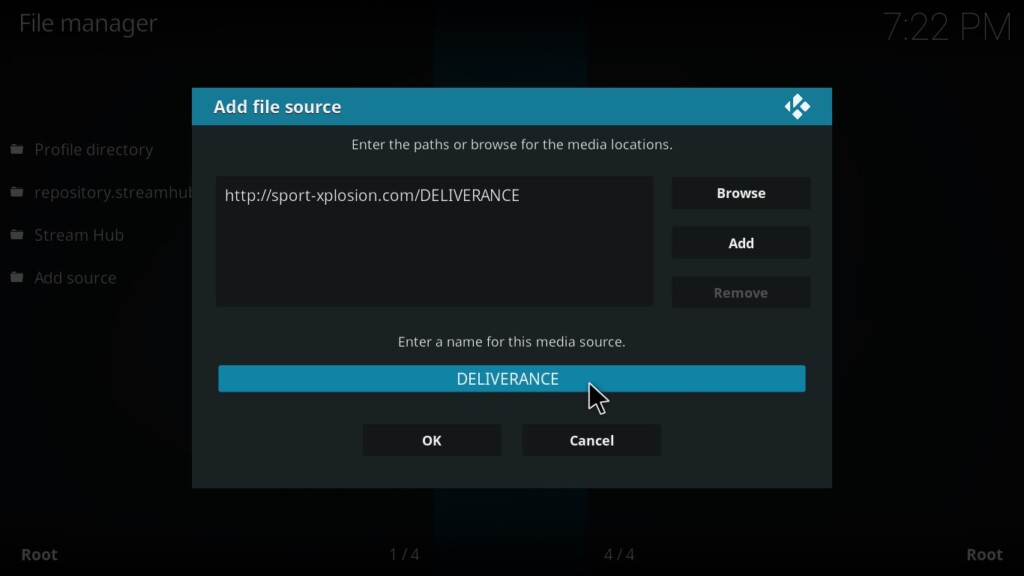 Confirm it by clicking on 'OK' at the bottom of the pop-up menu. This will add a new file source to Kodi.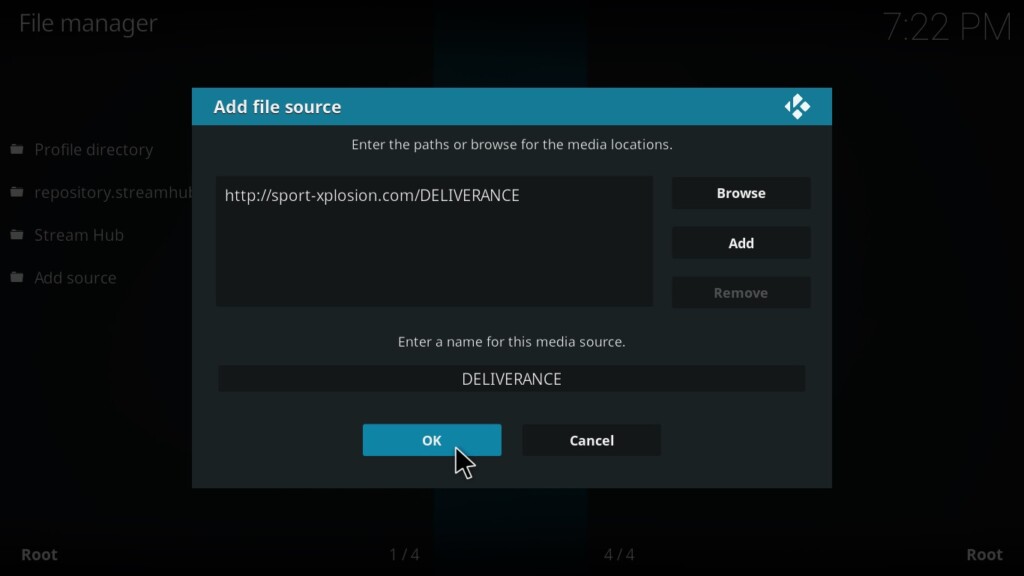 You have successfully downloaded the Deliverance Third-party Repository. To further the process, now we will install the downloaded repository from the previous steps.
Return to Kodi's home screen one more time and look for 'Add-ons' on the left menu panel. Click on Add-ons.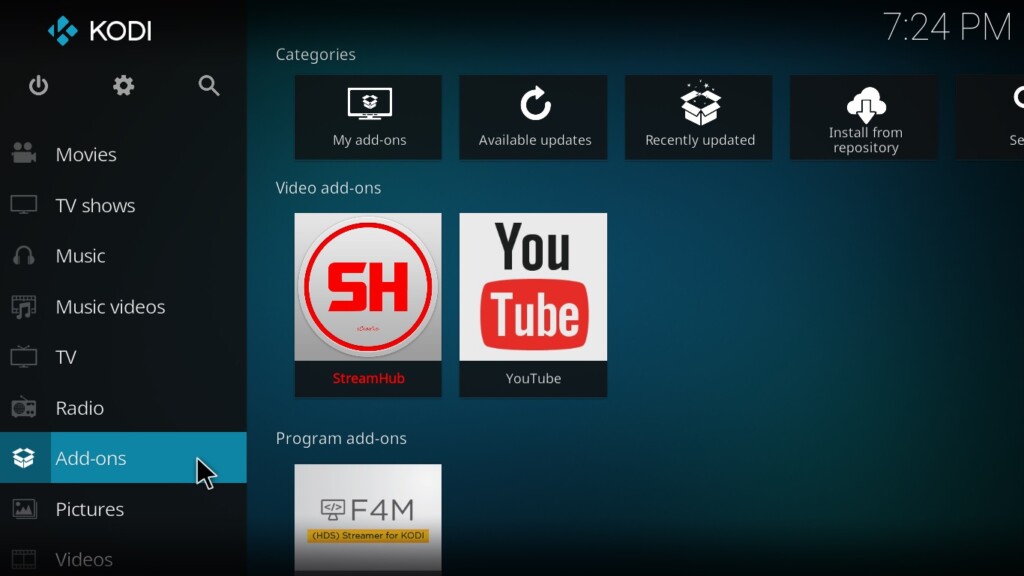 Click on 'Enter add-on browser' or on the open-box icon in the top-left corner. Both the options will take you to the same menu.
Look for 'Install from Zip file' on the list and click on it. This option will install the Deliverance package from the previously downloaded online repository.
You should see a pop-up menu as shown in the screenshot. Navigate to Deliverance on the list and click on it.
Out of the two options on the list, click on 'repository.Deliverance-1.0.0.zip'. Now, click 'OK' button on the right side to confirm the installation.
The installation might take some time, so wait until a pop-up in the upper-right corner appears. This pop-up will indicate a successful installation of the Deliverance Repository.
One last time, go back to Kodi's main menu and click on 'Add-ons.' Navigate to the 'open box' icon at the top left of the screen and click on it.
Now select 'Install from repository' from the list.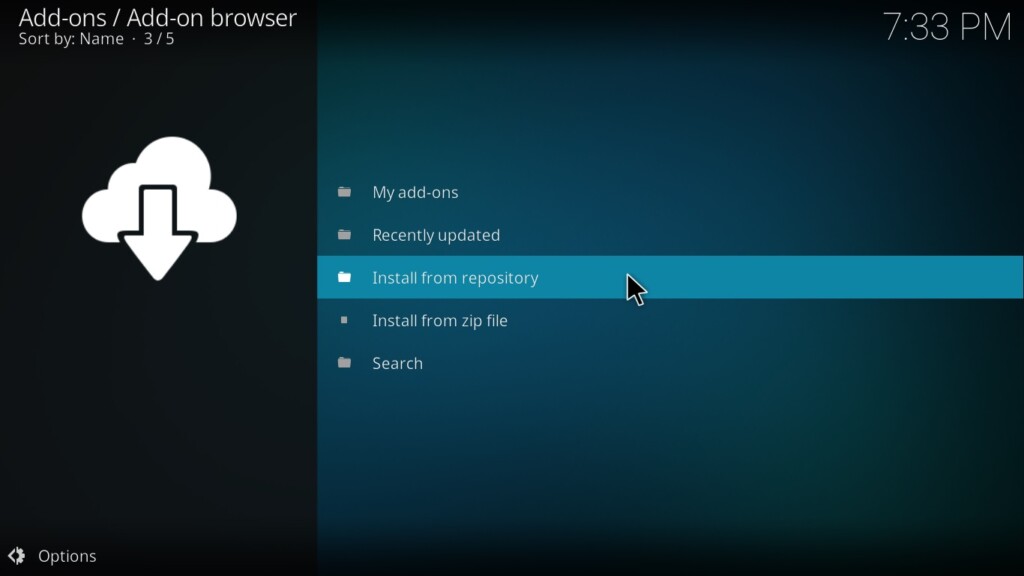 Select Deliverance from the list and click on it. Click on 'Video add-ons' followed by selecting 'DELIVERANCE.'
You'll see the 'Install' button in the lower menu at the bottom-right. Click on it.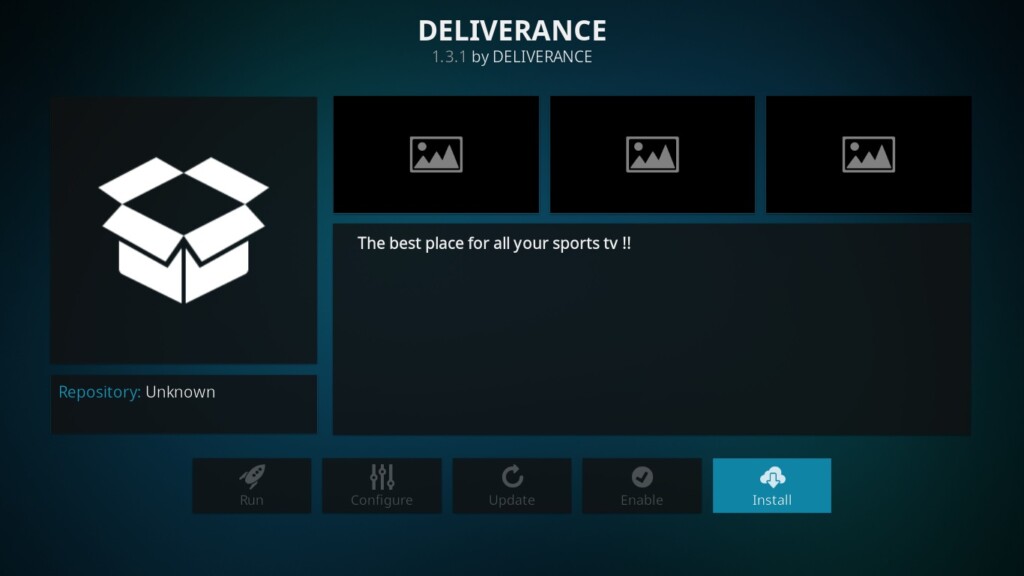 This will begin the installation of Deliverance Kodi addon. This might take a while to complete, so be patient and wait for a notification at the top-right, saying – Add-on enabled.
To open Deliverance or to check if it's installed or not, go to the Kodi's main menu and hover over the 'Video Add-ons.' If Deliverance is there, it's installed.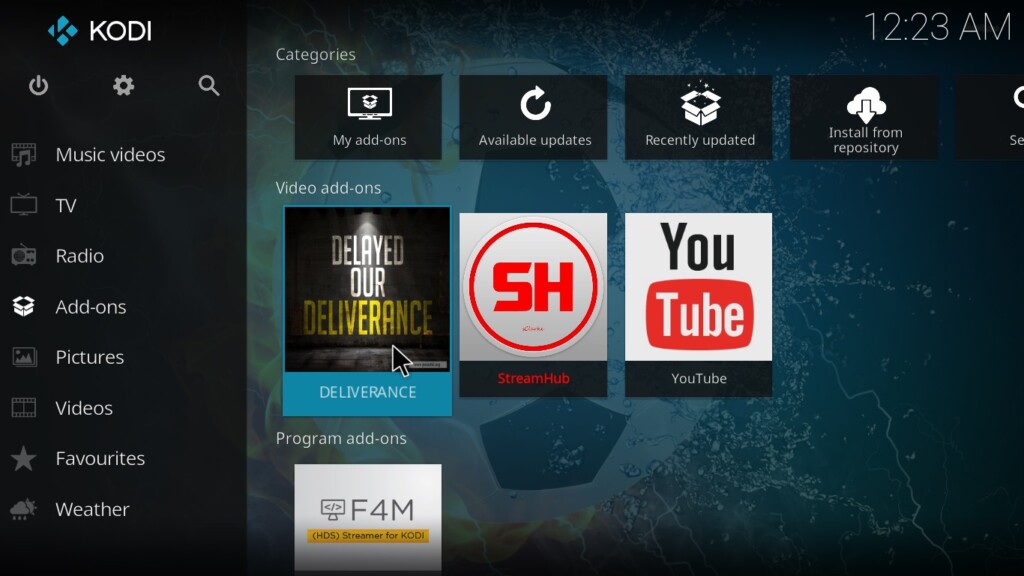 Congratulations! You've successfully installed the Deliverance Kodi Addon.
Deliverance Kodi Addon: What to Expect?
The main menus of the Deliverance Kodi Addon have changed over time and now features more categories than ever before. It includes a dedicated kids section, too. The inclusion of other categories like comedy and music is refreshing. It enables you to watch movies, listen to your favorite artists, and at the same time, getting blitzed with plenty of sports in it. ALL THAT, and you don't have to switch between the add-ons. That's awesome for anyone and everyone.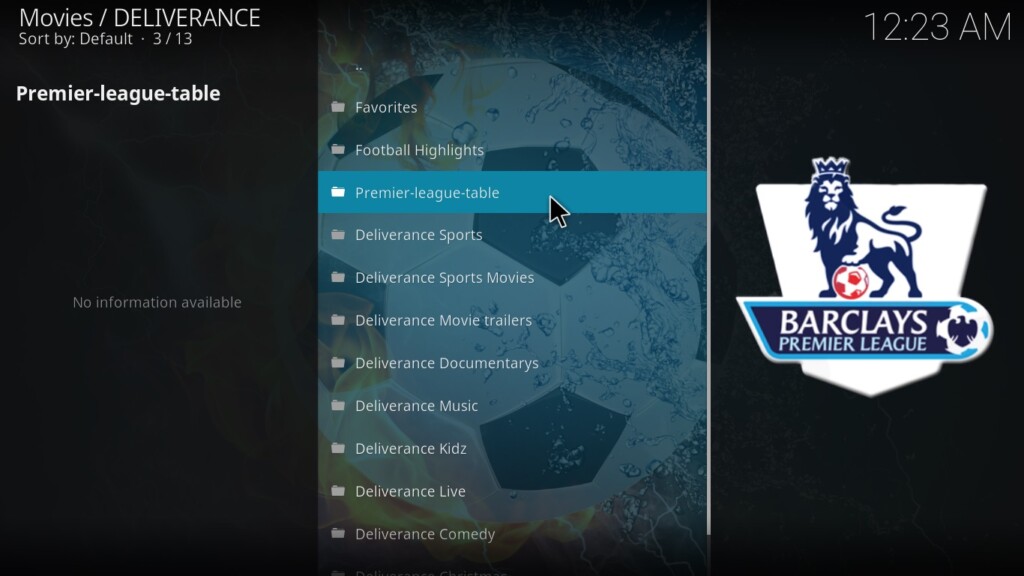 Football Highlights
Watch the latest highlights of your favorite football club, and map their full matches against the best leagues in the world. This handy section lets you consume all the match related stats and live scores right out of your palm. It's a charm.
Premier League Table
Access a complete table of Premier League standings for all the latest seasons and all your favorite football clubs. The tables are organized and easy to navigate, which makes tracking an easy task. Also, you can access tables from past seasons and other Football leagues. Yay!
Sports
The sports section has several sub-categories to choose from. It features everything from Live TV options to Sports TV Shows, up to the major sports channels. They are organized in separate categories and easy to search. If you're a sports fan, this is a comforting place to spend your time.
Documentaries
This section features a list of sports documentaries, which are hand-picked recommendations by Paul himself. This assorted list is coming straight from an expert who knows what people like in sports. It's a proof of Paul's good taste in documentaries, and a must check.
Music
Like the previous category, Music section is not limited to sports but stretches to all genres of music. Because with your love of sports, you can happen to love any type of music, It also features top charts of UK and US.
Kidz
Like Documentaries, Kidz section is a set of recommendation but for classic cartoon shows. It features all the popular TV series from Tom & Jerry to Ben 10. If you have kids, or like cartoons yourself, this list is enough to kill hours at a time.
Live
As the name suggests, it's a gateway to the Live television. It features some major networks on its list. It's refreshing to see BBC group, Nat-geo, Bloomberg and many other major media outlets on the list. The streaming takes about half a minute to start, but once it's ON, it's a smooth journey.
Comedy
Another list of recommendation and this one features the top standup comedians. It has 11 biggies of the comedy world, featuring from Jimmy Carr to Billy Conolly to name a few. When you click on an artist, you see all his famous videos and standups in an organised list, which is great. Perhaps when you're bored with all the NFL's, sit here for some laughs.
What's Next: Additional Resources
We don't know about your emotional condition, but Deliverance has all that you need to keep yourself happy, 'as far as sports are concerned.' When it comes to sports, there are hardly any other doors to check. If you're looking for some other interesting addons on Kodi, here are our suggestions:
StreamHub: This is an old kid on the block. If you crave for high-quality digital content, it has everything to shelter you.
Poseidon: If binge-watching Movies and TV shows charge you, this is the add-on you should have on your Kodi.
Elektra Vault: Quality is rare, we all know that. But, if 4K excites you, Electra Vault will excite you too. It brings TV stations, movies, sports, documentaries and pretty much anything you can recall off the top of your head. It's a good girl!
Final Words
Deliverance Kodi Addon is a worthful addition. Deliverance's capacity to bring the sports from all around the world in 4K quality and HD is what wins the game when compared to the other add-ons. It curates its content from trusted and reliable sources on your system, and its content richness speaks for itself. No matter what sport you thirst for, Deliverance will find you your drink.
We recommend Deliverance to all the sports lover around the world who are on Kodi's platform. Not having it in your library is a great loss. Period.
Let us know what you think about Deliverance Kodi Addon on the comments. We'd love to hear your opinions.