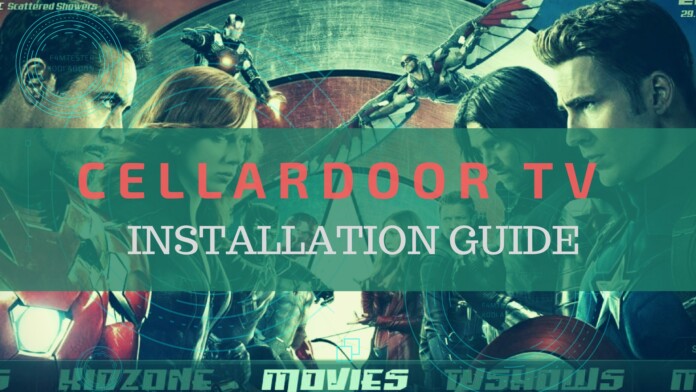 In the atmosphere of an unending list of builds, it's worthful to note CellarDoor TV Kodi Build, which with time have gotten better and better. It has a giant collection of the most popular add-ons on Kodi's platform. Doesn't that excite you? It very well excites us.
While most of the builds are struggling to keep their interface stable, CellarDoor TV has developed to become a slick and professional-looking companion for Kodi users. We, at Technadu, love this build and want you to experience what we have. Here in this installation guide, you'll find step-by-step instructions to install CellarDoor TV and some information on its best features. Let's go through it.
Disclaimer: We will be talking about software developed for Kodi – which is based on open-source code. However, the following software comes from unofficial third-parties. In addition, it is publicly available and free of charge. TechNadu doesn't claim any responsibility for how our readers decide to utilize the following software. Please note that we don't condone sharing pirated content and copyright infringement. TechNadu is not affiliated with the software mentioned in this article in no way. Make sure to carefully read the above-said disclaimer and ensure the proper use of the software.
WARNING: Before You Continue…
Do you know that everything you do within Kodi might be visible to your Internet service provider? Actually, this applies to pretty much everything you do on the Web. These days, ISPs collect all kinds of personal data and share it with third parties. However, there is a way to stop this. You can use a VPN application to make sure you're using Kodi as privately as possible.
VPN applications work by rerouting all your Web traffic through an encrypted tunnel. This makes your data unreadable by your Internet service provider. Also, VPNs get you a new IP address every time you connect to the Web. This means that your online presence and your physical location are both hidden. Finally, VPNs can keep malware away from your device and let you watch previously restricted content. We highly recommend using ExpressVPN.
Signing up for ExpressVPN has never been more affordable! Instead of paying $12.95 per month, you can opt for a special promotion and get this amazing VPN for only $6.67 per month! In addition, the annual plan comes with three additional months, free of charge. Sign-up for ExpressVPN and reap the numerous benefits it offers.
CellarDoor TV Kodi Build: The Basics
Developed and maintained by majorly independent coders, mostly out of love and their passion for the community, CellarDoor TV is a free open-source Kodi build. This visually stunning build has everything that users want from a Kodi build of this size and some more.
In its latest version for Krypton, this build has cut its corners to get reduced to an optimal size, which makes it a suitable choice for all type of Kodi streaming devices. And, with its latest fusion with the CDTV and complimentary seven themes, this thing is more WOW than ever before.
How to Install the CellarDoor TV Kodi Build?
Ares Wizard was the best source to install CellarDoor TV until its downfall in early November 2017. At present, the most reliable place to get it from is its official CellDoor wizard. There is also one benefit, if you install CellarDoor TV Kodi build through its wizard, you don't have to authenticate it with a pin, which was the case with Ares.
We only have one option while installing CellarDoor TV, fresh install. It implies your loss of all modifications, saved settings, add-ons, media library and all the stored items. Let's go through the procedure to install the CellarDoor TV Kodi build, but first an important prerequisite.
Important Note
Before we turn our Kodi devices into a Cellar beast–filled with the add-ons that will flood our living rooms, it's imperative that we double check if our copy of Kodi accepts third-party installations or not.
By default, Kodi doesn't support any builds or add-ons from 'Unknown Sources.' It's standard procedure to turn the filter off before installing third-party builds. If you have previously installed an add-on/build, chances are it's already turned on. If not, here is a quick guide to turning on the third-party installations on your Kodi streaming devices.
Installation Guide
Launch Kodi on your device and locate 'gear icon' on the top left.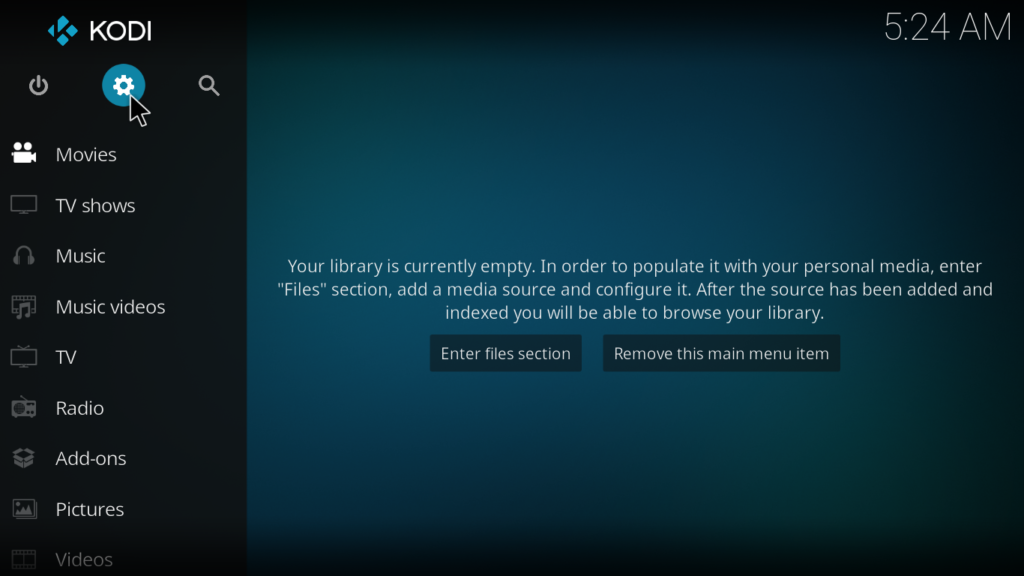 Select SYSTEM and go to File Manager and click on it.
On the pop-up, go to the upper text field labeled None;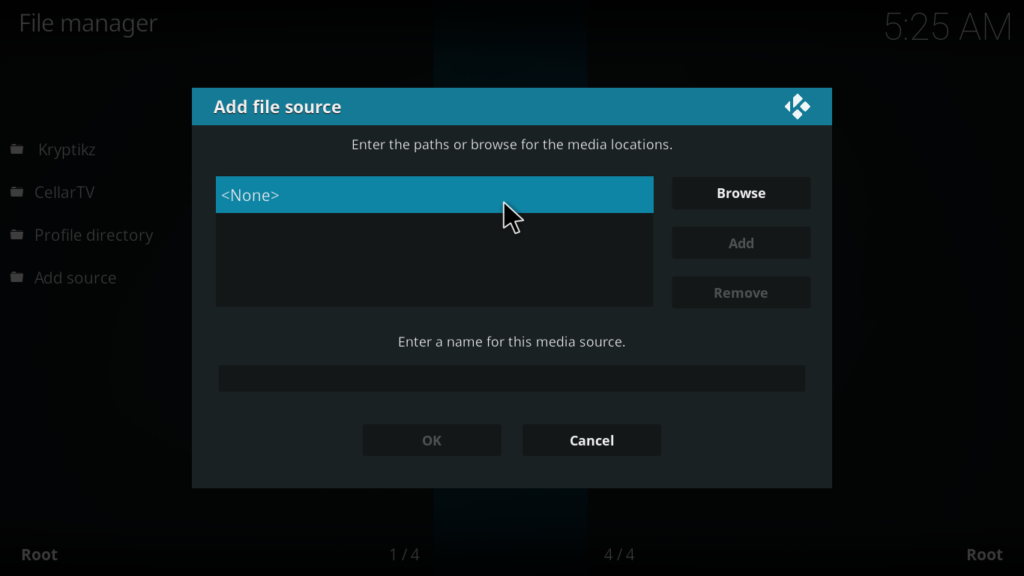 Enter the following URL in the field – http://cellardoortv.com/wizard and select Done.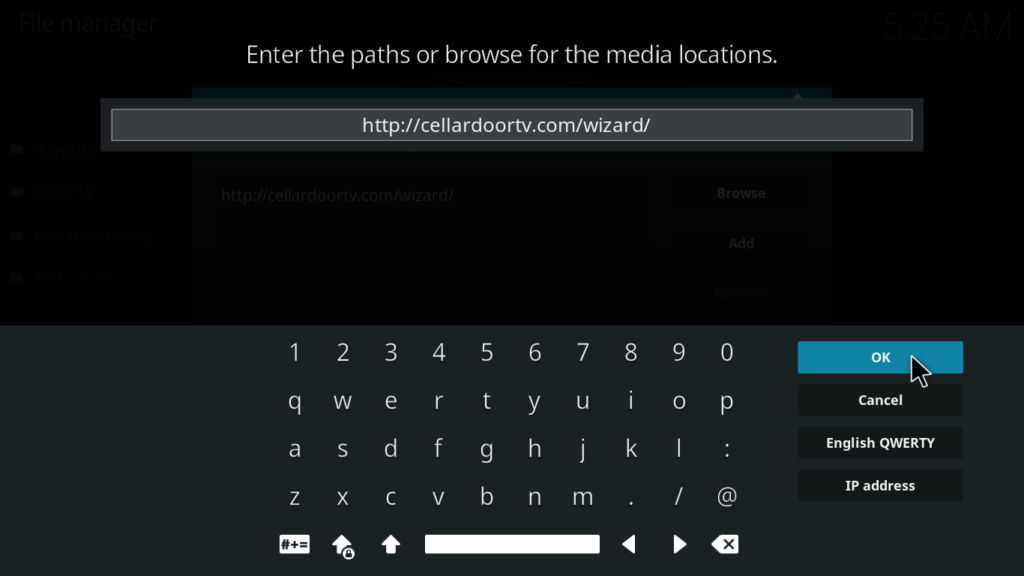 On the lower text field, media Source, type CellarTV and select OK.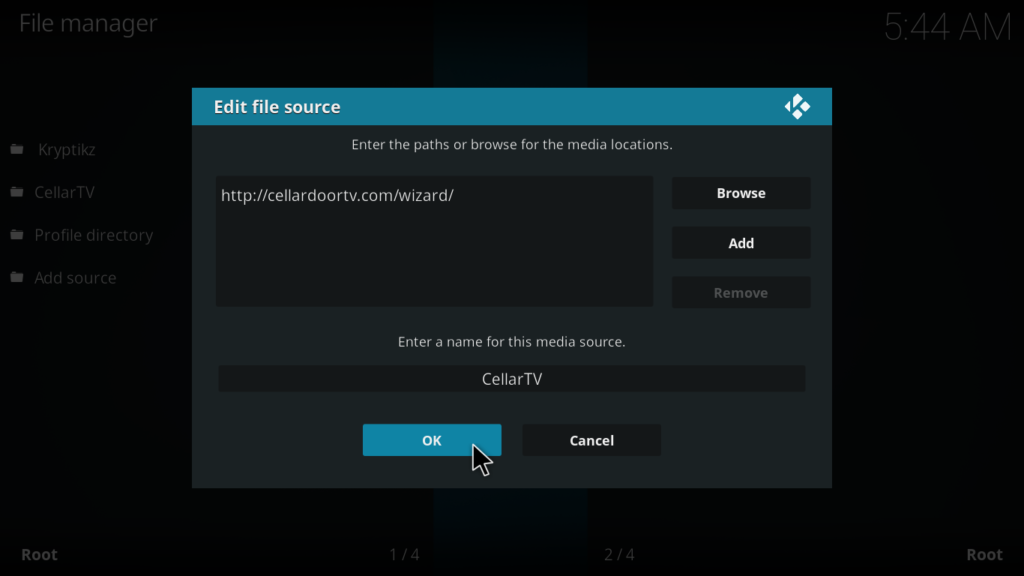 Return to Home Screen and select Add-Ons from the left menu panel and click on the Package Icon at the top right corner.
Now, click on Install from zip file.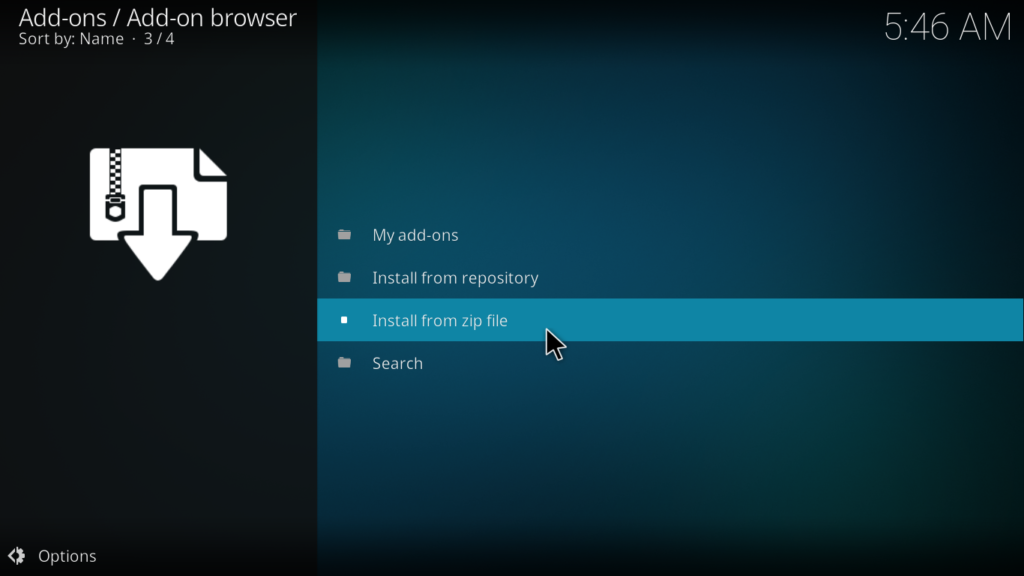 On the pop-up, select CellarTV.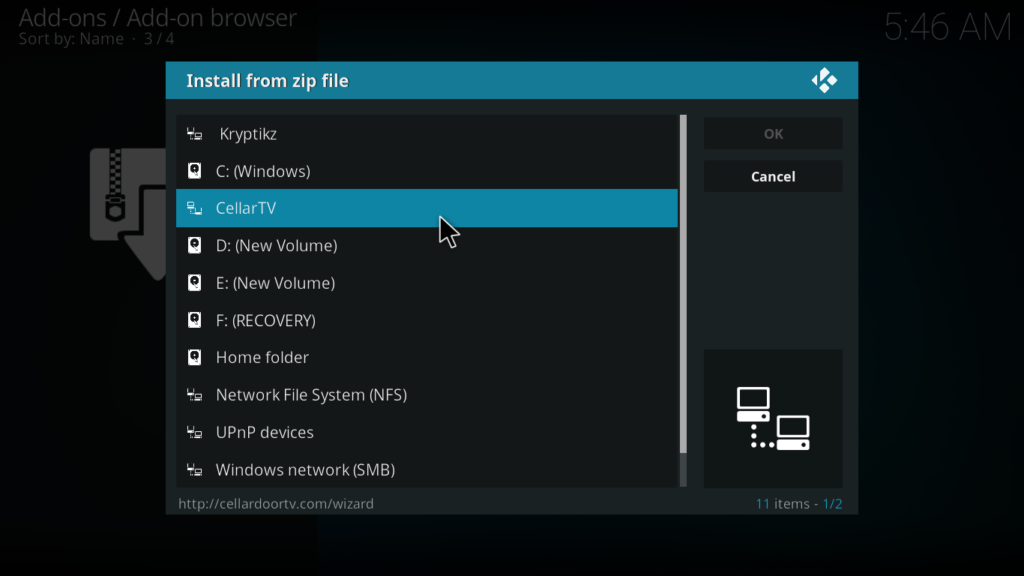 Now, select plugin.program.CellarDoorTVwizard.zip.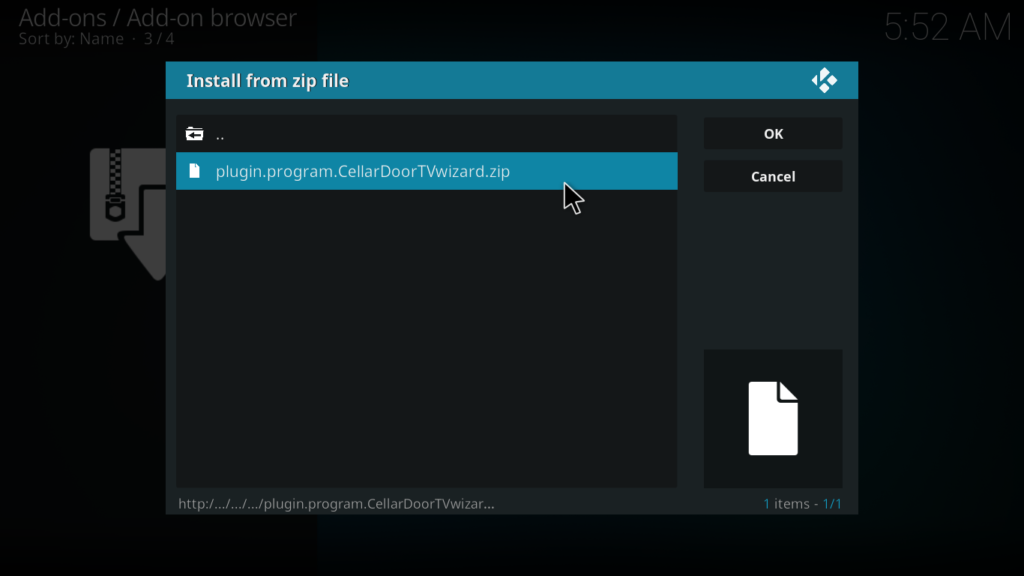 Wait for some time for an Add-on enabled notification at the top right of the screen.
Return to Home Screen and go to Add-ons. Hover over the Program Add-ons; you'll see CellarDoor Wizard on the left spread, click on it.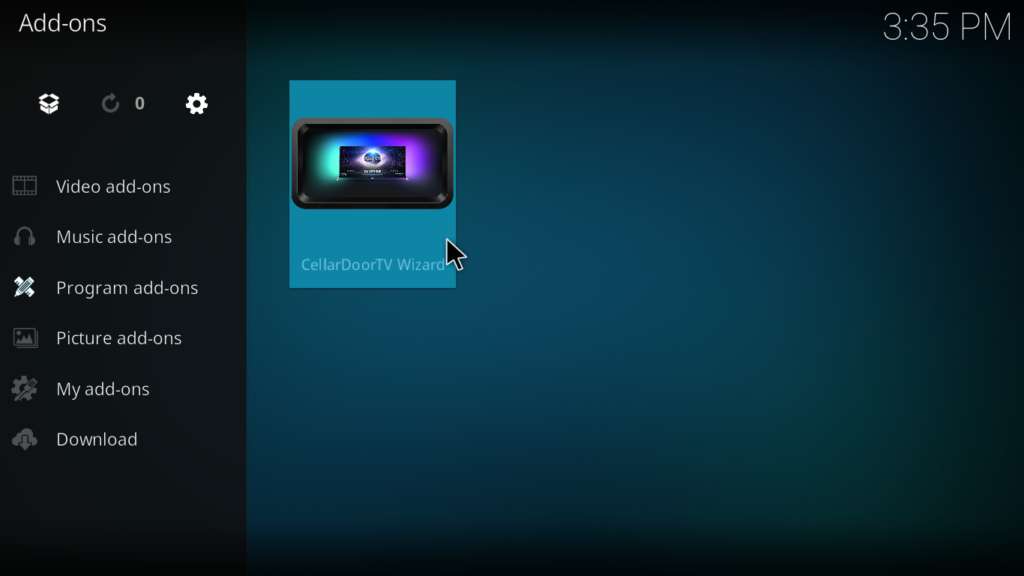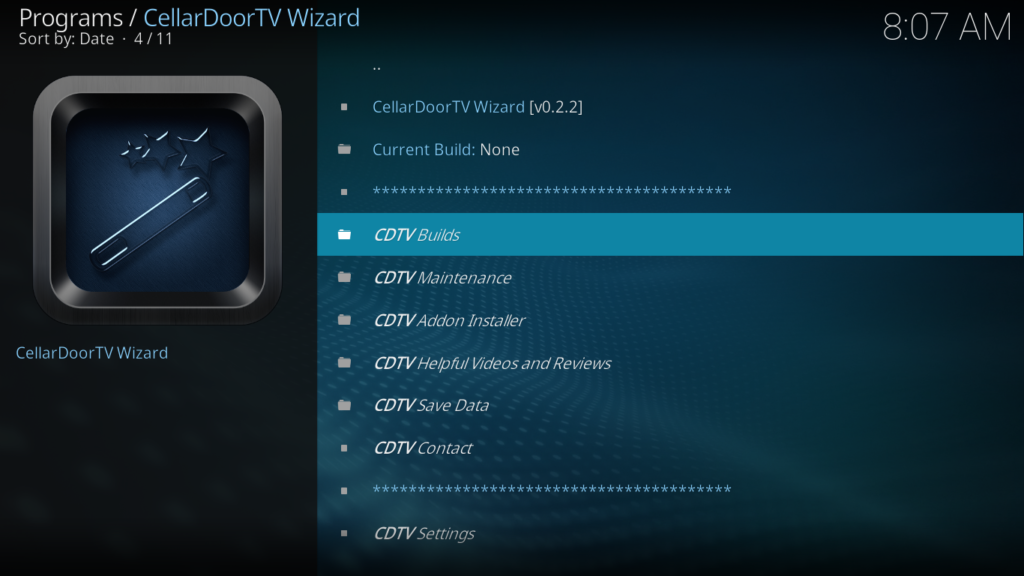 Now, choose the Build you would like to install based on your Kodi's version.
Select Install and wait for the process to complete. The installation will take some time, so be patient.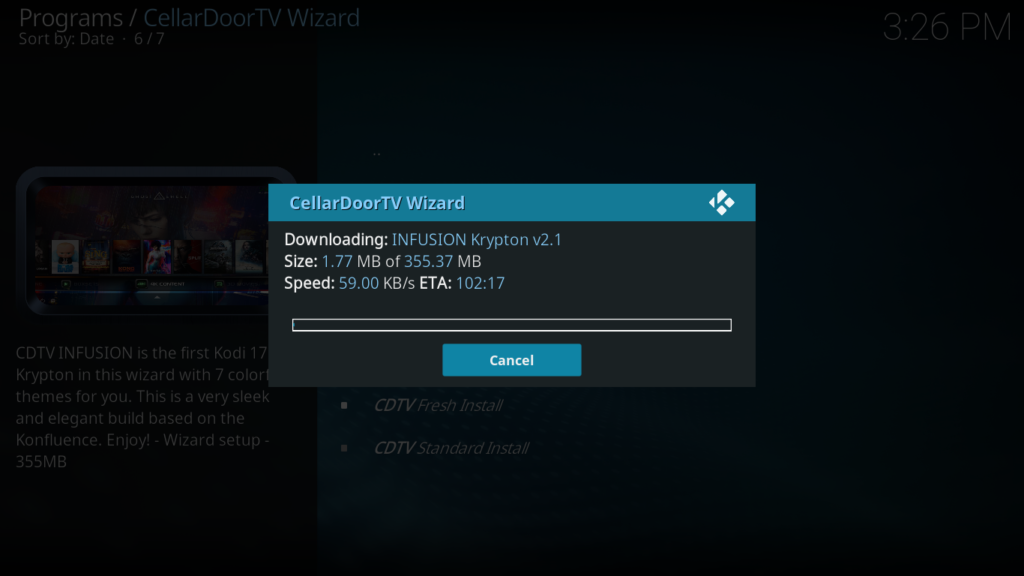 After the download, reboot Kodi.
Note: After reboot, Kodi installs all the add-ons and update them, and this might take up to 10 minutes depending on your internet connection.
Congratulations, you've successfully installed CellarDoor TV Kodi Build, and it's ready to use.
CellarDoor TV Kodi Build: What to Expect?
CellarDoor TV Kodi Build is a massive pack with a good face and lovely hairstyle. You'll love looking at it. And, it just doesn't stop at being an eye-pleasing build, it functions too and most of the time, like a hardcore content generator.
Several highly-capable add-ons compliment this build. Bob Unleashed, Elysium, and SkyNet are some of the major contributors to this huge list of sheer awesomeness.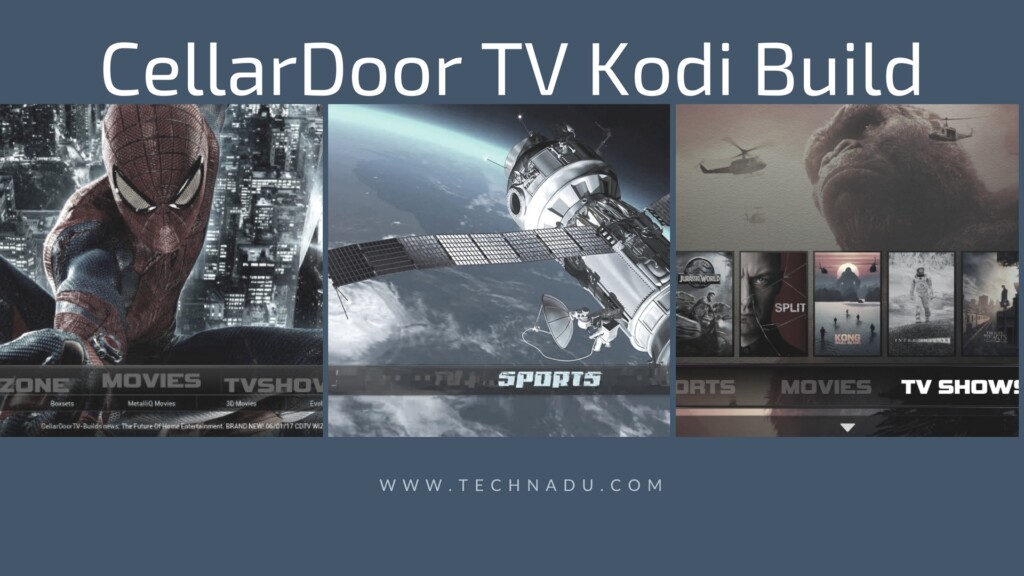 Let's go through its major categories;
Movies
Get used to a stylish interface that will let you browse through a huge catalog of movies. The interface takes you to the thumbnails and plots of the top-rated movies on the go. Movie buffs are going to fall in love with this section.
TV Shows
TV shows section is similar to Movies page, but with more information. Clicking on a title takes you to its information with all its seasons and episodes lined up to be eaten, just like Netflix.
Kidszone
There are several sub-menu buttons in this category that lets you browse through it on the go. Like other sections, this category looks like matrix movie in 4K quality.
Music
This category has a separate list of songs, based on different genres. The sub-widget on the page has buttons for Spotify and Soundcloud and other popular music add-ons.
TV Pro
This category is dedicated to IPTV streams, and its submenu acts as a gateway to popular IPTV add-ons. There is just one irritating element, an IPTV login popup, which of course you can disable, until that it'll annoy you like a grumpy boss.
Additional Resources: What's Next?
'This heart needs more,' is a popular Pepsi tagline in Asia. And, when it comes to Kodi's platform, the story is similar. We all love a little extra spice. So, for those hearts, here are our top recommendations on Best Kodi Build 2017.
Misfit Mod Lite Kodi Build: This lightweight champion is functional and does what it's meant to do and with a knack for entertainment.
Duggz Kodi Build: This recently migrated build on Krypton is a beast when it comes to the amount of content it has on offer. Check it to believe it.
Boom Shakalaka Kodi Build: This build from Dimitrology repository is bang for bucks. It's clean and packs a huge set of useful add-ons.
Final Words
CellarDoor TV group is known for their eye-pleasing builds, and this one is no different. Another beauty in a stunning, packed interface, which is stable and reliable and has tons of premium content to stream for free. If you want to pass out during your late-night routines with a high-quality digital content, this one goes out as our top recommendation.
Like always, thank you for reading.
If you have questions regarding the installing process or just a thought to share, kindly use our comment section. Also, if this guide has been useful to your Kodi experience, share it with your peers or whoever you think needs it because helping is always good.