In this article, we present our review of the Cargo VPN tool. VPNs are no longer the territory of internet geeks and experts. They are increasingly becoming more and more commonplace- in fact, VPN software is now amongst the most widely used software tools in the world. What these tools do in essence is, they conceal the identity- the real IP address of the user, giving him a virtual address to safely browse the internet without being traced.
Cargo VPN is one of the most popular VPN software for Macs and iOS devices. The software lets you browse the web anonymously, encrypting all internet traffic and cloaking all your internet usage. The following table summarises the essential features of the Cargo VPN tool:
It's understandable that one of the most common reasons people buy VPN for in the first place is to unlock geo-restricted content. This includes original US Netflix series that are not available for viewing elsewhere in the world. We tested the Cargo VPN software and present our test results in the table below. There's no unblocking required with Kodi but it is essential to ensure there's no DNS leaking to your ISP.
We found that there are specially designated servers inside the application for using the streaming services, which is great for beginners. Advanced users, however, would have appreciated greater control over the choice of servers, which is lacking in Cargo VPN.
It is imperative to note that is a sensitive usage area for a VPN service: while the tool currently works with streaming services, there is no guarantee it would continue functioning in a hassle-free manner. Netflix and Hulu continually block servers, so watch out!
It's now time to study the main pros and cons of the Cargo VPN software.
That's all we have to say about the basics of the Cargo VPN. Let's dive straight into the in-depth review of this VPN tool.
Cargo VPN Review
Cargo VPN is one of the most popular VPN tools for Mac and iOS devices. It is known for the simplicity of use and its powerful capabilities as a VPN service. The following is an in-depth review of this software to help you decide if this indeed is the right tool for your use.
Supported Devices
Cargo VPN is supported on Mac and iOS devices at the moment. You can install it on all your favorite iOS devices. Our Score: 7/10.
Cargo VPN can be installed on a Mac or any iOS device. You can install it on your iPad or iPhone for a safe browsing experience.
The software is compatible with Mac OS 10.10 and the newer versions. You can use it on 5 devices simultaneously.
Installation & Setup
The software can be downloaded from the Apple App Store. Installation is pretty straightforward. Our Score: 10/10.
In terms of ease of installation, Cargo VPN is a clear winner. The software can be easily installed in a matter of a few clicks. All you need to do is visit the official website of the software tool and click on 'Download'.
You will be taken to the Apple App Store where you can click on 'Get' to begin the installation. Click on 'Install' and you're done. The software is pretty lightweight and takes a few minutes to download at the most.
Once the installation is successful, you'll see the login screen. You can either log in using your social media accounts or use your existing Eltima ID for the purpose. If you have none, we recommend clicking on 'Create new Eltima ID' to create a new account. You can try the software free for a period of 24 hours.
Once you log in, you'll see the screen above. We believe the software does a great job at familiarizing users with the interface when they first see the same after installation.
Prominent Features
Cargo VPN boasts several important security features, many of which are found in its peers while some are unique. Our Score: 8/10.
Cargo VPN offers several unique features to users. We believe the software has pretty much everything for a beginner. Pro users might find some features missing, though. We particularly liked the 'Personal Static IP' feature, wherein the user is provided a unique personal static IP, unlike other VPN tools that provide dynamic IPs many of which are continually blocked by ISP.
The 'Personal VPN Server' is another important feature that lets users obtain a dedicated VPN server for their own use. The software also provides for a 'DNS Firewall' which blocks malware, popups, and malicious websites that can potentially steal data.
The support for 'Torrents and P2P' services is another crucial feature which lets users use torrents and other similar peers to peer services often blocked in VPN software.
Ease of Use
Cargo VPN is extremely easy to use. The interface is clutter-free and easy to navigate around. Our Score: 9/10.
Cargo VPN is one of the easiest VPN services to use. The dashboard is neatly laid out. Connecting to the service is easy as pie- you just need to click on the "VPN Status" toggle switch at the top. The service will automatically choose the optimal server.
The software shows the real and virtual IP addresses at the top right for the convenience of the user.
You can click on 'Account' to change the network settings, This also includes the VPN connection protocols offered by the service.
There's an option to have the service run at startup as well, which is useful if you always wish to stay in a protected and untraceable online environment.
Clicking on the 'Protection' tab brings us to the DNS Firewall settings. You can configure the options in this section.
Server Locations
Cargo VPN provides for multiple servers at numerous locations. Users can choose servers of their choice. Our Score: 8/10.
Cargo VPN has a fleet of nearly 1000+ servers that are located in more than 70 locations around the globe. Users are able to choose a server to their liking and connect to it. They can also see the current workload on the server, which is a great feature in our opinion.
It must be remembered that is it imperative to choose the right server since it has important implications for the connection speed and performance.
Speed
Security is of paramount importance in a VPN service but then so is the speed. Cargo VPN is a top performer! Our Score: 9/10.
When it comes to speed, many VPN services disappoint with their slow performance. However, it's different with Cargo VPN. The software achieves high speeds and can also, in fact, help you get around speed throttling issues with your ISP.
In our speed tests, however, we found difficulties in connecting to the internet once VPN services were active. Then software kept throwing a subscription expired error even though we had 2 months remaining on our subscription. Finally, the software began working after a few cycles of uninstallation and installation. Also, ensure you have 'OpenVPN' selected in the network settings for optimal performance. We couldn't run the speed tests on speedtest.net so we used an alternative speed test instead.
We first tested the baseline to obtain a reference mark.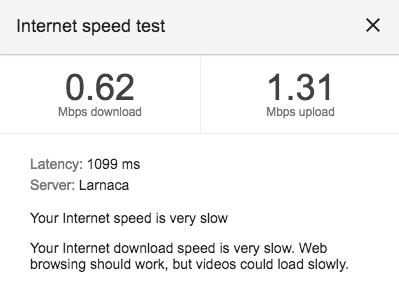 Next, turn the VPN on and let the software select an optimal server. It's time for the speed test again.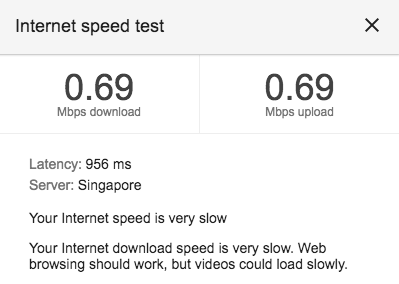 Once the basis tests are over, we switch to the Netflix and Hulu streaming server and run the speed test once again.
Surprisingly enough, the speed improved with the VPN turned on. The VPN service, it seems, removes some speed throttling caused by the ISP.
Security & Privacy
Cargo VPN has a no-logs policy and does not track user traffic. Our Score: 9/10.
Cargo VPN has a powerful IP hiding and encryption mechanism in place.
Encryption
With 256-bit encryption, the software routes all user data through a secure tunnel. The software also offers numerous VPN protocols to choose from OpenVPN, KeepSolid Wise UDP, and KeepSolid Wise TCP.
Logging
The tool has a zero-logging policy and only monitors the total session usage for display within the user client app as per their privacy policy.
DNS Leaks
DNS leaking is when a VPN service leaks away your real IP address to others on the lookout without you being aware. Let's check if this is the case here.
As is clear, the software is doing a wonderful job at hiding our real IP.
Customer Service
Cargo VPN offers diverse support options. Our Score: 9/10.
We found that the software provides a variety of places where users can seek help and support when stuck. We also emailed customer support to check the response time and can confidently say that the customer support is one of the most responsive we've ever seen. Kudos to the company for their quick response time.
Pricing
Cargo VPN offers customized pricing plans to suit varying needs. Our Score: 9/10.
We found that the software offers diverse pricing plans:
While the 3-year plan offers the most savings, we recommend choosing the monthly plan since VPN services can quickly fall out of favor due to blocking of IPs by Netflix and other such websites.
The Verdict
Cargo VPN is a powerful software that allows users to stay in control of their online browsing activity.
Who should use this VPN? All those who need a simple VPN tool that can function efficiently and deliver a great speed.
Who should not use this VPN? Those who seek advanced features and controls
PROS: Fast; Easy to use; Unblocks geo-restricted content; clean UI
CONS: Slow to set up; Lack of deep levels of customization; Only for Mac and iOS as of now
Final Verdict: 8.7 out of 10!
Buy Cargo VPN
If you would like to get a fast and easy to use VPN tool for your Mac, go for the Cargo VPN.
Final Thoughts
Cargo VPN is a great choice for those owing Mac OS or iOS devices. It is fast, lightweight, and above all, easy to use.
You might need some toggling around to get it working but it is otherwise a great tool to use. We particularly liked its ability to remove ISP throttling, which is an area other VPNs often struggle with.
With this, we conclude our review of the Cargo VPN. We hope you've found it useful. Please share the word in your social circles and leave us a comment if there's anything you'd like to know or share with us!