Using a lesser-known VPN can be a good way to save some money in the long run, all while making sure that you're protected online. However, when it comes to those VPNs, you need to be extra careful. Since they usually don't have a highly publicized past, like well-known and top-rated VPNs do, you'll need to do your research. And of course, you could always use some help, and that's precisely why we're here. We're about to review a relatively unknown VPN service, called CactusVPN.
What's interesting about CactusVPN is that it comes with plenty of promises. After taking a quick look at its website, you'll see that it promises to bring full protection of your private data. So, what can you expect? How to compare this VPN provider to its competitors? Well, we've prepared three handy tables, just for you, so make sure to take a quick look. Welcome to our full and hands-on review of CactusVPN!
Quick Facts
| | |
| --- | --- |
| Jurisdiction | Moldova |
| Logs | No logs, whatsoever. |
| Number of Servers | 15 countries; 25 servers. |
| Parallel Connections | 5 |
| Encryption Standards | OpenVPN, L2TP/IPsec, IKEv2, SSTP, SoftEther, PPTP. |
| Speed Reduction | 32%, on average. |
| P2P Support | YES |
| Live Chat Support | YES |
| Supported Platforms | Windows, MacOS, Android, iOS, FireOS, routers. |
| Price | Starts at $4.58/month. |
We know that many of you need a VPN for media streaming. So, the question is whether CactusVPN works with Netflix, Hulu, and other popular streaming platforms? The following table will you tell you.
Media Streaming Support
| | |
| --- | --- |
| American Netflix | YES |
| Hulu | YES |
| BBC iPlayer | YES |
| Amazon Prime Video | YES |
| Kodi | YES |
Are you in a rush? Don't have the time to read this entire VPN review? If that's so, we have one more table for you. Here are the most prominent pros and cons of using CactusVPN.
The Bottom Line
| | |
| --- | --- |
| Pros | User-friendly VPN; Simple UI; Unblocks Netflix; Supports P2P; Reliable performance; Helpful customer support. |
| Cons | Incredibly small server network; Missing advanced options. |
| The Final Verdict | Despite its drawbacks, CactusVPN is an interesting VPN solution. This especially goes for fans of media streaming platforms. |
| Our Score | 8.3/10 |
So, that would be all for our introductory segment. Make sure to stick with us, as we're about to dive deep into every feature that CactusVPN offers. So, join us as we explore this VPN solution.
CactusVPN – TechNadu's Hands-On Review
Just like the rest of TechNadu's VPN reviews, this article will also follow our uniform structure. To learn about the way we test and rate each VPN, we have a separate article on how we review VPNs.
Also, an important note: we've reviewed the 'VPN + Smart DNS' plan that brings additional servers and technologies for website unblocking and P2P file downloads. Everything said below applies only to the subscription plan in question.
Background, Jurisdiction & Reputation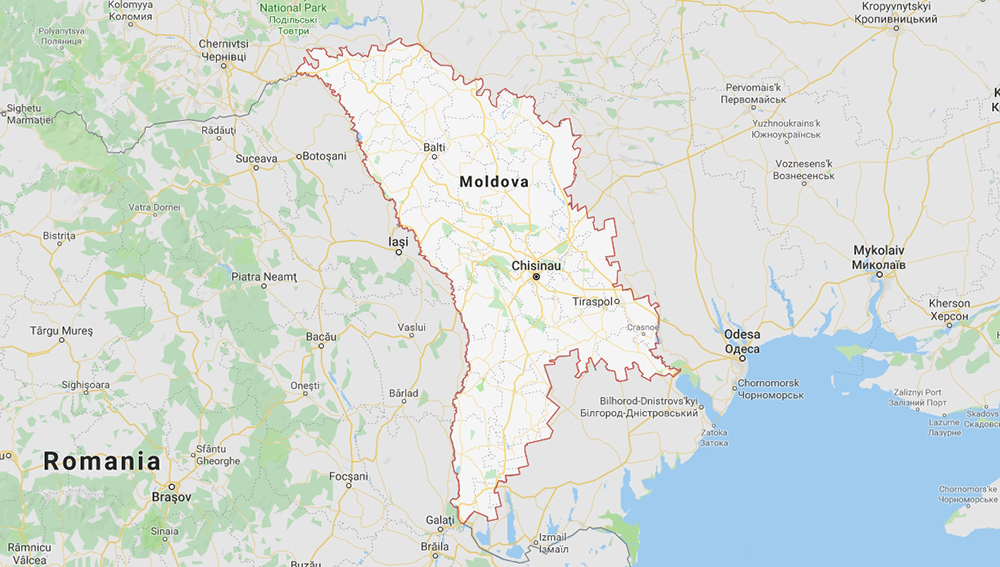 CactusVPN comes from Moldova and features a 'no-logs' policy. There are no data leaks or data breaches in the past, which is a welcome thing to see. Our Score: 10/10.
Not every VPN is the same – and the location of their headquarters plays a significant role. So, let's find out where CactusVPN comes from, and what that means for its users.
Jurisdiction & Applicable Laws
CactusVPN is made by 'CactusVPN Ltd' – based in Moldova. We can't blame you if you haven't heard about this Eastern European country, as it's relatively unknown to those living outside of this continent. What you need to know is that Moldova isn't a member of the European Union (yet) and it's also far from the 5/9/14 Eyes Alliance. However, don't think of Moldova as being an isolated country as it's a member of major political organizations like the UN, the Council of Europe, and plenty more.
What you need to know is that Moldova has laws regarding personal data protection. There's also the National Center for Personal Data Protection, whose main mission is to supervise data protection laws. All in all, it looks like there's nothing to be worried about when choosing CactusVPN, as this VPN promises not to log pretty much anything about its users. And it looks like the laws of its home country are supporting their 'no-logs' policy.
Previous Data Leaks
We're pleased to report that CactusVPN comes with a reputation for protecting their users. They never suffered a data breach, nor there are any reports of unauthorized data logging. This is actually a big deal since CactusVPN has been on the market since 2011, and this isn't a brand-new VPN. The fact that they still come with pristine reputation tells a lot.
Supported Platforms & Devices
CactusVPN runs on pretty much any device or platform imaginable, including desktop and mobile platforms, routers, media streamers, and more. Our Score: 10/10.
We'll now show you which platforms are natively supported by CactusVPN, including all popular desktop and mobile options. Take a look at the following table.
Platform Compatibility
| | |
| --- | --- |
| Desktop Platforms | Windows, MacOS. |
| Mobile Platforms | Android, iOS. |
| Web Browsers | Google Chrome, Mozilla Firefox. |
| Routers | DD-WRT, Tomato, ASUS-WRT, and more. |
| Other Devices | Android TV, Amazon Fire TV. |
The table found above lists native apps for various platforms. However, it's important to note that you can run CactusVPN on an even bigger number of devices via manual configuration. This applies to Linux, Chromebook, Windows Phone, Boxee Box, and more. It can be said that CactusVPN runs on pretty much any device and platform out there.
For complete protection, we recommend installing this VPN on a router. One subscription gets you 5 simultaneous connections, and having this VPN installed on a router takes a single 'empty slot'. This means that you'll be able to protect your entire household and protect yourself while on-the-go.
Installation & Initial Configuration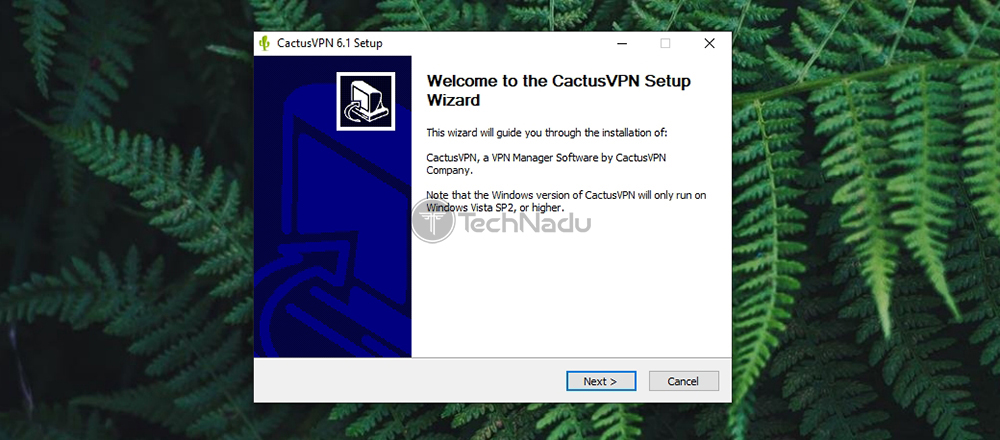 CactusVPN comes with a simple installation method that doesn't require any technical knowledge. You'll be up-and-running in no time. Our Score: 10/10.
There are two ways to get started with CactusVPN. However, the first step is always to get a CactusVPN subscription. Then, you can either download one of the official applications from its website, or you can log-in to your account.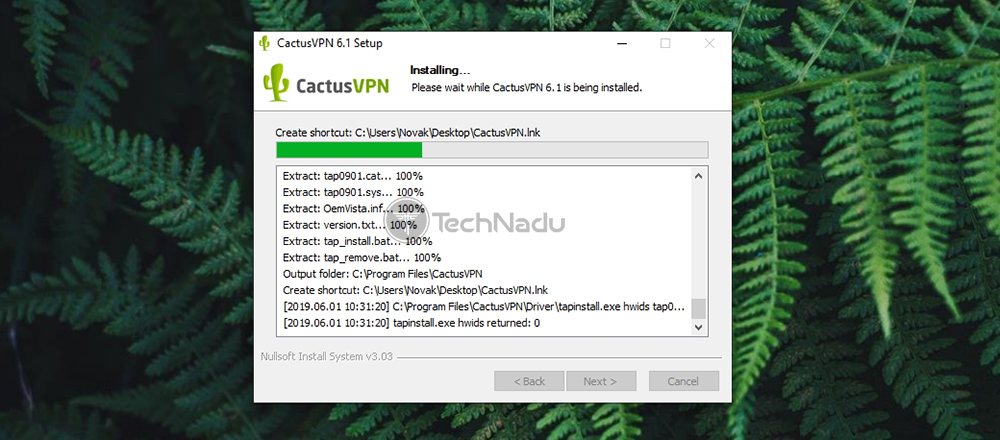 By logging in to your account, you'll see an overview of your subscription, you'll get to contact this VPN's support team, check out installation guides, and plenty more. The process of installation alone is very simple. You need to download a lightweight installation file, double-click on it, and proceed with the installation steps. All in all, this entire process should not take more than a few minutes.
Prominent Features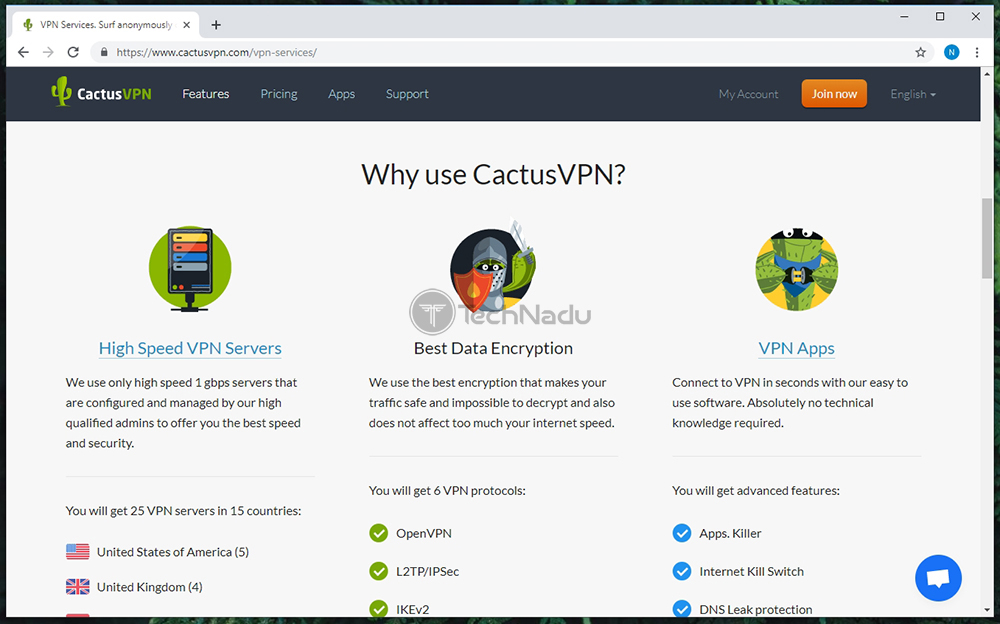 Even though CactusVPN comes with a set of basic features, it falls short when it comes to more advanced options. Our Score: 7/10.
Now, let's check out what kinds of features this VPN brings. You'll see a helpful overview of the basic and advanced features in the table below.
VPN Features Checklist
| | |
| --- | --- |
| DNS Leak Protection | YES |
| IPv6 Leak Protection | YES/NO |
| Kill-Switch | YES |
| Ad-Blocker, Anti-Malware | NO |
| Unlimited Server Switches | YES |
| Unlimited Bandwidth | YES |
| Unlimited Data | YES |
We can see that CactusVPN brings a strong set of basic features. There are DNS and IPv4 protections included, you also get a kill-switch and unlimited use of this VPN. However, what's missing here are more advanced features that could have set this VPN apart from the rest.
Even though you can disable IPv6 traffic and eliminate any leaks, it's important to know that CactusVPN doesn't protect IPv6 traffic by default. There's no ad-blocking or anti-malware as well, nor any features designed to protect you against malicious scripts. With this said, we believe that CactusVPN is created for average home users.
Server Count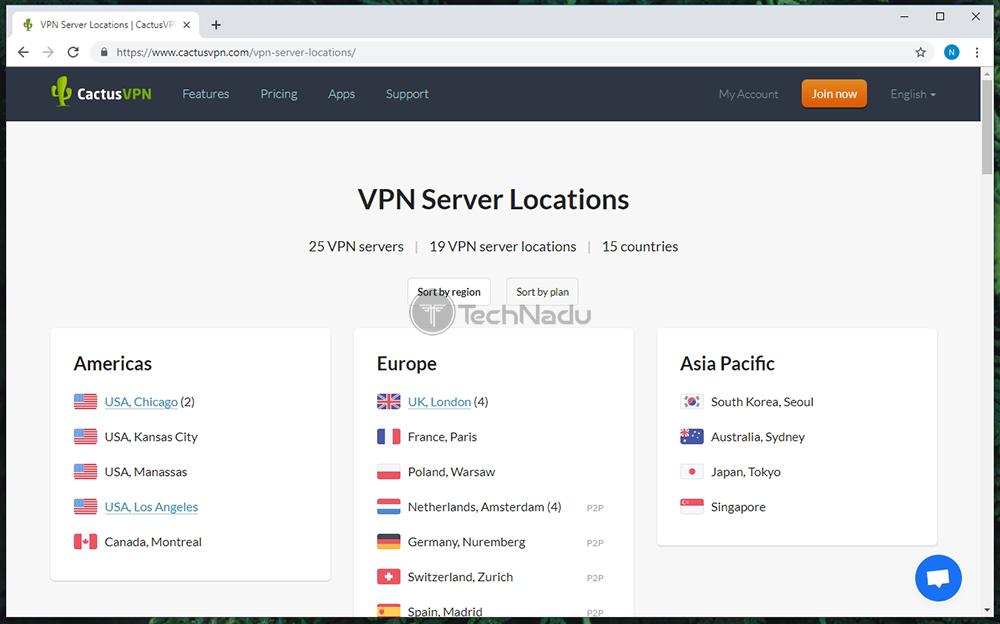 Sadly, CactusVPN brings the smallest server network we've seen yet – and we've reviewed a huge number of both hugely popular and lesser-known VPNs. Our Score: 2/10.
With some VPNs offering as many as 5,000+ servers, it's hard for smaller VPNs to compete and get a competitive edge in this aspect. Here's what you need to know about CactusVPN.
Server Count Info
| | |
| --- | --- |
| Number of Servers | 25 |
| Number of Locations | 19 |
| Number of Countries | 15 |
| Specific Cities Selection | YES |
| Unlimited Switching | YES |
We've reviewed dozens and dozens of VPNs so far, both big and small. However, we're disappointed to say that CactusVPN brings the smallest server network we've seen yet. With only 25 VPN servers on offer, across 15 countries, you can count on the most popular VPN destinations only.
It's also important to note that there's a selection of P2P-optimized servers that are not available for all CactusVPN users. Instead, these servers are offered only in the 'VPN + Smart DNS' plan – and also, these servers are placed across Europe. This means that users from other continents should be worried about what kind of performance they'll get.
Ease of Use
CactusVPN might not be the most polished VPN (when it comes to its UI design), but it's easy to use and gets its job done just fine. Our Score: 8.5/10.
The first time you open CactusVPN, you'll see a fairly nicely designed and simple interface. The home screen lets you pick a server and connect to it. You can sort the available servers by their speed, and you'll also see a message once you connect to a secure server. All of this is found under the 'VPN Service' tab, and there are three more tabs present:
Smart DNS: Instead of using the VPN solution, you can use this company's Smart DNS for media streaming. You won't get any of the privacy-protecting features, but you'll be able to unblock plenty of websites. You can think of CactusVPN as a 2-in-1 solution.
Settings: There's a nice selection of different options that you can fine-tune. You can choose a VPN protocol, different DNS servers, enable/disable DNS leak protection, and choose how this application behaves. In terms of the Smart DNS solution, you can choose when to update IP addresses, pick a region for websites to register, and you can also choose your server (by selecting a protocol).
App Killer: Finally, we have a feature called 'App Killer' which is actually this VPN's kill-switch. You can select any application on your device that will be automatically closed if a secure connection becomes compromised.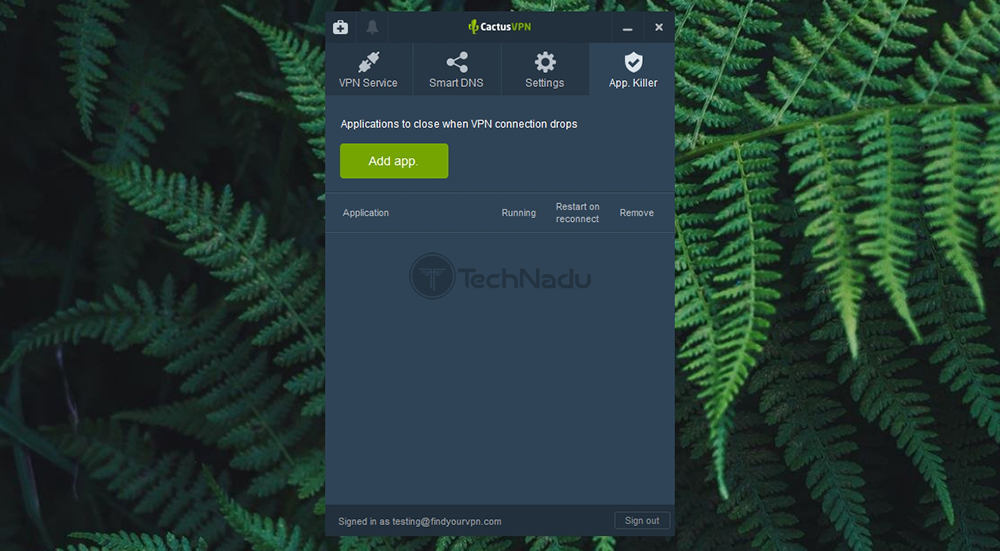 Among other options, you'll see a 'Support' button in the top-left corner, which is where you can generate logs and submit a ticket. And there's also a 'Notifications' panel. All in all, CactusVPN is quite easy to use. It might not be the most polished VPN out there (in terms of its UI), but we strongly feel that you're going to like it.
Media Streaming & Torrenting Support
Thanks to the 'Smart DNS' feature, you'll be able to unblock Netflix, Hulu, and plenty more streaming platforms. Torrenting is also allowed. Our Score: 10/10.
Next, let's talk about this VPN's media streaming capabilities. We've tested whether CactusVPN works with Netflix, in addition to an array of other popular streaming platforms. So, here are the results.
Media Streaming & Torrenting Support
| | |
| --- | --- |
| Netflix US | YES |
| Hulu | YES |
| BBC iPlayer | YES |
| Amazon Prime Video | YES |
| Torrenting (P2P) | YES |
What must be mentioned here is that we haven't tested CactusVPN – in terms of its VPN-related capabilities here. Instead, website unblocking (especially streaming-related) is done via its Smart DNS option. And we're happy to report that CactusVPN's Smart DNS works with all major media streaming websites (including 80+ services worldwide).
Also, CactusVPN allows P2P file exchange on 9 of its servers. Once again, you need to buy the 'VPN + Smart DNS' subscription plan, as other plans offered by this VPN don't allow P2P traffic.
Security & Privacy
CactusVPN doesn't have the strongest encryption out there. However, it comes with capable VPN protocols and absolutely doesn't collect any of your data. Our Score: 8.5/10.
What kind of encryption this does VPN bring? Which VPN protocols does it offer? Let's answer those pressing questions and plenty more.
Supported Encryption Protocols
When it comes to encryption, CactusVPN is relying on 128-bit AES. In case you didn't know, the majority of today's VPNs use 256-bit AES, which is considered to be the industry standard. And also, many VPNs allow you to choose the desired level of encryption (128-bit or 256-bit). As you can see, CactusVPN is using a 'weaker' alternative – but that doesn't mean that your data is in any danger.
To truth is that 128-bit AES is an incredibly secure type of encryption. Even if someone gets to your data, it will take an incredibly long time for your data to become readable. And in terms of the available VPN protocols, there's a huge array of available ones – with OpenVPN leading the pack.
Logging Policy
CactusVPN claims to be a 'no-logs' VPN. They don't store any of your personal data – or data that could be related to your online activities. This VPN's logging policy also says that they don't log IP addresses, traffic logs, connection stamps, used bandwidth or session duration. And finally, they guarantee not to share any of your data with any third party.
DNS Leak Test
As you can see from the image above, CactusVPN doesn't leak any of your data. Instead, third parties only see what this VPN is showing them – and that would be your virtual IP address, hostname, and other related information.
It's also worth mentioning that DNS leak protection is disabled by default. We highly recommend you enable this option, so make sure to visit this VPN's settings panel as soon as you install and launch this application.
Speed & Performance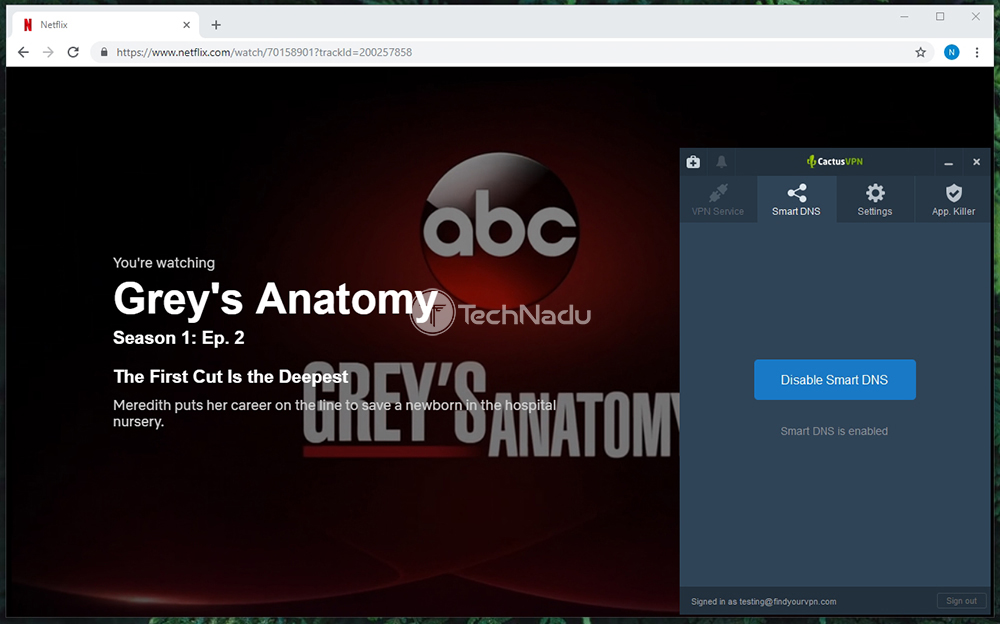 In general, CactusVPN comes with reliable performance. It's far from being the fastest VPN out there, but many of you will be happy with its performance. Our Score: 7/10.
To see what kind of performance this VPN brings, we'll test the speed of its nearby and remote servers. But first, we need to establish some baseline data, so let's get started.
Before we tested CactusVPN, we established our baseline data (we checked the speed of our 'naked' Web connection, without this VPN being involved). As you can see from the screenshot above, we got 148.10 Mbps for downloads and 12.71 Mbps for uploads.

Next, we connected to a nearby server offered by CactusVPN. We're located in Europe, with plenty of servers on offer. After allowing the VPN to connect us to the fastest-performing option, we managed to get 135.91 Mbps (downloads) and 22.05 Mbps (uploads).

Lastly, we also wanted to check how remote servers perform. For this purpose, we connected to a server in the United States. As you can see, this time around we got 65.18 Mbps for downloads and 8.23 Mbps for uploads. So, let's put all those numbers into a table.
| | | | |
| --- | --- | --- | --- |
| | Download Speed | Upload Speed | Speed Reduction |
| Baseline Speed | 148.10 Mbps | 12.72 Mbps | 0% |
| Nearby Server | 135.91 Mbps | 22.05 Mbps | 8.2% |
| Remote Server | 65.18 Mbps | 8.23 Mbps | 55.9% |
We conclude that CactusVPN made our Web connection slower by 32%. This is really a good result for a relatively small VPN service. However, keep in mind that top-rated VPNs usually keep the throttling up to around 15%, on average.
Customer Support
This VPN has done a very good job of providing numerous learning and troubleshooting resources to its customers. Live chat is available as well (not 24/7). Our Score: 9/10.
CactusVPN comes with several ways to get help – so here's a quick overview of what kind of customer support channels you can expect.
Setup Tutorials: To learn how to get started with this VPN, you can check out numerous installation guides, tutorials on how to set up this VPN, how to manage your account, and plenty more. These tutorials are nicely written and they're suitable for complete beginners as well.
Learning Center & FAQ: If you'd like to learn more about how to use this VPN, resolve certain technical problems on your own, or even to learn about online privacy – CactusVPN offers plenty of resources that you'll find useful.
Support Tickets & Live Chat: Finally, you can also chat live with this VPN's customer support team. However, this option isn't available 24/7. When it's not available, you can open a support ticket, and expect to receive a response within a few hours.
Pricing
CactusVPN comes with a somewhat complicated pricing plan – but we can't deny the fact that it offers an amazing deal (it's quite affordable). Our Score: 9/10.
Did you like everything you read so far? If that's so, let's check out the available subscription plans offered by CactusVPN. Check out the following table.
| | | | |
| --- | --- | --- | --- |
| | Total Price | Per Month | Savings |
| Monthly | $6.99 | $6.99 | 0% |
| Quarterly | $17.99 | $5.99 | 14% |
| Annually | $54.99 | $4.58 | 35% |
The prices you see in the table above apply to the 'VPN + Smart DNS' subscription plan. This is CactusVPN's most comprehensive plan that includes website unblocking (media streaming support) and support for P2P file traffic. As you can see, you can sign-up for CactusVPN for only $6.99 per month – which is a pretty good deal. If you'd like to bring the price down, please note that the annual plan comes with a discount of 35% - which lowest the price to only $4.58 per month.
It's also worth noting that CactusVPN has other types of subscriptions on offer. For example, if you only need servers in the United States or the United Kingdom, this plan is priced at $4.99 per month. And if you don't need a VPN but you want to unblock media streaming websites, the 'Smart DNS' plan is priced also at $4.99.
Finally, you should know that CactusVPN comes with a 30-day money back guarantee. You can pay via credit cards, PayPal, numerous other payment processors – and Bitcoin is on offer as well.
Do We Recommend CactusVPN?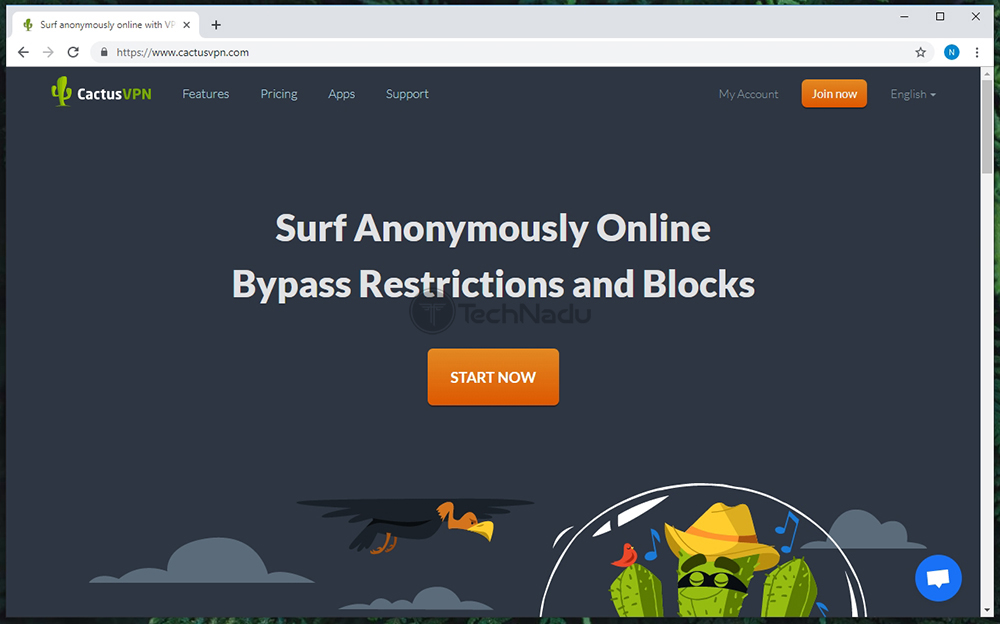 This isn't the perfect VPN – but we strongly believe that average home users are going to love it. This especially applies to those who want to unblock media streaming platforms. However, users who want the best possible protection, high-end encryption, and plenty of fine-tuning – should probably look elsewhere.
PROS: Easy to install; Simple UI; Unblocks streaming platforms; No data logging; Helpful customer support; Affordable pricing.
CONS: Overly small server network; Missing advanced features.
OUR SCORE: 8.3 out of 10!
In case you'd like to know more about this, or if you'd like to subscribe to CactusVPN, make sure to use the provided link. It'll take you to this VPN's official website, where you can get additional information that'll help you reach the final decision.
In case you liked this review, we'd like to ask you to share it on the Web. And to stay on top of the latest VPN-related coverage, don't forget to follow us on Facebook and Twitter.