Important Update: We regret to inform you that Anonymizer is no longer available as a commercial VPN service. Ntrepid Corporation, the company behind Anonymizer VPN, has decided to shift its focus toward enterprise users by offering a new set of business-related intelligence tools. With this said, we recommend reading our Buffered VPN review, or you can expand your options by visiting our up-to-date overview of the best VPNs right now.
What should a VPN service look like? These days, we have all sorts of expectations when we hear about public VPN services, but is it too easy to take these for granted? Who says that a VPN should do certain things? In this Buffered VPN Vs Anonymizer comparison, we have two products with very different answers to what a VPN should focus on.
Buffered VPN is a Hungarian VPN service with offices in England and Gibraltar. The company has started to build some brand recognition and more people are likely to have heard of them these days. Anonymizer, on the other hand, is a US service that's been around since 1995! That predates the modern VPN as we know it. Heck, it predates the reasons that normal citizens would even want a VPN in the first place.
This two VPN is pretty different in every way, but which is the best for who? Should you use either of them? We compare them according to a set of criteria and help you make the best decision. Here are their basic spec sheets to get you started.
| | | |
| --- | --- | --- |
| | Buffered VPN | Anonymizer |
| Device Support | Windows, MacOS, Android, iOS, Linux, OpenVPN. | Windows, MacOS, Linux, Android, iOS. |
| Prominent Features | User-friendly; Supports P2P; Strong encryption. | Unblocks content on the Web; Pretty barebones. |
| Server Network | Unknown number of servers in 45 locations. | Only 2 servers in 2 locations. |
| Logging Policy | Some data collection that you can opt out. | Zero-logs privacy policy. |
| Encryption | 256-bit Blowfish – OpenVPN. | Proprietary protocols. |
| Privacy | Identifiable logs are not collected. | Keeps no records of their users' activities. |
| Speed | Above average. | Below average; Can fluctuate quite a bit. |
| Number of Devices | Up to 5 devices. | Up to 6 devices. |
| Visit | Buffered VPN | Anonymizer |
Next, we are going to take a look at scores from our reviews of Buffered VPN and Anonymizer. The main goal of the following table is to give you an idea of strong and weak spots of these two VPNs.
| | | |
| --- | --- | --- |
| | Buffered VPN | Anonymizer |
| Supported Devices | 9/10 | 2/10 |
| Installation & Setup | 10/10 | 5/10 |
| Prominent Features | 7/10 | 3/10 |
| Ease of Use | 9/10 | 4/10 |
| Server Locations | 6/10 | 1/10 |
| Speed | 9/10 | 2/10 |
| Security & Privacy | 7/10 | 8/10 |
| Customer Service | 8/10 | 1/10 |
| Pricing | 6/10 | 3/10 |
| Overall Score | 7.9/10 | 3.2/10 |
Wow, that was a lot of information in a very compact format, but you should have a decent picture of the situation with these VPNs. If you want to get a blow-by-blow analysis, read on for the meat and potatoes review.
Buffered VPN Vs Anonymizer: Head-to-Head Comparison
The best way to make up your mind about using Buffered VPN or Anonymizer is by dissecting these services. This is exactly what we're going to do, so keep on reading to learn all you need to know about these services.
Supported Devices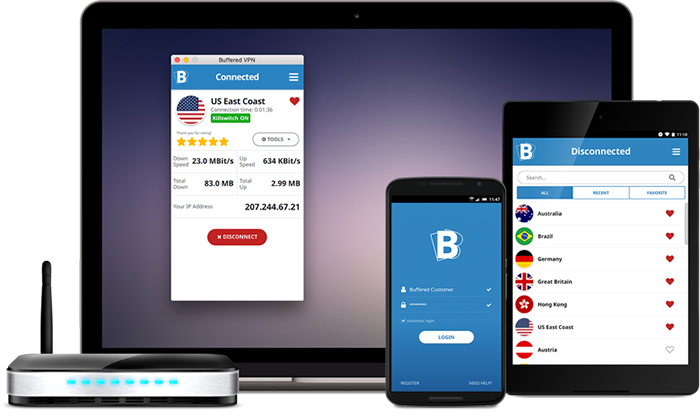 Since VPNs usually allow you to connect from several devices at once, it's important to know how powerful their apps are. So, we took a look at their cross-platform support.
Buffered VPN: When it comes to this VPN, Windows, MacOS, iOS, and Android have native clients. From, there it's OpenVPN. This means that Buffered VPN can be installed on a huge variety of devices. While you'll mostly use native apps, OpenVPN is your option for other types of devices.
Anonymizer: Anonymizer relies heavily on OpenVPN clients in order to support a variety of devices. Only Windows and MacOS have native clients, with the OpenVPN config files for Android and iOS available from the downloads page. This means that you'll need to invest some time in setting up this VPN on your mobile devices.
Winner: With only two native clients Anonymizer has no chance against Buffered VPN when it comes to cross-platform support.
Installation & Setup
The good news is that today's VPNs have become incredibly user-friendly. They are designed for average Internet users who seek something simple yet powerful enough to keep them protected online.
Buffered VPN: Getting started with Buffered VPN is as easy as you can imagine. Once you have an active subscription, you can download a native client and install it. Sign in using your new credentials, and you're ready to go. It really is as easy as that.
Anonymizer: The story with Anonymizer is much more convoluted and it's important to understand what issues we had in order to understand how we evaluated it in context. Anonymizer offers a 14-day trial, but limits trials users by not letting them access US servers. Since we are interested in US server performance, we tried to purchase a subscription but ran into a payment error. We contacted support who promised to help us resolve the issue, but after three days we had received no replies. As such, our review is based on the trial account offered by Anonymizer and therefore we could not evaluate the US servers.
Winner: If you don't want to spend time setting up your VPN connection, Buffered VPN should be your pick. Even if you're up for a challenge, we don't recommend using Anonymizer since it lacks user-friendliness.
Prominent Features
You can expect one thing from every VPN – and that is to keep you protected online by encrypting your connection. However, what sets them apart are advanced and innovative features as well as a bigger selection of VPN protocols. Keep on reading our Buffered VPN Vs Anonymizer comparison to learn more.
Buffered VPN: Strictly speaking, Buffered doesn't offer any more features than Anonymizer does, but the key difference is in the number of available exit nodes, which allows you to actually spoof your location in a flexible way. On top of that, this VPN is under constant development. A few months ago, it received an incredibly powerful kill-switch. This tool blocks your data from leaking in case your VPN connection drops.
Anonymizer: Anonymizer has a very one-track mind when it comes to its feature set. We tend to think of most VPNs as at least having encryption, location spoofing, and IP hiding. Anonymizer does indeed have all three, but its set of location choices is the most limited we have ever seen and so, effectively, there is no location spoofing unless you're okay with the two choices on the table. Likewise, they haven't added options such as ad-blocking or anything besides basic VPN privacy. Of course, you get unlimited bandwidth and data volumes, but I also consider that a standard feature in modern VPN offerings.
Winner: Buffered VPN is pretty standard in the greater scheme of things, but compared to Anonymizer it's the bees-knees when it comes to features.
Ease of Use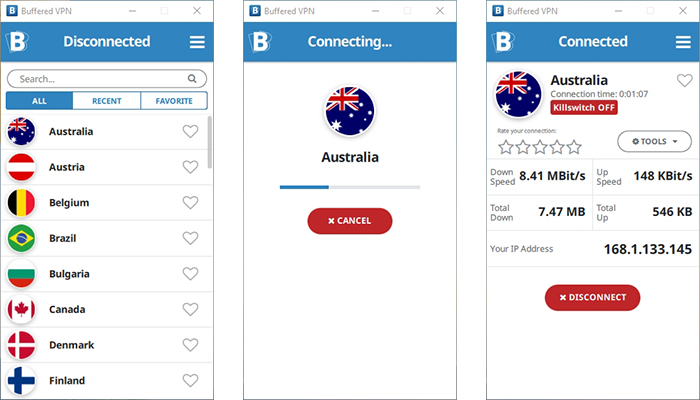 Ideally, you want a VPN application that's intuitive to use. You don't want to read guides of search on the Web for how to activate some features. Let's see how this aspect of Buffered VPN compares to Anonymizer.
Buffered VPN: Buffered VPN has basically taken their mobile application and transported it into Windows and MacOS. That's not a bad thing in itself. Generally, we found the Buffered client to be simple, easy to understand and fully functional. Some advanced VPN users could say that Buffered VPN comes with an oversimplified interface. As you can image, this can be a good or bad thing – depending on what you need.
Anonymizer: Anonymizer, on the other hand, has this weird little window that's essentially attached to the bottom of your screen. It's too easy to make it disappear if you accidentally click outside of it and all the functions are cramped together in a clumsy stack of drop-down menus. Needless to say, we're not fans of this UI style.
Winner: Buffered has a pretty standard mobile-style client, but it's a better experience than Anonymizer's awkward and old-school software.
Server Locations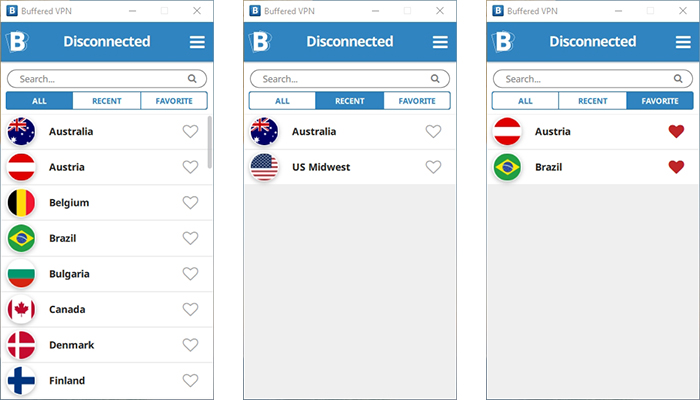 How many servers or locations a VPN has is not always the clearest indicator of which one is the best, but it is important to know whether they have servers either in your own country (for speed) or in a country you want to appear to be in.
Buffered VPN: Buffered doesn't say how many servers it has, but estimates put it over 500 based on what they've said before. While they only have 45 countries covered, it's a decent spread. Moreover, you can actually put in a request for new locations and if enough people are interested, they'll spin up new servers there.
Anonymizer: When it comes to Anonymizer, you'll be A-OK if you wanted San Diego and Amsterdam. Sadly, those are your only two choices. The upside is that Anonymizer completely owns and controls the servers at those locations, so from a privacy standpoint, it is actually great.
Winner: Buffered has 46 countries covered. Anonymizer has two, so you do the math. Unless you only need to secure your browsing but do something things online, Buffered VPN is your best bet.
Speed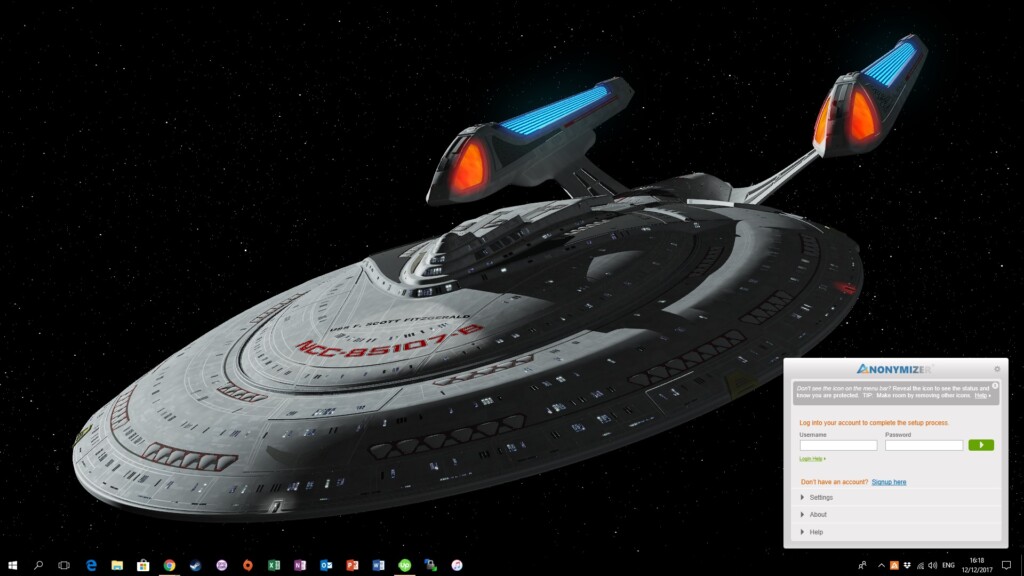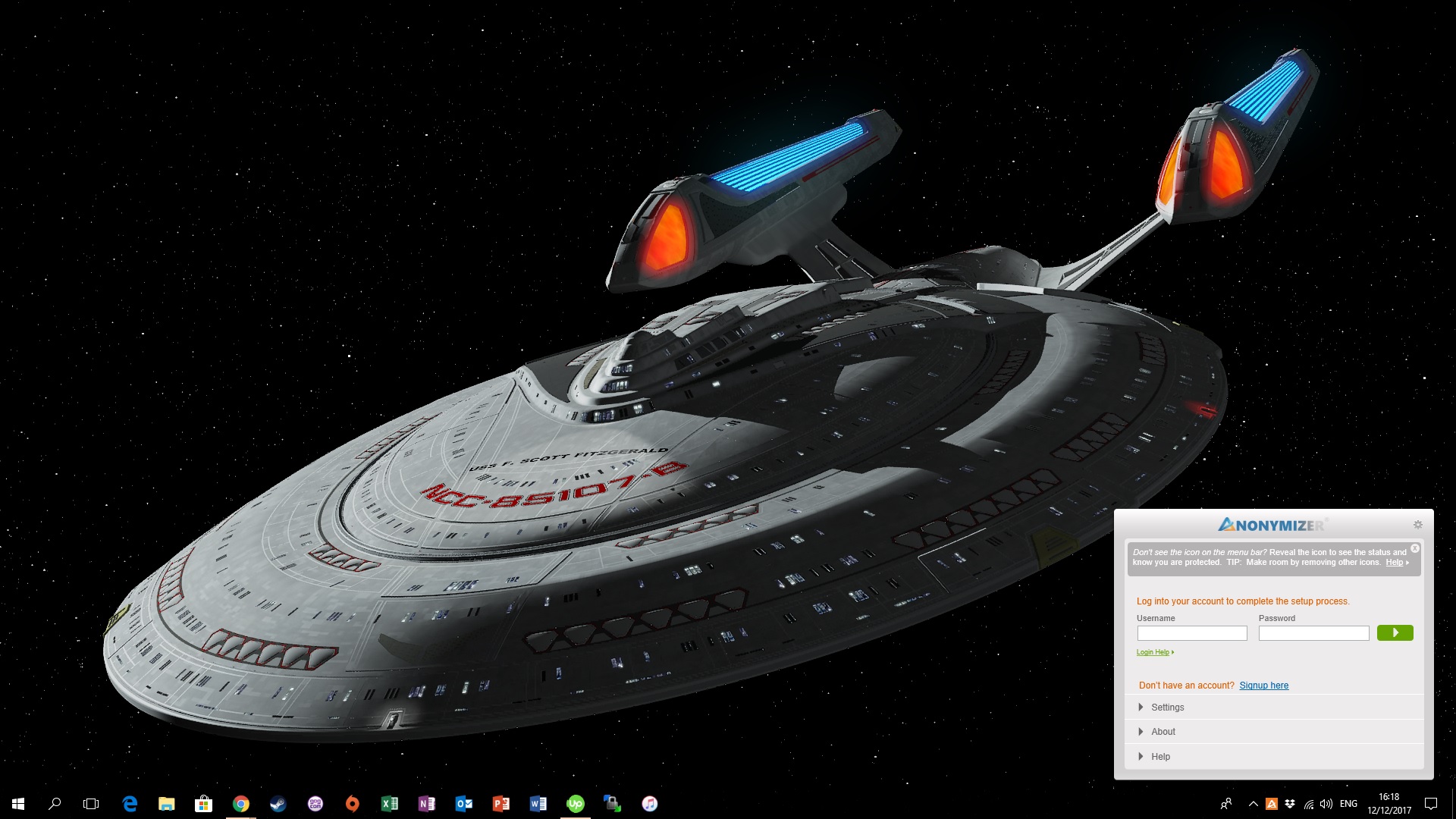 When using a VPN, you don't want your Web connection to come to a halt. Instead, you want to be able to stream the latest 4K videos and enjoy your Web connection up to its full extent.
Buffered VPN: The most important thing you must know is that Buffered VPN has an amazing reputation when it comes to performance. During our tests, this VPN performed admirably. Even though some throttling might happen, you should still be able to stream high definition videos and download large files. The only problem that we've encountered is that Buffered VPN might not be an ideal option for online gaming. However, gamers should really stick to highly specialized VPNs that offer low latency.
Anonymizer: When it comes to Anonymizer, online reviews tend to be quite polarizing. While some reviewers have praised its performance, others have noted numerous problems. In our case, we've faced a huge level of throttling. Anonymizer slowed down our connection up to a point when Web browsing became impossible. Needless to say, we can't recommend Anonymizer due to this issue.
Winner: Buffered is one of the fastest VPNs we've tested. Anonymizer is one of the slowest which is why we strongly recommend you to be cautious if you plan on using this VPN.
Security & Privacy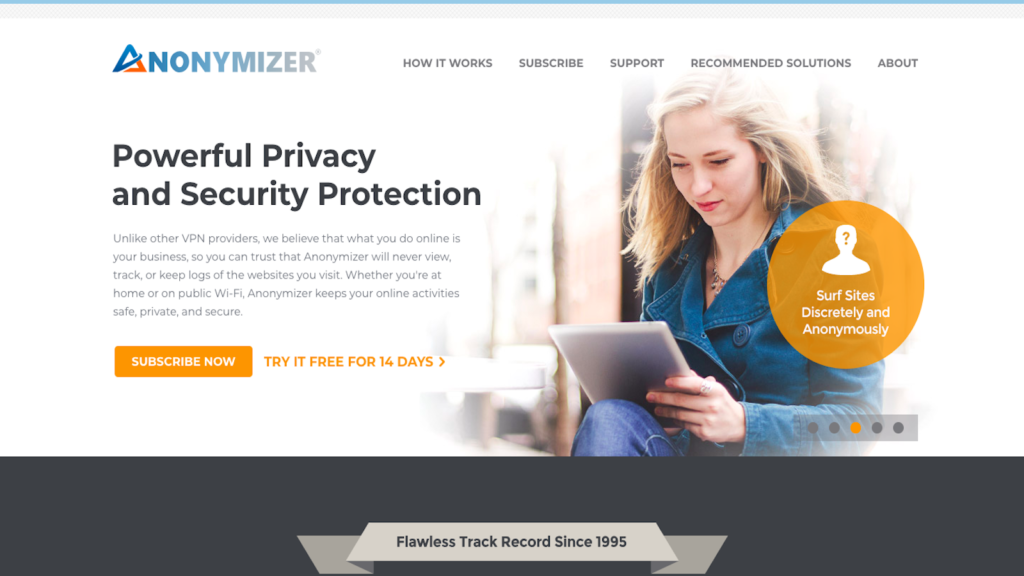 The main goal of VPNs is to protect your private data and your Web browsing history from leaking out. So, you need to ask yourself if your chosen VPN keeps your private data or if its servers truly don't process any logs.
Buffered VPN: Buffered is not as privacy friendly with some minor logging which is kept for 30 days. Not too bad, but the truly paranoid won't stand for even that much information being kept. Still, you need to know that Buffered VPN keeps non-identifiable data and you can even opt out. This should give you a piece of mind when browsing the Web.
Anonymizer: Anonymizer absolutely stores no logs. They own and directly operate their own servers. Privacy is just about the only thing they care about and it shows.
Winner: It should be no surprise that Anonymizer's claim to fame is where it shines with true zero logs, strong encryption, and total network control.
Customer Service
If you truly care about your privacy, you will use a VPN every time you go online. So, what should you do in case your VPN can't start? Well, you turn to a support team which is why it's important to know how quickly you can resolve your problem.
Buffered VPN: Buffered VPN has the whole range of support services. They have live chat, email support, a good FAQ and really well-written guides. It's a very well-rounded support ecosystem. On top of all this, you can be always sure that you'll receive a response in a timely manner.
Anonymizer: Anonymizer does not offer a live chat service, but they have always-available email support and at least some guide material if you get stuck in the meantime. On paper, it's not too bad, but after the first support email from us, the company basically ignored us it seems, which means it was never going to win in this instance.
Winner: Anonymizer ditched our support request, so we think that Buffered VPN wins by default.
Pricing

The final segment of our Buffered VPN Vs Anonymizer comparison is about pricing. Let's take a look at how much these services cost and what they bring for their price.
Buffered VPN: Just like numerous other VPNs, Buffered brings a range of pricing plans. The most expensive one is the monthly plan, priced at $12.99. Of course, the price goes down if you decide to subscribe to a yearly plan. In this case, you'll pay $99.00 for 12 months and you'll get one month free of charge.
Anonymizer: Strangely enough, Anonymizer has a free and paid plan. You can use the free plan for up to 14 days. Then, you'll need to pay $79.99 for one year. Even though this is more affordable than what Buffered VPN offers, it just doesn't hold its value.
Winner: Buffered might seem expensive, but Anonymizer forces you to buy an annual plan. Therefore, Buffered VPN takes this round.
Buffered VPN Vs Anonymizer: Which One To Pick?
It's pretty much should be obvious at this point that Buffered VPN wiped the floor with Anonymizer. The US-based service is highly-focused on just one use case and has geared their service to fulfill it. That's commendable from one point of view, but most VPNs offer privacy levels more than good enough. Unless your last name is Snowden, then you probably don't need that much emphasis on privacy. In any case, there are other VPNs out there which offer similar privacy but also manage to compete with other big name services.
Buffered is a very good VPN and it would be higher in our estimation if they lower their prices. There are cheaper VPNs that do just as much, but in this specific comparison, this higher price is worth the added functionality of Buffered over Anonymizer. This is why it gets the title winner in this matchup. Go ahead and check out Buffered VPN on your own!
Final Thoughts
Dear readers, this is where we end our Buffered VPN Vs Anonymizer comparison. In case you have any questions, don't hesitate to post a comment below.
Finally, we'd like to ask you to share this article online. Also, don't miss out on your chance to follow us on Facebook and Twitter. Let's stay in touch!