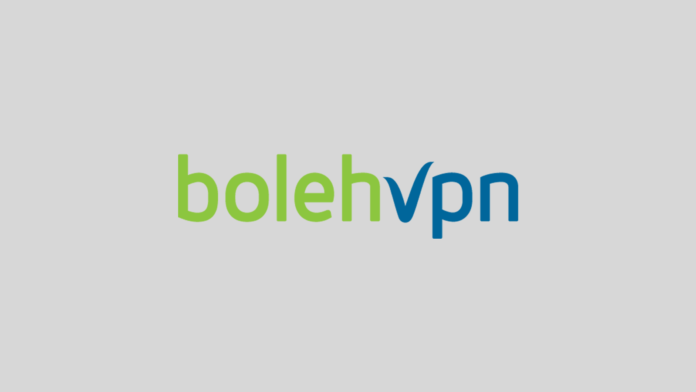 We can easily understand your frustration when choosing which VPN service to use. Today's global market is oversaturated with numerous options, all of which seem to be close to identical – at first glance, at least. However, that's why we're here to help – by dissecting, reviewing, and testing VPN services. And in this article, we'll be talking about a relatively unknown option, called BolehVPN.
Just because BolehVPN isn't one of the big-name VPNs doesn't mean that it comes without any benefits. In fact, choosing a lesser-known VPN can often help you save plenty of money while getting the features you want. With this said, doing a bit of research online can certainly go a long way. So, let's get started with our BolehVPN review, and the first step is to introduce you to its most prominent features.
Quick Facts
Jurisdiction
Seychelles (Malaysia).
Logs
No individual connection/usage logs.
Number of Servers
14 countries, 35+ servers.
Parallel Connections
3
Encryption Standards
256-AES-CBC; OpenVPN, L2TP.
Speed Reduction
15.5% on average.
P2P Support
YES
Live Chat Support
YES (not 24/7).
Supported Platforms
Windows, macOS, Linux, Android, iOS, routers.
Price
Starts at $3.70/week; $9.99/month.
Next, we understand the importance of media streaming. A reliable VPN shouldn't limit this kind of online activity; On the contrary, it should allow you to unblock new kinds of websites. We've tested BolehVPN to see if it's working with the most popular streaming platforms, and here are the results.
Media Streaming Support
American Netflix
YES/NO (not right now).
Hulu
YES/NO (not right now).
BBC iPlayer
NO
Amazon Prime Video
NO
Kodi
NO
And finally, we have one more table for you. Let's go over the biggest pros and cons of using BolehVPN as well as our conclusion after having reviewed this VPN. Take a look.
The Bottom Line
Pros
An interesting set of features; No data leaks; Reliable performance; Strong encryption.
Cons
Overly small server network; Outdated UI design; Problematic background; Can't unblock Netflix.
The Final Verdict
BolehVPN has some things going for it, but overall – we believe you'll easily find a much better VPN service out there.
Our Score
5.6/10
We're now finally ready to dive deep into various aspects of this VPN service. So, if you'd like to learn more about BolehVPN, make sure to stick with us until the end of this article. Let's proceed, shall we?
BolehVPN – TechNadu's Hands-On Review
Just like we do in our every VPN review piece, we'll be checking individual aspects of BolehVPN. By rating those individual aspects, we'll reach a final score by the end of this article. To learn more about this process, here's how we review VPNs.
Background, Jurisdiction & Reputation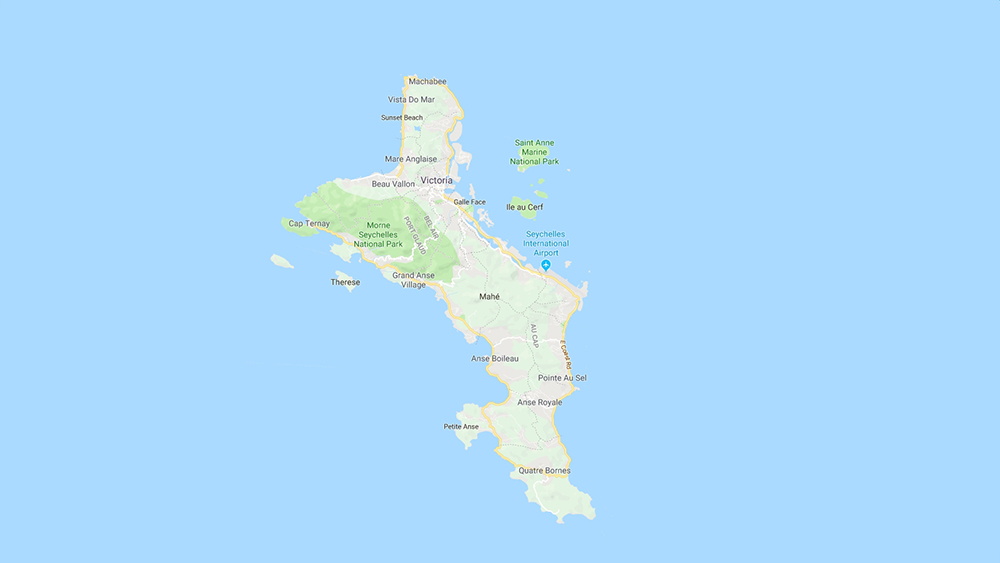 BolehVPN operates under the jurisdiction of the Republic of Seychelles. However, its background is somewhat confusing as it has ties to Malaysia as well. Our Score: 3/10.
The first segment of our BolehVPN review is related to this VPN's background. We've checked where this VPN comes from, as well as what that means for its subscribers.
Jurisdiction & Applicable Laws
As you'll see on this VPN's website, the company behind BolehVPN is called BV Internet Services. Furthermore, it operates under the laws of the Republic of Seychelles. This is good news because it means that BolehVPN isn't in a member country of the 14-Eyes Alliance. In general, it's believed that this country provides a safe haven for VPN-related businesses. This is also the reason why a number of VPN services have chosen this country to base their operations, including Astrill VPN, FrootVPN, and Trust.Zone VPN as well.
It should be also noted that BolehVPN has ties with Malaysia. More precisely, one of the founders of this VPN is Ruben Yap, also connected to Zcoin. After finishing his studies in the United Kingdom, Yap returned to his home country of Malaysia and founded BolehVPN SDN BHD – which is what you'll see on your personal financial reports after you pay for this VPN's subscription. It's not known what's the relation between BolehVPN SDH BHD from Malaysia and BV Internet Services from Seychelles. However, considering that BV Internet Services mentions Seychelles in its monthly warranty canary, this clears up some doubts (up to some point).
Previous Data Leaks
In the past, there were some reports on BolehVPN leaking IP addresses via WebRTC. However, representatives of this VPN have never published any statements regarding this. So, we don't know if this leak was fixed in the meantime. Also, it's worth noting that there are no reports of this VPN collecting sensitive information or sharing that information with third parties.
All in all, BolehVPN doesn't leave a positive first impression. Even though there are no alarming reports that would force us to recommend avoiding this VPN, we would still recommend caution while using it. Of course, we'll test BolehVPN for leaks later on in the article, so make sure to keep on reading.
Supported Platforms & Devices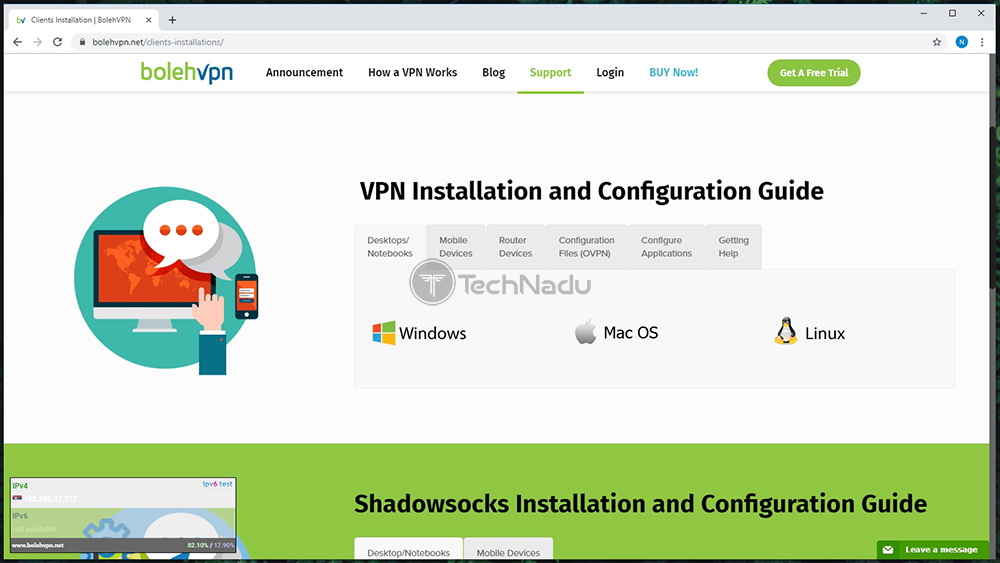 BolehVPN is compatible with the most popular platforms. However, it falls short when it comes to Web browsers, media streamers, and other types of devices. Our Score: 6/10.
Next, let's see what kinds of devices are compatible with this VPN service. More precisely, we'll see which platforms are covered by native software.
Platform Compatibility
Desktop Platforms
Windows, macOS, Linux.
Mobile Platforms
Android, iOS.
Web Browsers
N/A.
Routers
Sabai routers, ASUS-WRT, DD-WRT.
Other Devices
N/A.
We can see that the most popular platforms are covered by this VPN. The good news is that BolehVPN offers support for OpenVPN, which opens up this VPN's compatibility to a broader range of devices. This also includes routers, which is a major benefit. BolehVPN supports up to three devices at the same time, which isn't much. However, you can install it on a router, which takes a single 'empty slot' of your subscription. This means that you'll have two more 'slots' for additional devices, so you can use this VPN on the go as well.
In general, you should know that you can easily find VPNs that support a broader range of devices. More importantly, those VPNs come with similar pricing as this one. With this said, it's safe to say that you can find much better options out there.
Installation & Initial Configuration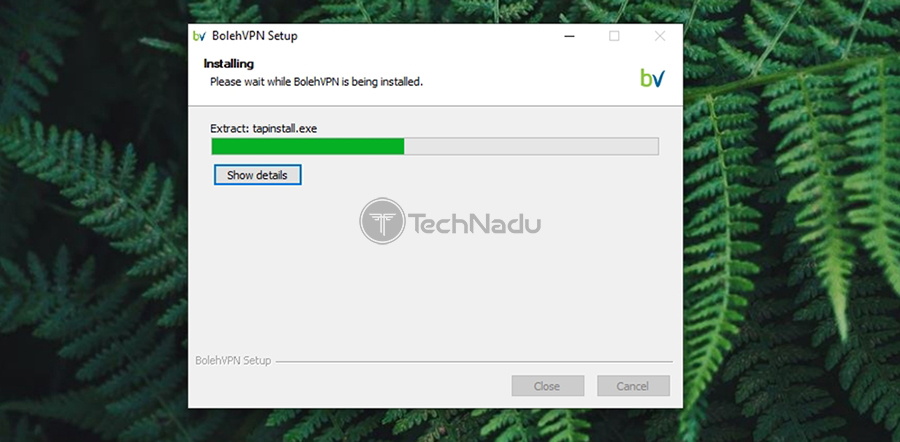 Getting started with BolehVPN is easy – even if you're a complete beginner. Download the installation file, activate it, and finish the procedure. Our Score: 10/10.
As you can imagine, the first step is to subscribe to BolehVPN. Alternatively, you can take advantage of its 1-day free trial by signing up (if you're a new user). Once done, proceed to log-in to your dashboard on the VPN's official website. This is from where you can download applications for various platforms.
Alternatively, if you're an existing user and want to download BolehVPN, you can go to Main Menu > Support > Clients Installation, on its website. This is where you'll find different versions of this VPN, made for different platforms. Once you download the installation file, click on it to start the process. As you'll see, there's nothing strange or unusual here – it's just like installing any other application on your computer or smartphone. The entire process shouldn't take more than a few minutes of your time.
Prominent Features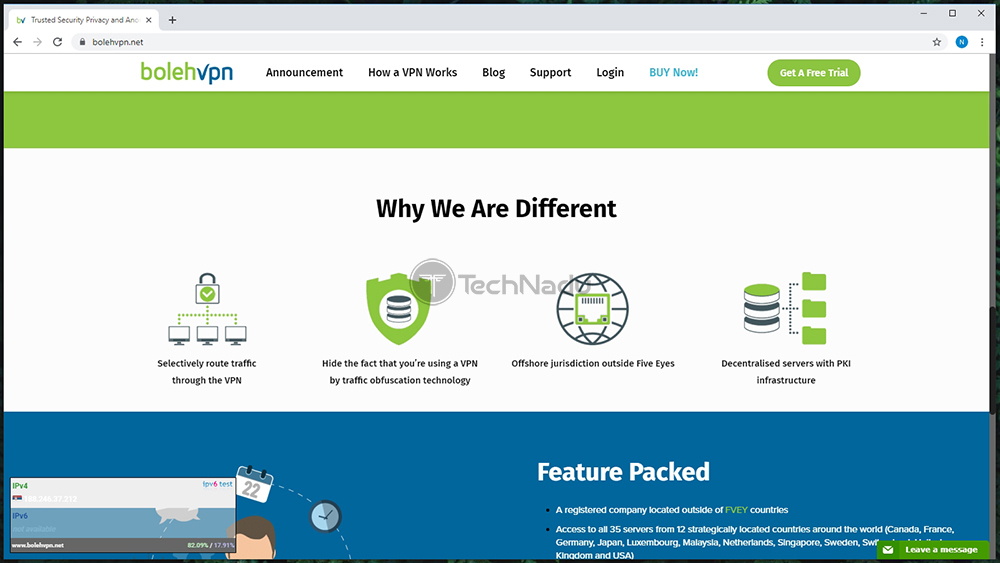 Surprisingly enough, BolehVPN comes with a strong set of features. There are also more advanced features such as IPv6 leak protection, kill-switch, and more. Our Score: 8.5/10.
Now, let's check what kinds of features you can expect. We've created a list of standard and advanced features, so let's go over this list.
VPN Features Checklist
DNS Leak Protection
YES
IPv6 Leak Protection
YES
Kill-Switch
YES
Ad-Blocker, Anti-Malware
NO
Unlimited Server Switches
YES
Unlimited Bandwidth
YES
Unlimited Data
YES
Surprisingly enough, BolehVPN brings some features that we usually don't find with other VPN services. For example, this is one of the rare VPNs that natively support IPv6 traffic. In addition, you'll also find a kill-switch, which means that your identity is protected even if a secure connection becomes compromised. And finally, you get unlimited server switches, bandwidth, and data.
You must be also wondering what's missing here. Well, you won't find any ad-blockers or anti-malware tools. This means that you'll need to rely on third-party solutions to block ads and malware. Of course, we'll also need to check if those leak protection measures actually work, so make sure to keep on reading.
Server Count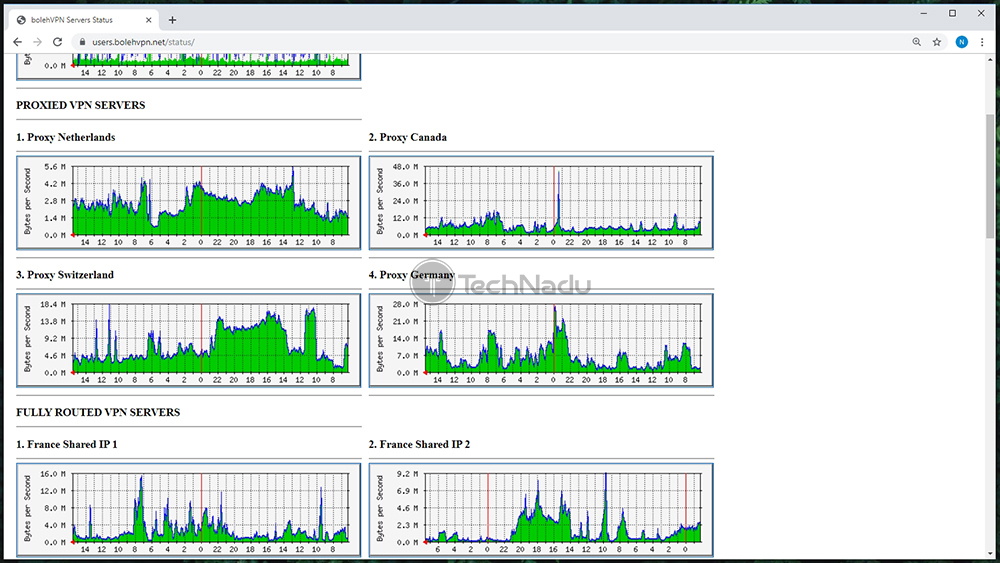 BolehVPN comes with a very small server network – one of the smallest we've seen yet. Obviously, this is very disappointing. Our Score: 1/10.
In this segment, we will check how many servers this VPN brings and in how many countries. Then, we'll compare those numbers to what top-rated VPNs offer.
Server Count Info
Number of Servers
35+
Number of Locations
N/A
Number of Countries
14
Specific Cities Selection
NO
Unlimited Switching
YES
We can see that BolehVPN disappoints when it comes to the size of its server network. Despite being around for more than a decade, it has servers in 14 countries only. In addition, you won't find any precise numbers regarding how many servers are on offer. However, when you start using the application, you'll see that there are around 35 options to choose from.
It's also disappointing that you can't connect to individual cities. Also, there's no way to filter the list of available servers or make a list of your favorites. However, we will discuss this in the next segment of this review. Finally, we'll conclude this segment by saying that today's top-rated VPNs bring between 3,000 and 5,000 servers – so you can see how much BolehVPN is behind those.
Ease of Use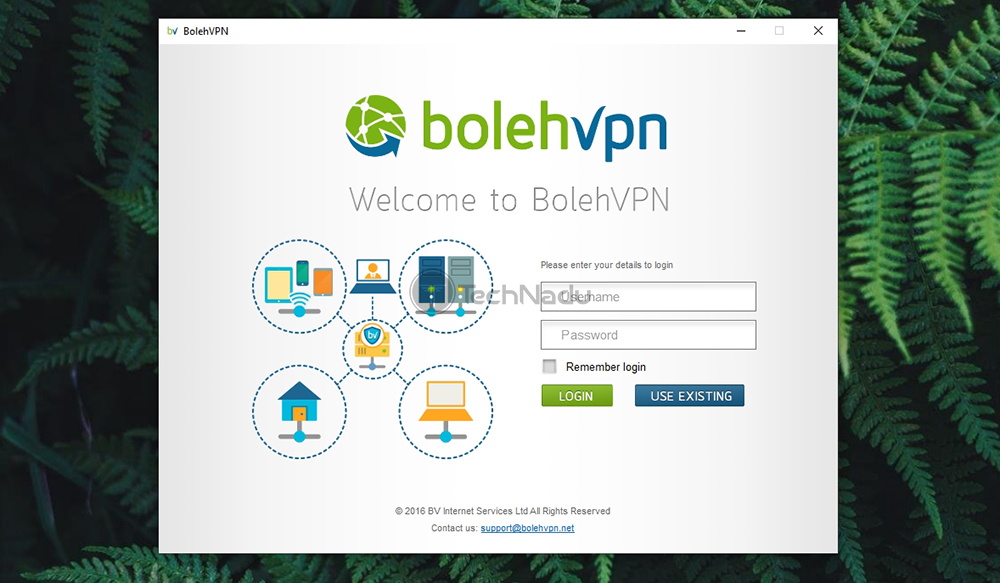 This VPN comes with an easy-to-use interface. However, many VPNs come with more polished UI designs that are easier and more pleasurable to use. Our Score: 5/10.
The home screen of BolehVPN shows you everything you need to get started. You get to pick a server on the left side of the screen by choosing a server and then clicking on the 'Connect' button. Once you connect, you can see real-time stats both at the bottom and top of the screen. This information includes your real and 'fake' IP address, how much data you've transferred (download and upload), and more. And finally, the home screen also shows your account details.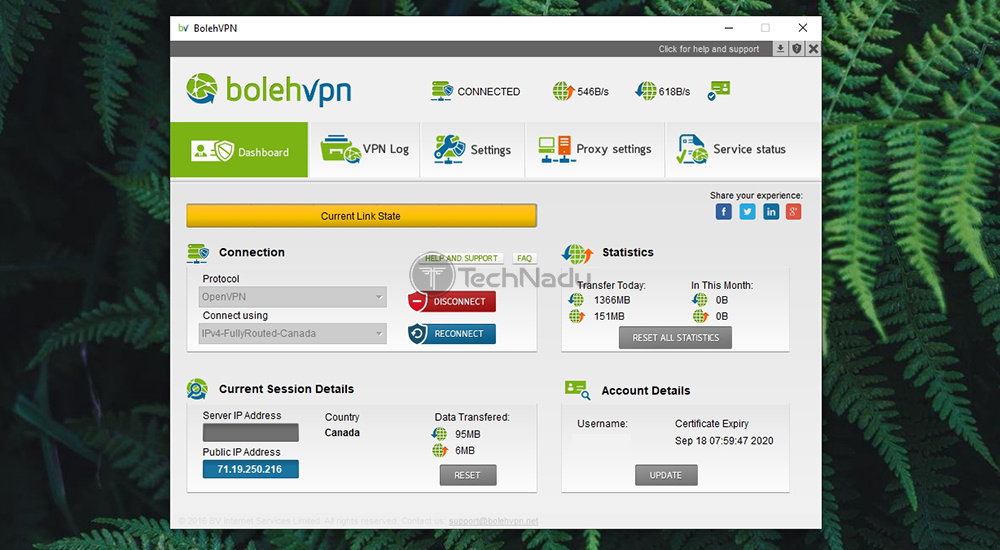 BolehVPN also comes with four other tabs at the top of the screen. So, let's explain what each of these tabs allows you to do:
VPN Log: As you start using the VPN and connect to different servers, you'll see detailed logs of everything that happens in the background. This can be useful in times of technical problems.
Settings: There isn't plenty of customizing when it comes to BolehVPN. You can choose to start the VPN on system startup, connect to a specific server, enable/disable kill-switch and DNS leak protection, and a few other options.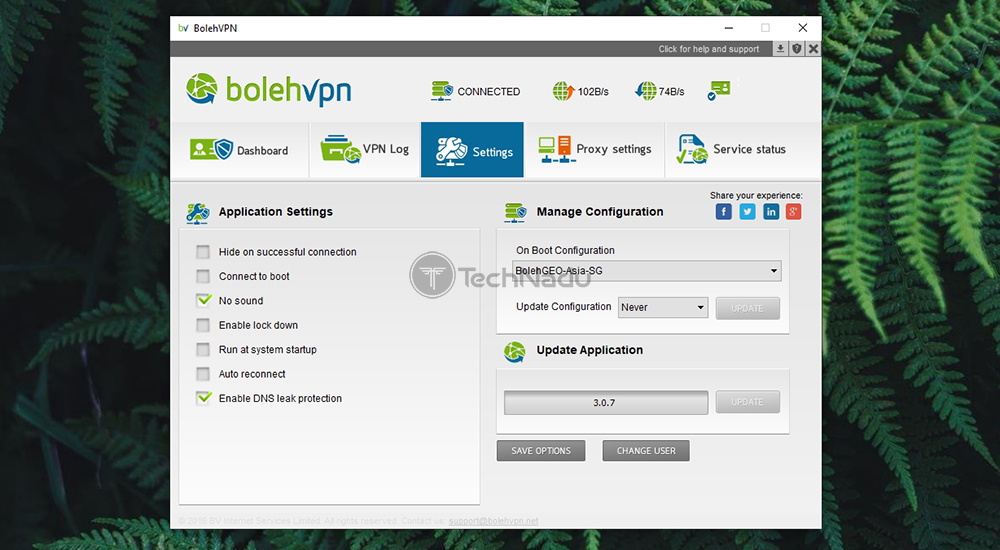 Proxy Settings: In case you want to use a specific proxy, there's an option to do that. You can use HTTP or SOCKS proxy, enter your authentication information, and that's it.
Service Status: Finally, this tab allows you to check the current status of BolehVPN servers. In other words, you can ping all servers and receive valuable information on which one to connect. Make sure to use this option if you care about maintaining the speed of your Web connection.
All in all, BolehVPN seems easy enough to use. However, we also have to note that many VPNs come with a more polished UI design. And also, BolehVPN is very slow to update its UI, with the latest update being published in 2016. We don't have to tell you that plenty can change in 12 months, let alone in a few years.
And finally, one more note. Quite often, this VPN takes more than a minute to connect to a secure server. With other VPNs, this usually happens instantly. So, even though this isn't a major downside, it can be very annoying in the long-term.
Media Streaming & Torrenting Support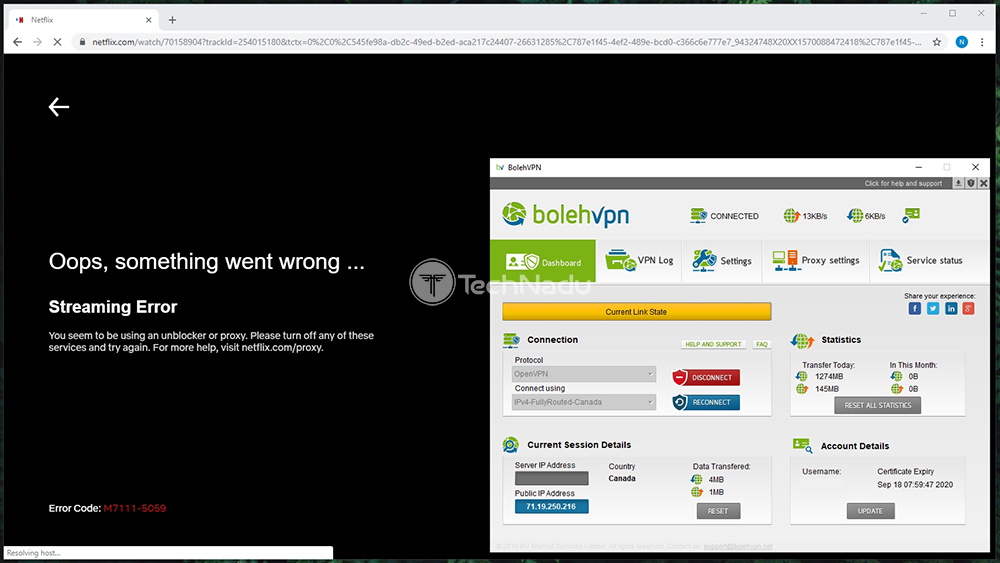 At the moment, BolehVPN can't unblock media streaming websites. However, it promises to offer a fully working solution soon. Also, P2P works just fine. Our Score: 3/10.
So, can BolehVPN unblock Netflix, Hulu, and other media streaming services? Don't worry, we have the answers! We've done a round of tests, and here are the results.
Media Streaming & Torrenting Support
Netflix US
NO/YES (not right now).
Hulu
NO/YES (not right now).
BBC iPlayer
NO
Amazon Prime Video
NO
Torrenting (P2P)
YES
BolehVPN used to have a series of 'BolehFlix' servers, capable of unblocking various types of media streaming platforms. However, these servers are temporarily not available, which means that you can't unblock those websites right now. Still, the team behind this VPN is promising to come up with another feature soon that will allow you to stream content online. In the past, this was one of the rare VPNs to unblock both Netflix and Hulu, so we hope to see BolehVPN coming up with a fully working solution soon.
In terms of torrenting, you can count on protecting your P2P traffic. BolehVPN explicitly says that torrenting is allowed, and it recommends using uTorrent for this purpose.
Security & Privacy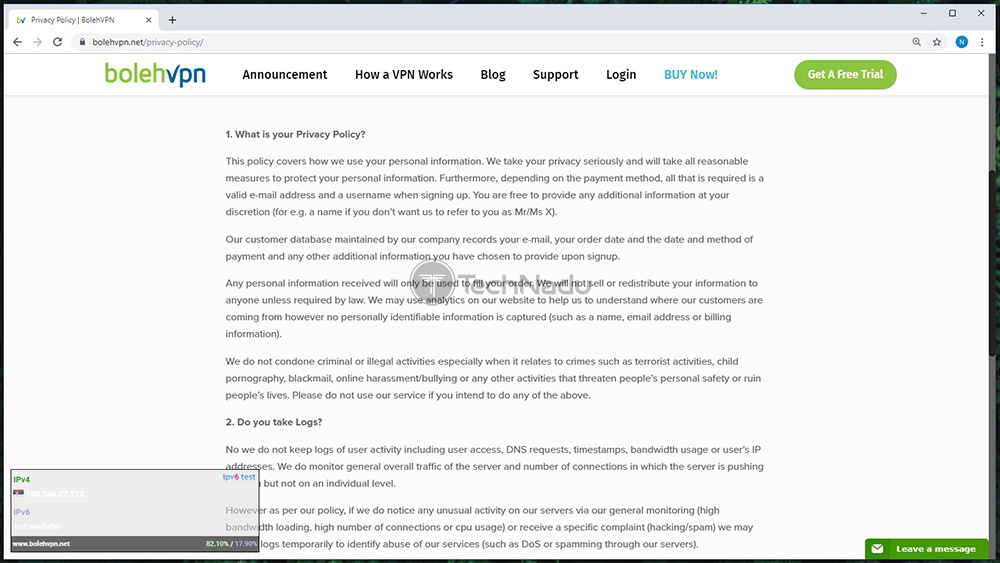 In general, BolehVPN seems like a reliable option for average home users. More advanced VPN users will want something more powerful and flexible. However, it comes with secure encryption and doesn't leak private data. Our Score: 8/10.
We'll check three aspects in this segment, with the goal of checking how BolehVPN protects your personal information. So, let's talk about this VPN's encryption standards, logging policy, and whether there are any DNS leaks.
Supported Encryption Standards
In terms of encryption, you can rely on AES-256, considered to be highly secure. More precisely, this type of encryption is among the strongest types right now, giving you peace of mind when browsing the Web. And when it comes to the available VPN protocols, you can choose from OpenVPN and L2TP. Our recommendation would be to use OpenVPN, as it comes without any currently known vulnerabilities.
Logging Policy
As noted in this VPN's privacy policy, BolehVPN doesn't collect logs about your specific online activity. In other words, it doesn't log your DNS requests, timestamps, bandwidth usage, or your IP address. However, it keeps track of 'general overall traffic', monitoring the performance of their servers.
Even though it doesn't collect information that's specific to a certain user, this entire system is being monitored on a larger level. This means that BolehVPN isn't really a 'no-logs' VPN. Differently said, average home users have nothing to be worried about. Still, those who seek the best possible type of protection should probably search for another option.
DNS Leak Test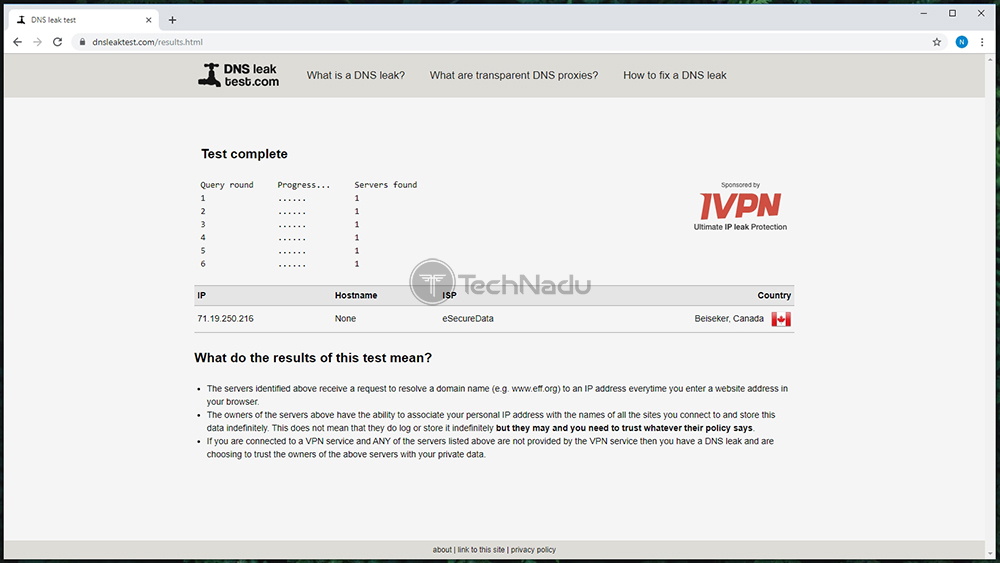 As you can see, we've discovered no DNS leaks. This means that your entire Web traffic goes through this VPN's tunnel, without any leaks. So, your private information remains hidden from anyone else on the Web.
Speed & Performance
Surprisingly enough, BolehVPN offers speedy performance – without throttling your Web connection by much. Our Score: 9/10.
It's true that VPNs boost your online security. However, this usually comes at a price of downgrading the quality of your Web connection. So, let's see what kind of performance this VPN offers.

First, we needed to establish some baseline data. This is done by checking the speed of our Web connection, without having the VPN involved. As you can see, we managed to get 146.93 Mbps for downloads and 9.78 Mbps for uploads.
Next, there was a speed test of a nearby server. We're located in Europe, and we managed to find a server in the Netherlands. As you can see from the screenshot above, we got 121.04 Mbps for downloads and 9.35 Mbps for uploads.

Then, we also checked the speed of a remote server – found in Canada. After connecting to such a server, we ran another speed test. This time around, we managed to get 128.37 Mbps for downloads and 8.93 Mbps for uploads. To understand how much throttling is going on, we've put all of those numbers into a table, found below.
| | | | |
| --- | --- | --- | --- |
| | Download Speed | Upload Speed | Speed Reduction |
| Baseline Data | 146.93 Mbps | 9.78 Mbps | 0% |
| Nearby Server | 121.04 Mbps | 9.35 Mbps | 18% |
| Remote Server | 128.37 Mbps | 8.93 Mbps | 13% |
On average, BolehVPN made our Web connection slowed by 15%. We have to say that we're surprised by this VPN's performance, as it seems to be quite speedy.
Customer Support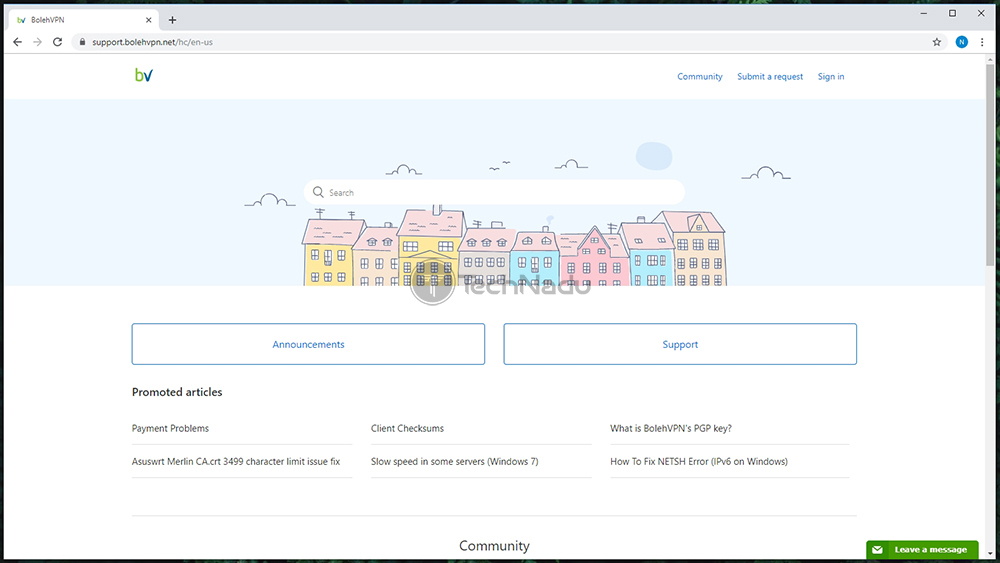 In many cases, you'll be left on your own to fix your problems. BolehVPN comes with a very unpredictable customer support system. Our Score: 3/10.
In times of crisis, there are several customer support channels that you can use. There's a live-chat available on the website, but this option is rarely available. Instead, you'll be asked to leave a message – which means that you can easily create a support ticket. Then, you can check this VPN's knowledgebase and there's also a forum where members of BolehVPN can share their solutions to various problems.
It's true that there are different ways to get help. However, there's also plenty of room for improvement. This VPN's customer support team is very unpredictable – as it can be quick to respond at times, and sometimes they won't even respond to your question (ever). Also, the knowledge-base is quite limited and doesn't really offer plenty of information.
Pricing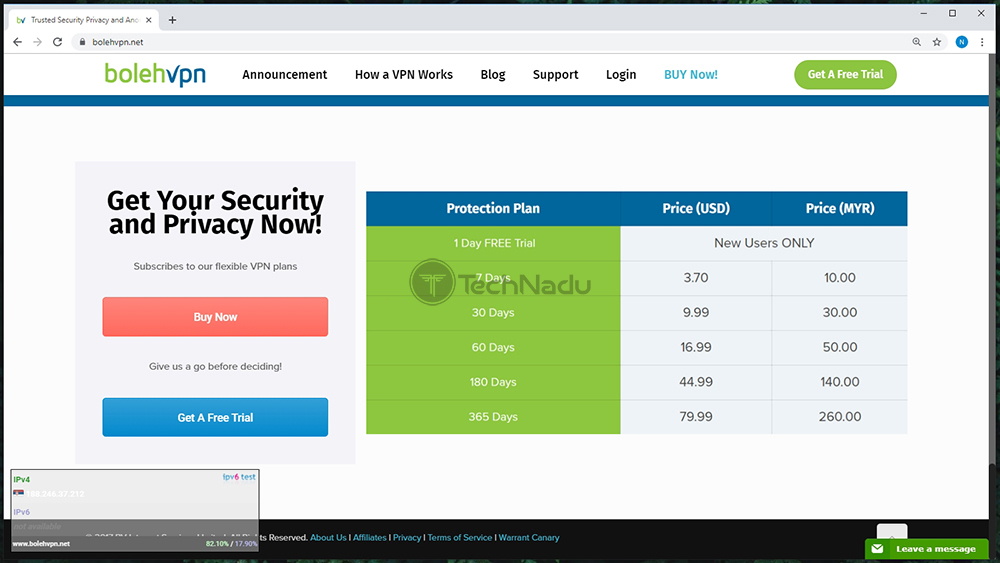 BolehVPN isn't worth its price. If you look around and do your research, you'll find many VPNs that cost less and do more. Our Score: 5/10.
Next, let's check out the pricing plans of BolehVPN. As you can see in the table below, there's a series of subscription plans to choose from, so let's take a quick look.
| | | | |
| --- | --- | --- | --- |
| | Total Price | Per Month | Savings |
| 7 Days | $3.70 | $3.70 | 0% |
| 30 Days | $9.99 | $9.99 | 0% |
| 60 Days | $16.99 | $8.49 | 15% |
| 180 Days | $44.99 | $7.49 | 25% |
| 365 Days | $79.99 | $6.66 | 33% |
One thing is sure, BolehVPN is a pricey VPN solution. If you decide to pay on a monthly basis, the price is $9.99 each month. However, you can find some savings by subscribing to BolehVPN in the long-term. For example, getting its annual subscription will cost you $79.99 – which means that the price comes down to $6.66 per month.
Also, it's worth noting that you can pay via numerous payment processors, including crypto-currencies. You can ask for a refund within 14 days after the activation of your VPN account.
Do We Recommend BolehVPN?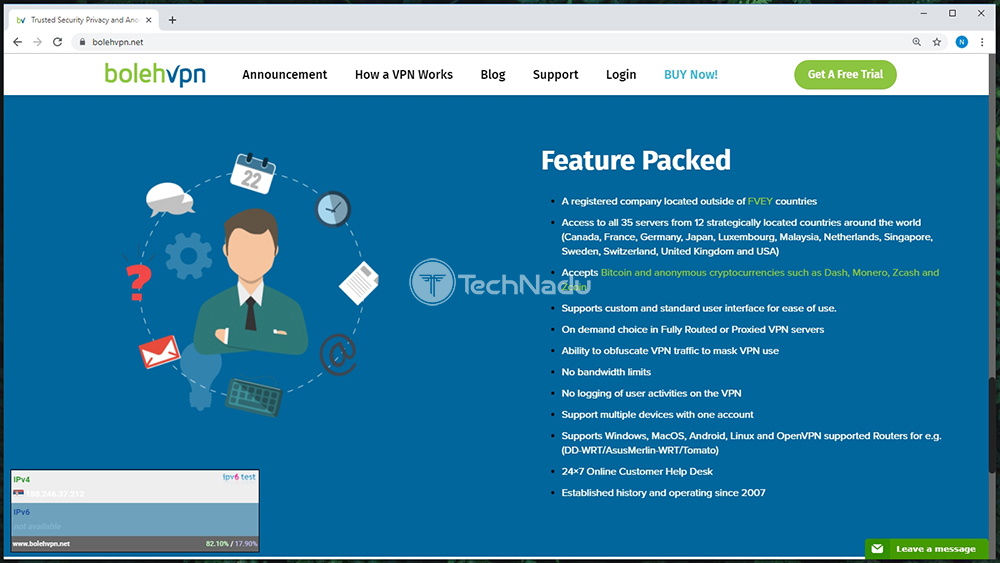 Even though BolehVPN comes with an interesting set of features, it somehow still manages to disappoint. It comes with an overly limiting server network, somewhat outdated UI, can't let you stream media on the Web, and it's not as affordable. All in all, we believe that you can easily find a much better option out there.
PROS: Kill-switch included; Native IPv6 support; No data leaks; Strong encryption; Good performance.
CONS: Overly limited server network; No media streaming; Not usable for website unblocking; Outdated UI; Overpriced.
OUR SCORE: 5.6 out of 10!
In case you'd like to learn more about BolehVPN, make sure to click on the provided link. And if you'd need additional options, here are the best VPNs right now. Make sure to do your research, and we'll sure you'll find a perfect solution based on your needs.
In case you liked this review, we'd like to ask you to share it on the Web. And to stay on top of the latest VPN-related coverage, don't forget to follow us on Facebook and Twitter.