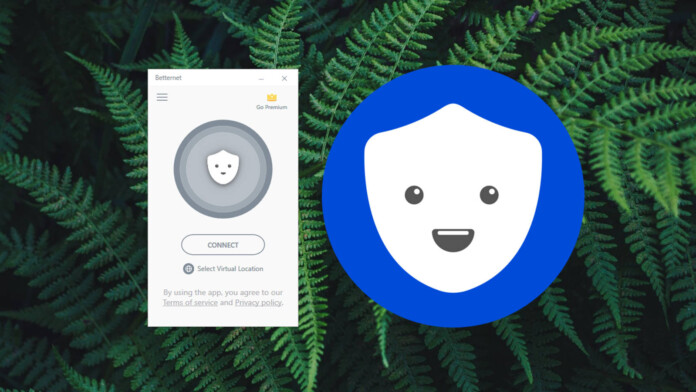 The following is our review of Betternet VPN. Most VPN services have a pretty straightforward business model. You pay a fee on a regular basis and you get a service. Not everyone has the money to pay for a VPN however, so some companies have taken the bold step of charging customers nothing to use their service, finding other sources of revenue.
The VPN I'm reviewing today is one of those companies. Betternet offers a totally free, unlimited VPN service that is fully funded by advertising. As you can imagine, this Canadian VPN provider is flush with users. Counting something like 38 million subscribers as part of their flock. I'm not, however, interested in reviewing Betternet as a free VPN service. After all, you can test it for yourself right now without putting down a single penny, so what would the point be?
No, since Betternet also offers premium paid-for VPN packages, I'll be reviewing it from the same point of view we use for premium services in general. So this is not a free VPN review, but a paid VPN review. That being said, where it's relevant I'll be contrasting the free tier with the premium one. Here are our nine standard criteria and how Betternet fares on each one.
| Criteria | Details |
| --- | --- |
| Features | Basic VPN features: Hides IP and Location. |
| Servers | 10 Countries |
| Logging Policy | No logging |
| Security | 128/256 – bit encryption |
| Privacy | The Privacy Policy is not Privacy-friendly. No DNS leaks. |
| Speed | 0.82 Mbps (optimal server) | 2.55 Mbps (baseline) |
| Price | $11.99 |
| Device Support | MacOS, Windows, iOS, Android |
| How Many Devices At Once? | Five |
| Overall | 3.9/10 |
| Visit | Betternet |
We also test VPNs with three of the most popular streaming services. In the case of Netflix and Hulu, we want to unlock US content. In the case of Kodi, we just want to be private. So streaming performance is all that matters.
| Streaming Service | Result |
| --- | --- |
| Netflix | NO – Proxy Detected |
| Hulu | NO – Proxy Detected |
| Kodi | Yes – Poor Performance |
OK, now let's look at the strengths and weaknesses I found while reviewing Betternet.
Criteria
Betternet
Pros

Basic features
Cloaks user IP
Free version available

Cons

Paid version is expensive
Unreliable
Few regions
Doesn't unblock Hulu or Netflix
Performance is volatile
Betternet VPN has a free version as well. The following table lists the major differences between the free and paid VPN versions.
| Betternet VPN Free | Betternet VPN Paid |
| --- | --- |
| No choice of servers | Ability to choose the server |
| Shared servers between free users | Dedicated servers with less traffic |
| Relatively Slower Speeds | Faster speeds |
Betternet VPN Review
The following is our in-depth review of Betternet, which is based on our extensive tests with this software. We sincerely hope our review helps you make a decision as to whether this is the ideal VPN for your devices.
Supported Devices

Limited device support covering only the most mainstream choices. Our Score: 5/10
You'll find VPN clients here for the main platforms. Windows, Mac, iOS, and Android are supported. There are also browser extensions for Firefox and Chrome. Although OpenVPN is a supported protocol, there's no official mention of supporting routers.
You can connect the standard five devices at once, which is enough for most people. However, without the ability to configure a router device like game consoles and set-top boxes are out.
Here's a quick list of the supported OS platforms:
OS: Android, iOS devices (iPhone/iPad/iPod), Windows, Mac
Browsers: Chrome, Firefox
Network devices/Others: no support
Installation & Setup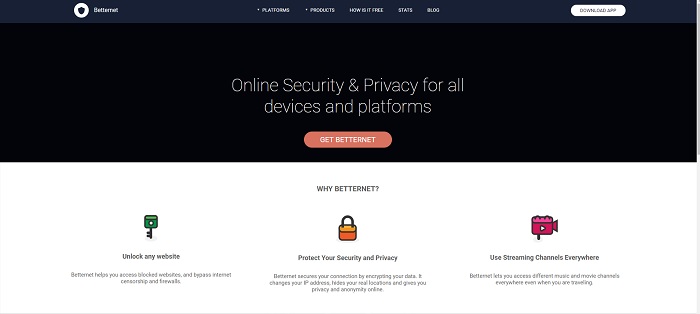 I'm not going to lie to you, installing Betternet and getting it to work represent two hours of my life that I'd like back thanks very much. Our Score: 3/10.
The Betternet website doesn't make prominent mention of the Premium tier. Instead, you just download the client as usual and then initiate the premium purchase from there.
I downloaded the Windows client which then bounced me to a webpage where I had to provide my email and credit card info. I was supposed to receive a verification email, but it never came. Still, the client logged me into the premium tier anyway.
Great, I thought, at least I can test it out despite there being no verification email. No such luck. The VPN flat out refuses to connect. I spent some time in the FAQs and downloaded an alternative client which did work, but would only connect me to the free VPN service.
Thinking this was a Windows issue, I turned to the iPad application. Unfortunately, no matter how many times I resent the verification email it only arrived after the two hour expiry time already happened.
Prominent Features
It's hard to imagine any VPN service being more bare-bones than Betternet Premium. Our Score: 5/10
Betternet is a very basic VPN service. It just does the minimum you'd expect from the technology. In other words, it hides your IP, unblocks regional content and encrypts your internet data.
There's nothing else worth writing home about. No adware or malware filter. Nothing but the plain Jane VPN experience.
Ease of Use
Betternet gets decent marks for ease of use, but only because an on/off switch is slightly less sophisticated. Our Score: 7/10
See that unhappy face up there? I spent a lot of time looking at it as I struggled to get the client working on my Windows 10 machine. In the end, the only solution was to use a computer running an earlier version of Windows.
According to the support forums, some change in a Windows 10 update has messed with the client's ability to connect. So if you're a Windows 10 user be aware that until they fix this bug, you might not be able to use Betternet.
The client itself is very easy to use and that's mainly because there is barely any client to speak of.
I like the little face that quickly communicates to you whether things are good or bad. It's also dead easy to operate. Just pick a location (which only premium users can do) and hit the button. While it's connecting the little face tells you exactly what's going on.
Clicking on the "hamburger" at the top left reveals this screen: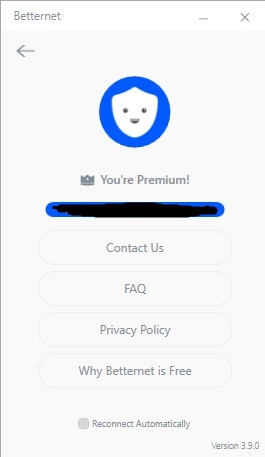 Those buttons are self-explanatory and just link to pages on the website.
Clicking the "virtual location" button will bring up this very short list of countries.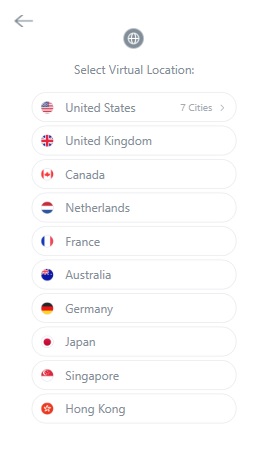 You can't choose specific servers, just regions. There's no information about ping, how busy they are or anything else. Easy and simple for sure, but not much use.
The Betternet website is minimalist. Built off a basic modern web template. They've kept it simple. There isn't much in the way of information there. Either for prospective buyers or existing users. You can really think of the support site as a separate thing. It even has a different design.
The site is also surprisingly light on marketing copy. Most VPN sites will tell you immediately how much they cost, what size the network is and so on. I had to dig in order to even see an acknowledgment that the premium tier exists. I guess because the premium is pushed hard by the applications themselves Betternet doesn't feel the need to market it here. However, one gets the impression that they almost don't want to mention the premium service at all.
Server Locations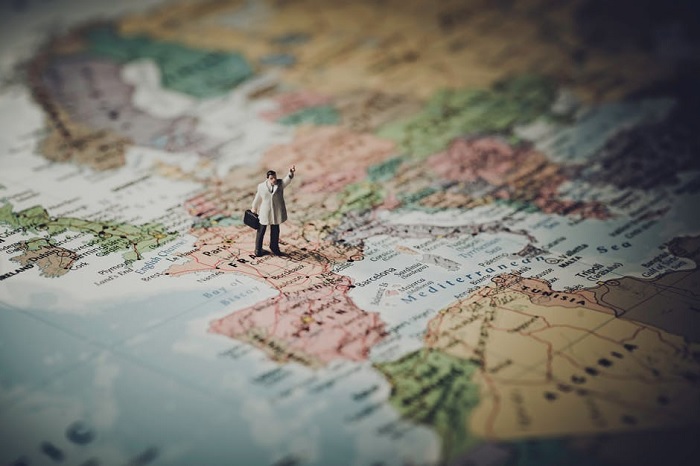 Only ten listed countries with the actual server count being a mystery. A very limited menu indeed. Our Score: 4/10
Most VPN providers put their total number of servers and locations front and center, but Betternet is oddly quiet about the details on their website. In fact, I could not find a reliable report of the server numbers in my research. They do say their servers handle a petabyte of data each month with more than 38 million users, so I assume there are in fact many servers. Nonetheless, only ten countries are listed.
Only premium users can choose a location other than the US, but with so few countries it's unlikely that any of those servers will be local to you or me. If you want to unlock US content you're stuck on the same servers as all those free users too.
Speed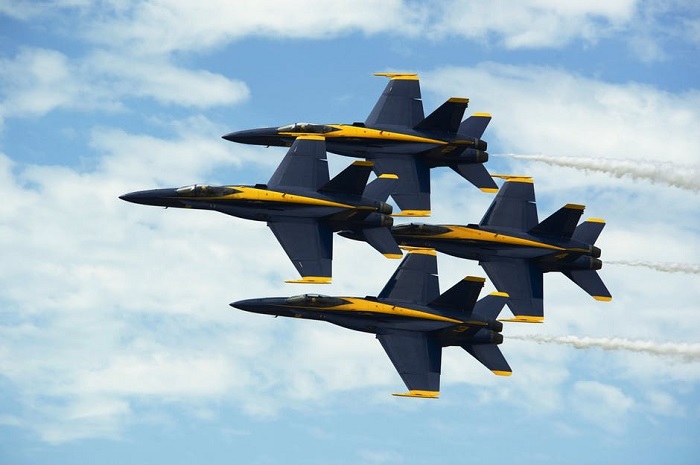 Betternet Premium tanks in our speed test, you can get MUCH faster results for the money. Our Score: 2/10
It must be remembered that speed test results are not written in stone, for, they are reflective of the condition of the network at the time the test is conducted and network conditions are notorious enough to keep fluctuating.
Let's first conduct the baseline speed tests to evaluate the network.

As you can see, the network is performing quite poorly. Let's now turn Betternet VPN on and switch to the Optimal server to see how it performs.

The tool reduces the speed further, rendering the network almost useless. Speed reductions are common with VPN though since all transfers are routed through remote VPN servers.
Let's summarize the speed test results:
Ping: 50 ms
Download: 2.55 Mbps
Upload: 1.48 Mbps
Speed Tests VPN On (Auto-selected server)
Ping: 538 ms
Download: 0.82 Mbps
Upload: 0.45 Mbps
Security & Privacy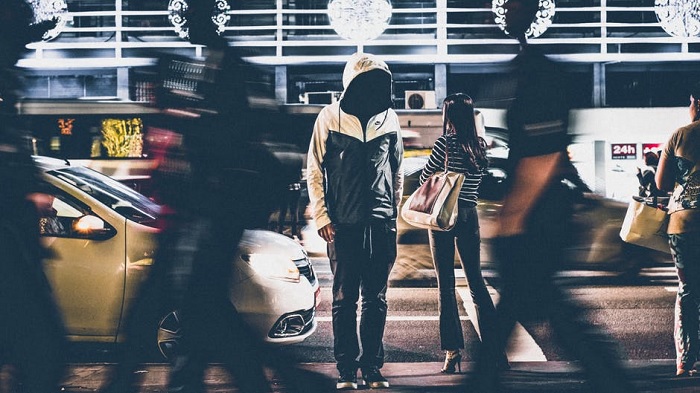 Bad privacy policies and claims of malware infestation mean steering clear of this VPN. Our Score: 1/10
There's no kill switch, which couples with the instability I observed is not good at all. It would be too easy for a dropped connection to reveal my real identity or activity.
Encryption
They use 256-bit encryption on OpenVPN and 128-bit on IPSec. The lower number is still OK for most people, but I never knew which protocol I was actually on since the client doesn't communicate that sort of information very well.
Logging
Betternet claims that it does not log any info that can be traced back to you. The tool does not share or store the real IP address of the user, which is deleted right after the session ends.
The ugliest find I made was when digging in the terms and conditions, where it seems that they give up data to third-parties and do in fact log some data such as access times.
Even worse, the Betternet Android app has been caught with malware in it.
DNS Leaks
Betternet VPN did pass the DNS leak test, so while it's working it seems to work correctly at least.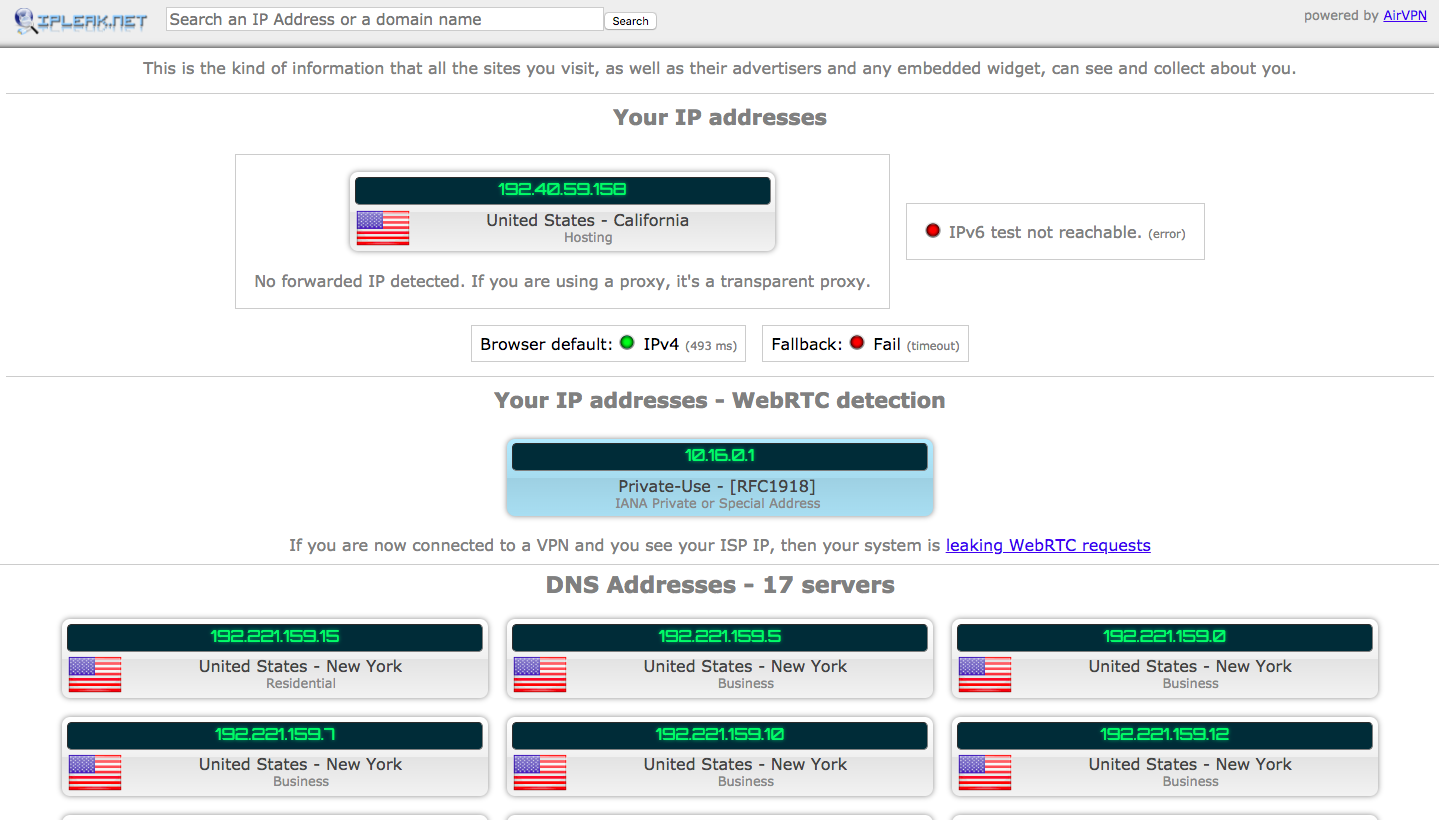 Customer Service
Long turnaround times, even on premium, and a lack of support really brings this score down. Our Score: 5/10
Betternet provides an FAQ, user forum, and email support. Premium users get sent to the top of the pile when it comes to resolving issues.
It took more than 12 hours to get a reply. So despite costing a ludicrous twelve dollars a month, you don't get live chat or fast turnaround times. No thanks.
Pricing
Betternet is far too expensive for what the user gets. At this price, you could do much, much better. Our Score: 3/10
For such a basic service I really was expecting a rock-bottom price. Instead, the company has the audacity to charge $11.99 for a monthly subscription. That's as much as some of our favorite premium VPN services. All of which offer so much more than Betternet.
There is a seven-day premium trial, but beware if you sign up for it via the Windows client. There's no clear way to cancel it before it bills you at the trial's end. With the mobile apps, you can cancel the subscription through Google and Apple's storefront, but Windows users are at the mercy of Betternet's own support systems.
The following is an overview of the pricing plans:
Final Verdict
Betternet needs serious improvements to be able to serve end users. The only great thing about this service is that it offers a free version, which can serve users n a shoestring budget who still wish to stay secure online.
Who Should Use This VPN? – Users looking out for a free VPN option. Many users would be disappointed; the paid version is too expensive, provides an unstable service and you can do much better.
Who Should Not Use This VPN? – While the free version is fine for what it is, I can't recommend the premium Betternet product to no one. There is no reason to go for this service at all.
PROS: Free version; Basic features; Cloaks IP
CONS: Expensive compared to others; unreliable; poor speeds
Final Verdict: 3.9 out of 10!
Buy Betternet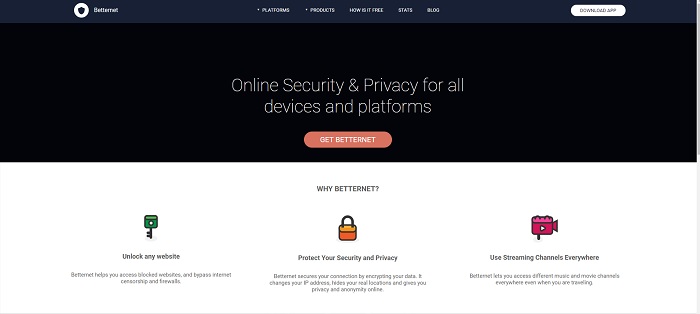 If you've decided to buy Betternet or try the free version, head over to the official Betternet website and purchase your subscription today.
Final Thoughts
I had a truly awful time reviewing this VPN service. At every step, there was something getting in the way of making any sort of use of the technology. Instability and poor performance were just two symptoms of a seemingly larger problem.
I could forgive a lot of these problems if Betternet cost a dollar a month, but at twelve dollars a month you'd have to incur brain damage to think this is the best choice. My recommendation is to give Betternet Premium a wide berth.
Here is where I usually recommend alternative VPN services that make up for some of the weaknesses found in the VPN under review.
In this case literally, any of the better-known premium VPNs would be just fine. If you specifically want to unblock Netflix then ExpressVPN or TorGuard are great options. If you want the fastest possible VPN then I'd recommend SaferVPN. If privacy is your main concern look no further than Hide.Me.