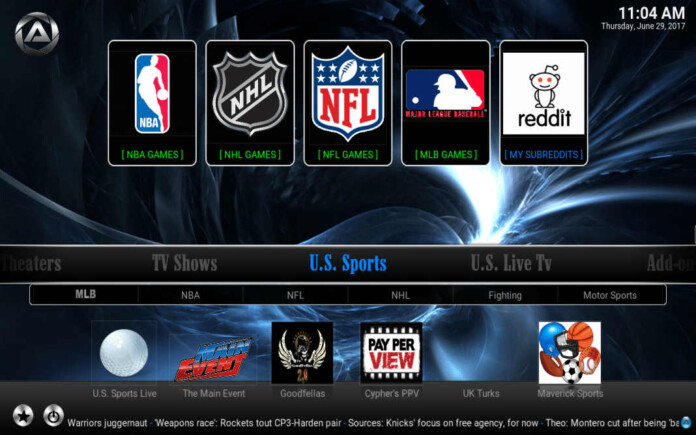 Kodi is an excellent software that allows you to stream TV shows, movies and box sets from the internet or local storage to possibly any device.
In order to get Kodi with a greater speed, we need Kodi build. You have a lot of choices to select the best build that can fulfill your requirements. However, the community of Kodi does not suggest Kodi build. If you need to be on a safer side, it's better to go with the clean version of Kodi. Still, it is more convenient when you use Kodi.
In the month of June, unexpectedly most of the popular Kodi addons and repositories goes down due to some legal issues. A piracy lawsuit is tearing Kodi's add-on community apart. But this doesn't stop Kodi.
Note:
If you are not able to access the censored Kodi add-ons, then you must start using an
IPVanish VPN
. IPVanish allows the user to access all the blocked add-ons on Kodi and it prevents your stream from being throttled. Stop your ISP from tracking your online streaming activity by using an IPVanish.
Access Kodi Anonymously with IPVanish
.
We are now getting a new and best working Kodi addons that replace the old one.
From this article, you will get 100% working Kodi builds that still makes us believe that Kodi is alive and awesome.
Below are the builds that keep growing and improving
Top 3 Kodi Builds for October 2017
Welcome to TechNadu build roundup! Here, we have three different Koid builds named Misfit Mods Lite, Smash 4K and Kryptikz ZT.
Misfit Mods Lite
Wanted to stream Live TV, Sports, Movies, TV Shows, Music, and Videos? Then, Misfit Mods Lite Builds is the best choice for you. It has tons of video streams and multiple sub-categories in each section.
For example, under Live TV section, you have addons like Dhamka TV, eDoctor IPTV, Geo Streamz, Mega IPTV, Mobdro, Pak India Sports, Snappy Streams, Swift Streams, and UKTV Now. Out of all, Mobdro is the best live TV streaming application, watch Sky Sports, BBC, FOX, Showtime, Discovery, Animal Planet, and much more using that. Rather than sports, it also has news, games, politics, documentary, etc. All these streams are fetched from Streamhub live.
Are you willing to stream the country-specific UK channels? Consider using the Uktvnow.
To watch Movies, and TV Shows, go to the respective section and watch the latest streams. The video files are scraped from the different sources. While you try to stream Movies, and TV Shows, most probably you will get the streams from Covenant.
Covenant is a new Kodi add-on that became famous like Exodus. It provides you good quality streams without taking much time to buffer.
For Sports streams, you will get a video file from Sportsdevil and for Music Videos, Bennu is used. For each category field, Misfit Mods Lite Build uses different Kodi addons.
In a majority, they use Bennu, Covenant, SportsDevil, Made in Canada IPTV, Youtube, WatchCartoonOnline, BoB Unleashed, WOLFPACK, UK Turks Playlists, Elysium, Cartoons8, NBC Sports Live, Pro Sport, tvOne1, StreamHub, NewsON, Goodfellas 2.0, Livestream, SkyNet, and NFL Game Pass.
Multiple addon in one single Build is quite amazing
Get this build on Kodi by following the below tutorial
Misfit Mods Lite Installation Guide
Launch the Kodi device and head to Settings > File manager > Add source (Double Tap)
On this new window screen, tap on <None> and enter the path for the media source as http://misfitmods.com/mmwiz/repo/ and click OK
After that, enter a name for the media source as mmwiz and click OK button
Finally, select OK to add a file source to Kodi
Now, head to Kodi home screen and select Add-ons > Package Icon (Add-ons/Add-on Browser) > Install from zip file > mmwiz > repository.misfitmods.zip
After the zip file installation, you will get a pop-up notification on the screen shwoing "Misfit Mods Wizard Add-on installed"
Once you see that, head to Install from repository > misfit mods: Repository > Program Add-on ? misfit mods Wizard > Install
After that, Select Open
From here, head to (Misfit Mods) Builds > [17.0] Misfit Mods Lite (v3.3) (Under Krypton Builds) > (Misfit Mods) Standard Install
Now, select Yes, Install
Finally, force close the Kodi and open it again to open with the Misfit Mods Build
Smash 4K
Smash 4k is capable of scraping 4k and HD videos from different powerful sources which work best on high-end systems like Nvidia, Mac, PC, and other. Get this build via Smash Wizard.
The only disappointment with this build is that it consumes more CPU resources for streaming 4K videos. Absolutely it needs that. They utilize several Kodi video addons like Project M, Falcon, ReleaseHUB, Supremacy, Stream Army, and MorePower for scraping high-quality content.
To attract the user with the user interface, they use Ken Burns wallpaper.
Smash 4K gives an access to categories like My Addons, Weather, Music, 24/7, Favorites, Movies, TV shows, SportsDevil, Live TV, Mens, Her Place, Kids, Soccer, System, Clean-Up, Power.
Smash 4K Installation Guide
Launch Kodi and head to Add-ons > File manager > Add source
Tap on <None> and enter the path for the media source as http://mediarepos.net/kodistuff/ and click OK
Then, enter the name as Kodistuff and click OK
If everything is set correctly, tap OK again to add the file name and source of it to the Kodi
Now, go back to the Kodi home screen and select Add-ons 
Move your cursor to the top left and select Package icon (Add-ons/Add-on Browser)
Select Install from zip file > SMASHWizard(check for updates after installed).zip
After that, you will get a pop-up message on the screen asking you to select Build Menu to install a Community Build. Select Build Menu
Now, it goes to the installation page. Select 4K Build Kryp with EXT Info Mod and then, choose Fresh Install
The installation process will get started and completes in a few matter of seconds
Finally, Reboot Kodi to open with Smash 4K
Kryptikz ZT
Kryptikz ZT is available for download through TeamZT wizard. Explore video streams categories like Movies, My Lists, Recent, Explore, Doc Zone, Sports, Cartoons, System, TV Shows from menu page titles. Like other builds, it also has an add-on but outdated.
Kryptikz ZT gives access to superhero inspired wallpapers.
Kryptikz ZT Installation Guide
Open Kodi from your device and head to Add-ons (from Kodi home screen) > File manager > Add source
On this new window, tap <None> to enter the media source path as http://repozip.teamzt.seedr.io/ and name it as teamzt. After finalizing, click OK
You have added the new file source to Kodi successfully
After that, go to Kodi home screen and head to Add-ons and select Package icon (Add-ons/Add-on Browser)
Select Install from zip file > ZTWIZARD.zip
Once you install this zip file, a pop-up message will appear, requesting you to select Build Menu to install a Community Build. If you need this Wizard, select Build Menu or ignore it
From there, select Kryptikz ZT Edition Krypton and choose Fresh Install.
Other 30 Best Working Kodi Builds
CellarDoorTV
CellarDoorTV is a free and open source Kodi Build created by programmers just for fun. A new update from the CellarDoorTV team makes the Build appears little animated. It resembles like Ubuntu Linux when you turn all the animations on.
Inside the Build, we have an awesome video add-ons like Quantum, Stream Army, Skynet, Pyramid, Kratos, Streamhub, Metalliq, Bob, Coldkeys, UKTurks, Exodus, Specto, Release Hub, White Devil, Vortex, Elysium, Fine and Dandy, and Wolfpack.
Fire TV Guru Builds
If you need to install Kodi on your Amazon Fire Stick, then Fire TV build would be applicable for your purpose. This build was developed by the FireTVGuru website. The build is specially made for Amazon's dongle. Though it has got light weight, it has a great speed, and its features are just mind-blowing. In case you find any distraction in its progress, then you may get tips, tricks and much more from the FireTVGuru Facebook group.
Pulse CCM Build
The Pulse CCM is also a Kodi build that arrives with loads of addons installed in it. This interface is very much similar to the default Kodi Skin that has minor changes. If you need to stream more and more of content, then you can go for Pulse CCM. Thus it offers you with many addons that delight you with surprises.
Learn more to install Pulse CCM Build Kodi
No Limits Magic Build
No Limits Magic Build is an efficient build for Kodi that could be praised for many of its capabilities. It is one of the most efficient builds that almost cover-up everything. It utilizes the Aeon Nox 5 Silvo Skin. The build is updated very frequently. It includes all the popular add-ons like Exodus, Phoenix, and Specto too. It has also got the Famous Live TV IPTV add-ons installed within itself. There are separate sections for movies, TV shows, Live TV and a lot more. So it impresses everyone.
Steps to install No Limits Magic Build on Kodi 17 Krypton
Steps to install No Limits Magic Wizard on Kodi 17.1 Krypton
Titanium Build
One of the best Kodi 17 Krypton builds is Titanium build that has been newly launched. There are movies, Live TV, Live sports and a lot more. Titanium includes many well-known addons like Salts, Tevee, Velocity, Pro Sport, WolfPack, Zen, Stream Hub, Royal We, Goodfellas, Echo Streams, Gobble, Project M, CCloud, Project Cypher, Maverick TV, Sanctuary, Bob, Phoenix and so on. The build is one among the quickest and is amazing for firesticks and the devices that are quite slow.
Instruction to install Titanium Build on Kodi
Megaminds Wookie Build
In case if you are familiar to Kodi, then Megamind is preferable. Megamind does not allow your access with many addons, as of how Dad Life does. But, it has got the most well-known addons that are segregated into specific categories. It includes most of the categories and covers all of them in a beautifully designed User Interface. It offers everything right from classic, cult cartoons to paid subscription services and live sport. With this, we come to know that it very simple to look out for things in Megamind.
Wookie Lite Build
Wookie has developed a number of efficient builds for Kodi. Wookie Lite is also one among them and it does well also. It is an amazing build that is smaller in size with 170 MB. It supports extensive hardware as well. It performs excellently on various hardware platforms right from the Fire Stick to a desktop computer. The most popular addons like the Exodus and Phoenix are also offered. They serve along with a properly designed menu layout.
Learn how to install Wookie Lite Build on Kodi
Wookie Wizard
Wookie Wizard is one of the most popular Koidi builds. It is so because of its ultimate flexibility. Instead of offering you with one build, Wookie Wizard offers you with three builds at the price of one. This depicts that it could be more useful for us. In case you are going for Kodi with a Fire Stick, then Lite build would also give you the best result.
Wookie Builds
Wookie build is a perfect build for Kodi. It has got a great speed and goes on very smoothly. Only if you require an access to the widgets, they appear on the screen. Its streams include Live TV/IPTV, Sports, Sports live, movies, TV shows, kids section and most interestingly it has got an exclusive music category as well. It also offers the required tools that help you to keep your system clean and fast in a more simplified and instinctive layout. There are two kinds of skins and they are The New Look Wookie and The Retro Wookie. Both these are installed in the build already.
Steps to install Wookil Build on Kodi
Hard Nox
The Hard Nox is a modern build that utilizes the Aeon Nox 5: Silvo Skin. Similar to all the other builds this also consists of popular addons like Exodus, Zen, Salts, Specto Fork and so on. There are builds for Kodi 17 Krypton as well as for Kodi Jarvis.
Beginners guide to install Hard Nox Build on Kodi
Hard Nox By Spinz TV
Hard Nox is a good build for Kodi, and it is from the Spinz TV. It offers streams from the most well-known addons like Exodus and Phoenix. Most of its streams are only from Exodus. However it can turn over to the rest of the addons like Phoenix for its sub menus, say Divas Den. There are various different sections like dedicated war and western section.
Apollo
Apollo is one among the best builds of Kodi that is available presently. It seems to be outstanding because of its customised skin. If we go even deeper, we would be able to find almost all the addons that are essential and so on. In addition to that, even when you are on a low-powered laptop or a Fire TV Stick, there would be no circumstances at which your network crashes. This is possible because of the stability of Apollo.
If you wish to download and install Apollo build, then you can simply follow the instruction to install Apollo on Kodi.
Spinz TV Build
Spinz TV build is a premium IPTV wizard for Kodi extension. It also could be considered as one among the best builds that were released this 2017. It includes all the addons that are new and popular and has got loads of content in them.
Followings are the three SpinzTV Kodi builds available. Jump to the topic that you need.
Nemesis
Update: Nemesis Kodi Build is broken down.
Nemesis is a Kodi build that has got the features of your favorite add-ons like Cartoon HD all set to perform. Nemesis has got a clean interface as well so that, it does well on everything. It provides a three line menu system. Hence it is simple for us to skip the unwanted stuff and directly go to the main content or addons that we require. That is, it offers to stream programs quickly.
Follow the step-by-step instruction to install Nemesis Build on Kodi
Ray's Fire Stick Kodi Build
Kodi could be accessed from any kind of devices. Still, it is slow-moving on certain small devices like the Amazon Fire TV Stick. But, fortunately, there are trailers offered to see how various builds work on your device. Ray's Fire Stick build is capable of doing absolutely the same as how it sounds like. You might not this build to be very effective as the others, yet it satisfies all your expectations.
Evolution
In case you are searching for anything that is more advanced than your standard Kodi build, then you can very well opt for Evolution. Evolution is amazing, as it is designed based on the futuristic Arctic Zephyr skin. Evolution is also very similar to it, in its usage. Alike many Kodi builds, Evolution also offers all the popular addons. But, particularly it has got most of the addons, those concentrate on the entertainment of the whole family. Thus Evolution attracts your entire family towards its side.
Dad Life
Dad Life is also one among the best Kodi builds. Dad Life build is primarily meant for families in UK. The build almost covers everything that you might possibly require on a rainy day, in order to spend a quality time with your family. It provides you with a balanced selecting feature, as there are many options of addons for a variety of movies and includes separate kids section also. It does not ignore the grown-up content as well. It offers you with shows of football, motorsport, and games also. Thus it fulfills everybody's desires.
The Beast
Beast is unique and is not similar to any other builds. It does not concentrate on any one section or content. But, it proves to be an all-rounder, by providing all the options that the whole of your family requires. Now it has a new update for the Kodi 17 Krypton with all that Kodi is capable of producing. With a new stunning look for the Beast, everything goes well in Kodi 17 Krypton.
Tomb Raider Krypton
In case you are searching for a Kodi 17 Krypton build, then you can opt for Tomb Raider Krypton as it gives you a better start-up experience. There are popular addons installed for the purpose of watching movies, sports, TV shows and live TV. You need no email address or any account to install this build. Thus you can simply install it without any difficulty. So you can definitely give this build a try.
A guide to install Tomb Raider Build on Kodi
Schism All In One
Schism has got a number of excellent builds that are in progress now. Totally Schism All In One has 77 builds. They can be changed from one to another by just switching the skin. They are Estuary, SchicM Anniversary Edition, SchisM Conq, SchisM Eminence, SchisM Estuary, SchisM Mimic and SchisM Origins. It is very simple to change the skin in the settings and each section is present with its content completely loaded. It contains the best movie and TV addons in like Exodus, Phoenix, Salts, UK Turks, 1Channel and a lot more. It is versatile and you can give all its skin a try and choose the best one for you.
Duggz Build
Duggz build is also one of the builds for Kodi. Duggz has bigger fonts and better spacing. Similar to the rest of the builds, Duggz also has addons that contain installed live TV addons. It is full of contents including sports, world TV, Fitness, and movies. The Duggz Sports Build is the apt version that has Premier League football season. Thus, it offers you to watch any show at any time as you wish. It also allows you to download options such as Duggz sports, All in one with Pro V, Duggz Pro IPTV Black Glass, and Duggz Virgin Pro IPTV.
Are you interested in getting Duggz Build on Kodi? then you should follow this instruction to install Duggz Kodi Build.
Also, learn to install Duggz Big Whoppa Pro Build on Kodi.
The Black Box
Like the rest of the builds, The Black Box does not have any addons. It has got the only limited number of addons, but it has an outstanding layout. There are also live TV options with popular addons like Genesis.
The HubWizard
The HubWizard is an install of the Kodi build that is very light. There is provision for you to add extra addons those are light, yet HubWizard is a worthy build. In case you are installing Kodi for your friend or a family member, then HubWizard would be applicable for this purpose. It has got an easy to use interface and that feature is being praised by all. Builds like the Blackbox and The Beast, are for the users who are already familiar to Kodi.
SilenceROM
SilenceROM has got all the famous builds, similar to all the well-known addons like NAVI-X, 1Channel and a lot more. This build is mostly used for the option of live TV PVR. This build is kept updated frequently and so, you can give it a try and judge its performance.
MagicTV Myth Build
MagicTV Myth Aeon Nox builds from the Magic Box Family. This addon is specially developed for Kodi Krypton 17.1, and it is an excellent build that is recognized by all. There is a great collection of live TV, Movie, TV shows, Kids and Sports for UK and USA. It contains the rest all that you are expecting from a build.
Follow this guide to install MagickTV Myth Build on Kodi
Follow this guide to install Magick TV Voodoo Build on Kodi
Hyper TT Build
Hyper TT is an impressive wizard build that is developed for Kodi 17.1 Krypton. Its performance is highly effective. There is a new version that has been updated for 2017. Hyper TT completely covers all the content files and addons as well for both, the new users and for the familiar ones. Though this build is powerful, it is easy to use and offers you everything that you require. Hence it has an attraction towards people.
Installation guide for Hyper TT Kodi Build
Dimitrology Build
The Boomshakalaka build of Dimitrology is an exciting build that contains full of addons. These addons are popular in streaming movies, and the TV shows to live TV sports and games. This build is a perfect one and goes on smoothly.
Horizon Build
The Horizon is also one of the successful and best-doing builds in 2017. This build can be installed on two different devices. There are also two versions and they are-Kodi Jarvis and Krypton. It gets updated frequently, and its addons are also performing in the right way. Recently there had been a massive update in the Horizon, and now, newly it finds a new home in the Echo Wizard. This lets us do tasks easily and keeps us up to date.
Learn to install Horizon Build on Kodi
JayHawk Build
Jayhawk is also a build that holds a position among the best Kodi Krypton builds. It is a build that is very light and is fully covered up with addons.
Steps to install Jayhawk Build on Kodi
Ethereal Build
Ethereal is a good build that could be tried on Kodi Krypton 17. An ethereal build is new but amazing. It also has all the well-known add-ons like Phoenix, Exodus, Good Fellows and so on. This build fulfills the requirements of the entire family. It especially concentrates on the on sports and IPTV. In addition to all this, it has Ethereal IPTV addon as well and this feature is unique. This build is proved to the most relied and updated Kodi 17. This build is kept up to date by having regular updates.
Drop your favorite Kodi Builds?
Do you think that we have missed any best builds of Kodi? If any, drop the name of the builds on the comment section that you have in your mind. We'll add them to our list when updating next time.