Are you feeling a bit tired of finding the best-working Kodi builds of November 2018? Then this article is for you!
Why should you stick with those false sites that claim to list the best builds for Kodi, that rank high in the Google search? In fact, most of those sites are outdated and you won't get the best results that you are looking for. This is, however, not the end.
Frankly speaking, when we started to search for valuable builds at the very beginning, we struggled a lot to find one. This is because most of the Kodi developers have dropped their development process due to having some legal issues on their side in recent days.
So, we decided to list only the best-working Kodi builds for November 2018. The thing is, after spending a few hours testing each build, we finally found the 17 best Kodi builds that are perfectly working. Don't believe us? Then try them out for yourself.
Before getting this started, we suggest you read the Disclaimer and Warning notes found below to keep you safe while using Kodi.
Disclaimer: We will be talking about software developed for Kodi – which is based on open-source code. However, the following software comes from unofficial third-parties. In addition, it is publicly available and free of charge. TechNadu doesn't claim any responsibility for how our readers decide to utilize the following software. Please note that we don't condone sharing pirated content and copyright infringement. TechNadu is not affiliated with the software mentioned in this article in no way. Make sure to carefully read the above-said disclaimer and ensure the proper use of the software.
WARNING: Before You Continue…
Even without your explicit consent, your ISP (Internet Service Provider) is collecting and filtering your Web browser data. This means that using Kodi to stream copyrighted content might get you into legal trouble. Also, your ISP might block access to specific streams, which leads to Kodi errors, or entirely blocked and throttled streaming. This is why users of Kodi should always use a VPN to make sure their identity and privacy are protected while streaming.
TechNadu's editorial team uses and strongly recommends ExpressVPN. This is, by far, the fastest and most reliable VPN with the power to unblock any website and service. Once activated, ExpressVPN encrypts your Web traffic and makes it anonymous – keeping it away from your ISP's prying eyes. In fact, you will become invisible on the Web since your user logs, and your traffic history isn't stored on any server.

Make sure your Web browsing and streaming aren't used against you. Subscribe to ExpressVPN and enjoy using Kodi without any restrictions!
17 Best Working Kodi Builds For November 2018
As we said earlier, the results you see in this article are not listed without any testing. We, personally, downloaded each build on our Kodi and tested its performance. This is also the reason why we've removed previously popular builds such as FireTV Guru, Wookie Build, and Underverse from this article. Sadly, repositories that host those builds are no longer online, which means that access to those builds is no longer possible.
Malfunctioning builds are eliminated by default and we have shortlisted the currently working Kodi builds to keep you out of the non-working links. However, builds for Kodi may not work for some reason. In that case, you can drop the name of the build in our comments section at the end of this article. Thanks!
1. Titanium Build
One of the best Kodi builds is the Titanium build, which has been launched a while back. There are movies, live TV, sports and a lot more. Titanium includes many well-known addons like Stream Hub, Royal We, Echo Streams, Gobble, cCloud, Project Cypher, Maverick TV, and so on. The build is one among the best-performing ones, which means that you can install it on devices that don't have high specs.
Steps to install Titanium Build on Kodi:
Before getting started, we have to tell you the seriousness of using Kodi addons without a VPN. You are more likely to stream the latest movies, TV shows, and sports for FREE on Kodi and you don't bother even if it is a copyrighted content. But do you know what? Streaming copyrighted content against the law. To help you get away from legal troubles, we strictly advise you to use a VPN while streaming Kodi content. According to our experience, ExpressVPN is the best Kodi VPN so far. In fact, VPN will hide your original IP from your ISP. Don't get caught without using a VPN. Hide your media streaming now.
Launch Kodi and find the Gear icon at the top left of the screen and click on it.
Then, navigate to File Manager > Add Source and then click on <None>.
Up next, you'll have to enter the path from where you can download and install Titanium Build on Kodi. (Warning: As I said before, you'll have to use a VPN for safer Kodi streaming). And here is the path link – http://repo.supremebuilds.com.
After this, enter the name of the path as Supreme and select OK.
Now, return to the home screen and select Add-on and then tap the package icon at the top left.
Then, select Install from ZIP file > Supreme > repository.supremebuilds-x.x.x.zip
Finally, you'll receive a Supreme Builds Repository Add-On Enabled message on the top right corner of the screen.
Top open, go to Install from repository > Supreme Builds Repository > Program Add-ons > Supreme Builds Wizard > Install button.
You have successfully installed the Supreme Wizard addon on your Kodi. Finally. you can use it to download different versions of this build, designed for different versions of Kodi.
For more detailed instruction along with helpful screenshots, please visit this page.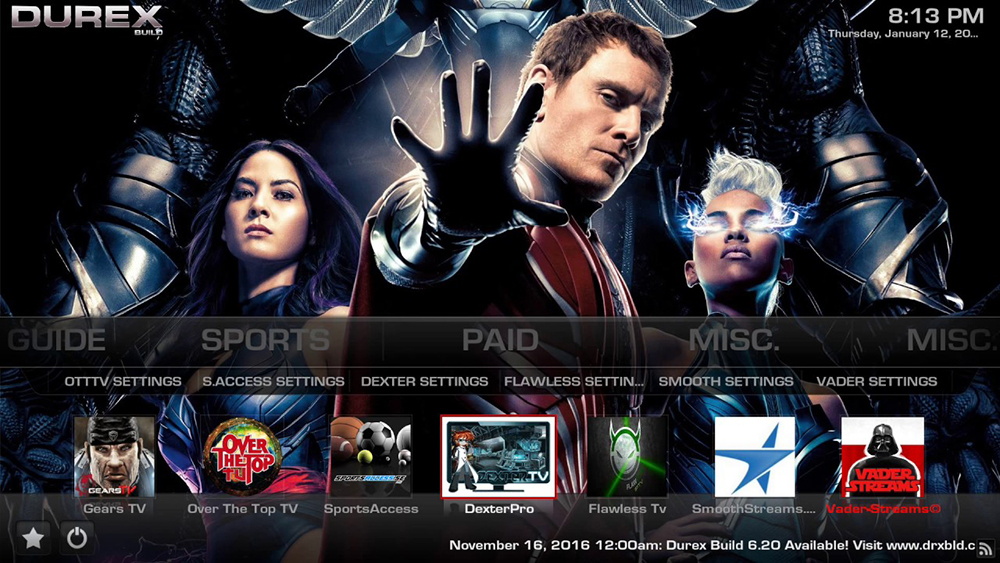 Even though Durex has had its ups and downs, this is by far one of the best Kodi builds to download right now. After a brief period of being offline, Durex is back in its full glory.
It's safe to say that Durex transforms your Kodi into the ultimate streaming machine. You will find countless content categories and constantly updated addons throughout. Movies, TV shows, music, sports, cartoons, and everything else in between is offered here. And it's also worth noting that there's a special category of paid addons that are usually more reliable than free ones.
We have a dedicated article about this build, so go ahead and learn how to install Durex build on your Kodi.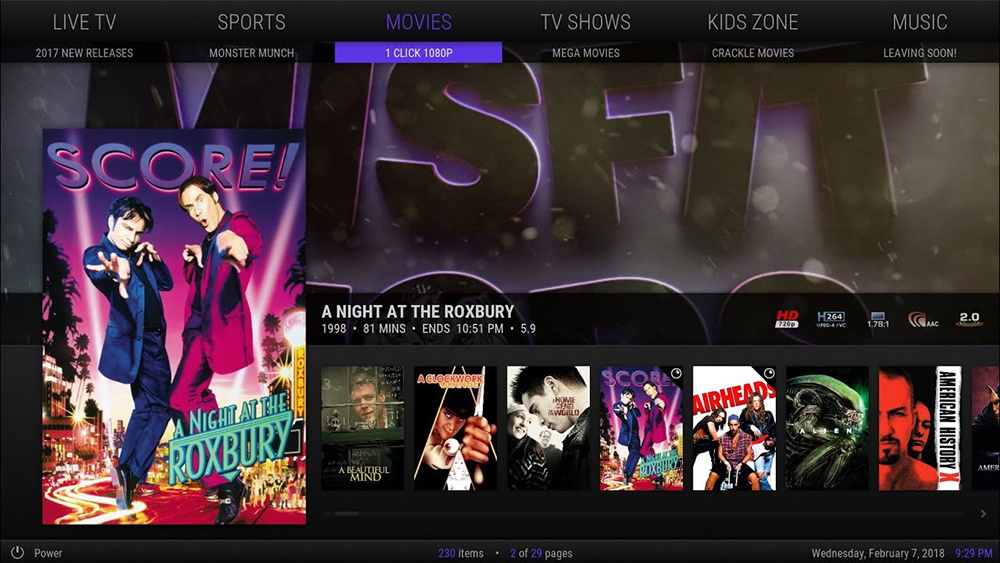 Some Kodi builds are really trying to push the limits of this application. They bring plenty of animations and dozens of different addons separated into countless content categories. Therefore, it's nice to see a build that doesn't take too much space and still performs admirably.
Being one of the oldest builds for Kodi, Misfit Mods Lite is a simple build with plenty of content. It could be said that it improves the overall usability of Kodi by using custom menus and different ways to present the available content. You'll get to use dozens of addons which are easy to keep updated at all times.
Want to see why this is one of the best Kodi builds? Here's our useful article on installing Misfit Mods Lite on your Kodi.
The BK Nox is not actually a new build. However, it's been offline for quite some time and has received a huge new update recently. We have decided to check it out once again, and we really liked what we saw. That is the reason why we wanted to include it on our list of the best Kodi builds.
Simply said, BK Nox brings everything you expect from a nicely designed build. There's a futuristic interface with subtle animations all over. However, the build works nicely even on low-end devices such as Amazon Firestick. Then, there's plenty of content. At the moment, BK Nox offers movies, TV shows, live TV channels, children-friendly content, 4K content, and everything in between.
Looking for a way to install this amazing build? Here's how to add BK Nox to your Kodi.
5. BK Links Build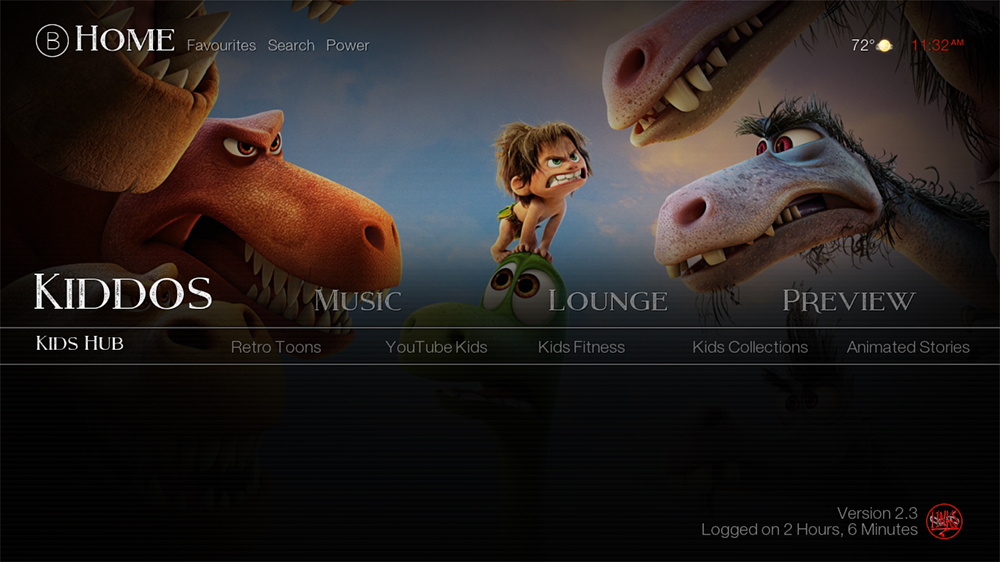 In case you don't like our previous suggestion (even though we think you should definitely try it out), we have another interesting option. As you can guess, BK Links comes from the same developer who made the BK Nox build. However, this one is much more subtle.
If you have a high-resolution screen that supports fine visual elements and crisp text, you're going to love this build. It's incredibly simple to use and bring tons of fully-working addons. On top of that, it comes from a highly active developer. This means having access to regular updates, which has become a rare thing in the world of Kodi creations.
To install BK Links., you need to access the following repository and then download the ZIP file to your Kodi: http://streamdigital.org/wiz/.
6. Kodi Collusion
You probably know that Kodi builds can come with all kinds of bells and whistles. Some of these can be quite resource-hungry, where you need a powerful device to run them. This is why we want to introduce you to an interesting newcomer.
Called Kodi Collusion, this is a lightweight build that takes around 200 MB of hard drive space. This is a clear indicator of the main purpose of this build. It's designed for those who don't need all kinds of widgets and dynamic elements. Instead, Kodi Collusion is quite simple but also highly effective. You'll find all kinds of currently popular addons that seem to work without any issues. This also translates to a huge library of streaming content.
To install this build, you need to use the following URL: http://www.onenation.info. Add this URL to your Kodi, and then access its repository. This is where you'll find an installer used to download and install the Kodi Collusion build.
7. Nefarious Kodi Build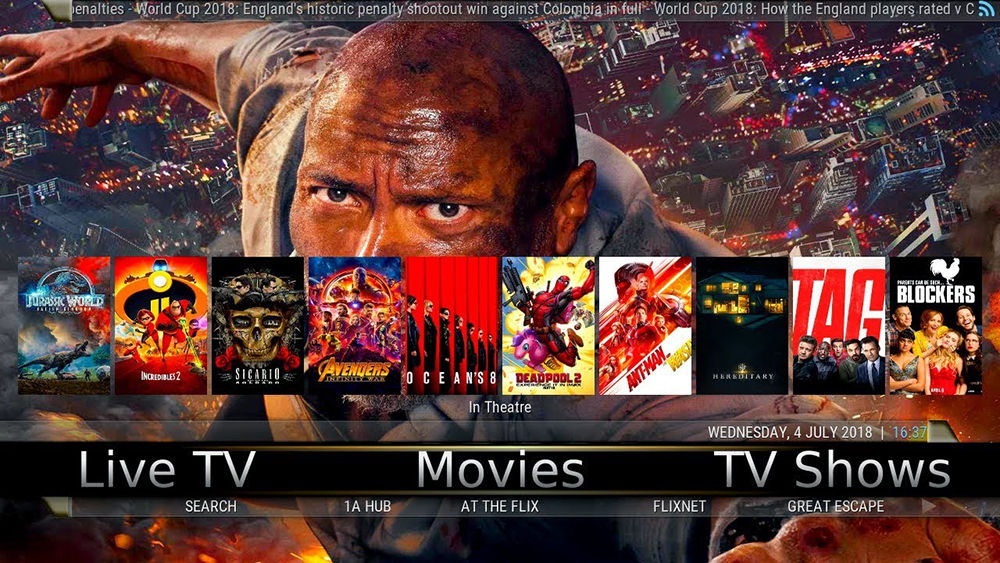 When it comes to freshly released builds for Kodi, we simply must mention a build called Nefarious. In all honesty, this isn't actually a freshly released build. It first came under the spotlight late last year. However, its developer failed to keep up with disappearing addons, which made the Nefarious build less than desirable.
Today, we get to use a whole new version (greatly improved, by the way) of Nefarious that brings a whole slate of currently popular addons. You will get to preview the available content by numerous categories where you'll find pretty much everything you'll need. On top of that, there is a very interesting 'Live TV' category – which has become a rare thing in today's Kodi builds.
So, make sure to use the following URL to install Nefarious, which is where you'll find the latest working version – http://onealliancereborn.com/repo/. Download the Build Installer on your Kodi, and then use it to install the latest version of the build.
8. FuryX Kodi Build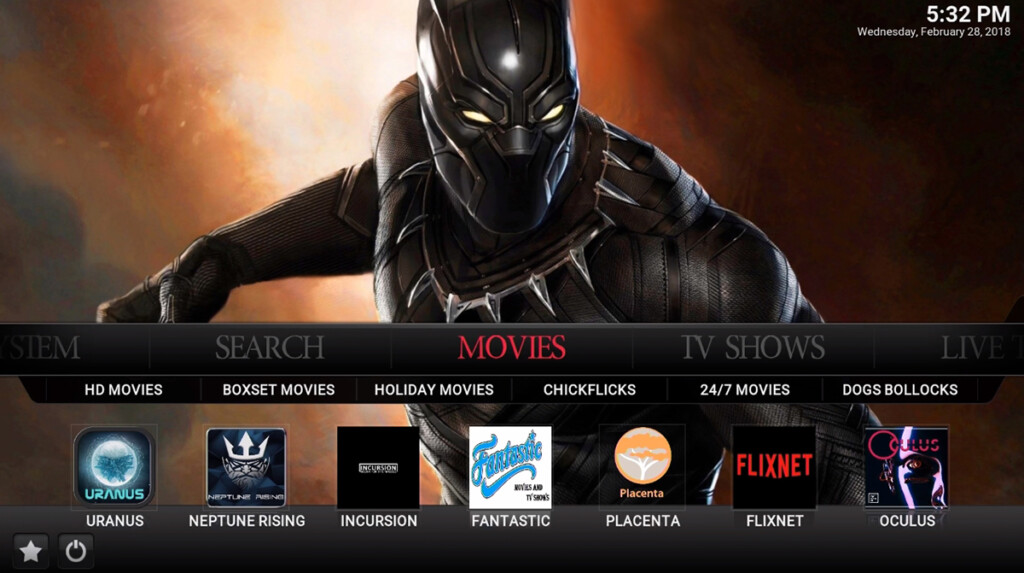 Finally, we present you FuryX as one of the trending newcomers. This is a fairly simple build that doesn't bring a bunch of novelties. Instead, it focuses on fully-working addons along with a simple but highly polished UI.
Brought to us by the Indominus Wizard, this build comes in at around 180 MB. It brings a number of dedicated sections including movies, TV shows, kids content, TV programs, and pretty much everything in between. To install FuryX, you need to use this URL – www.indominusbuilds.com/wizard/. Download the Indominux Wizard, install it on your Kodi and you're ready to go.
Even though it brings a somewhat chaotic interface, we think you're going to like what the Nova build. Instead of trying to go overboard, as many Kodi builds do, it sticks to the basics. Also, all the offered addons are nicely wrapped into a useful package.
The Nova Build can be installed by using the freshly released Simple Build Wizard. It isn't overly heavy on system resources, which means that lightweight devices are covered as well. This build is offering a standard set of content options, such as movies, TV shows, sports content, and more. All in all, Nova seems like a basic but highly functional package of numerous addons.
To find out how to install Nova build, please click on the provided link. You'll be taken to our in-depth installation guide.
Built upon the Aeon Nox skin for Kodi, this is a lightweight build that brings futuristic looks. It's out personal opinion but Aeon Nox seems like the most intuitive skin right now. It allows this build to nicely present a bunch of options and content categories without being overly complicated.
You can count on the Maze build to watch movies, TV shows, live TV channels, sports, as well as fitness videos, and more. Every category brings several ways to get the content you need by putting it first. There are also addons that bring the latest Netflix originals, which is always a good thing.
Want to know why this perhaps the best Kodi build? Make sure to learn more about the Maze build.
Being probably one of the newest available builds, you can count on numerous fully-working addons. Also, the Sky Darks build seems to work just fine on less powerful machines, which means that Fire Stick owners can count on this option.
As you can expect from a recently released build, it relies on a number of trending addons. This includes Incursion – for movies and TV shows. There are also addons like Planet MMA for sports. Also, there is a number of music- and live-TV addons, which means that all major entertainment categories are covered. And finally, this is a very standard Kodi build with minimal transitions and dynamic elements. In case you're after something that looks simple (with plenty of great content), try the Sky Darks build.
If you're willing to give this build a go, here's how to install the Sky Darks build.
A number of previously popular builds went offline during the last month. This includes a whole slate of builds hosted by the Dimitrology Repo. However, we are happy to see new developers and their creations. The EPIC build is published by a developer know as 'Big Perm' that currently offers several builds for Kodi 17, as well as a few Kodi 18 builds. You should definitely check it out.
The EPIC build is a fairly standard build with a prominent horizontal menu. You can scroll left and right to switch different categories including movies, TV shows, and sports. Also, this build acts as a gateway to a number of third-party addons. This means that if some addons stop working (and they will, in time), you can easily tap into a repository of new addons and install freshly published ones. Needless to say, there are thousands of hours of streamable content right now – which is why we think this is one of the best Kodi builds right now.
So, do you want to try this build for yourself? Then, install the EPIC build now.
Long-term Kodi users probably remember Misfit Mods – an amazing place to install all kinds of addons and builds. Even though this source has had a rough time in the past, we're happy to see it back on its feet. You can now use Misfit Mods to try out a large number of builds. However, the most trending one at the moment is called KHAOS.
Being recently released, this build brings nothing but the latest addons like Covenant and The Dogs Bollocks. It covers a wide range of categories including movies, TV shows, sports, live TV, cartoons, and more. There is even a dedicated section for Real Debrid content – which is a huge plus if you're a user of this service. And finally, KHAOS build weighs in at around 140mb. If you have a Fire Stick or Android-powered device, this is good news.
All there's left for us to say is that you must try the KHAOS build. Use the provided link to read our in-depth guide.
The first on our list of the best Kodi builds is a recent addition. Since numerous previously popular builds no longer work, we took a look at new arrivals. That's how we've encountered Warlock – and felt immediately impressed by what this build offers.
First of all, you need to know that Warlock is a lightweight build. This means that you can install it on media streaming devices as well. The build's developers have done an amazing job of optimizing the build, which runs great despite numerous animations and moving elements on the screen. In addition, it also brings plenty of amazing content. Using the main menu, you can review movies, TV shows, sports content, music, kids TV programming, and everything in between.
We bet you want to try out this build. So, here's our installation guide for the Warlock build.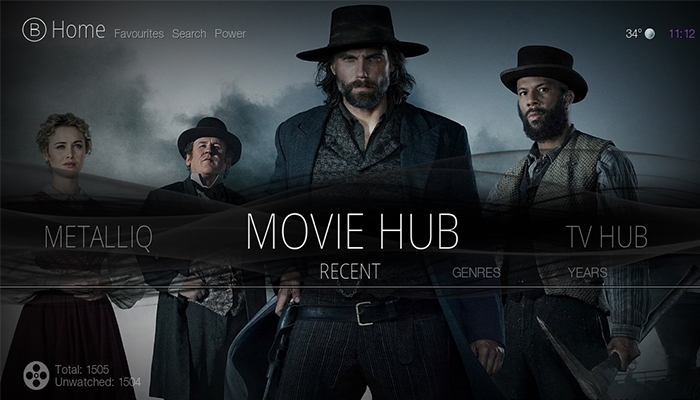 Next on our list of the best Kodi builds is the Cinema build. Despite its simple name, this is a very powerful build that brings a highly optimized UI.
If you want to try Kodi on Xbox consoles, you should know that not all addons and builds work. That's because you will run an alpha version of the upcoming Kodi 18. Very few builds are compatible with this version – and one of those is the Cinema build. In addition, this is one of the rare builds that brings plenty of fully-working live TV channels. There are hundreds of channels from all over the world, and all of those seem to work just fine.
All you need to get started is a trustful installation guide. So, learn how to install the Cinema build.
If you're looking for something unorthodox, you will be interested in the Spark Build. The most prominent feature of this build is its nicely designed UI.
Upon installing the Spark Build, you will see that the left-placed main menu. It will be filled with simple and fairly large icons. This is where you can switch between the main categories of content, as sub-categories as well. In addition, this build comes with numerous customization options, so you can fine-tune its looks and create your own UI.
For more information about the Spark build, please use the provided link.
We can say that the Duggz Build is one of the best Kodi builds since it tries to do thing a bit differently. It has bigger fonts and better spacing, suitable for larger screens. Similarly to the rest of the builds in this article, Duggz also has addons that contain different types of addons.
It is interesting to note that you can choose from different Duggz builds. Once you manage to install Duggz Build on your Kodi, you will see the standard and 'lite' versions that are suitable for less capable devices.
Want to Learn More About Using Kodi?
Before concluding this article, we'd like to provide you with additional resources. These can be used to learn more about Kodi – and to turn you into a power user. Let's take a look at TechNadu offers:
Final Thoughts
We hope you managed to install some of the builds mentioned in this article. We did our best to bring you up-to-date guides and accurate descriptions. In case you're having issues, don't hesitate to let us know. Use the comments section below to talk to us.
And finally, why not share this article with the rest of the Kodi community? Also, you can follow our Twitter page, and like us on Facebook.