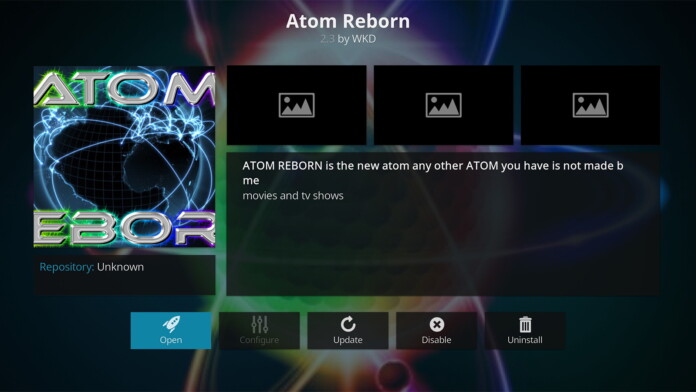 Update: Unfortunately, Atom Reborn is no longer among the Kodi addons that we recommend using. Due to technical issues and its inability to find fully-working links, we recommend you avoid using this addon. However, there's no need to worry as plenty of fully-working alternatives await. You'll find all the information you need in our central 'Kodi Addons' article.
The demise of numerous popular addons has left us exploring other options. In case you've installed addons that were popular a few months ago, most of them probably don't work anymore. However, the community of developers of Kodi addons doesn't rest. We get new creations on a daily basis, which are pushing the limits of this application even further. As you are about to see, Atom Reborn is one such addon. Keep on reading to learn more about the Atom Reborn Kodi addon.
Before getting started, we strictly recommend you to be safe while using Kodi. Therefore, we want you to read the We will be talking about software developed for Kodi – which is based on open-source code. However, the following software comes from unofficial third-parties. In addition, it is publicly available and free of charge. TechNadu doesn't claim any responsibility for how our readers decide to utilize the following software. Please note that we don't condone sharing pirated content and copyright infringement. TechNadu is not affiliated with the software mentioned in this article in no way. Make sure to carefully read the above-said disclaimer and ensure the proper use of the software.
disclaimer and WARNING notice found below.
Warning: Why you should ALWAYS USE a VPN with Kodi?
Here are the reasons that you should consider looking at it without SKIPPING.
Using ILLEGAL Kodi Addons are Dangerous without a VPN: Most of the Kodi users are installing the ILLEGAL Kodi addons on their system to access all the latest movies, TV shows, sports, music, and much more for FREE, than a legal Kodi addon where it has the least content in it. But do you know what? The video content on illegal addons is scraped and copyrighted material. If you are accessing them on Kodi, then your activities will be monitored by your ISP by tracking your IP and gives all the information to the government or companies if they request for it. This will land you in trouble. To stay away from this, you will have to connect to a VPN where it hides your identity by rotating your IP address while streaming Kodi content. This is how you will be safe from the prying eyes.
Bypass Geo-Restriction: As you probably know, some official addons like BBC iPlayer, NBC Sports, Hulu, IceFilms have geo-location restrictions. This also applies to other addons like Acestream which fetches the data from torrents. To unblock these restrictions, you will have to DEFINITELY use a VPN no matter what.
The above are the 2 reasons that forcing us to recommend a VPN to the Kodi users for safer streaming. In fact, after testing several VPNs for Kodi, we finally came up with a one non-stop solution and that is ExpressVPN, the top-rated Kodi VPN so far.
Limited Time Offer: For our TechNadu readers, there is a 49% OFF on ExpressVPN which includes 3 FREE Months in it.
Things You Should Know About Atom Reborn Kodi Addon in 2019
First, you need to know that Atom Reborn is an all-in-one addon. It brings a very large library of streamable titles that cover all the key areas. This includes movies, TV shows, children-friendly content, documentaries, and even IPTV. In other words, this is a mixed bag of various types of content. As such, we believe that Atom Reborn could be a valuable addition to your Kodi in 2019.
Using a hugely popular repository is a good way to install a bunch of popular addons. However, this also means that large repositories are first to be targeted by anti-piracy groups. This is why we have turned to the Atom Reborn Kodi addon. It could be found in a new, and a rather small repository, which is making us hope that the addon will be here for a while.
Important Note: Before diving any deeper, we need to make sure that your Kodi works with third-party addons. In an effort to reduce piracy, creators of Kodi have made certain changes. To correct this, you need to visit Kodi's Settings and make a few simple adjustments. Don't worry, we are here to help.
Make sure to read our guide on how to enable unknown sources on Kodi. This is where you'll find all of the needed information, so please use the provided link. Then, keep reading this article.
11 Steps to Install Atom Reborn Addon on Kodi
Finally, let's jump to our installation guide for Atom Reborn. First, we'll add a new repository to Kodi. Then, we will use the application to access that repository and install the addon. Let's begin.
Open Kodi and click on the Gear icon (top-left corner);
Next, open the 'File Manager' in Kodi's Settings;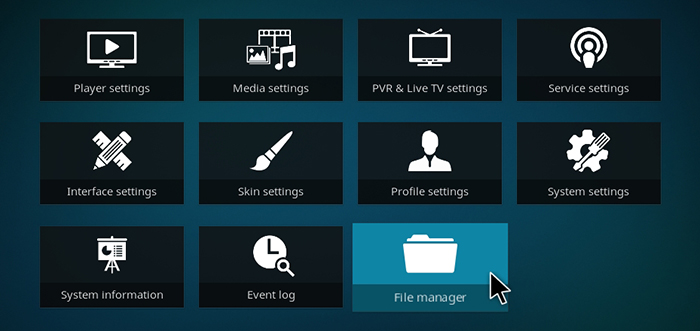 On the left side of the screen, double-click on 'Add Source' and wait until a pop-up appears;
Click on '<None>' and then enter the following URL: http://vectordroid.com/repo/. Click 'OK' to confirm the URL entry;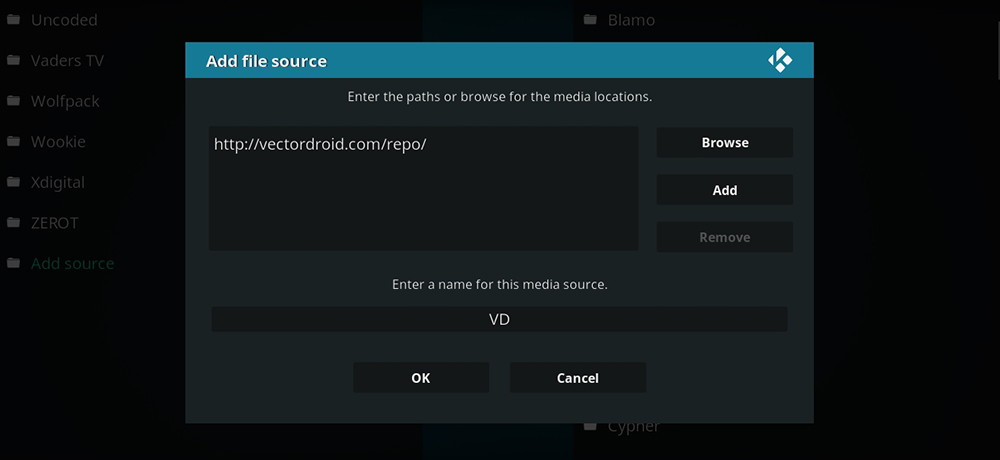 Provide a name for the new file source. Type in 'VD' and click 'OK' to dismiss the pop-up;
Return to Kodi's Home Screen and select 'Add-ons' in the left-placed menu;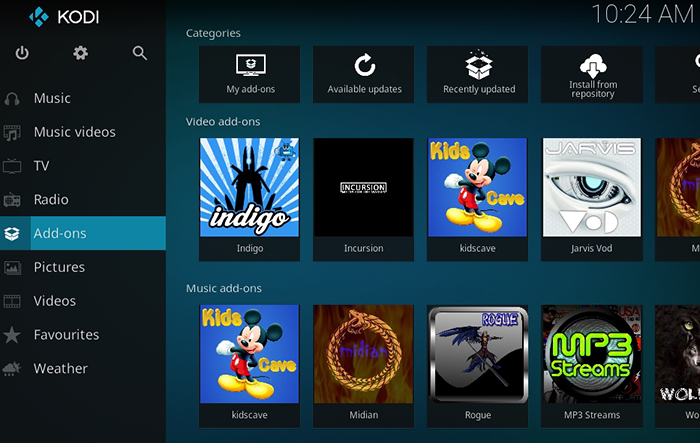 Take a look at the top-left corner and you'll see the Open Box icon. Click on it;
Select 'Install from ZIP file';

Open the recently added source. This means clicking on 'VD'. Then, open the 'Video Addons – 2018 Collection' folder;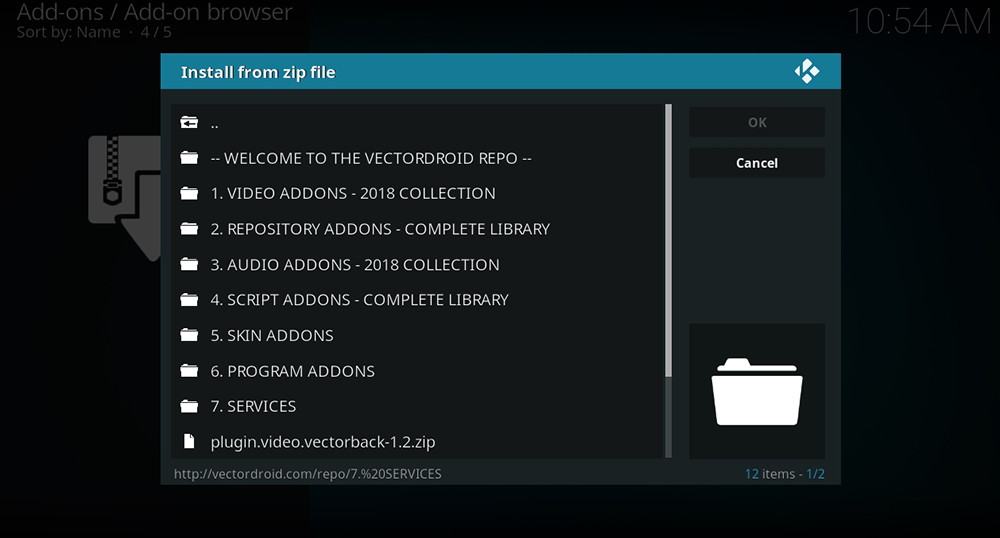 Finally, find and click on the ZIP file called 'plugin.video.ATOMREBORN'. Make sure to find the latest available version.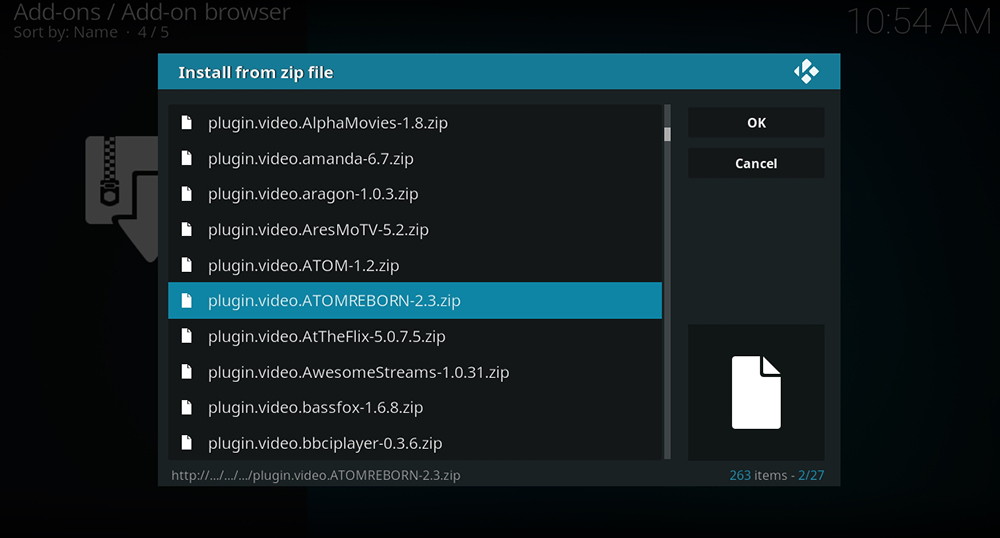 After a few moments, the new addon should be installed. Once that happens, return to the Add-ons section of your Kodi, where the addon will be waiting.
What to Expect from Atom Reborn Addon?
A lot of interesting content awaits. However, some of it might be a bit hidden. The Atom Reborn Kodi addon isn't the most intuitive to use – which means you'll need to spend some time learning its tricks. To help you to get started, here's a quick walkthrough.
New Releases: This section brings a list of the newest titles which mostly includes movies. However, you'll also find TV specials and sports events on occasion. Clicking on any of these titles will begin streaming the file. There's no waiting since Atom Reborn does everything on its own.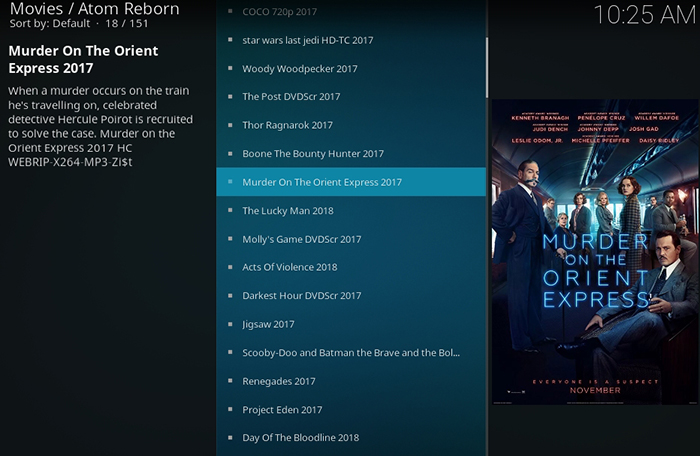 Real Debrid Movies: In case you're a Real Debrid user, this is where you will find compatible titles. This service allows you get very fast download speeds, so no buffering or waiting. However, Real Debrid is a premium-priced service.
Atom IPTV: Dozens of live TV channels wait within this section, separated into several sub-folders. However, the majority of these doesn't work anymore. You will have to try your luck on your own.
Movie Boxsets: If you're into Hollywood franchises, this section is for you. Some of the currently available boxsets include Die Hard, Terminator, Home Alone, SAW and The Hunger Games.
TV Shows: A selection of 27 TV show titles could be found here. You first click on the title, and you can select the season and episode number.
Caveman's Cave: It could be said that Caveman's Cave is an addon within the Atom Reborn Kodi addon. Aside from TV shows and movie titles, you can find movies for kids, live concerts, documentaries, and more.
Atom Reborn Movies: You will first encounter two folders named Movies and Cams. If you want the full HD resolution, you should always go for the first one. All in all, a nice selection of newer movies can be found here.
Ultra HD Movies: So, you have a 4K TV? Then, you're going to love Atom Reborn. There are more than 100 titles in here – and it seems like all of them work without issues.
Little Humans Zone: As you can expect, this is where you'll find cartoons. There's the Disney Collection with a huge number of titles. The Kids Cartoon section is a mixed bag of titles.
Stand Up Comedy: Are you a fan of Eddie Murphy, Billy Connelly, or Jimmy Carr? Then, the Stand Up Comedy section is a place for you. TV shows and species await here.
BBC Three Online: Restricted to users from the UK (unless you use a VPN), this corner of the Atom Reborn Kodi addon brings TV shows produced and made by BBC Three.
Documentaries: The name says it all. You get to pick documentaries based on different themes and topics such as drugs, crime, conspiracies, and more.
Music and Music Videos: Finally, we come to the last section. This one is all about music and live contents. There aren't that many titles here, but we think you're going to like what you'll find here.
We hope that you managed to install Atom Reborn on your Kodi. If you have any questions or doubts, don't hesitate to post a comment below. We'd gladly respond and try to help you.
In case you like what you read here, why not share this article online? Also, make sure to follow us on Facebook and Twitter. Thanks!